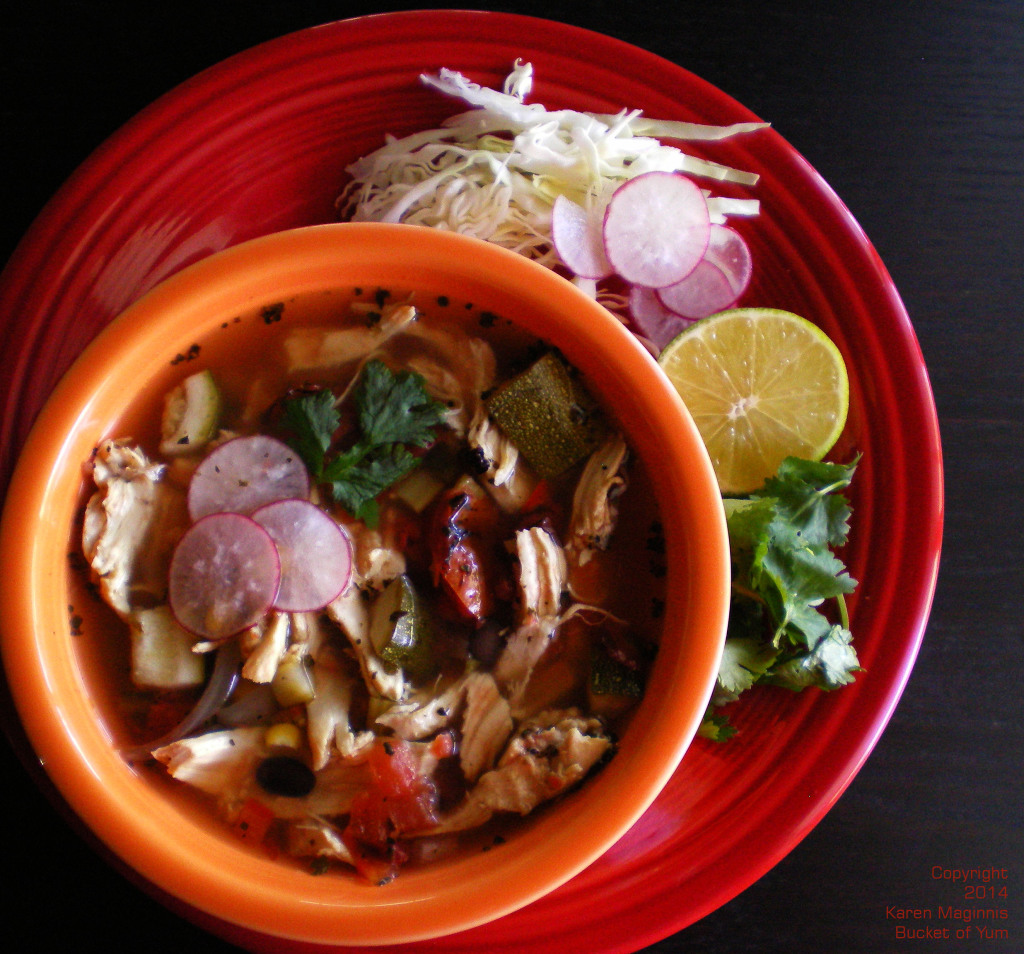 Although we all like to make fun, sometimes I get Sandra Dee. Well, at least her approach sometimes….especially her appreciation for cocktails. But I digress….
It's been a hell-fucked week, so I decided to try free delivery from my local grocery. And, it was awesome. Except for one thing. Somebody else picked out my meat, specifically chicken breasts. I got this package of Chernoble Chicken. You know the kind, unnaturally large, boneless, skinless chicken half breasts that weigh almost a pound apiece and will only be edible if stewed? In retrospect, this is probably why they were such a good price. Sigh. But, when life gives you tough chicken, ya gotta make soup.
Problem is, it's supposed to be 95* today. Fine, crockpot it is! Problem is, Bill can't have starchy stuff like noodles or potatoes. Fine, zucchini it is! Chicken and zucchini ….. either mexican style or italian style…Fine, mexican style it is! I'm totally going Sandra Dee on this mofo, tho – I ain't slicin' and dicin' today, dammit. Well, except for one zucchini. Fine.
I cannot tell you how much I wish I had an avocado right now. That would push this baby into the sublime zone. Maybe tomorrow with the leftovers…..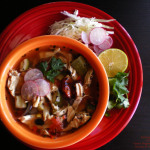 Cheater Chicken Soup
2014-09-07 20:06:11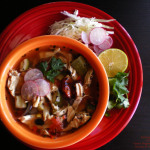 Serves 6
Easy slow cooker recipe with a spicy southwest edge.
Nutrition Facts
Amount Per Serving
* Percent Daily Values are based on a 2,000 calorie diet. Your Daily Values may be higher or lower depending on your calorie needs.
For the soup
2# shredded chicken (or three of those behemoths, poached and shredded)*
1 quart of water
1 Tbsp. chicken base
2 Tbsp. menudo seasoning
1 can fire-roasted diced tomatoes with garlic
½ c. Southwest blend frozen veg mix (the one with onion, chili, corn and black beans)
1 fat zucchini, in ½" dice
For garnish (optional)
fresh cilantro leaves
lime wedges
shredded cabbage
avocado slices
chiltepin
mexican oregano
crumbled tortilla chips
Instructions
Set your crockpot to low. Dump in all the soup ingredients.
After four or up to six hours, scoop it in to a bowl and serve with chopped cilantro, lime wedges, radish slices and some shredded cabbage.
Or, if you can do the carbs, some crumbled up tortilla chips.
And, some avocado slices.
Notes
*You could totally just put in that chicken raw, and add the zucchini after the first two hours. And, you'll need to scoop the chicken foam off the top. Gross? Yeah, kinda, that's why I poached mine first.
Bucket of Yum http://bucketofyum.com/