Beef! (Hopefully pronounced in your best butch voice.) We really like a roast around these parts for Sunday dinner.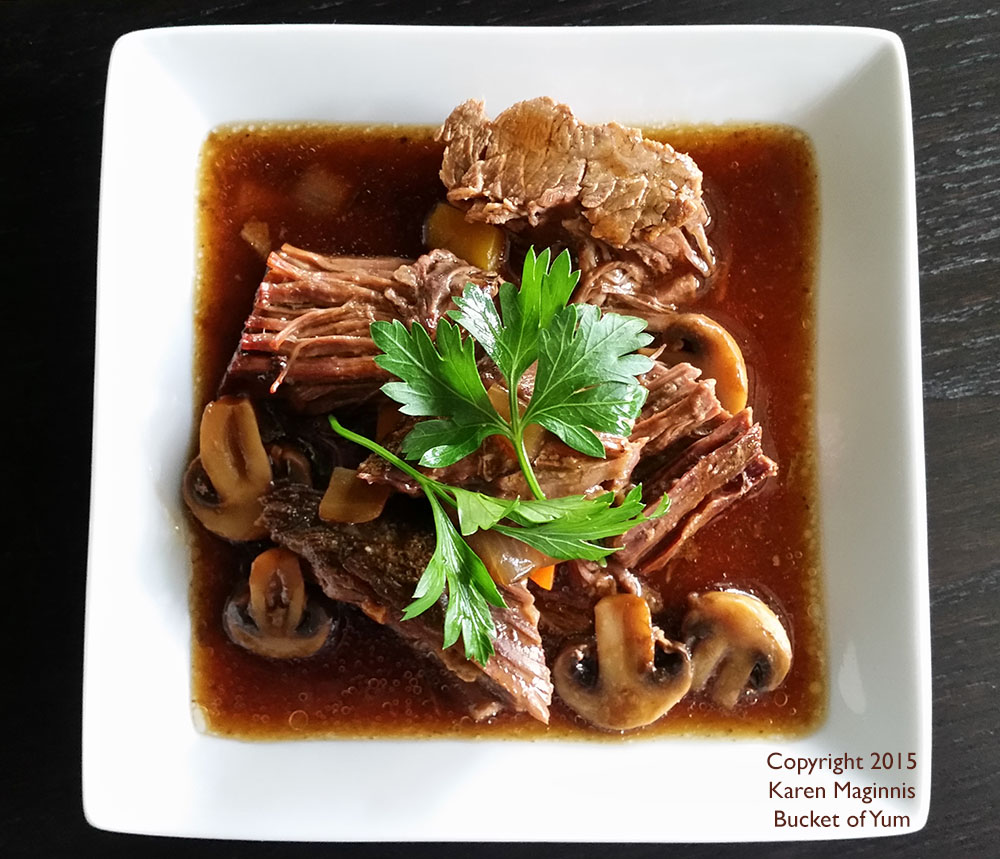 Typically, I roast my veg and all with the meat, but since I want to set aside some of this bad boy for some barbacoa and some bbq beef later this week, I'm doing him up plain with garlic salt and pepper.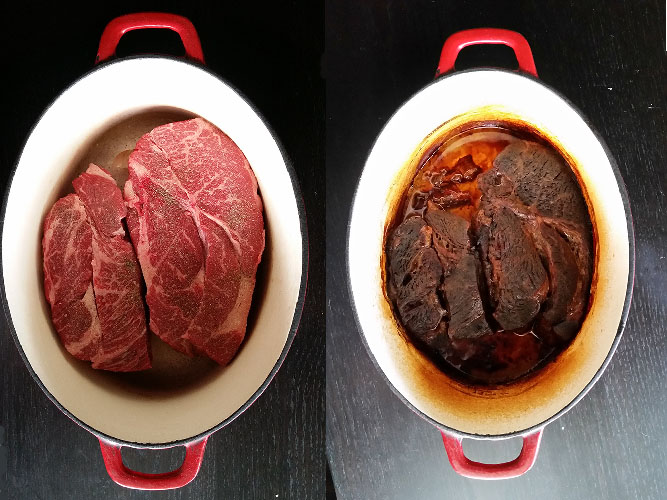 This is a recipe for a quiet day at home – it roasts for a good four or five hours. And before you ask about using a crock pot, just, no. What makes this dish work is that the the liquid slowly evaporates during the roasting, so the meat stays meaty and doesn't turn to mush.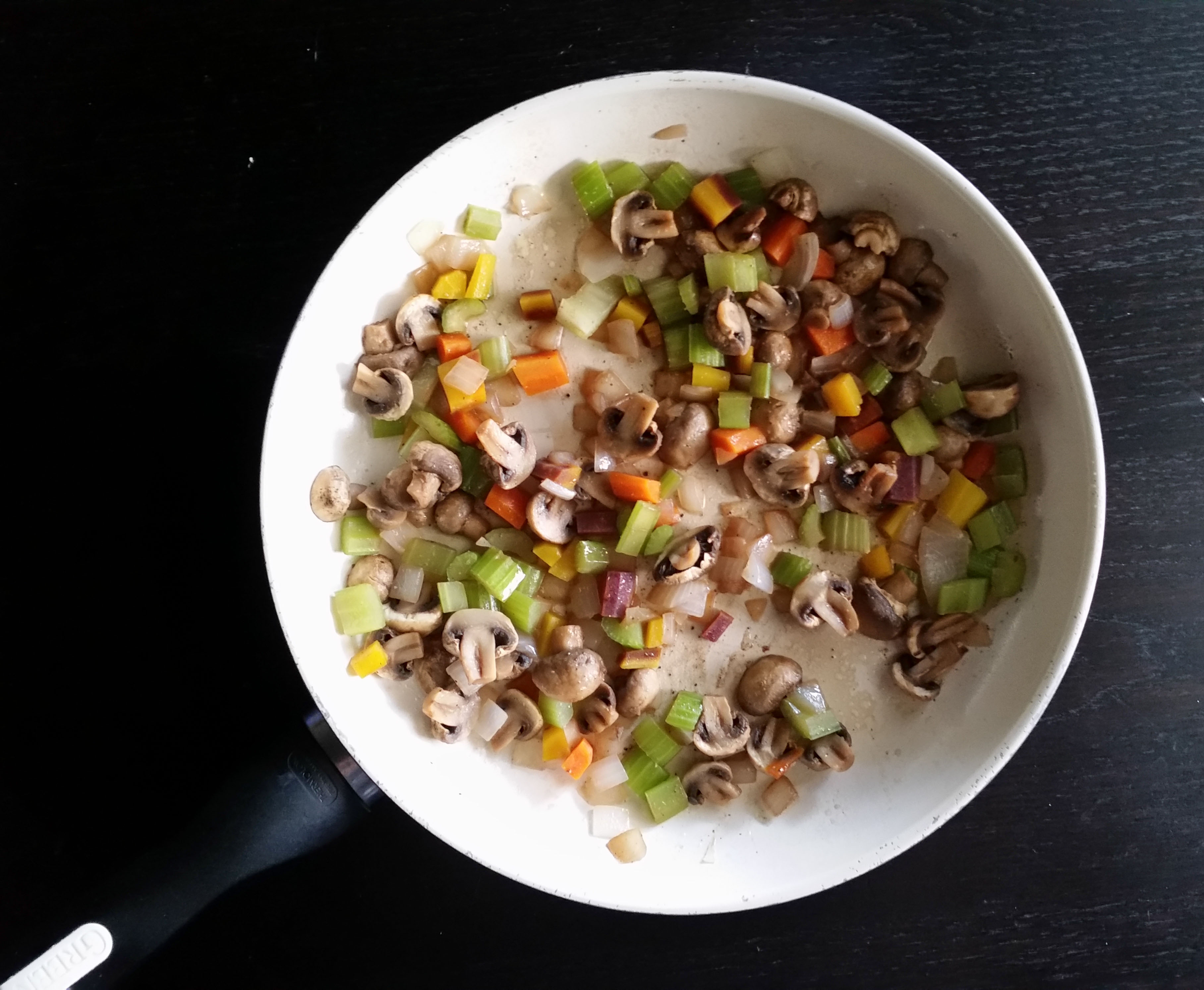 Since I didn't roast the veg in the pan, I cook some up on the stove top to go in the gravy.
There are three secrets that make for a great pot roast at our house: porcini, brandy, and Bisto. (You can get that magic at Amazon and sometimes World Market. ) What is this sacrilege, you decry?!? Am I using gravy mix??? Hell no. Bisto is a thickener, with some carmel color and potato starch. It makes your gravy deep brown and shiny. You know how flour slurry can lighten the color of your gravy? Bisto doesn't do that. It does add some salt, though, so be careful and season at the end. Seriously, buy some of that shit immediately. You will be SO happy.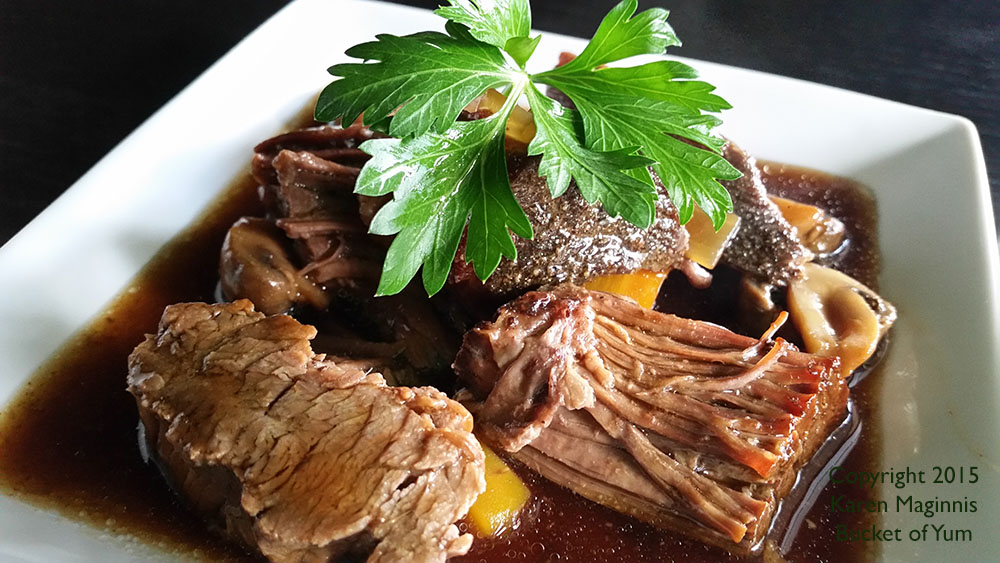 This recipe has a lot of steps – but don't be escared. It's leisurely, and freaking delicious. Try it and tell me how it went!
For the roast
4-5# chuck roast
1 qt beef broth
Garlic salt & pepper.
Past their prime onion, carrot and celery, washed.
For the sauce
¼ c. dried porcini mushrooms, soaked in
1 c. hot water
2 Tbsp. bacon fat or butter
½ c. diced white onion
½ c. diced celery
½ c. diced carrots
8oz pkg button mushrooms, sliced or quartered (your preference)
½ c. brandy, or marsala or dry sherry
1 tsp. dried thyme
3 c. beef broth (defatted from the pan, you may need to add some to get to 3 c.)
½ c. cold water mixed with 2 heaping Tbsp Bisto gravy granules, or with the same quantity of flour if you don't have Bisto. The Bisto makes the gravy more brown and shiny (it's potato starch based).
S&P to taste
Instructions
Heat oven to 325*
In a large enameled cast iron dutch oven, put the veg. They're the roasting rack and you're tossing them when this is done so no need to peel or chop – just break up the big pieces with your hands.
Place the roast on the veg layer.
Pour over the broth. It should come about 1" up the meat.
Season with the garlic salt and pepper.
Roast with the lid on for five or so hours. You'll know when it's done –
the roast will be quite brown and falling apart.
When the meat is done, remove the roast from the pan and use a spatula to scrape down all the brown bits on the sides of the pan in to the juices. Toss the veg, and pour the pan juices in to a defatter or a large pyrex that will be easy to pour from.
This next part you can do about ½ before the roast is done, or after you take it out of the oven. In a very large (12") skillet, gently sweat the onion, celery, mushroom and carrot in the bacon fat, with salt, pepper and the dried thyme.When they are almost tender, turn the heat to medium and add in the brandy and cook it down. While that is reducing, remove rehydrated porcini from their liquid, mince them and add them to the pan. Strain the porcini soaking liquid through a paper or gold mesh coffee filter and add that liquid to the pan (they can sometimes have fine sand.) Add 3 c. of the defatted beef broth and then whisk in the the bisto or flour slurry. Cook over medium until thick. Season to taste with salt & pepper (if you used flour. ) For four people, slice up about half of your roast, and gently add it to the pan. For 8 people, put it all in. The gravy ratio is higher with the four people version. obvs.
Serve with buttered egg noodles, or mashed potatoes, or cauliflower mash.
Notes
If you like a thicker gravy, cut the stock down to 2c. Don't go nuts with the Bisto or it will be too salty
serves 4
calories 257
fat 9
cholesterol 35mg
sodium 2980mg
carbs 18g
-fiber 4g
-sugars 7g
protein 23g