Trader Joe's gets what they call "champagne grapes" this time of year. They're gorgeous, tight bunches of teensy, super-sweet and seedless gems. I just couldn't get them out of my mind this week, thinking of them in a variation of a Waldorf salad. Turned out pretty tasty. I'm losing the light this evening, and alas have but one semi-decent image.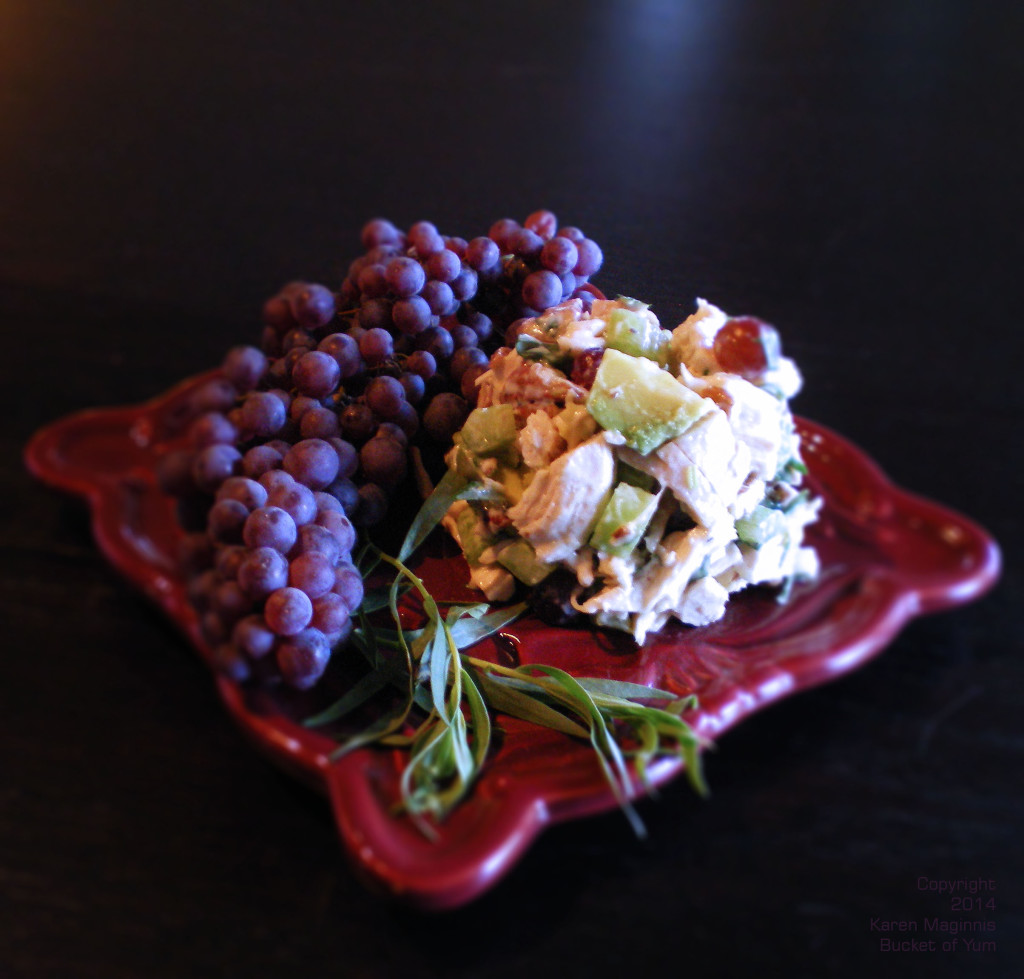 Perhaps losing the light foreshadows the coming end to summer. Well, we're going to enjoy our no-cook late summer supper, and hope you try it, too.
Tarragon Chicken Salad
2014-08-24 21:17:01
Serves 2
Chicken salad with tarragon, mini grapes, pecans and avocado.
Nutrition Facts
Amount Per Serving
* Percent Daily Values are based on a 2,000 calorie diet. Your Daily Values may be higher or lower depending on your calorie needs.
Ingredients
Tarragon Chicken Salad
For the sauce
1/4 c. mayonnaise
1 tsp. dijon mustard
1 Tbsp. rice or white balsamic vinegar
1 Tbsp minced fresh tarragon leaves
Fresh ground pepper to taste
For the Salad
½ c. diced celery
½ c. diced sweet onion
¼ c. minced parsley
¼ c. chopped pecans
½ c. "champagne" grapes, or seedless grapes sliced in half
½ avocado, diced
1 ½ c. diced leftover roast chicken
Instructions
In a medium-sized mixing bowl, stir together the sauce ingredients until mixed. Stir in the rest.
Bon appétit!
Notes
Lovely on a bed of mesclun or other soft lettuces, or on a crunchy baquette.
You'll notice there's no salt - feel free to add it if you think it's needed. Using jarred mayo and rotissimat chicken, I didn't.
Bucket of Yum http://bucketofyum.com/