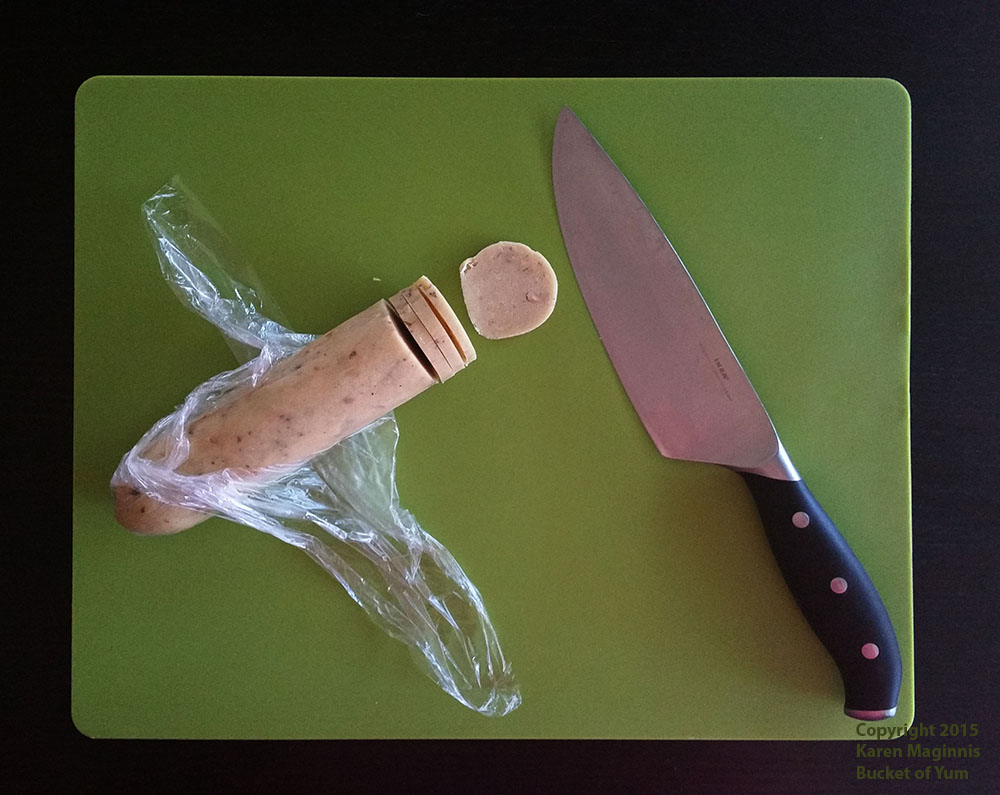 These cookies have been on my mind for a long time. The walnut refrigerator cookie was one of the first on my Christmas Cookie Pinterest board. Then I saw the black walnuts at Costco and that was it.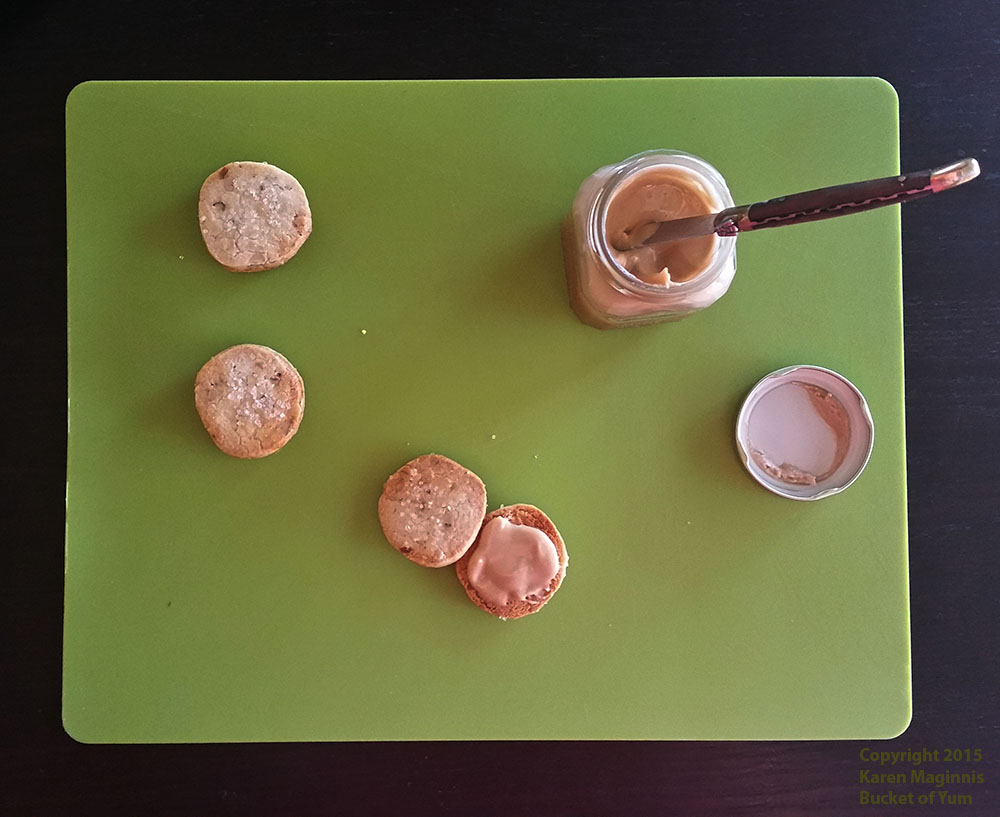 Typically for Christmas sandwich cookies, I make them with pistachio and then fill them with home made pistachio cream (which is essentially steamed pistachio nuts creamed with a little oil and sugar. It's a green orgasm in a jar, but I digress.) But, this year I wanted something new and when I saw those nuts, the pairing of black walnut and maple came to mind.
So, what is maple cream? Or Maple butter? Here's a link on how to do it, but essentially it's pure maple syrup that's heated and then whipped at a certain temperature. It'll hella dear, though, so don't have a heart attack. It also lasts forever, so for a cookie filling it will go a long way.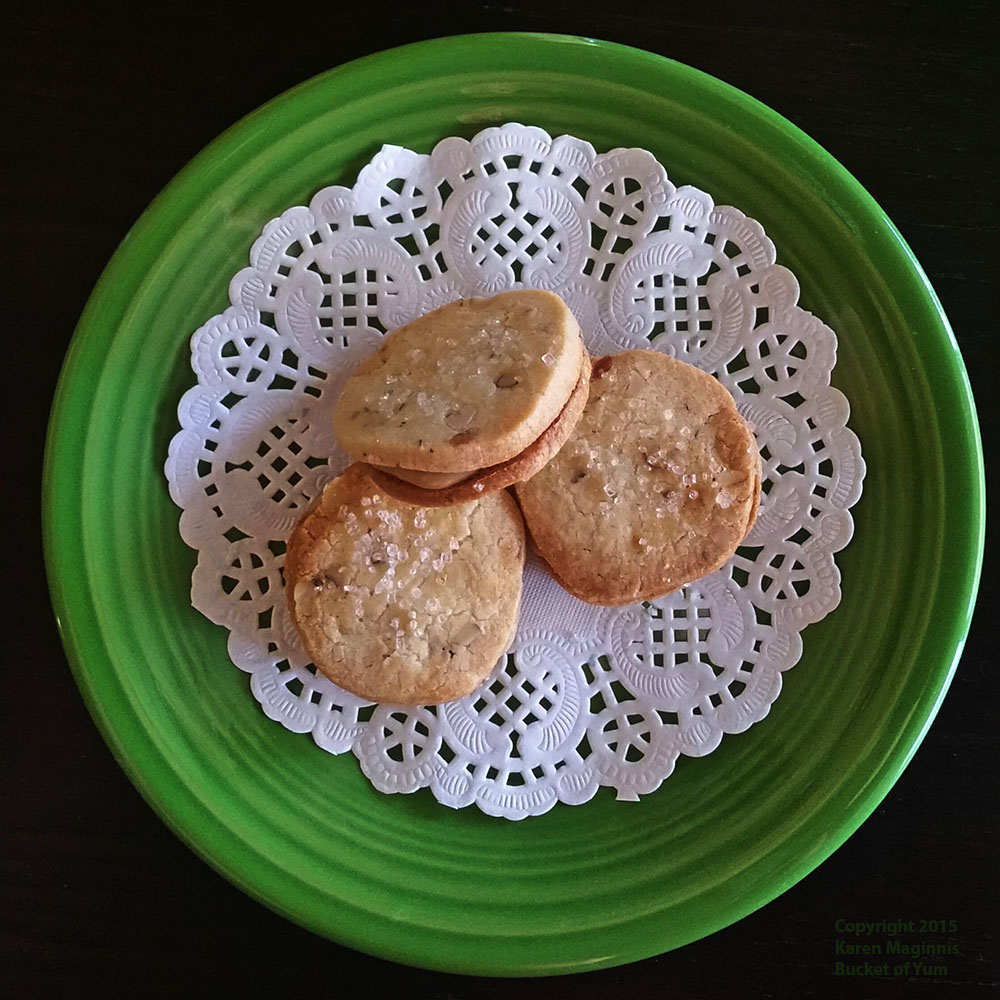 Himself likes the cookies plain, without the maple. He thinks that brings out too much of the earthiness in the nuts. But, since I like that, we'll have to disagree.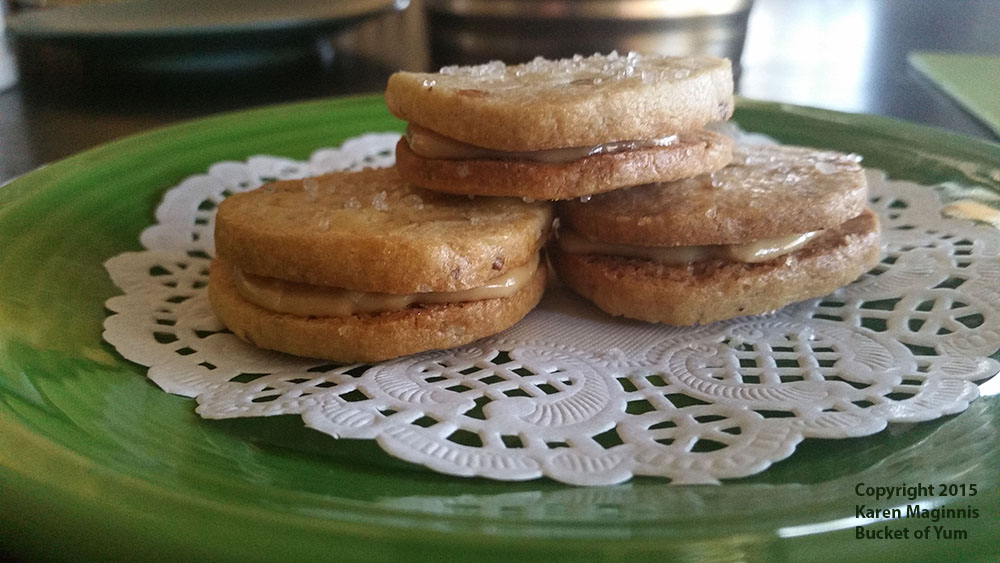 Happy Cookie Season, ya'll.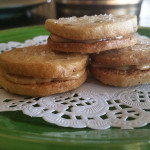 Black Walnut Maple Sandwich Cookies
2015-12-06 15:07:16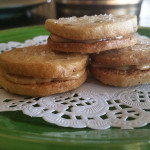 Crisp, earthy black walnut sablé sandwiched with real maple cream.
Nutrition Facts
Amount Per Serving
* Percent Daily Values are based on a 2,000 calorie diet. Your Daily Values may be higher or lower depending on your calorie needs.
Ingredients
Ingredients
3/4 cup (1 1/2 sticks) unsalted butter
2/3 cup sugar
2 large egg yolks
1/4 tsp salt
1 teaspoon pure vanilla extract
2 cups all-purpose flour
3/4 c. black walnuts, chopped pretty fine (not minced, tho)
Whites from the eggs
Sparkle sugar
old wrapping paper cardboard tube, or a couple of paper towel tubes, sliced once lengthwise with scissors to open it up.
Instructions
Whip the butter and sugar until smooth and lightened. Add egg yolks, salt, and vanilla; Mix on high for 30 seconds until combined. Add the flour and salt, mix on med until combined. Add the nuts, give a quick couple of whirls to mix them in.
Lay out a sheet of plastic wrap on the counter, about 18" long. Take the dough and make it in to a log about 15" long and 1.5-2" in diameter (or the diameter of the paper towel tube if your're using one.)Wrap it up tightly, slide it in to the tube (this keeps the round shape) and refrigerate for at least an hour or up to a week. Or, freeze it for up to three months.
When you're ready to bake, pre-heat the oven to 350* and line your cookie sheets with parchment.
Remove the dough from the sleeve, unwrap, slice into ¼" thick disks with a VERY sharp knife.
Arrange 1/2" apart (these barely spread when baking) brush with the left over eggwhite and sprinkle with the sparkle sugar.
Bake 12-15 minutes, until lightly golden around the edges.
Cool, spread one side with maple cream and sandwich cookies together.
Keeps in a sealed tin for a week, easy. But they won't last that long.
Notes
You can make the cookies a couple of weeks ahead of time, but don't sandwich with the maple cream until you're ready to eat them or give them away.
Adapted from Martha's Sablés
Bucket of Yum http://bucketofyum.com/