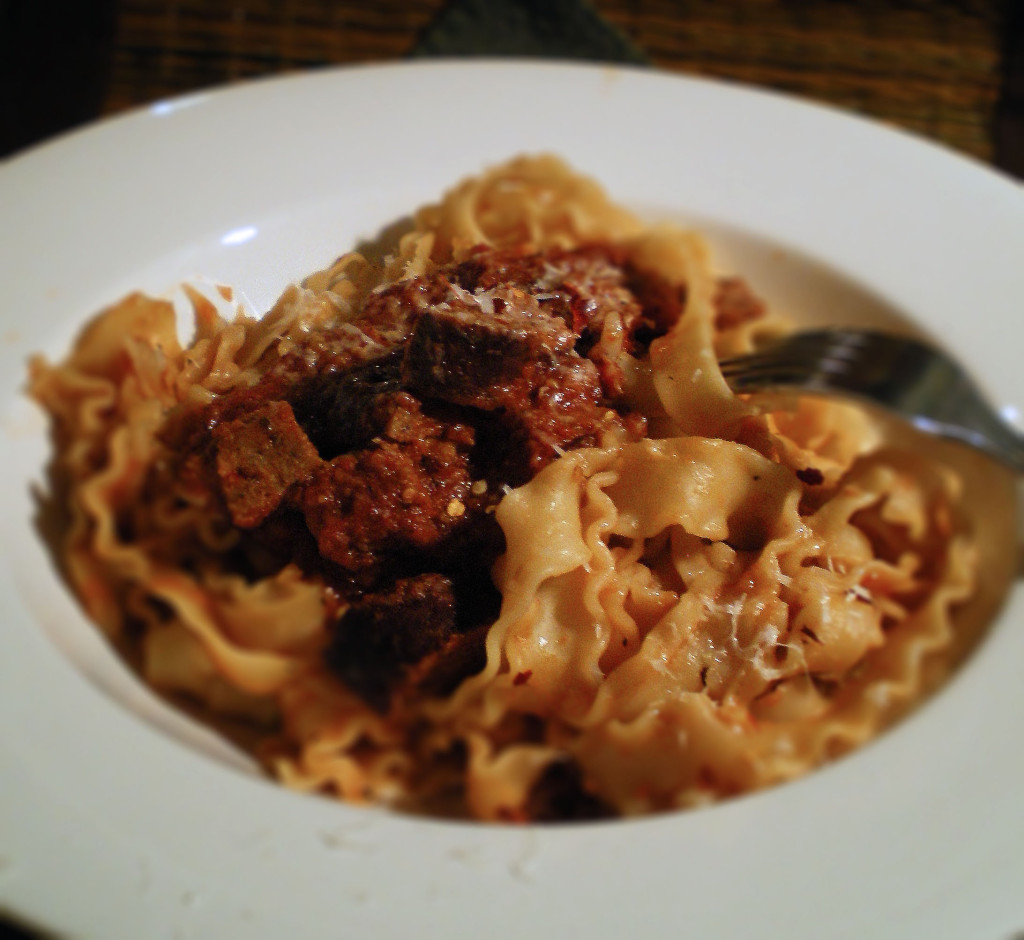 We are so lucky to have this amazing Italian deli and food shop in town, Roma Imports. They make their own sauces, sausages, desserts, and carry salume and pasta like that reginette in the photo that we otherwise just would not find here.
We are in love with their Count Dracula sausage, and it is my favorite to use when making what my Italian-American friends call "gravy" (and what the rest of us call pasta sauce.) It is a beautiful thing, bursting with juicy porky goodness, seasoned with lots of hot pepper and garlic. YUM!
Since we don't do the whole primo/secondo thing at our house, we like to slice the sausage in the sauce after it's cooked. It serves more that way, I think. But hey, I'm a cheap ass. Ask my husband.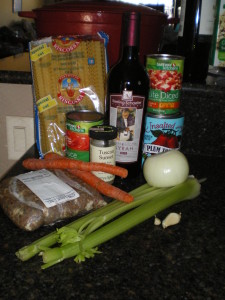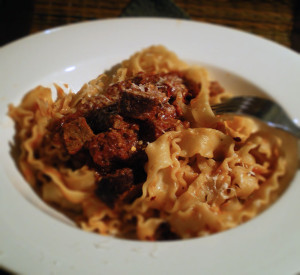 Count Dracula's Pasta Dinner
2013-10-27 18:24:14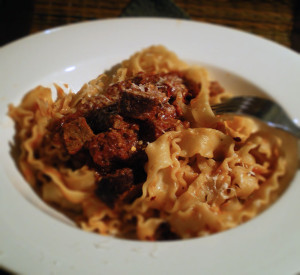 Serves 8
Spicy sausage tomato sauce served with reginette noodles, whose wavy edges really hold the sauce.
Nutrition Facts
Amount Per Serving
* Percent Daily Values are based on a 2,000 calorie diet. Your Daily Values may be higher or lower depending on your calorie needs.
Ingredients
1 pound hot italian sausage
1 28oz can peeled tomatoes
1 14.5 oz can diced tomatoes with onion and garlic
1 14.5 oz can tomato sauce
3 stalks of celery, diced
1/2 medium white onion, diced
2 medium carrots, diced
2 cloves of garlic, minced or pressed
2 Tbsp. Penzey's Tuscan Sunset seasoning (or plain old Italian seasoning, or1 1/2 tsp each dried: marjoram, basil, oregano, and 1 tsp rosemary)
1 Tsp. Fennel seeds
1/3 bottle soft red wine (TJ's 3-buck-chuck Syrah or Merlot, for example)
3 Tbsp. olive oil
2 pounds long pasta (spaghetti, reginette, linguini, whatever floats your boat)
Instructions
Preheat the oven to 350*. Get out your big enameled dutch oven, or your crock pot. Open the canned whole tomatoes, dump them in and smoosh them with your clean hands (or your potato masher if you're a big wimp). Dump in the other tomatoes and sauce, and add the garlic and herbs. Set aside.
Heat a large non-stick skillet on medium. Add the olive oil and the veggies and sauté until they begin to soften. Add them to the sauce. Now turn up the heat to medium high and brown the sausages on all sides. When they are on their last side, pour the wine over them and cook it down for just a couple minutes while you deglaze the bottom of the pan. Toss all that in to the sauce. Stir. Cover and put in the oven (or the crock pot on high) for two and half to three hours. Go past that at your own risk (the tomato starts to taste burn-y) or else have that oven at 300* from the get-go and cross your fingers.
About half an hour before you're ready to have dinner, put on the pasta pot and follow the package directions to cook the noodles of your choice. While the water is heating, take the dutch oven out of the oven and remove the sausages to a plate to cool a few minutes. While they cool, take your stick blender or your potato masher and puree the sauce. Taste the sauce and adjust any seasoning (need more garlic? more herbs? more hot pepper? Possibly salt?) Once they're cool enough to handle, slice them or dice them and put them back in the sauce. Or, leave them whole. Since we don't do the whole primo/secundo thing at our house, I like to dice them up so I get yummy sausage in every bite.
When your pasta is done (don't overcook it!!), reserve about half a cup of the pasta water before you drain it. Return the pasta to the pasta pot, and put in a couple cups of the sauce and the pasta water. Stir it all together. Serve, garnished with a good freshly grated pecorino romano and red pepper flakes, and extra sauce on the side.
BUON APETITO!
Notes
This sauce is also really good over polenta. It freezes beautifully, too.
Bucket of Yum http://bucketofyum.com/