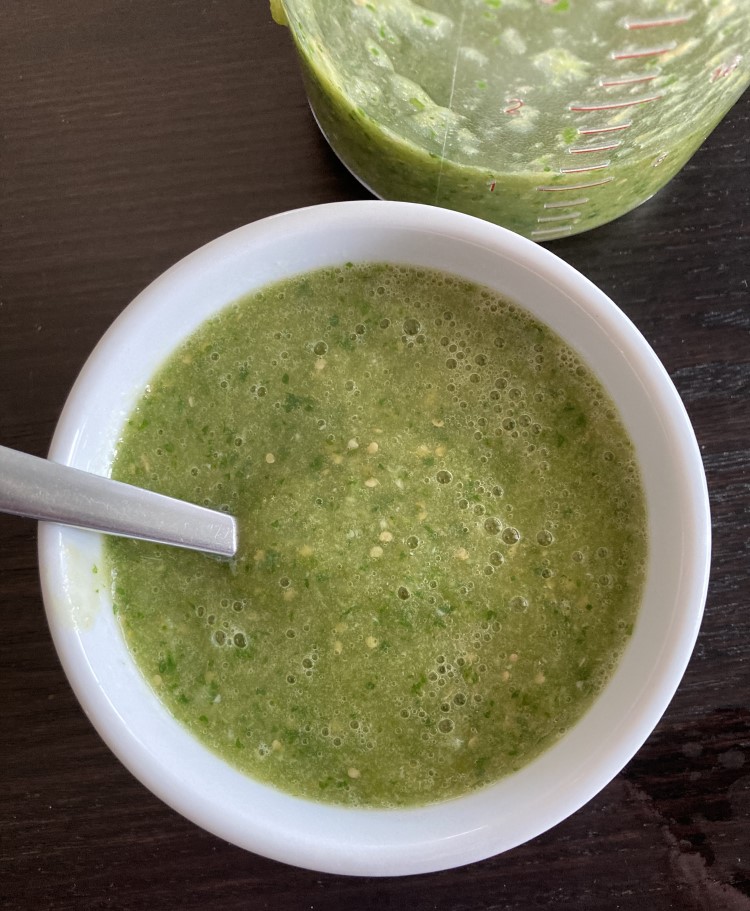 Hello, my lovelies. I've finally come across something new and worthy enough to share. I've been spending a lot of time working on my Spanish listening skills and learning how to make traditional Mexican recipes. I had nothing new of my own worth sharing for a bit. It didn't make sense to post what I'd been cooking when there was a recipe/video already out there, and I hadn't developed the recipe myself. Add to that a forceful internal debate going about entitlement and cultural appropriation, and it just wasn't the right time. Yet. But then I did some tweaking on a couple recipes I've been trying and was ecstatic with the results. The gals at the office loved it. One tried the recipe at home and her husband loved it. Actually, she was really kind – she said he loved it so much it inspired them to do a big asada for dinner. (S! You made my day!) So, time to share.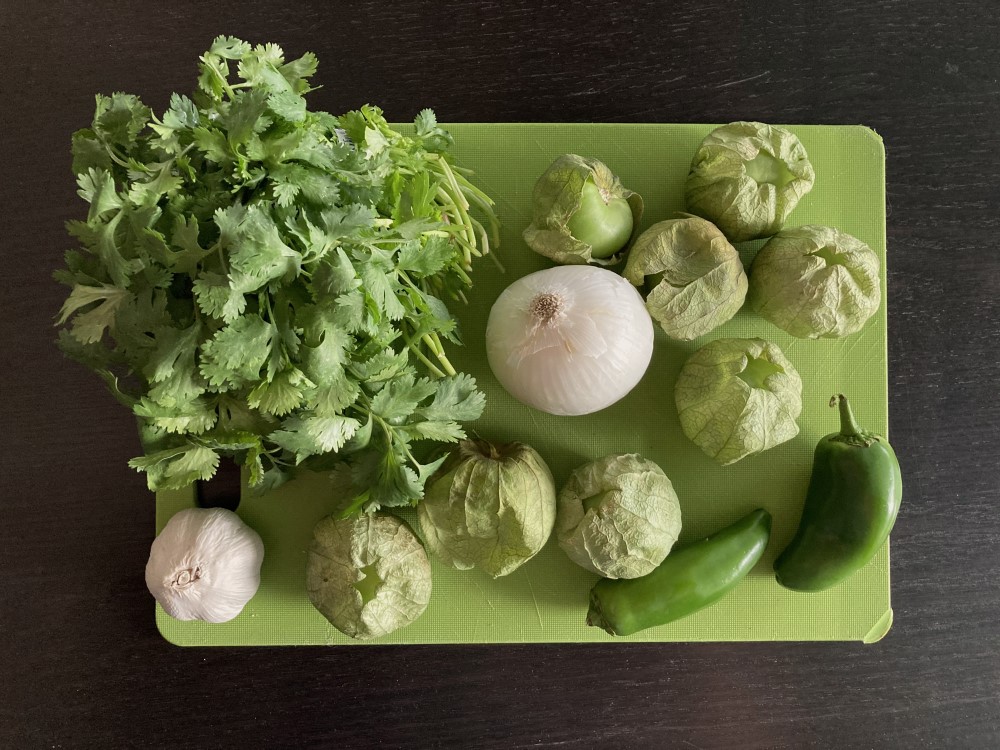 Salsa verde had never been my favorite -there is something off-putting to me about the cooked tomatillos. They're not exactly slimy, but they have this certain viscousy mucus quality (especially the jarred kind) and that olive green color that just are not appetizing to me. I want something more vibrant and fresh.
In my journeys with my new YouTube friends and The Google, I discovered that tomatillo salsas fall into three main categories where the ingredients are either cruda/raw, charred, or boiled.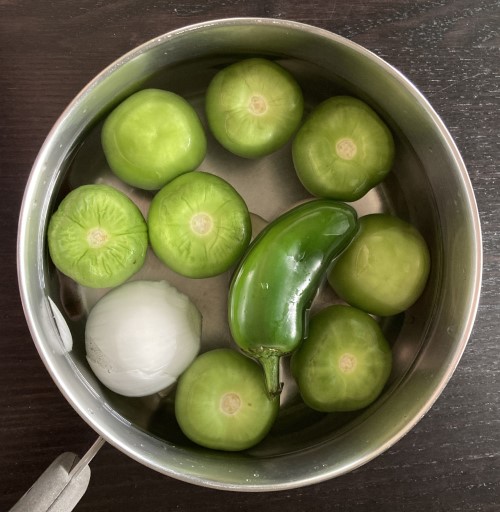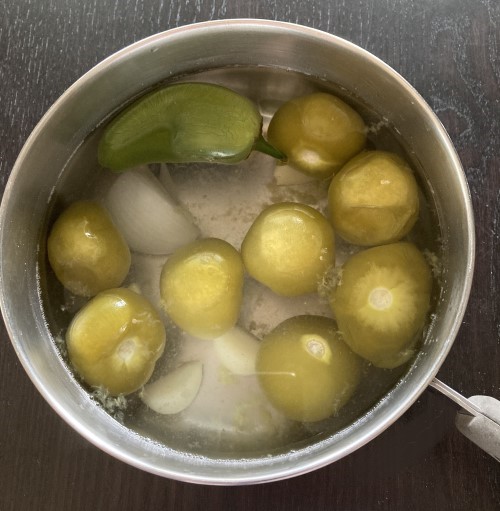 I was ecstatic when I found the first raw recipe – finally! Yes! But……..no. it was way too acidic. Then I started to think – why do I have to follow the rules? Who says I can't blend a couple techniques? I prefer the tomatillos cooked, but the garlic and cilantro raw in terms of flavor – what if I just barely poached the tomatillos, and some of the other ingredients were raw? Would that fix what I didn't like? The answer was a resounding yes. This is spicy. And garlicky. And truly outstanding on carne asada, fish and chicken – hell, even eggs with avocado. It's really good – and I hope you make it and love it, too.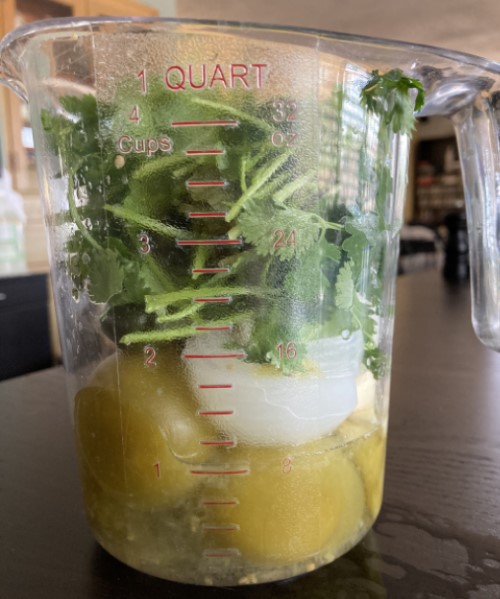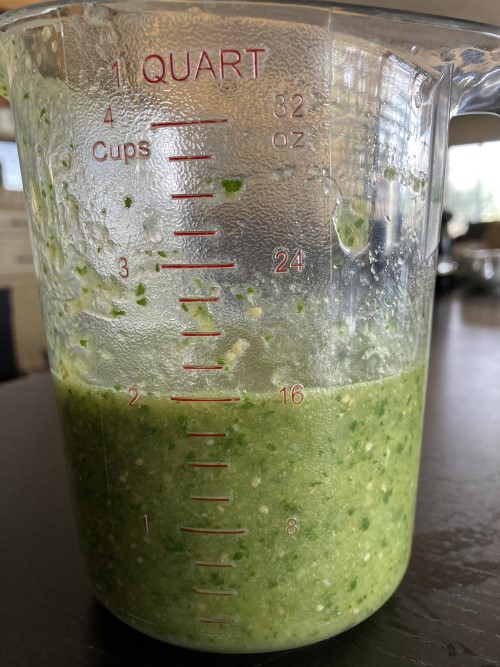 Salsa Verde
Put the following in a saucepan, and cover with water:
Fresh tomatillos, with the cascara (husk)* removed and washed (this is about 8 small, [a little bigger than a ping pong ball.] They should fill the pan.)
1 large jalapeno, pierced (or two if you like things REALLY hot)
3 large cloves garlic, peeled
Bring just to a boil, then remove the heat and let them sit in the water and cool down til they're just warm.
The tomatillos will go to a drab green color.

In your blender or food processor, put:
2-3 fat cloves raw garlic
1/2 a small white onion (about 1/3 c. worth)
a handful of cilantro(remove most of the stems)
1/2 tsp salt
The cooked tomatillos, garlic and jalapeno (but trim the stem first)

Puree until mostly smooth. Add some of the cooking water from the saucepan to thin it out if needed.
You can add lime if you want, but the tomatillos are pretty acidic already. This is garlicky and spicy – but not inedible. It's that good kind of hot that warms your mouth and makes you want to keep eating it.
That's it. Munch away!
*In case you've never removed the husk of a tomatillo, be aware that the fruit are sticky under the husk. You need to wash them really well with water after removing the husk to remove those sticky plant juices.