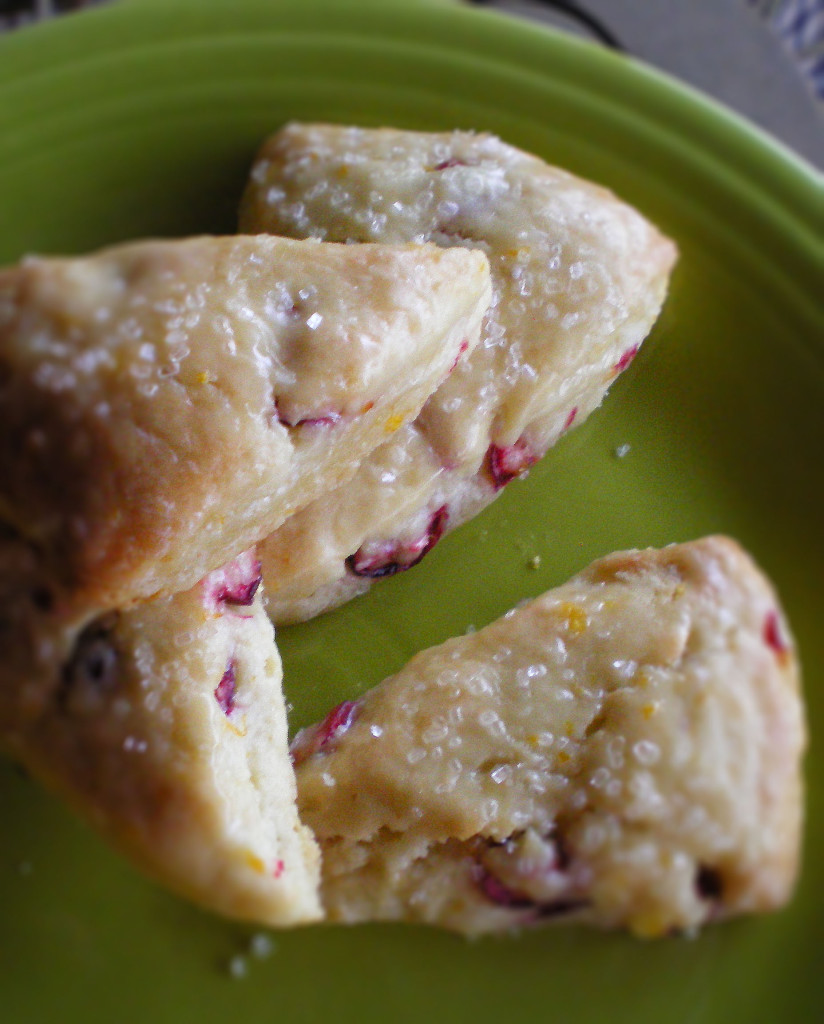 Fresh cranberries. I LOVE this time of year, in part because of the fresh cranberries. And cranberry and orange? Heaven in my book, absolute heaven!
I thought I'd try a scone with fresh cranberry instead of the treacly sweet dried kind, and some orange. Google led me to our Lady of Excellence and Butter, Ina Garten. These are delicious, and on the cakey side more than the biscuity side. I'm too lazy for a round cutter, so wedged discs it was for me – and I like to brush on my glaze while the scones are still hot – it dries as a pretty shine, and keeps them from drying out if you're planning to take your sconage to your co-workers the next day.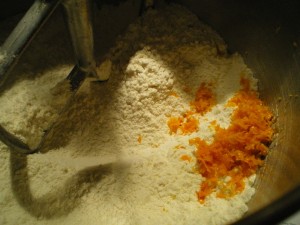 Cranberry Orange Scones with Orange Honey Butter
2013-11-03 20:21:07
A soft, cakey scone full of fall flavors
Nutrition Facts
Amount Per Serving
* Percent Daily Values are based on a 2,000 calorie diet. Your Daily Values may be higher or lower depending on your calorie needs.
For the scones
4 c. AP flour
1/4 c. sugar
1 Tbsp orange zest
1 tsp. salt
3 sticks of butter (relax - this makes A LOT of scones)
1 tsp. vanilla
4 eggs
1 c. heavy cream
1 1/4 c. chopped fresh cranberries
For the glaze
1 Tbsp. orange zest
1/4 fresh orange juice
2 c. powdered sugar
Crystal sugar for the top.
For the orange honey butter
6 Tbsp soft unsalted butter
2 Tbsp honey
1 tsp. orange zest.
Instructions
Preheat oven to 375*. Line two cookie trays with parchment.
Cube the butter and stick it in the freezer. Whir the dry ingredients and the orange zest in the bowl of your food processor. Add in the super cold butter and whir til it looks like crumbs. (Ten or twelve pulses). Put in to a big mixing bowl.
Mix the eggs, vanilla and cream. Add that and the chopped cranberries and gently fold the dough together. Divide the dough in to 3rds, and for each third gently roll it in to a ball, then roll it to a disk about 7" across. slice in to 8 wedges. Repeat for the other two, and place them on the cookie trays.
Bake about 20-25 minutes. They should be golden brown and sound hollow when thunked. While they're baking, mix together the glaze. It should be about the consistency of maple syrup.
When you remove the scones from the oven, let them cool 5 minutes. Then use a pastry brush and coat them - top, sides and all. While the glaze is still moist, sprinkle with the chunky sparkly sugar.
Mix all the ingredients for the honey butter, and serve it with the scones.
Notes
I underbaked mine - go closer to the 25 minutes.
Adapted from Ina Garten
Bucket of Yum http://bucketofyum.com/