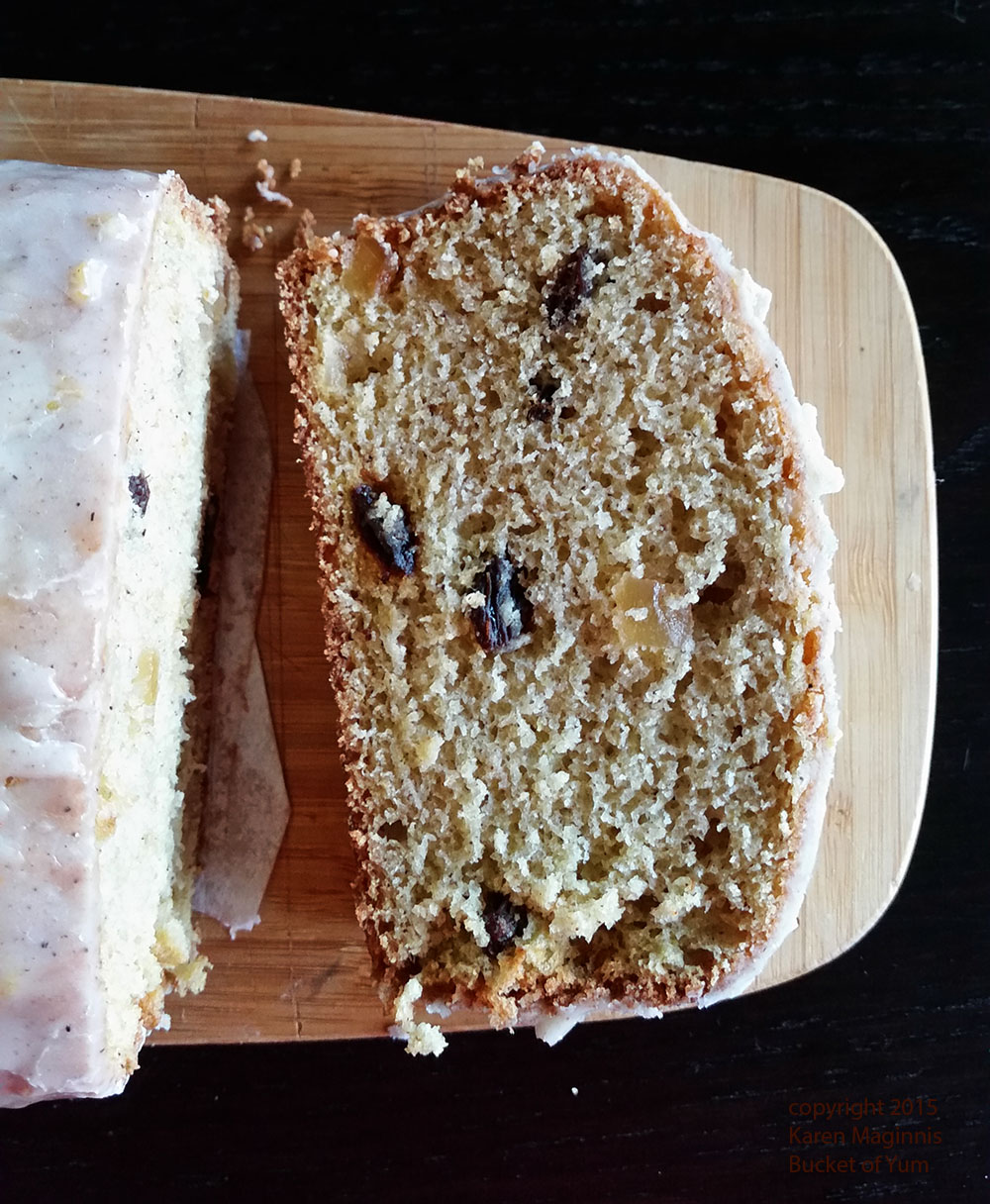 So I want to call this pumpkin ginger raisin spice bread, but just can't. I'm still trying to use up the 8 cups of cooked pumpkin I batch froze back in September with that ill-fated grocery store pumpkin buy. I just cannot bring myself to just throw it out. It is not very orange and does not taste very pumpkin-like.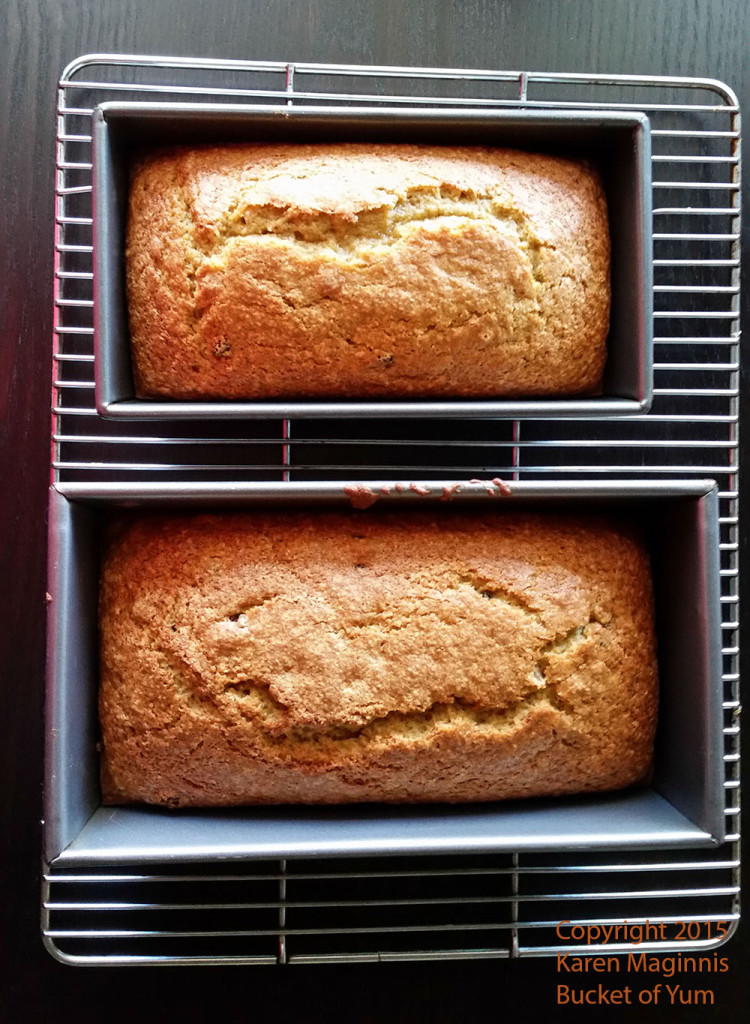 I learned my lesson, and have four sugar pumpkins from Willcox waiting to be cooked and bagged. But I know myself, if I cook those now that poor grocery pumpkin will have died for naught, collecting freezer burn in his zippy back way in the back. But I digress. I cannot make pie with this shit, so I decided on a pumpkin bread. Only with lots of flavor additions like candied ginger, raisins and spices.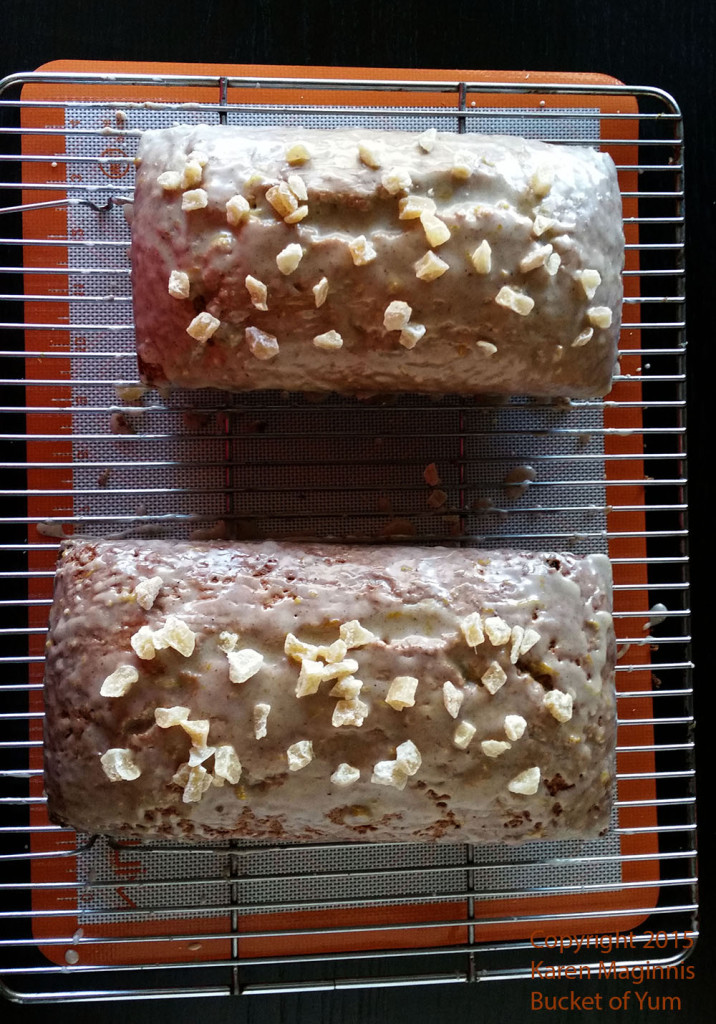 When I buy the candied ginger, I actually have to hide it from Himself. It's like crack. Or maybe cryptonite, that and australian black licorice. Ok! On to the bread – this is another of those one-bowl wonders, and is really quick.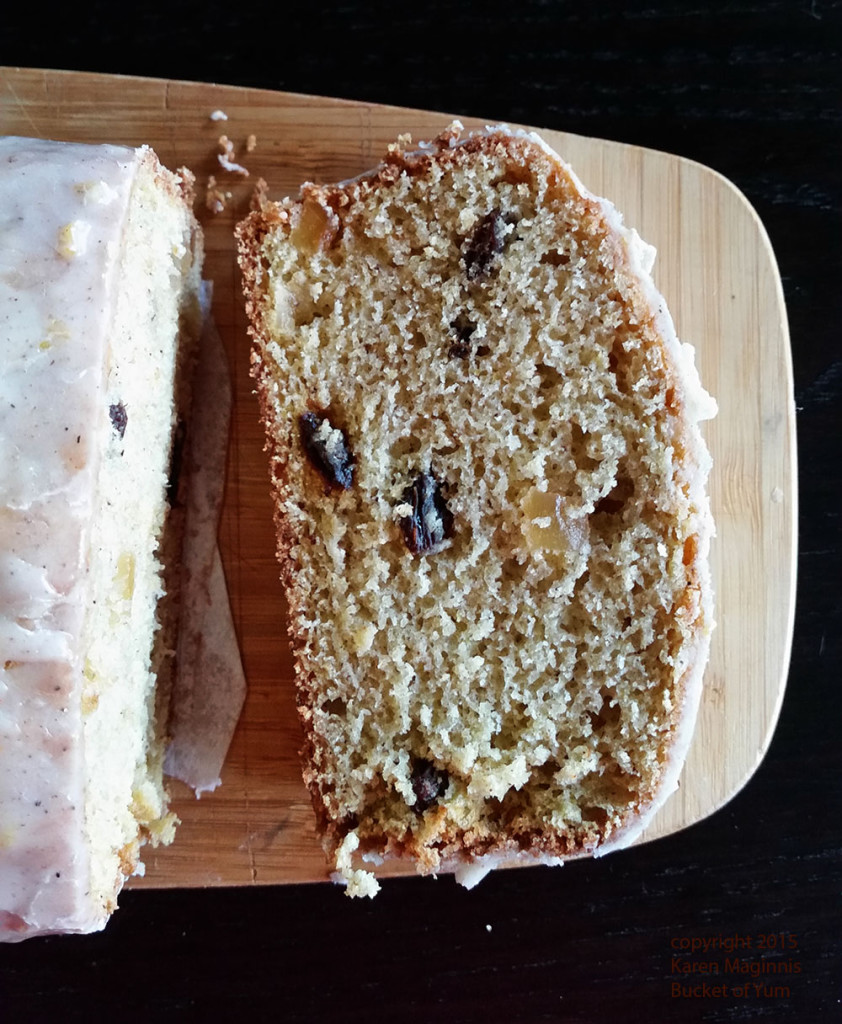 I hope you try this, and use good pumpkin! This would be equally tasty with an equivalent amount of grated fresh zucchini in place of the pumpkin.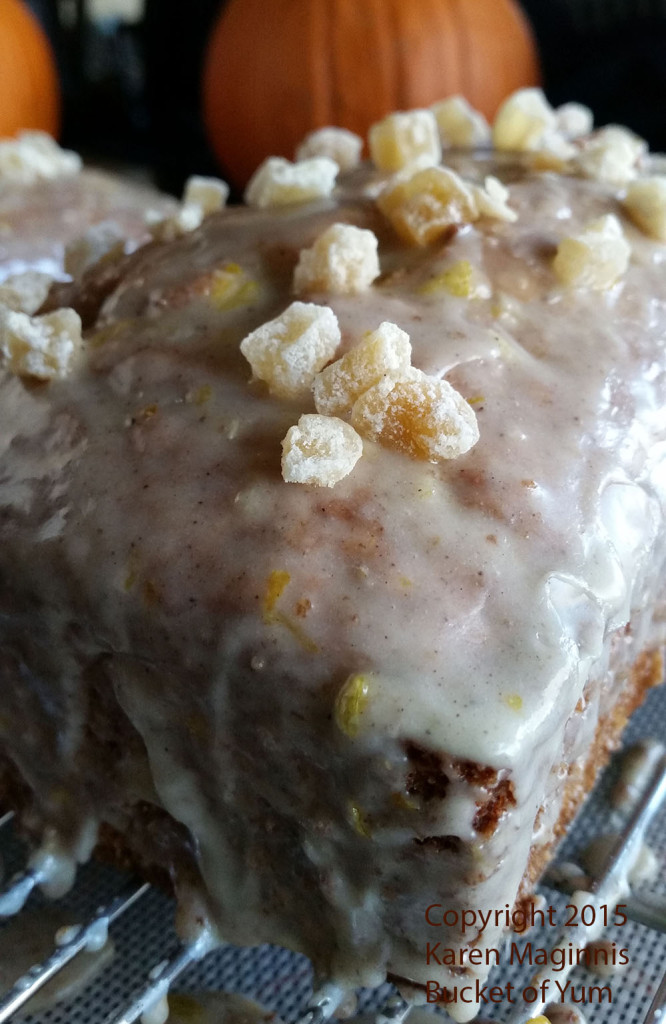 I love this glaze, too. It's the usual orange zest/juice with icing sugar and the loverly addition of some more of that pumpkin pie spice. This is a scrumptious fall treat – I hope you try it!
Ingredients
For the batter
2 c sugar
2 c pumpkin puree
2/3 c veg oil
4 eggs
2 tsp vanilla
3 c AP flour
4 tsp. baking powder
2 tsp. pumpkin pie spice
½ c raisins
¼ c minced candied ginger
for the topping
zest & juice of half an orange
2 Tbsp water
1.5-2 c. powdered sugar
½ tsp pumpkin pie spice
¼ c. minced candied ginger to garnish
Instructions
Spray the bottom of each loaf pan and line it with parchment. Preheat oven to 350*.
Throw everything but the ginger/raisins In the mixer bowl with the paddle, give it a whirl on medium until it's all mixed. Add the ginger/raisins and give a quick spin to mix them in.
Divide the batter between the pans.
Bake 50-60m. until a tester comes out clean. Cool to just warm, then remove from the pans.
While they are cooling, mix together the glaze. It should be the consistency of thin pancake batter. When they are just warm to your palm, pour half the glaze of the tops of the loaves and use a pastry brush to spread it all over, including the sides. Next, drizzle the remaining glaze and sprinkle the tops with the garnish candied ginger.
Cool completely before slicing.
By Karen Maginnis
Adapted from Betty Crocker's Best of Baking (MacMillan, 1997)
serves 16
calories 364
fat 11g
cholesterol 47mg
sodium 23mg
carbs 64g
-fiber 2g
-sugars 42g
protein 5g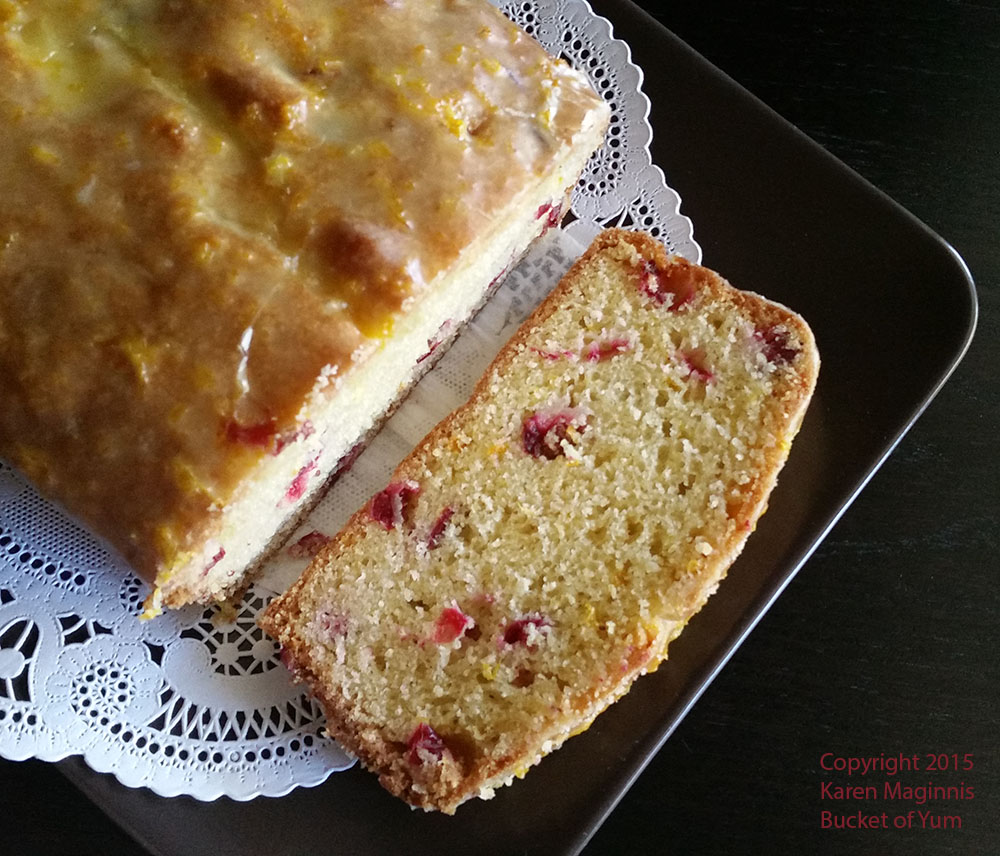 There are certain flavor combinations that just make me so happy. Roast beef and horseradish. Goat cheese and roasted beets. Hard boiled eggs with balsamic vinaigrette. Lemon and blueberry. And, cranberry with orange.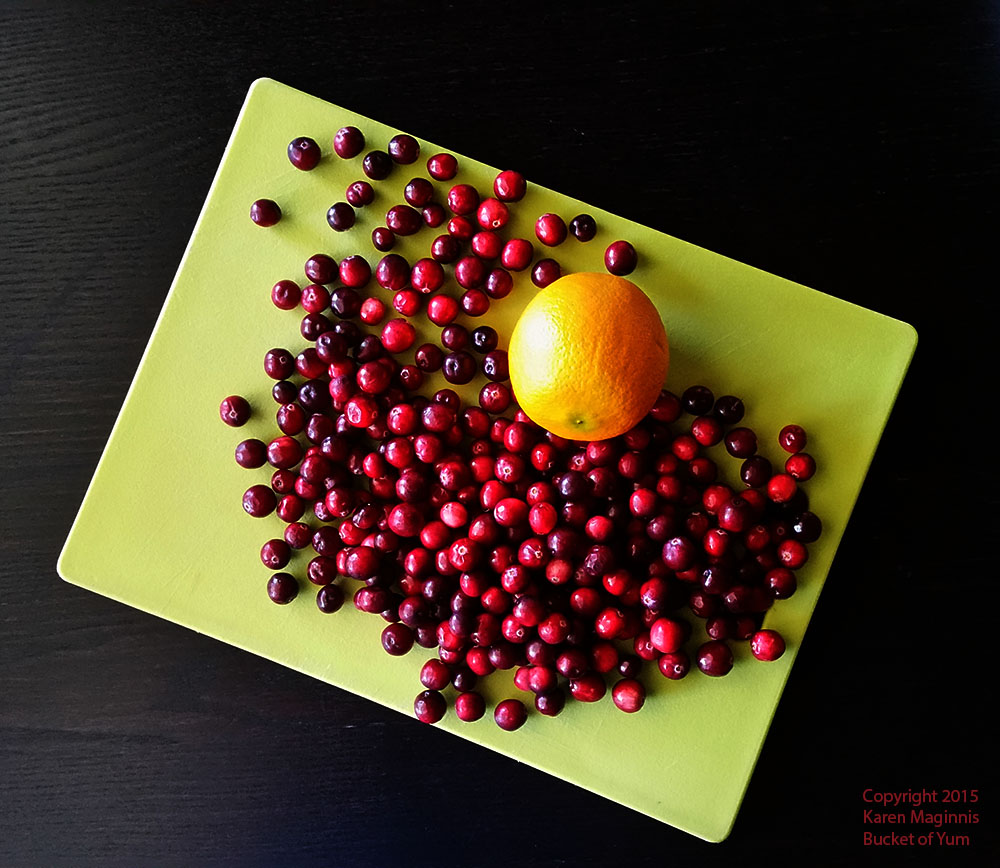 I was *so* excited to see the cranberries had arrived at Costco last week. I wish I had room in my freezer to buy like three bags. They keep a long time in there! Of course, I immediately wanted to make C-O scones. But, you know, that'd be attempt number three and even for my obsessive nature it was a bit much. So, the interwebs led me to lots of possible recipes. Saw one at the Oceanspray site and thought, alright alright alright. That should be reputable……
This was one of those "oh, shit!" recipes. You know, where have something started or in process and there is a critical problem? I had measured out and mixed all the dry and was getting ready to add the fat – in this case, butter – when I saw it called for 4 tablespoons. For four cups of flour and two of sugar. Plus a cup of orange juice and a couple of eggs. Holy shit. This was going to be a seriously dry log – something to make a ciambella look like a pudding. Fuck a duck. So, I had to scramble for similar recipes and found a blueberry lemon cake to base the. uh, mid-recipe adjustment needed to not wind up with a giant dry crumb from the oven.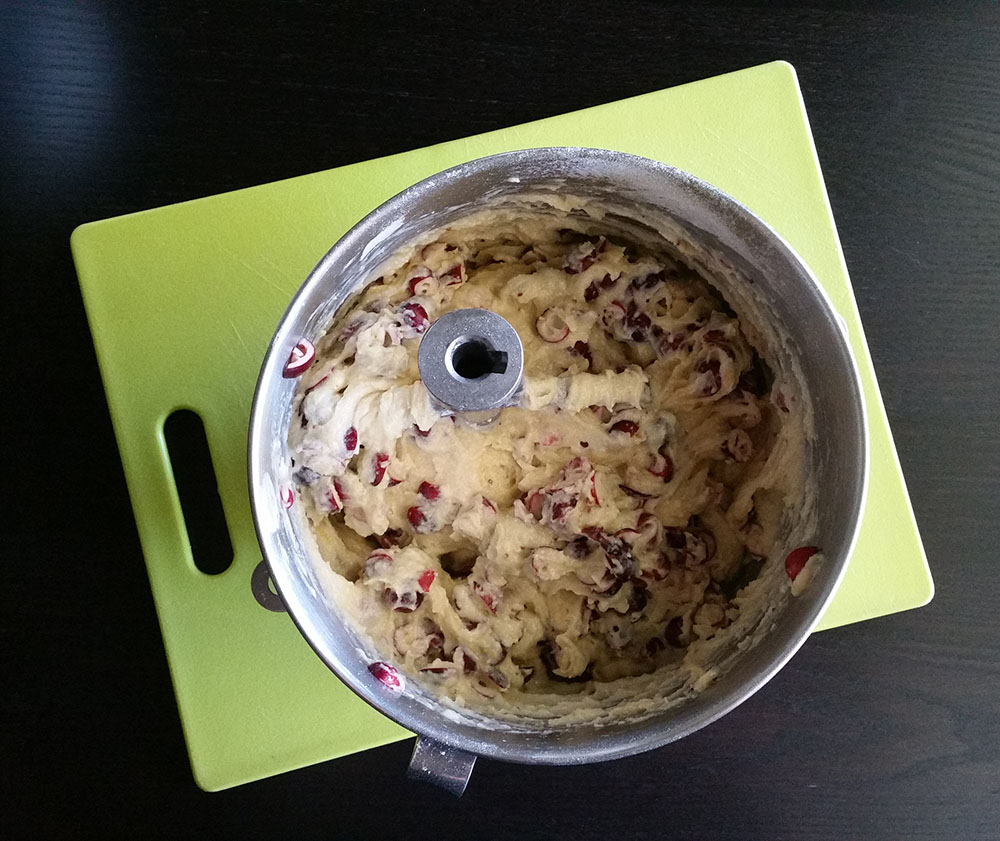 Even with the addition of more butter, more buttermilk and egg, this batter was still so stiff it held the beater in position when I popped the bowl off the kitchenaide.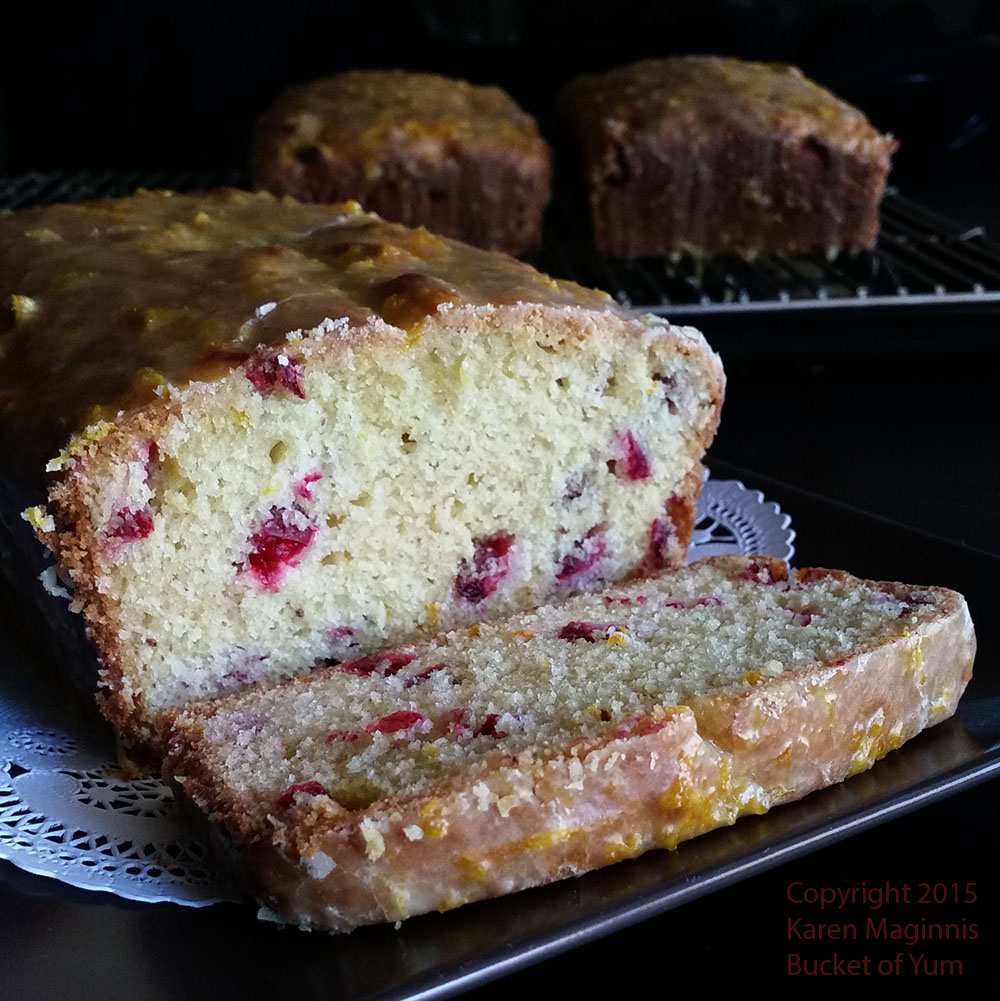 Once it came out of the oven, I knew things worked out. It tastes great – so, whew! Crisis averted. And, wtf Oceanspray?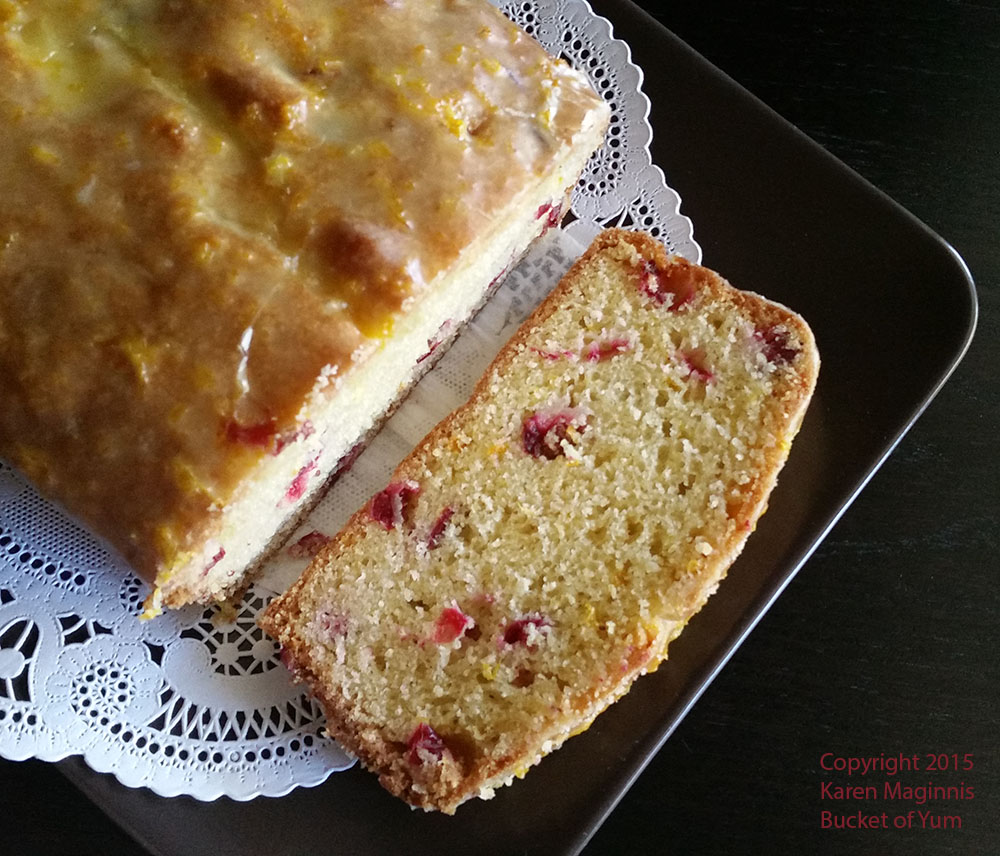 This is a lovely tea cake, buttery with a tender crumb, a sweet citrusy glaze and the zam! pow! tartness of those fresh cranberries. You are really going to enjoy this one! Have it with a cup of coffee in the afternoon, or dress it up with some orange whipped cream and a cranberry coulis for dessert. YUM!
For the cake
3 c. fresh cranberries, coarsely chopped
4 c AP flour
2 c sugar
zest of an entire orange (about 3Tbsp)
1 c butter
1 Tbsp baking powder
1/2 tsp baking soda
2 tsp salt
4 eggs
1.25 c buttermilk
juice from the orange (about 1/4c)
1 tsp vanilla
For the glaze
zest and juice of one orange
1.5-2 c powdered sugar
Instructions
Chop the cranberries coarsely.
Mix in the mixer bowl the flour, sugar, zest, salt and leavening.
Add in the butter, mix on medium.
When the dry/fat mix looks like coarse cornmeal, stop the mixer. Pour in the wet. Just barely spin the beater a couple of times to mix. Stop.
Pour in the chopped cranberries, and again just barely spin the beater to mix them in.
Split this VERY thick batter between the two pans, and bake 60-70 minutes until a tester comes out clean.
Let cool ten or fifteen minutes while you make the glaze.
Combine the juice, zest and powdered sugar in a bowl and get out a pastry brush. It should be the consistency of crepe batter (or elmer's glue if you've not made crepes.)
When the pans are just cool enough to touch, get a butterknife, and slide it down and along the sides of the cakes to make sure all the sides (and especially the corners!) are loosened and not stuck. Then whack the sides of the pan with you hand to make sure that puppy is ready to pop out and gently depan the cake. (I usually put my clean silicone oven mit across the top, invert it, lift off the pan and then set the cake on the cooling rack.)
Once you've got them both on the rack, put a cookie sheet underneath it. Use the pastry brush to brush away any loose crumb.
Pur about a ¼ of the icing on each cake and work wicked quick with the pastry brush to sloppily coat the top and sides with the glaze. Now, let the cakes cool. Cover the remaining glaze with some cellophane and go read some food blogs for an hour or two. When the cakes are cool, artfully drip the remaining glaze on each. You can sprinkle garnish on top of this glaze if you like (candied orange peel, sparkle or pearl sugar, colored sugars or sprinkles). Once the glaze dries, you can wrap these puppies in wax paper, or slice and devour. This will freeze beautifully.
Notes
This makes two 9″x5″ or four 8″x3″ loaves.
serves 16
calories 408
fat 13g
cholesterol 79mg
sodium 376mg
carbs 67g
-fiber 2g
-sugars 41g
protein 6g