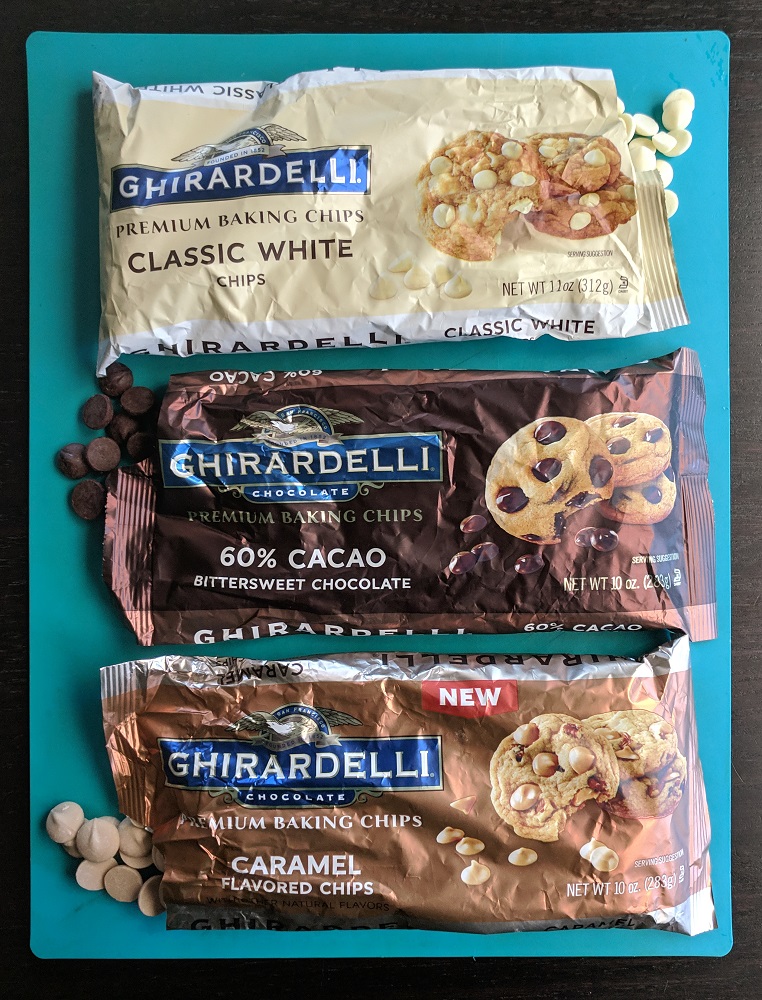 Triple chips. Triple nuts. Triple nerms. These blondies leave behind the walnuts and butterscotch chips, and have cashew, almond, and pecan along with (wait for it) caramel chips. What what???? I know, right? Well, let me tell you a story….
Wandering in the grocery a couple weeks back, I discovered that Ghiradelli makes a caramel chip. So of course I bought them, along with some dark and white chocolate ones. I was thinking that they would be awesome in some blondies.
We're going on a little hike and picnic today – probably one of the last days it will be enjoyable to be outside at this elevation for a while. So, along with the muffaletta, pasta salad and aranciata, we will need some blondies. They are Himself's favorite treat. I've given up trying to recreate a flavor from his memory and just bake what I think sounds yummy. And this definitely fit the bill.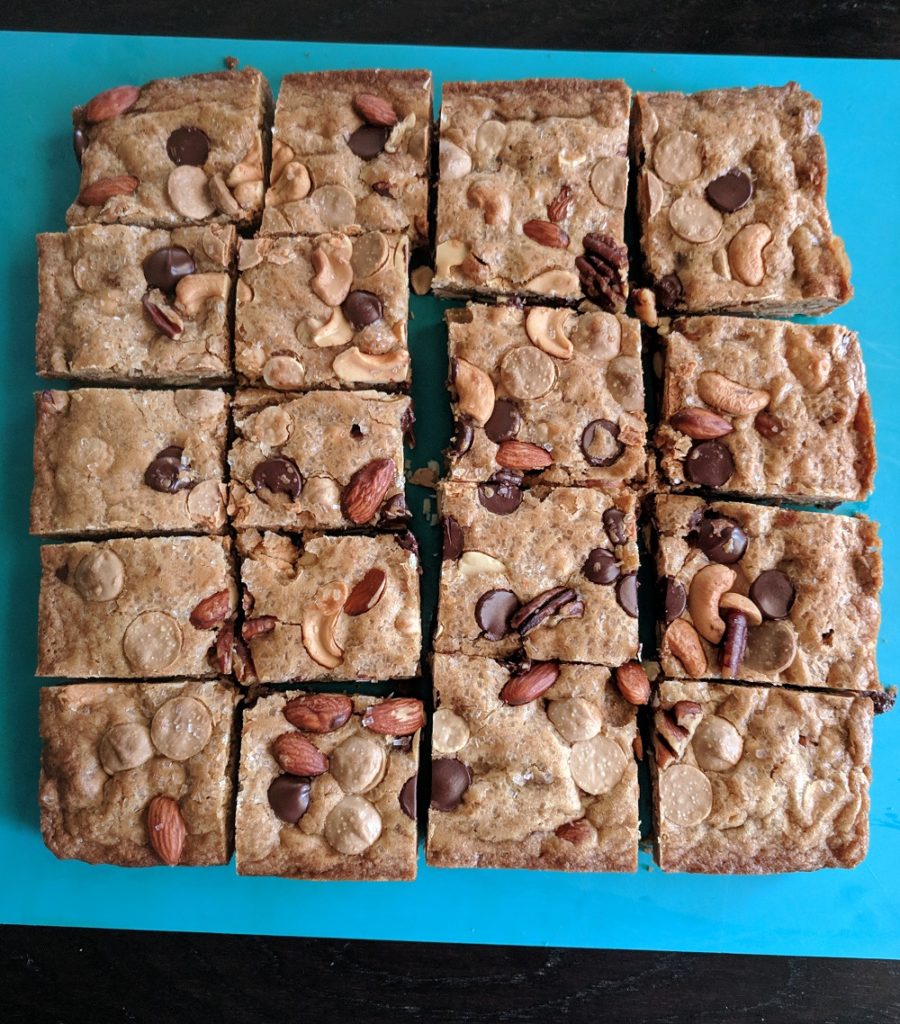 These are really rich, so slice 'em small. After I wrapped up ours for the picnic (Himself: "Wait. You're packing only two? What if we have a blondie emergency?" He is such a dork.), I wrapped the rest and put them in a zippie bag in the freezer. They'll last a couple months that way, and a quick zap in the micro-onda and it's instant deliciousness (perhaps with a scoop of vanilla [non-dairy] ice cream…) Plus, having them safely in the freezer keeps a tray of blondies whispering your name every time you walk past the kitchen counter. A win/win, so to say.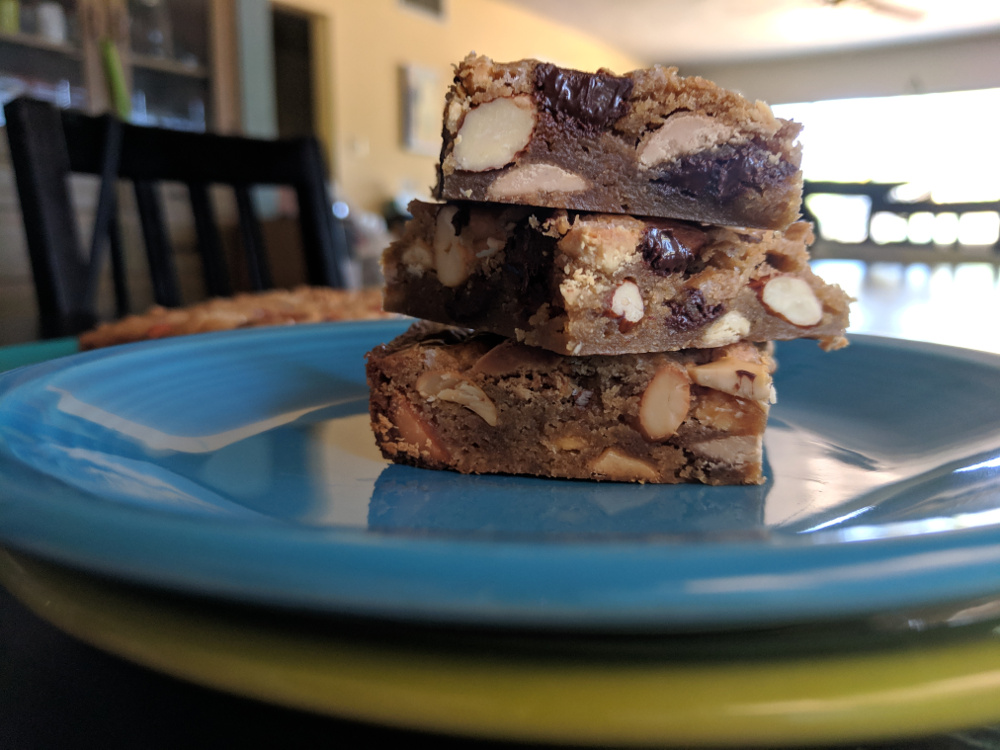 These are super. Super easy. Super fast. Super delicious. And a one-bowl, one-spoon wonder, to boot. Give 'em a whirl!
Triple Triple Blondies

INGREDIENTS
1 stick unsalted butter (½ c.)
1 c. dark brown sugar
1 egg
1 c. AP flour
1 tsp.Vanilla
½ tsp. Salt
⅓ c. each white, dark, and caramel chips (total 1 c.)
¾ c. nut mix (almonds/pecan/cashew)
(Opt) Kosher salt & sparkle sugar to dust the top
DIRECTIONS
Preheat oven to 350*. Grease a 8" square pan and lay in an Alton Brown-style parchment brownie sling.
Use a medium microwave safe bowl, and melt the butter. Add the brown sugar, vanilla, and salt, and stir to combine. Stir in the egg. Set aside a half-handful of the chips and nuts, and add the rest along with the flour to the bowl and stir it vigorously (you want to develop a little bit of that gluten to get some chewiness).
Pour and smooth the batter in the pan, sprinkle with the reserved chips/nuts (and some flake salt and sparkle sugar, if you like). And bake 25-ish minutes until a tester comes out clean. Don't over bake – you want them just this side of cooked. Cool completely, then lift out the sling and slice in to at least 16 squares. Snarf 'em right then and there, or wrap 'em up and freeze 'em.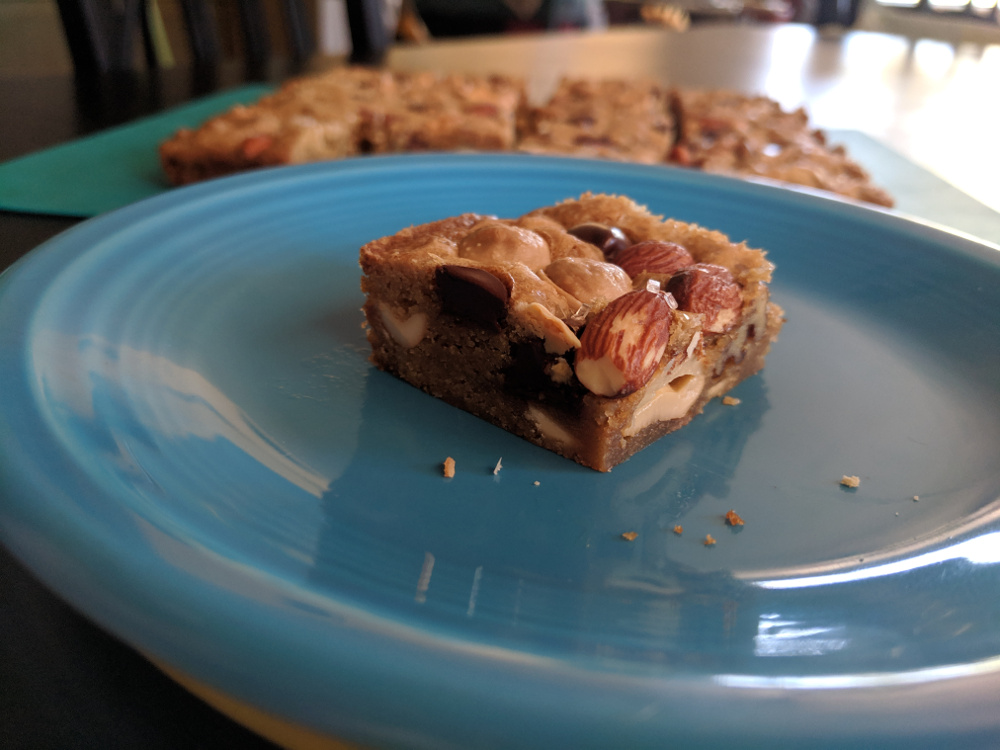 Bon appetit!

Nutritional Information from VeryWellfit.com's calculator, based on 16 blondies. Each blondie has:
211 cal
13.1 . fat
150mg sodium
21.8g carbs (fiber 1.1g, sugar 14.5g)
2.5 g protein