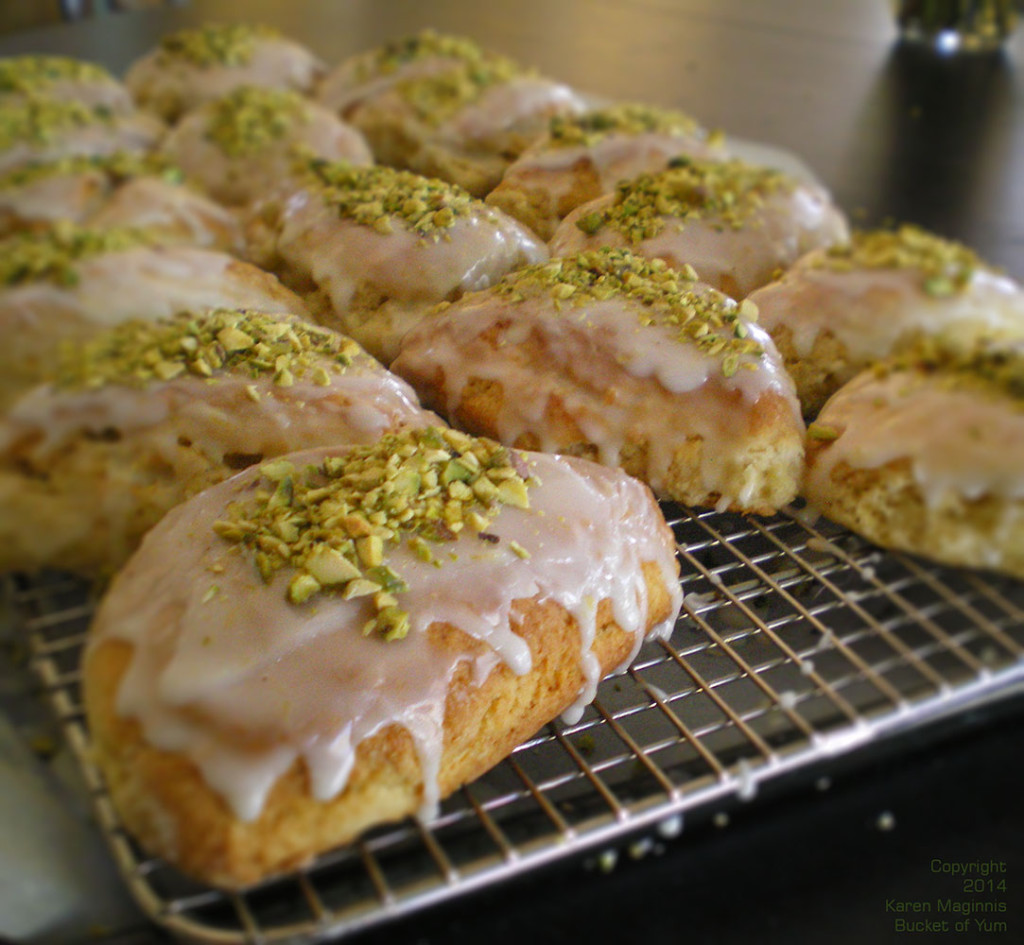 Lemon. Yum. When it comes to sweets, lemon really is my favorite. Even more than chocolate. A while back, S. at work asked if she could buy some scones from me for a family member in her 90's. I always say no to these requests – being paid takes away the fun – but it was really hard to refuse. So, I found a vanilla scone recipe at Joy of Baking, and of course tweeked it a bit. They turned out nicely, and the grandma sent me a hand-written thank you card. Got me a little verklempt.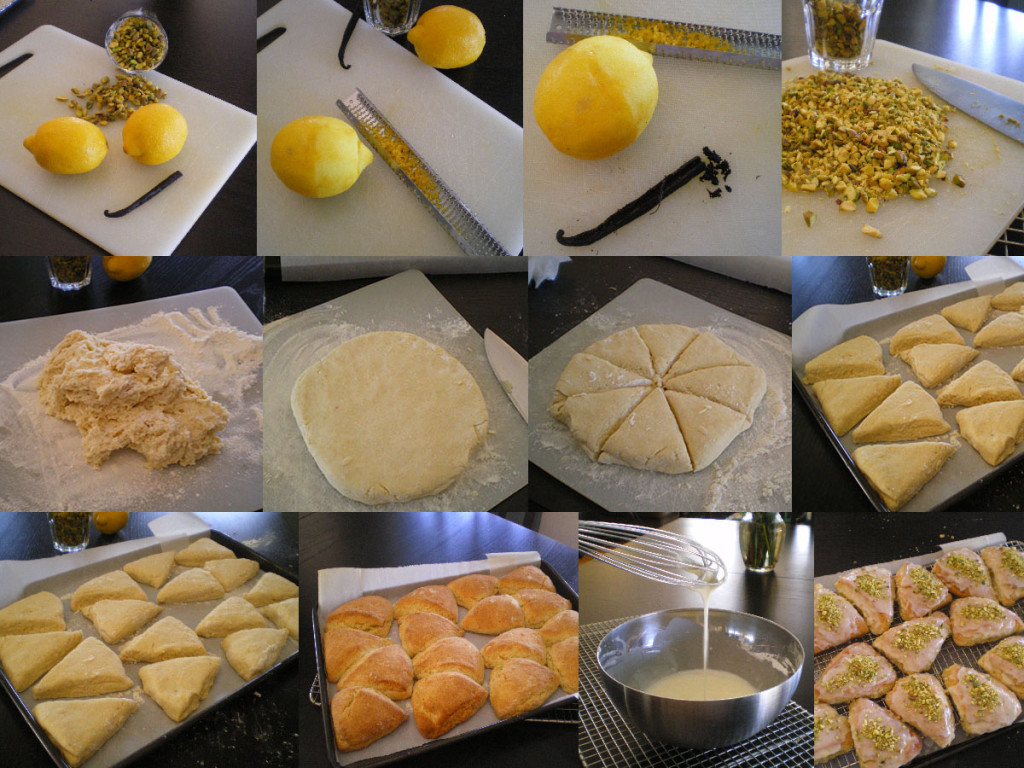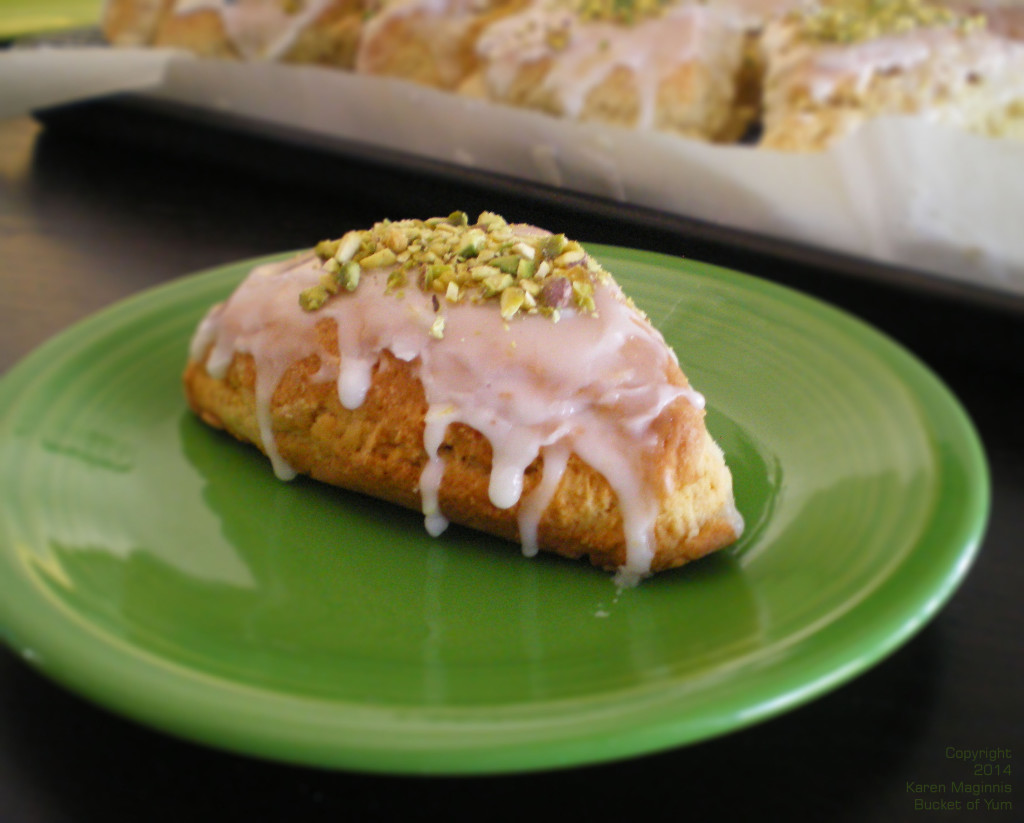 So…..today I made a double batch to take to work tomorrow, one for the office and one for S. to take to Grandma's.
Bon appétit.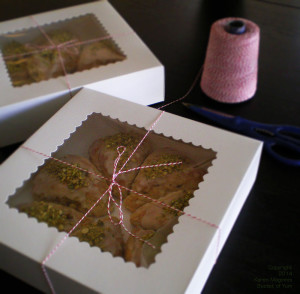 Lemon Pistachio Vanilla Scones
2014-06-15 17:16:20
Tender and lemony - a delightful not-too-sweet treat for breakfast, brunch or an afternoon coffee.
Nutrition Facts
Amount Per Serving
* Percent Daily Values are based on a 2,000 calorie diet. Your Daily Values may be higher or lower depending on your calorie needs.
Ingredients
2 cups AP flour
1/4 cup sugar
1 tsp. baking powder
1/2 tsp. baking soda
1/4 tsp. salt
Zest from 1/2 a lemon
1/2 c. unsalted butter, cold!
3/4 cup buttermilk
1 egg yolk
1 teaspoon vanilla extract (or 1/2 vanilla bean, scraped and mixed with the liquids).
For the glaze
Zest of the other half of that lemon
Juice of one lemon (about 3-4 Tbsp)
1 c. confectioner's sugar
For the garnish
1/2 c. pistachios, finely chopped
Instructions
Preheat your oven to 400*.
Line a standard size cookie sheet with parchment paper.
In your mixer or your food processer, put all the dry ingredients. Pulse a couple times to mix. Cube the cold butter and drop it in the dry mix. Pulse until the mix looks like coarse corn meal.
Whisk together the egg yolk, vanilla and buttermilk.
Flour your counter, barely stir the liquid in to the dry, then put it on your floured counter to barely, gently work the dough to a cohesive ball. With plenty of flour on your hands (this dough is quite sticky), gently, gently flatten the ball in to a disc about 8" across and 1" high. (or, divide the ball in two and flatten both those in to discs about 1" high). Heavily flouring your board knife or a large chef's knife, cut the circle in to 8 triangles.
Use the heavily floured knife to help life the triangles to the baking tray. The dough is really soft and will lose its shape if you try to just pick it up and move it with your hand. If the scones are a little flourly, don't worry about. You can brush that off after they bake, and the glaze will hide imperfections.
Bake 20-22 minutes, until they are golden brown and sound hollow when thumped.
Remove from the oven and let cool almost completely.
Make the glaze: mix the lemon zest, juice and confectioner's sugar. It should be the consistency of crepe batter.
Use a pastry brush to glaze the scones (right in the pan, if you like) and while it is still wet sprinkle on the chopped pistachios. Gently press them in to the glaze so they stick.
Serve.
Best the same or the next day.
Adapted from Joy of Baking
Bucket of Yum http://bucketofyum.com/