This is the second attempt at these babies. I've been trying to capture Himself's favorite dessert, pecan pie. Although these are not quite there, they are quite tasty. Hopefully a future post is coming that can be called the pecan pie version. Not today, though. If I make one more batch of these this weekend, I am afraid Himself will have my head.
This version is just sweet enough, with a nice crunch from the nuts, and a little hint of salt in the special icing.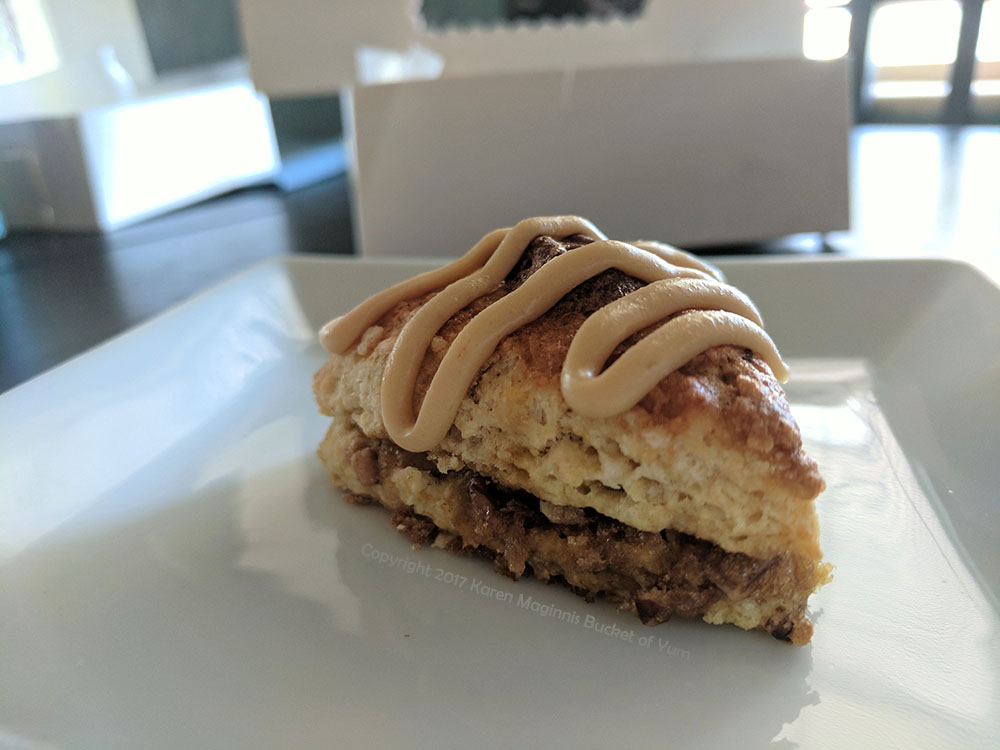 These are a little more fussy than my usual, but don't be scared off. It's not hard, there's just a couple extra bits. But hey! That's what makes these so special. And pretty enough to get rid of the leftovers to the neighbors!
Shall we?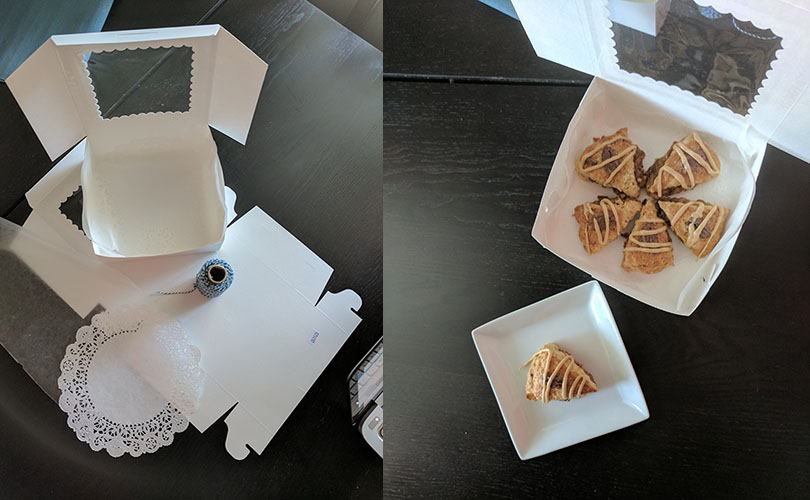 Pecan Brown Sugar Scones.
yield: 16 mini or 8 large
Scones:
2 c. AP flour
1/2 c. dark brown sugar, plus a little extra for sprinkling
¼ c. toasted chopped pecans
1 tsp. baking powder
½ tsp baking soda
¼ tsp salt
½ c. ice cold butter
¾ c. buttermilk
1 tsp. vanilla
1 egg separated, with the whites lightly whisked until foamy.
8-16 pretty pecan halves.
Icing:
1 Tbsp butter
1 Tbps. water
¼ tsp. salt
½ tsp. vanilla
1 c. powdered sugar.
Preheat the oven to 375*.
For the Dry, in a medium-sized bowl mix together:
2 c. AP flour
¼ c. dark brown sugar
1 tsp. baking powder
½ tsp baking soda
¼ tsp salt
Mix, then cut in with a pastry cutter:
½ c. ice cold butter
Set aside, and a small bowl mix the wet:
¾ c. buttermilk
1 tsp. vanilla
1 egg yolk.
Mix the wet in to the dry genty until it is shaggy-looking. Turn on to your board/counter, and gently flold and knead until the tough barely holds tegether. With your board knife, cut the dough in to four equal parts, and gently shape and flatten each in to a disc about 6" across and ½" high. On two of the discs, sprinkle:
¼ c. dark brown sugar
¼ toasted chopped pecans.
With your board knife, gently lift one of the plain discs and set it on top of the nuts/sugared disc. (Do the same for the other) Gently press down, they will kind of stick together. Smooth the outside edge so there's no brown sugar poking out. (Otherwise, the top half will just slide off the bottom half during baking.) Use your board knife to slice each disc in to 8 wedges. (I do halves, quarters, then eighths). Place about ½" apart on a parchment-lined baking sheet. Toss the pecan halves in the foamy egg whites. Brush the backs and tops of the wedges with the beaten egg white, and place a pecan half on each. (Why not the sides? I don't know the chemistry of it, but essentially it'll seal the sides so there's no where for the scone to rise and expand in the oven.) Sprinkle the moist tops with a little more brown sugar. Bake about 15 – 18 minutes until deep golden. Remove from the oven. and place the scones on a cooling rack. When they are just barely still warm, drizzle with the salted brown sugar icing. (And ermehgerd, this icing! I wanted to just eat it with a spoon. This would be amazeballs on a coffee cake. Soooo yummy.)
The Icing:
In a microwave-safe bowl (or 4 cup pyrex!), put:
2 Tbsp. dark brown sugar
1 Tbsp butter
1 Tbps. water
Microwave until it is bubbling. (Mine took about 30 seconds). Stir in:
¼ tsp. salt
½ tsp. vanilla
1 c. powdered sugar.
Stir. It should be the consistency of a thick icing. Put it in a pastry tube to drizzle over the almost-cool scones. Serve and eat!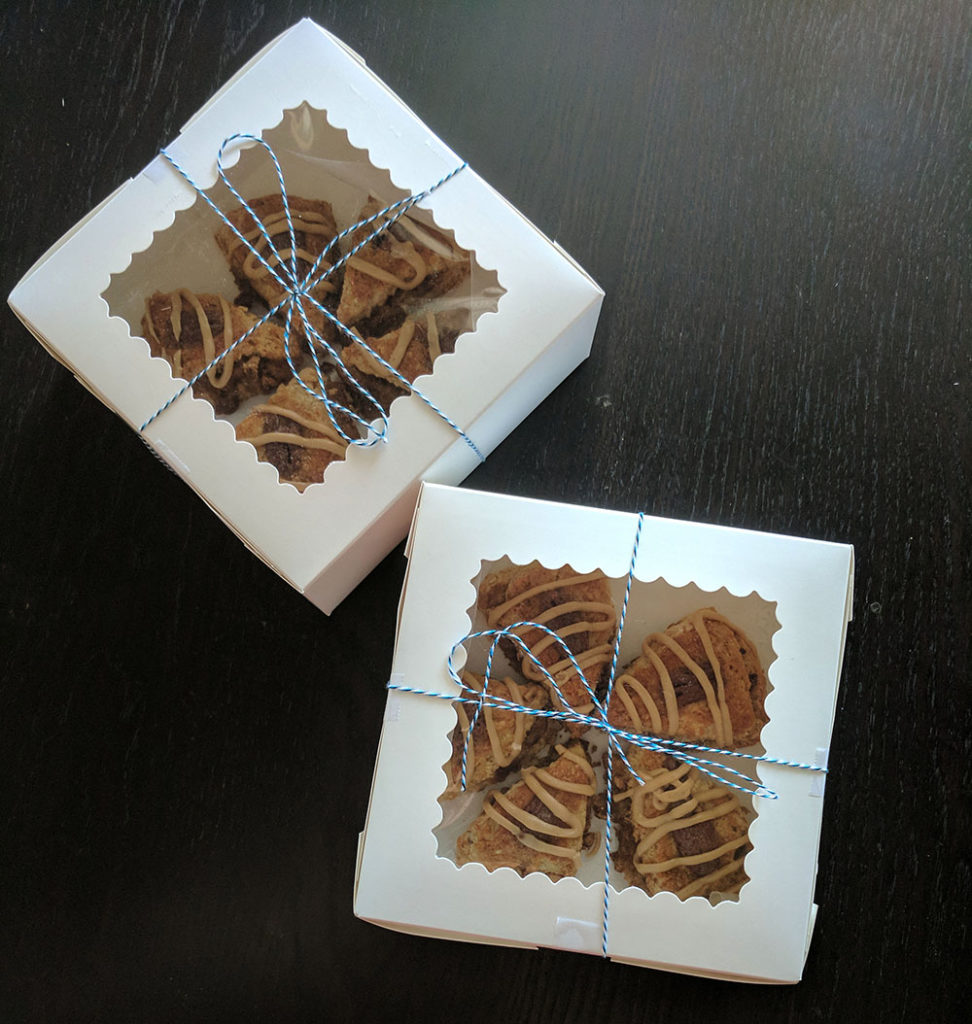 Remember to take some to the neighbors!
For the 16-scone version, the nutritional info per scone calculated using the verywell.com site is:
Calories 256
Fat 18.8g
Sodium 132mg
Carbs 19.6g (fiber 2.3g, sugars 5.7g)
Protein 4.3