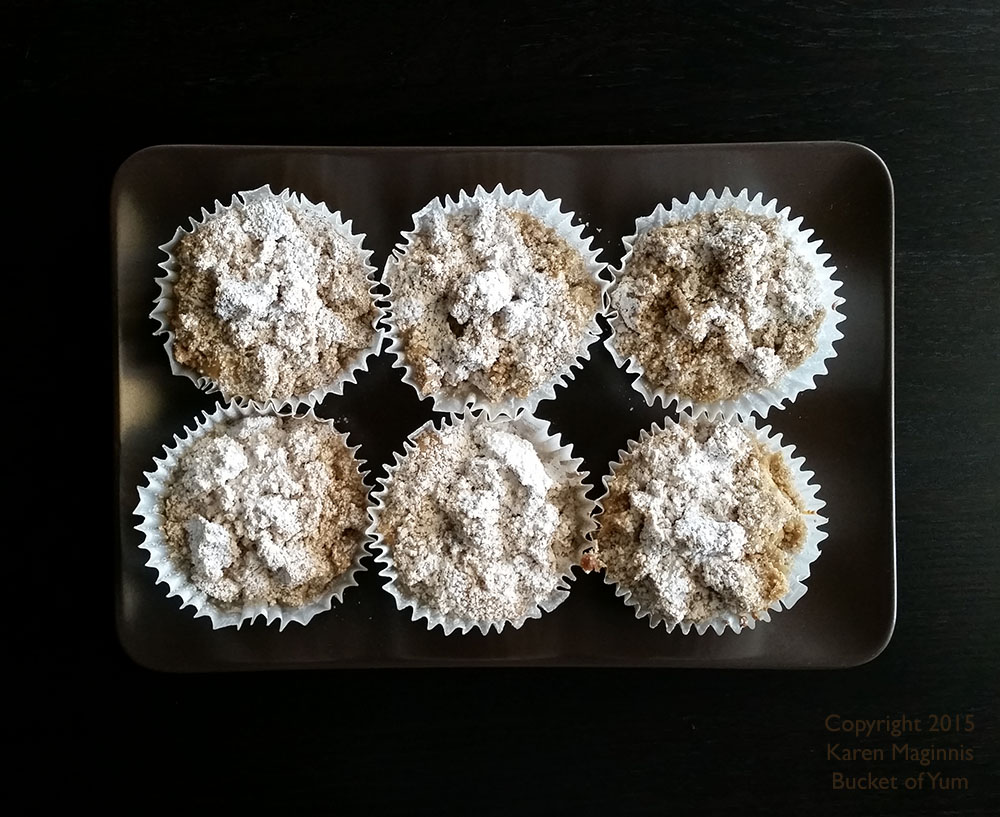 Yesterday my friend M. (who has found great love and happiness far away in England) posted a picture of a crumb cake she'd made for tea. It looked divine. I could not get the thought of that crumb topping out of my mind. You know, the kind with the big clumps of crumb that almost take over the cake and that explode into crunchy, sugary, salty, buttery goodness when you bit into them, and leave a powdery, sugary mess everywhere? Yeah, that.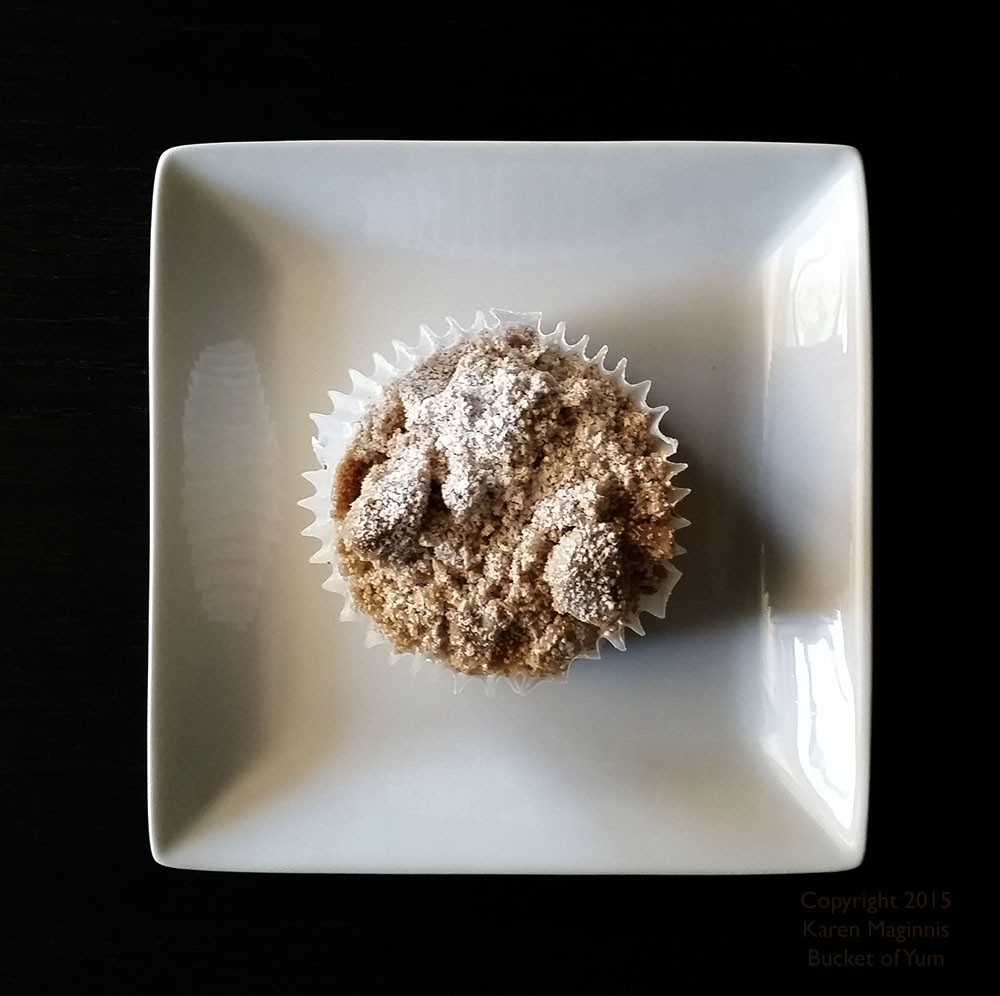 Our Google Overlords led me to an America's Test Kitchen recipe. It's got a lot of steps. It's a pain in the ass. But, my. There are times it's worth it, and this is one.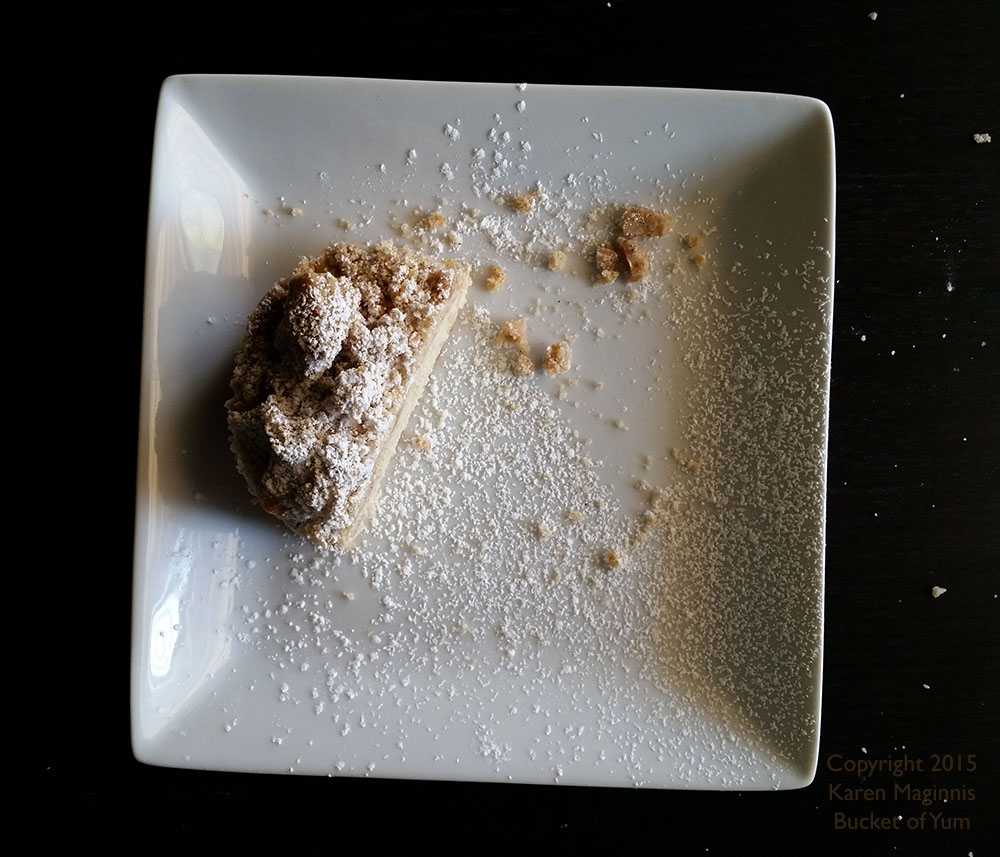 My only kvetch was that the first time I made these, the cake was a little dry the next day, I'm sure due to the fact that I made muffins instead of the cake. So, now I just add a little veg oil, for moisture insurance.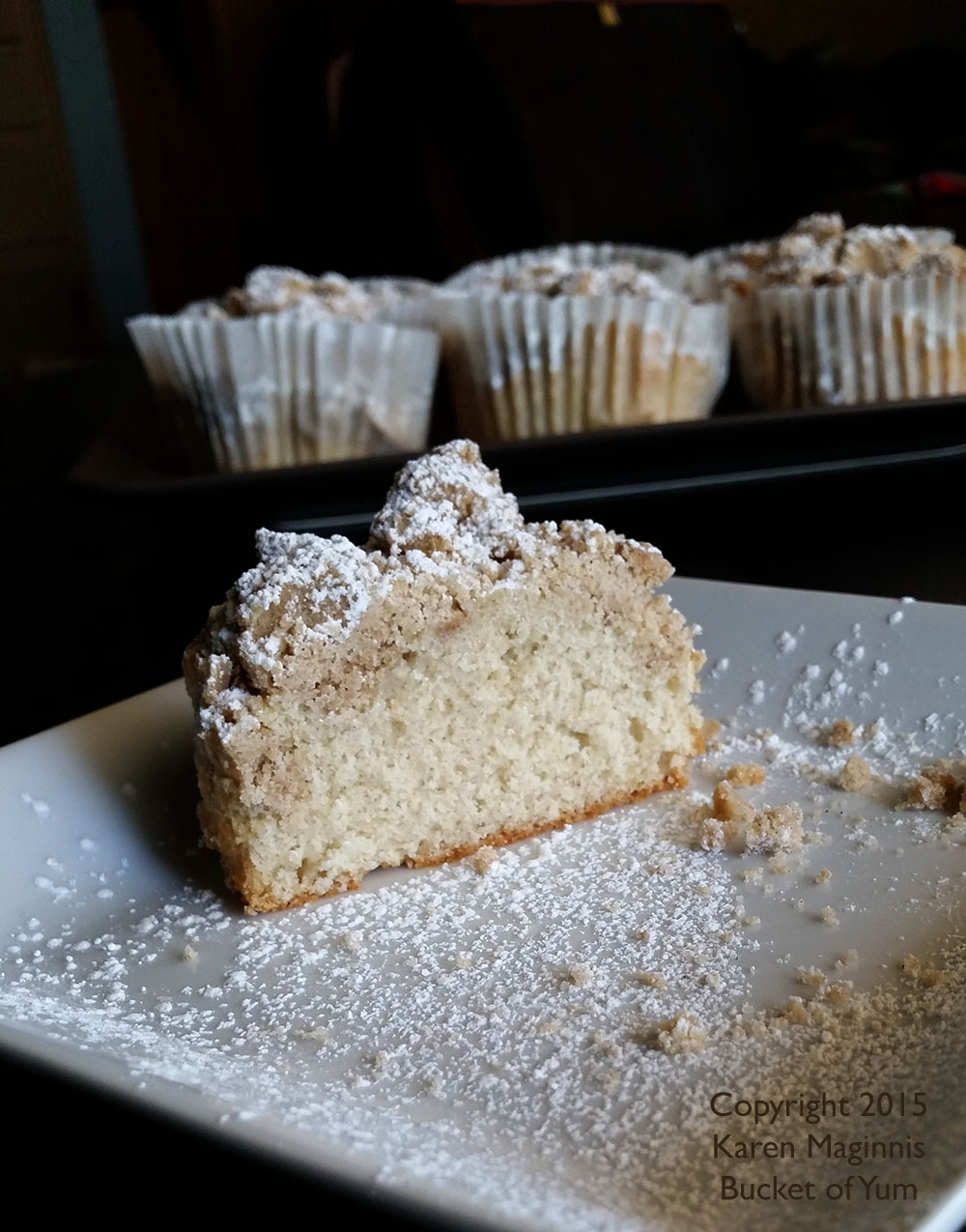 Himself and I both took these to the office, and they were a big hit. What is awesome about this recipe (beside all.that.crumb.topping!), is that it's not too sweet.
Enjoy. Goddess knows we sure did!
For the crumb topping
½ c. white sugar
½ packed dark brown sugar
½ tsp salt
1 tsp cinannmon
12 tbsp melted butter
2 ¼ c. AP flour
2 Tbsp corn starch**
For the cake, dry
2 c. + 2 Tb AP flour
2 Tb corn starch
¾ c white sugar
½ tsp salt
½ tsp baking soda
8 Tbsp butter
For the cake, wet
2 Tbsp vegetable oil
½ c. buttermilk
1.5 tsp. vanilla
2 eggs
plus powdered sugar to dust on top
Instructions
Preheat oven to 325*. Line muffin pan(s) with cupcake liners.
Throw all of the crumb incredients in the mixer with the paddle attachment and mix until crumbly. It should hold large chunks of crumb. Set aside in another bowl.
Still in the mixer with the paddle attachment, mix all the dry ingredients on low (yes that includes the butter) until it looks like fine breadcrumbs. Then, pour in the wet and whip on med-high for a minute. It should look like thick frosting.
Scoop a heaping soup spoon of batter in to each cup. It should it a little less than halfway. Then, top with the crumb mixture. I found I needed to smoosh it a little to make the big chunks before I put it on the batter. However it clumps here is how the finished product will look, so……
Bake about 25 minutes, or until barely golden and a tester tests clean.
Cool and dust with powdered sugar.
Notes
If you don't want muffins, this will make one 9×13 pan of breakfast cake.
** The original recipe called for cake flour. I don't keep that on hand, so I use a little less flour and add in some corn starch. Link to the original if you want to use the cake flour.
By Karen Maginnis
Adapted from From an ATC recipe posted on Food.com
serves 24
calories 238
fat 11
cholesterol 41mg
sodium 138mg
carbs 31g
-fiber 1g
-sugars 12g
protein 3g