There's this awesome coffee cake recipe from Yankee magazine that' really ingenious because you mix the flour, sugars, and oil and then take out 1/2 cup of that to be the crumb topping. So very New England no-nonsense. That's the base for this, I just put in some fruit this time.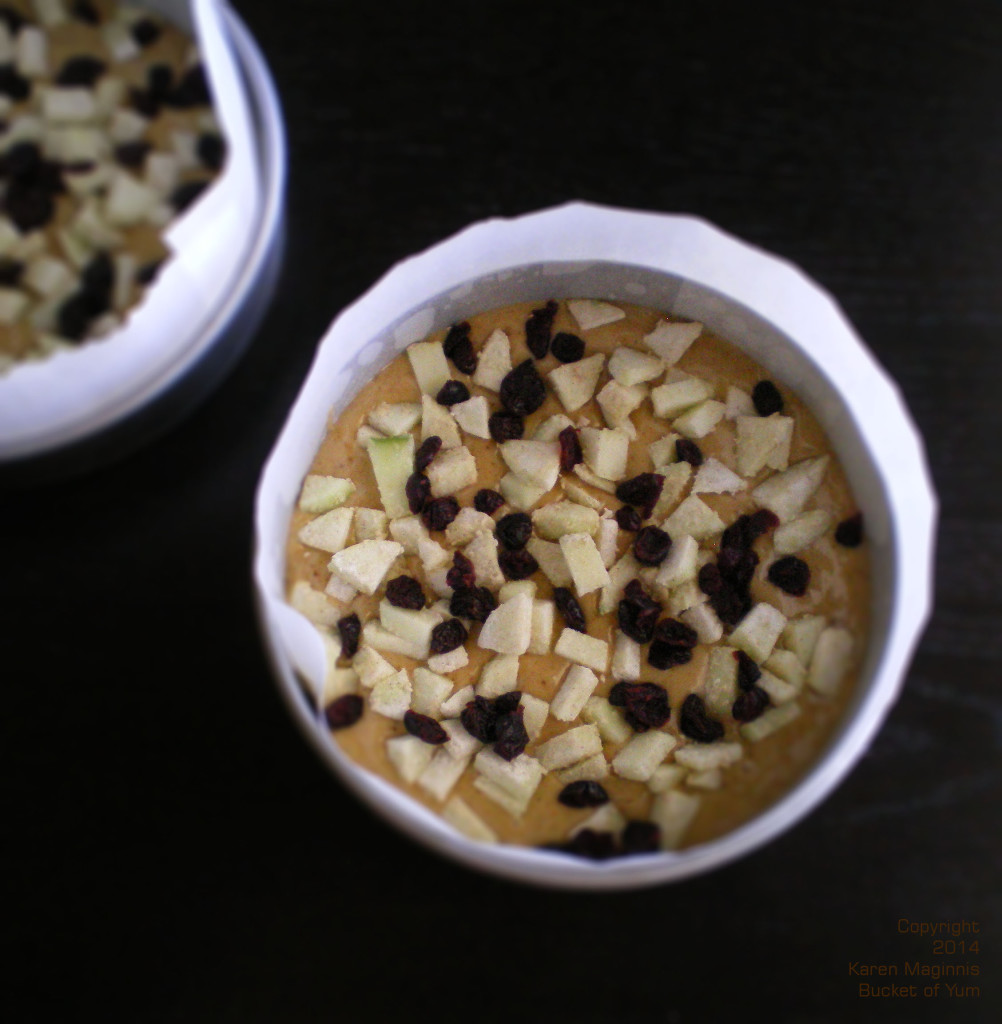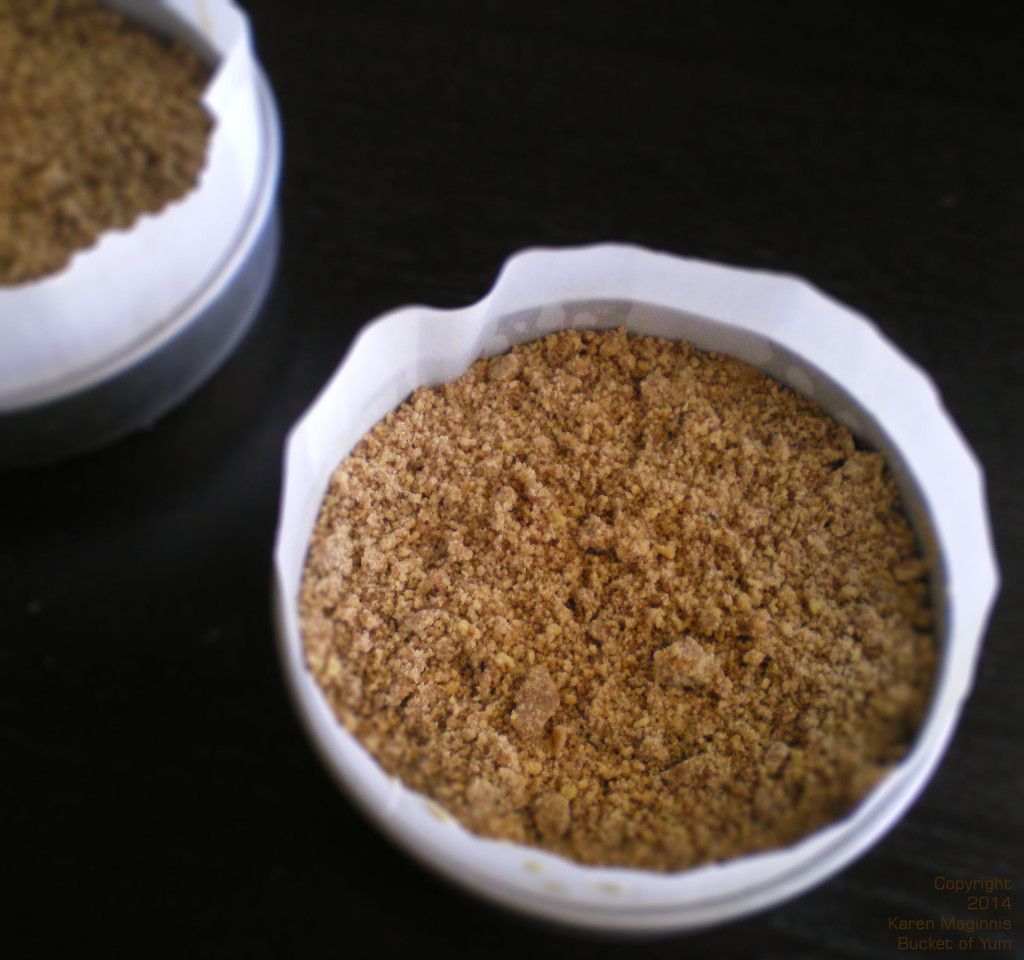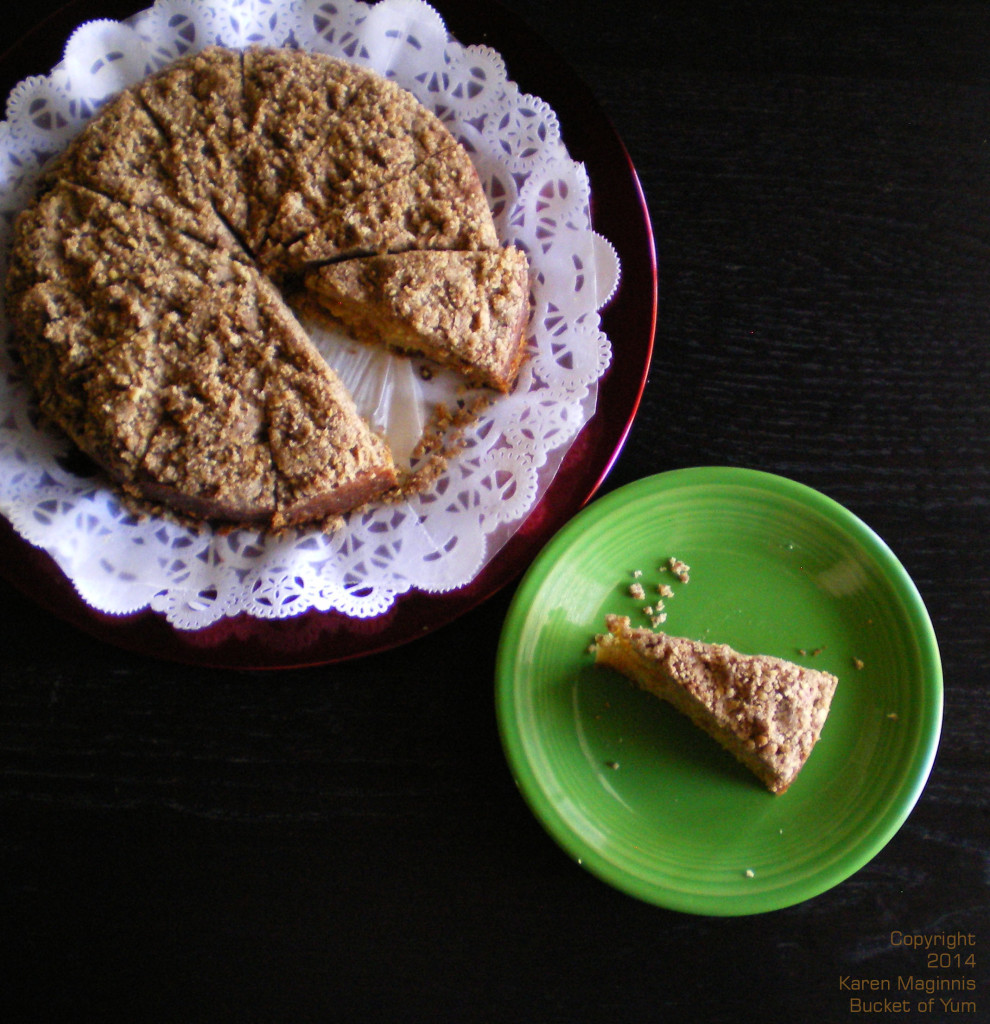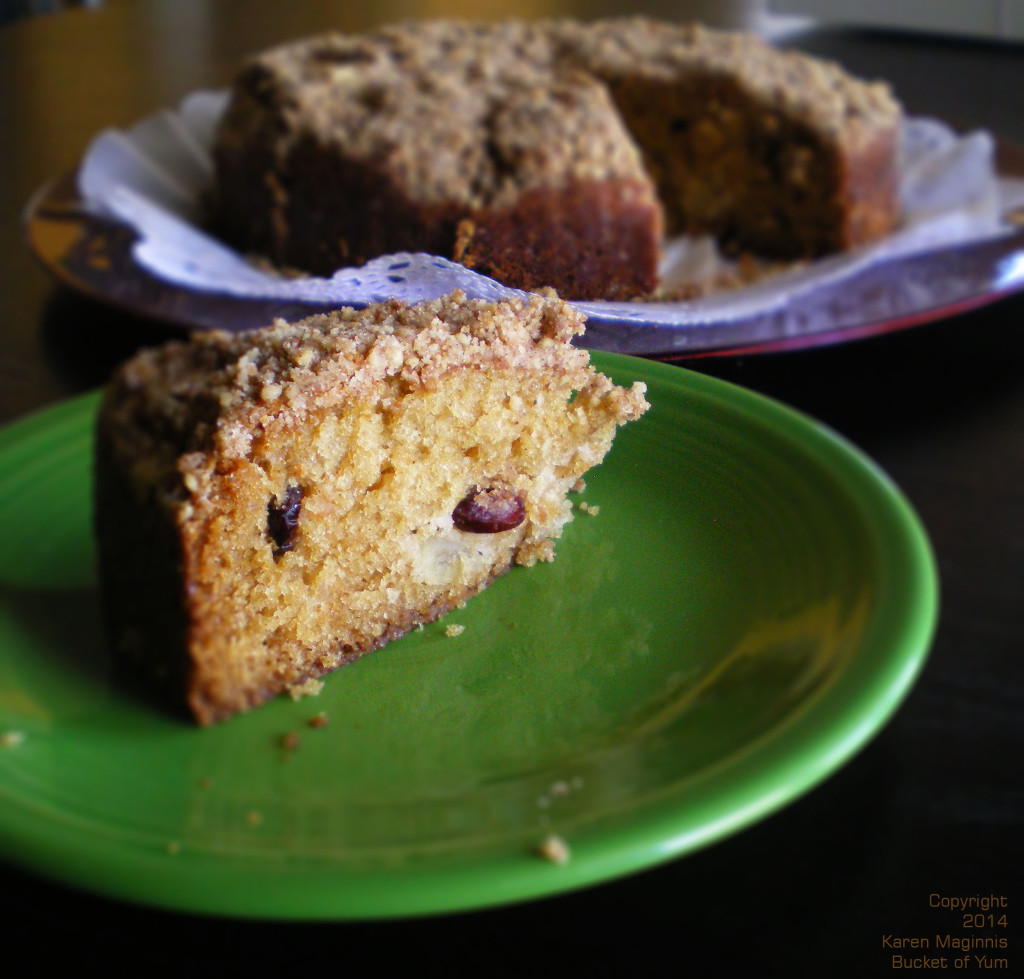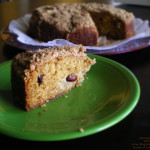 Apple Cranberry Crumb Cake
2014-06-29 20:41:46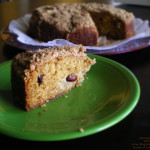 Serves 24
Easy and delicious, scented with cinnamon, with lots of crumbly topping and moist apple inside.
Nutrition Facts
Amount Per Serving
* Percent Daily Values are based on a 2,000 calorie diet. Your Daily Values may be higher or lower depending on your calorie needs.
For the cake and topping
3 cups all-purpose white flour
1 cup white sugar
1 cup brown sugar
1/2 teaspoon salt
1-1/2 teaspoons ground nutmeg
1 cup vegetable oil
2 eggs
1 teaspoon baking soda
1-1/2 cups buttermilk
1 cup chopped nuts
1 teaspoon ground cinnamon
For the fruit filling
2 medium apples, peeled and diced and tossed in 2 Tbsp. AP flour mixed with 1/2 tsp cinnamon.
1/2 c. raisins or dried cranberries
Instructions
Preheat the oven to 350 degrees F. Grease a 9-inch by 13-inch baking pan.
In a large mixing bowl, combine the flour, sugars, salt, nutmeg, and oil by hand or on the lowest speed of a mixer. Reserve 1/2 cup for the topping.
To the flour mixture left in the mixing bowl, add the eggs, soda, and buttermilk.
Mix on the lowest speed until just blended.
Pour half into the baking dish.
Sprinkled with the apples and the cranberries.
Spoon the rest of the batter on top - drop the spoonfuls of batter next to each other on the top, like you were making a bunch of dots. Then, when it's all on there, gently smooth it out to cover the fruit.
Sprinkle with the reserved topping, the nuts, and the cinnamon.
Bake for 40 minutes or until a tester inserted near the center comes out clean. Cool for at least 10 minutes before serving, or serve completely cooled.
Notes
For this batch, I decided to make two 8" round cakes instead of one large rectangle. I made some extra crumb topping (6 Tbsp. flour, 2 Tbsp white sugar, 2Tbsp brown sugar, 2 Tbsp oil, dash salt). I put a parchment collar in the pan in case it overflowed and increased the baking time to 50-60 minutes. (because this version of the cake is taller, which means the middle will take longer to cook.)
Adapted from Yankee Magazine
Bucket of Yum http://bucketofyum.com/