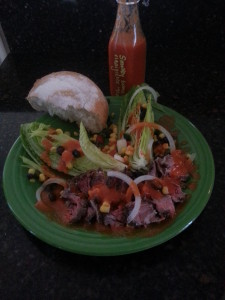 Easy-peasy leftovers: some romaine heart wedges, some sliced onion & leftover steak topped with a mix of corn, black beans and poblano chilis (also known as this – hey, it says "easy", go ahead and chop your veg if you're feeling it), topped with my second all-time favorite salad dressing: Smokey Tomato.
We used to have a bargain chain grocery in town called Sunflower. They had this awesome house-brand smokey tomato salad dressing that was only $1.99 a bottle – $1.79 if you caught a sale. Then, they were purchased by Sprouts, and the house brand went away. It was replaced with Drew's Smokey Tomato. Which is freakin' delicious – but it goes for $3.49 a bottle. I just can't pay that much for salad dressing. So….the interwebs helped me research the ingredients, and few tries led to a pretty close approximation.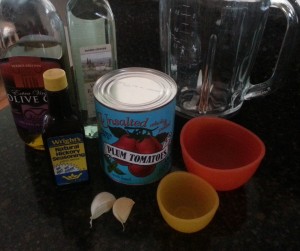 Smokey Tomato Vinaigrette
2013-10-20 16:40:50
Serves 12
Nutrition Facts
Amount Per Serving
* Percent Daily Values are based on a 2,000 calorie diet. Your Daily Values may be higher or lower depending on your calorie needs.
Ingredients
3/4 c. peeled canned tomatoes (diced, whole, whichever), drained.
1/4 c. white balsamic vinegar or cider vinegar
1/2 c. extra virgin olive oil
2 cloves of garlic (peeled and pressed)
1/4 tsp. liquid smoke
1/2 tsp. sugar
S&P
Instructions
In to the blender or food processor they all go. Purée til smooth.
Bucket of Yum http://bucketofyum.com/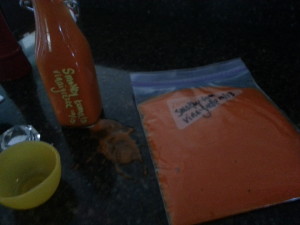 It keeps a couple months in the freezer, and possibly more than a week in fridge – but I can't vouch for that because it's never lasted that long in our house.
Bon appétit.