Crunchy. Chewy. Nutty. These are the trifecta of yum. And, gluten free!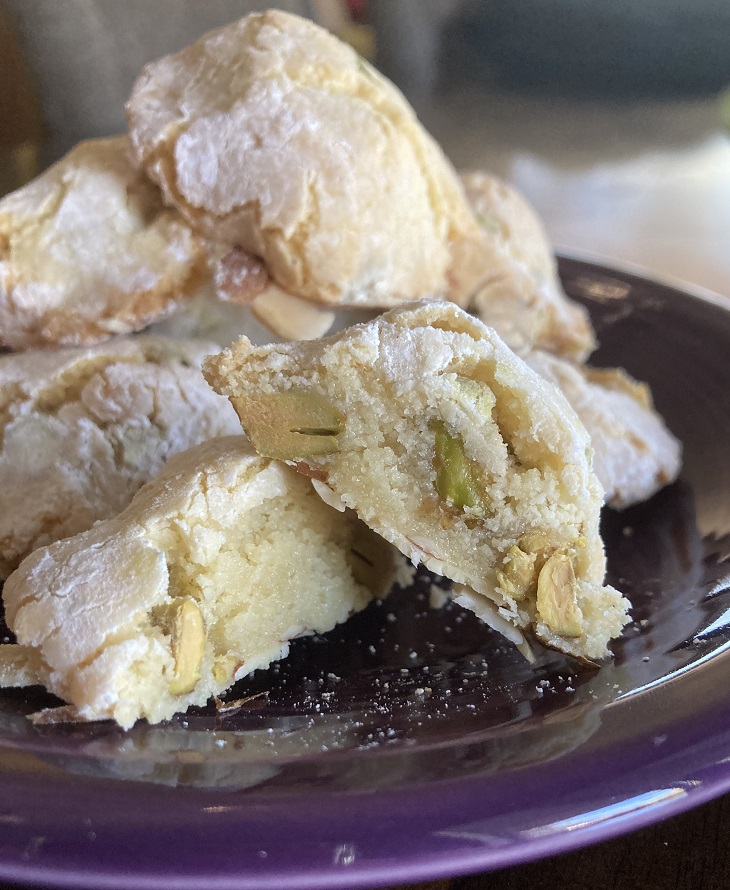 I've had torrone with almonds and pistachios on the brain lately. But dayam, it is sooo expensive to get here. But then I started to think about these cookies – ricciarelli – and how they have some of the same ingredients (almonds, egg whites)….and I wondered. What if I put pistachios in those? And almond slivers, too? So……I tried it. I bastardized the wonderful Ricciarelli recipe from Pinch Me, I'm Eating! and himself gives it two thumbs up.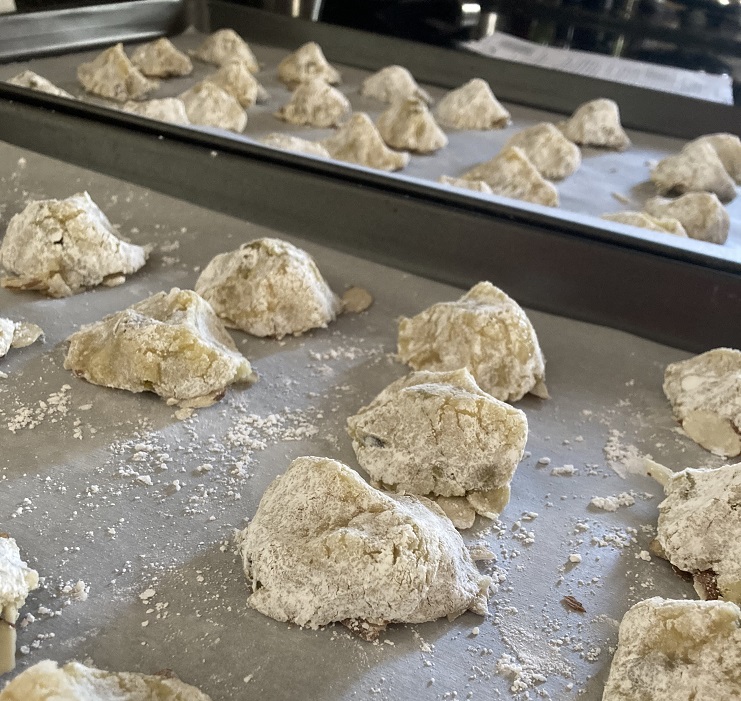 CHEWY PISTACHIO ALMOND COOKIES
Ingredients
1/2 c. egg whites (or 4 egg whites if you're actually crackin' and separatin' those puppies)
Juice from half a lemon
*******
4 c. almond flour
3 c. powdered sugar
1/2 tsp. salt
1/2 tsp. baking powder
1.5 Tbsp. almond extract (or one vial of Dr. Oetker's bitter almond essence)
2 tsp. vanilla extract
*********
1.5 c. raw shelled pistachios
********
Plus – 1.5 ish cups slivered almonds and another cup-ish of powdered sugar.

Steps
Whip the egg whites and lemon juice until stiff peaks form. Dump in the rest of the ingredients (except the nuts), gently stir to combine. It will make a thick, sticky ball-ish dough. Mix in the pistachios. In a flat bowl, toss about half a cup or so of the additional powdered sugar. Line a couple large baking sheets with parchment. Roll (with your hands) the dough in to ping pong ball-sized rounds, roll them in the powdered sugar and set them on one of the trays.
Once all the balls are formed, toss the slivered almonds into the bowl that held the powdered sugar (it doesn't matter if there's a little left in there.) Take each ball, slice it in half along the equator. Dip the freshly cut side into the slivered almonds and then place them (almond side down) on the lined baking sheets, kind of pinching them a little as you set them there so make kind of a pyramid shape. They are supposed to look rustic and malformed. Space them and inch or so apart; they don't really expand or spread much. Once you have them all done, preheat the oven to 300*. Leave them on the counter to dry out (now, this is Arizona time – if you're in a humid place, it'll be different – in fact you might want to wait til it's not humid) while the oven pre-heats. When it's time, flatten them ever so slightly (to get more cracks in the surface) and put them in the oven. Bake about 25-30 minutes. The almonds should be golden around the edges and the cookies firm. You don't want the cookies to brown.