I know, I know – there's already a carrot escabeche recipe on the blog. But the other day at the office, J. was saying that her grandpa put potatoes in his and of course I had to research that because wha-what??
And – surprise! – she was not crazy. It's a real thing. And it sounded delicious – I love potato salad with vinegar instead of mayo, and this would be vinegary potatoes that were espicy! Sign me up!

Yesterday we were at El Super, and I got the veggies I needed to give this a whirl. But damn, jalapenos this time of year are sooooo forking hot. Ay! Just out of the pan this was delicious, and it got better the next day. We had us some yummmyyyyy crunchies this week at the office, y'all! This made a half-gallon, and my office mates and I had it essentially gone in a day and a half. But – funny story- what was left was a cup or so of those super-hot jalapenos. Not even some of my fire-tolerant co-workers took those puppies on. But man, the rest was SOOOOO good.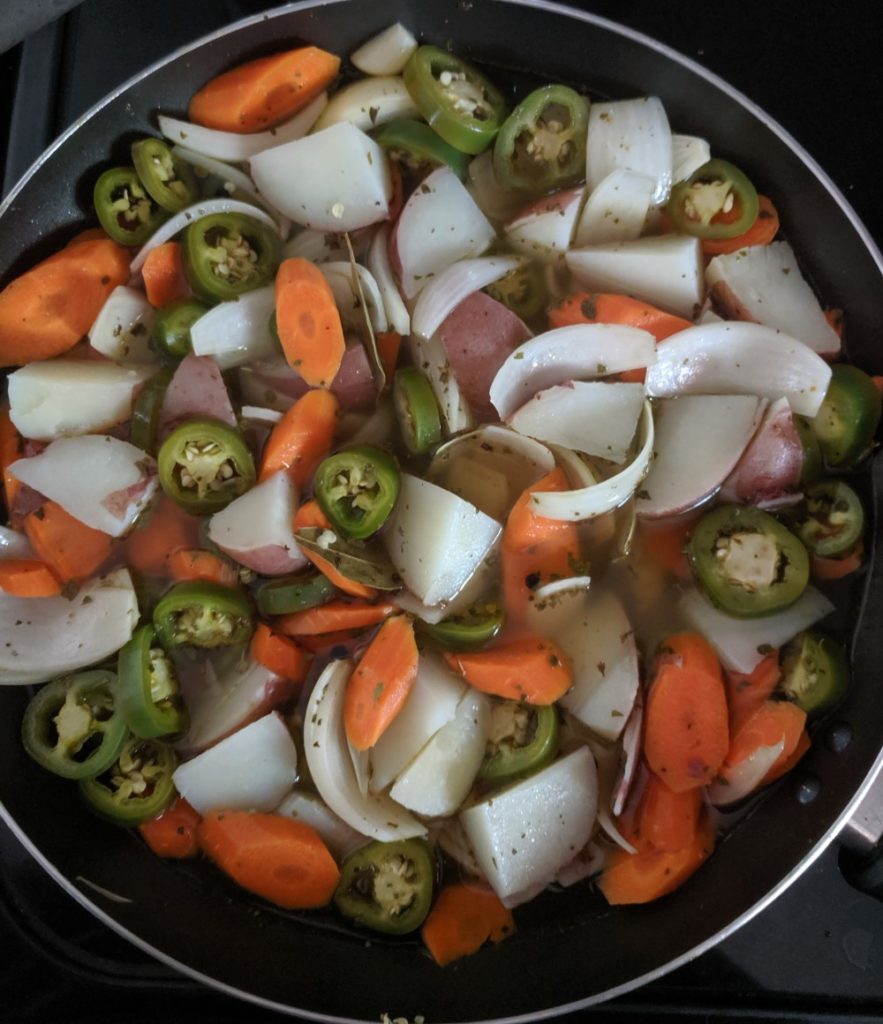 Verduras en Escabeche
Adapted from this recipe at TuriMexico.com.
2 large waxy potatoes
2 Tbsp. olive oil
5 fat carrots, peeled and in ¼" diagonal coins
3 garlic cloves, sliced in half
2 Tbsp. Mexican oregano
5 fat jalapenos, in ¼" coins
1 big white onion, wedged in to 8
3 bay leaves
½ tsp. Black peppercorns
1 c. white vinegar
2 c. water
1 tsp. Soy sauce
1 tsp. Worsteshire sauce
Wash and boil the potatoes until tender. Slice in half, then wedges – about ½". Should be about 12 per spudnik.

In a large skillet, heat the olive oil, add the carrots garlic and oregano, toss and saute a minute or two, just until you start to smell the garlic and oregano. Add the rest of the ingredients (except the potatoes), return to the heat just until you start to see a boil. Turn it off, take the pan off the heat. (Now, you can boil that mix a little longer than I do, but I like my veggies to stay as crunchy as possible. Cook 'em how you like 'em.) Lay in the potato slices and allow to cool.

Keep in a couple big glass jars in the fridge. It should stay delicious for several weeks, but I cannot attest to that as I can never get escabeche to last longer than a few days in my house.

¡Buen provencho!