It's funny where inspiration can come from. A friend mentioned a local home tour that's a fundraiser for a local historic preservation society. I've been trying to force myself out of my comfort zone homebody-ness, and decided to join the group. It would be an all-day affair on the far side of town, and I thought – hey! It would be nice to have snacks. We got our tickets for an 8:45am start time. Hey…..that's kinda early. Guess I'll need to do breakfasty things. Finger food. And of course, scones immediately came to mind. My friend D. loves cheese. As in, if he could marry cheese and coat himself in it daily, he would. So, okay – cheese scones. Then I remembered this forking deelish scallion corn muffin recipe I'd found, and thought yes! That's it – scallions and cheese! And D. is from New Mexico and knows good green chile- so scallion, green chile and cheddar. Angel choir. Idea is born. The night before arrives, and…….I only have the hot green chile left in the freezer. Hmm…. D. and I will love it, but the other four folks coming are unknowns….ok, back to onion and cheddar. And then of course, because I can only eat the cheese if I take a shit ton of cheese pills, some cranberry orange ones, as well. But we'll save those for another day.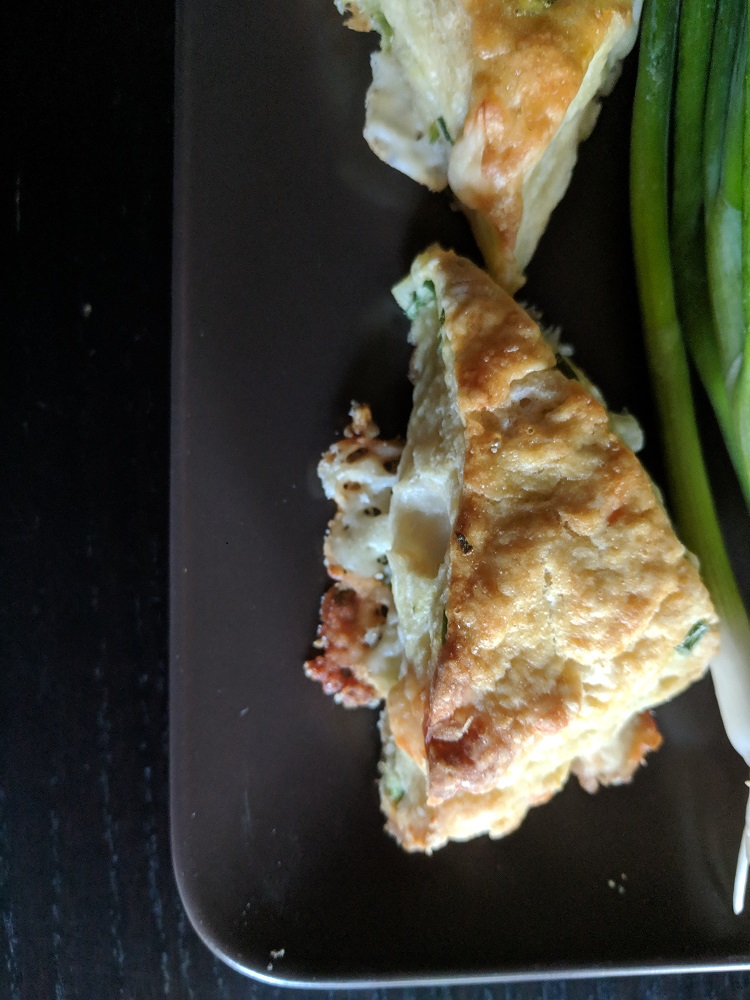 Whew! Such a long tale. The next step was the preparation – I'd read from either Jamie Oliver or Nigella to put scones in the freezer for half an hour before baking (which is awesome, btw) and started to wonder if I could make them up the night before and then just bake them in the morning. Because, you know, twenty more minutes of sleep is ALWAYS a good thing. So, the short answer is yes. It is totally possible, and has completely changed myscone game forever. Buh-bye, buttcrack of dawn. Hello, prep at night and bake while I'm in the shower. I like this!
Alrighty, shall we play? You're gonna LOVE these. They were a HUGE hit with my home-tour friends.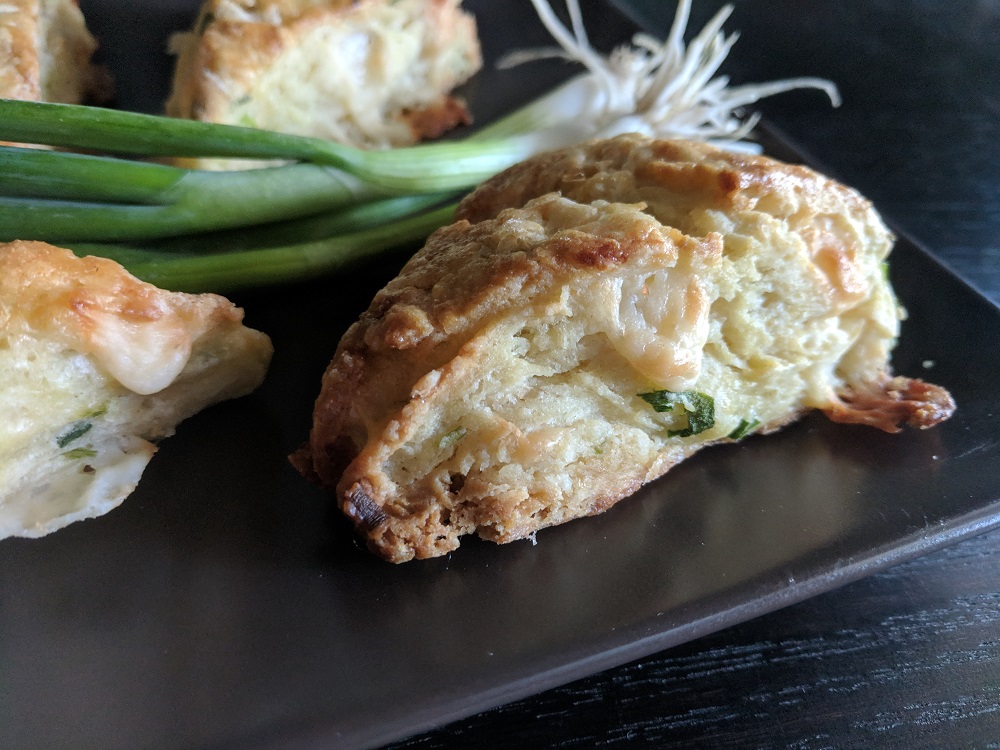 Ingredients:
The Dry:
2 c. AP flour
1 ½ tsp. Baking powder
¼ tsp. Baking soda
1 tsp. Salt
2 Tbsp. Sugar
½ c. Butter, icy cold and cubed
The Add-Ins:
½ c. Sharp cheddar, cut in to ¼" cubes. Yes, really. Do not shred, do not cube larger.
4 Spring onions/scallions sliced in ¼" rondelles.
The Wet:
¾ c. Buttermilk.
The Egg Wash (optional)
Whisk one egg with 2 Tbsp. milk
Directions:
The night before, In a bowl, mix the dry except the butter. Then toss in the butter, and with a pastry cutter smoosh and twist until the butter is a little smaller than peas. Do not get to the crumb-stage; if you do, your scones will be more Englishy cake-like and not have the biscuit-like flaky layers of American scones.
Stir in the Add-Ins, then the buttermilk. Combine with your hands until you have a firm slightly sticky dough. It is okay if you overwork it a little, as it is going to rest overnight in the fridge. (Is this not the most awesome part of this or what????) Scrape the dough on to the dusted parchment. Dust your hands with flour (You might need to scrape/wash them off first.), and shape the dough in to either one 1" tall 8" diameter circle, or two ½" tall 6" diameter circles. Fold it up in the parchment and put it in the fridge. Nighty-night, Felicia!
In the morning, preheat your oven to 400*. Take out the dough and slice up your scones. Either eight with the big circle, or twelve (six each) with the little ones. Place on the parchment on a cooking tray. Brush with the egg wash (or milk or cream), and bake until puffed-up and golden – about 22-25 minutes for the big'uns, and 18-20 for the little'uns.
That's it. Enjoy. These are really, really yummy. And would be really, really good with a bowl of chili. Or just shoveled in your mouth hot out of the oven. These are that yummy.

Do you have to wait overnight? Of course not – you could pop these in the oven right way. You'll just need to be biscuit-gentle with that dough.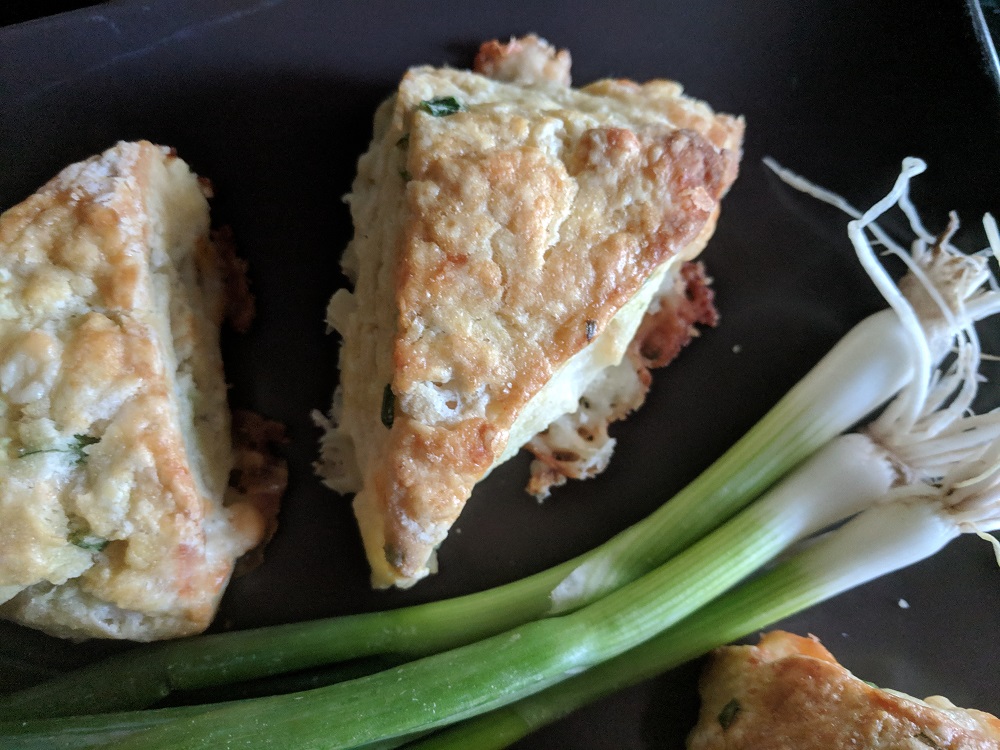 Bon apetit, y'all. I'd love to hear how yours turn out!