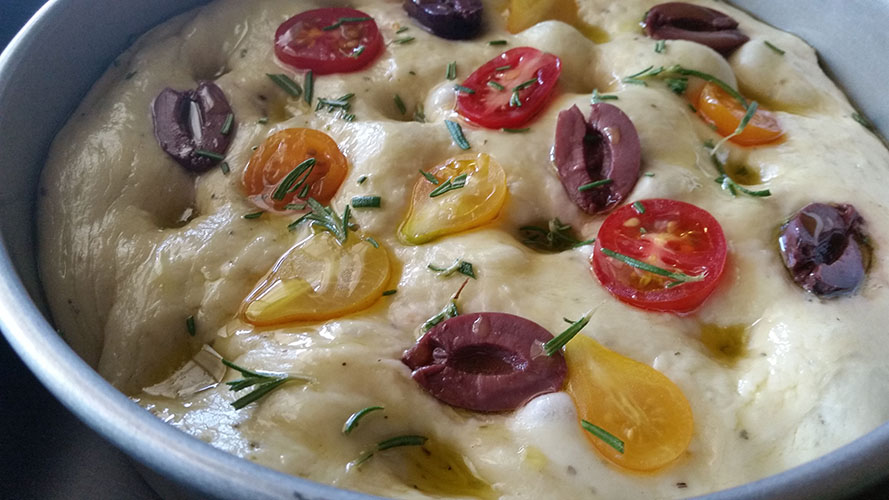 I used to just love that Tyler Florence focaccia recipe – it was easy and fast. But the last time I made it, I realized it was just…..white bread. Focaccia is chewy, and pillowy, and crisp from the olive oil, with big air holes.
I started to wonder if that poolish thing that works for baquettes would work for focaccia, and the interwebs said yes!!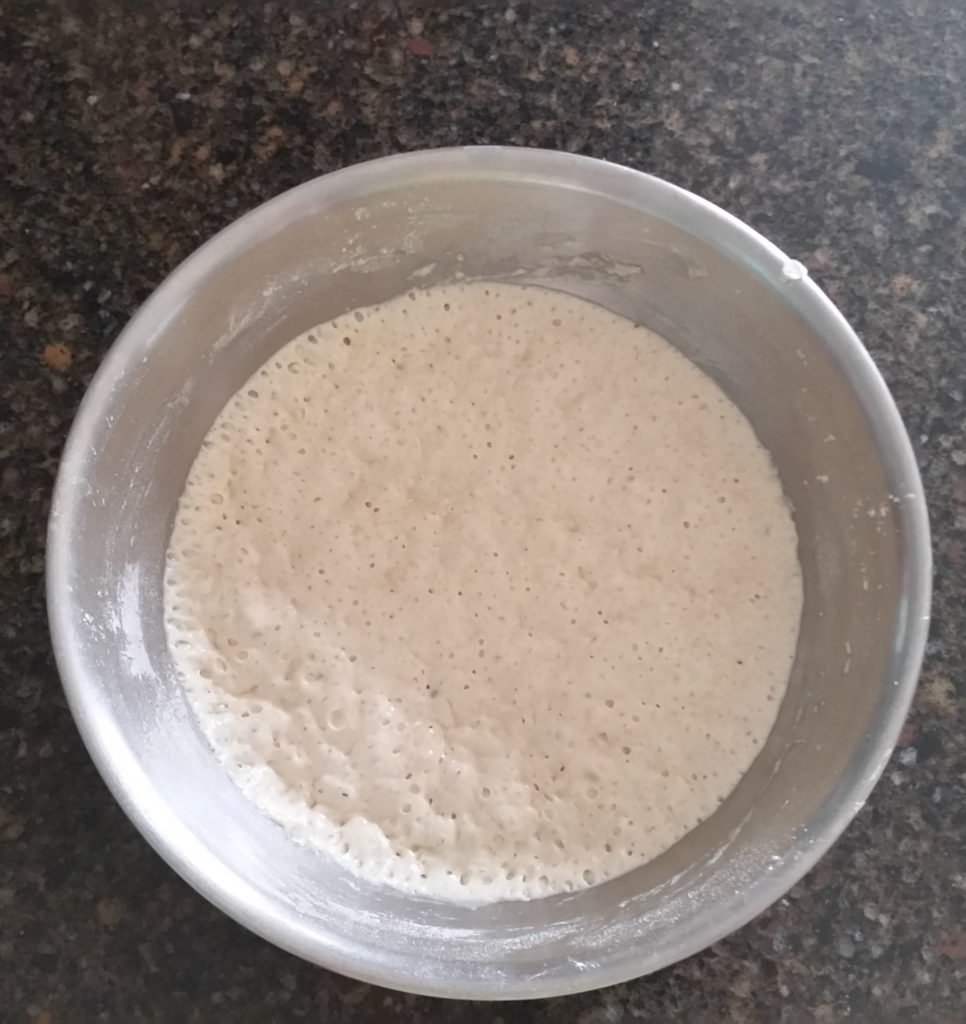 How the poolish looks the next morning.
Our Google overlords took me back to the absolute number one bread blog in the world (and one I thought had been taken down), Artisan Bread Baking. This recipe is a mix of that, and what I remember from a Cook's Illustrated recipe from long ago.
I wanted to give some to the neighbors, and remembered the CI one used cake pans – so there we go.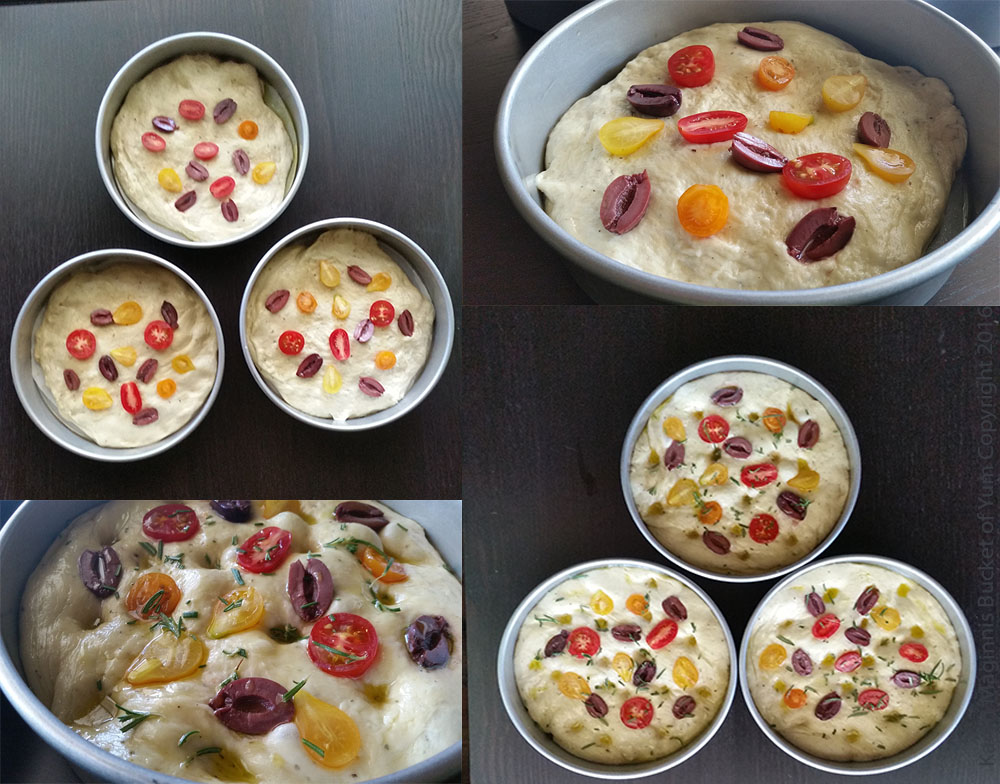 This turned out fairly well. Light. Beautiful olive oil crust. The only thing I'd do differently next time is split the dough between four pans – in three, it was just a smidge too thick for our tastes.

I hope you try this – this is a very kid-friendly recipe. You get to smoosh the dough out in the pan using your hands, place toppings on it, and poke it with your fingers before baking. Tactile play that is deliciously edible! Good times!!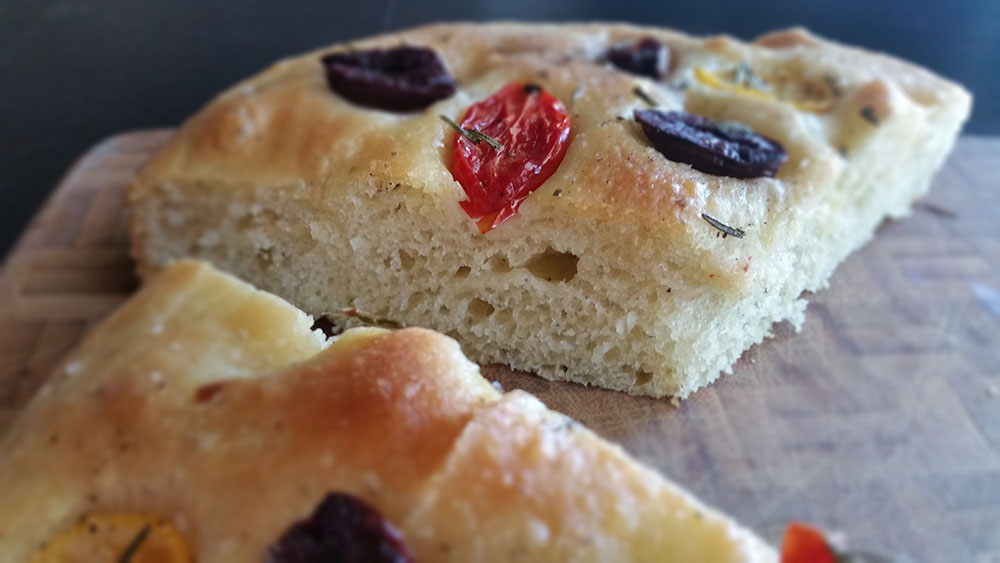 Make this next weekend. For reals – you're home on a Saturday morning anyway, right? Give it a try.
Focaccia
The night before, make the poolish and some rosemary water:
9oz water
9oz AP flour
2 tsp yeast
Stir it up (it will be a thick sticky batter). Cover it with wax paper or saran and leave it on the counter overnight.
Boil 6 oz water. Put it in a heat-safe cup or bowl, drop in a 3″ sprig or rosemary or a tablespoon of dried, cover it with saran and leave it on the counter next to the poolish overnight.
The next morning, in your KitchenAide bowl or a big mixing bowl, add:
14 oz AP or bread flour
6 oz rosemary water
6 oz extra virgin olive oil
1 Tbsp dried Italian Herb mix
and the poolish.
Mix it up (with a dough hook or a wooden spoon) til it comes together, cover and let it rest 20 minutes.
Add 2 tsp. salt, knead it for six minutes. This dough is sticky. Cover and rest 30 minutes.
*Gently* fold the dough(Good Dave Johnson vid after the jump). Cover and rest 30 minutes.
Again, *gently* fold the dough. Cover and rest 30 minutes.
Finally, *gently* fold the dough. Cover and rest 20 minutes.
Line a sheet pan (or 3-4 8″ round cake pans) with parchment, generously grease the bottom and sides with olive oil. (For the smaller pans, cut the dough into thirds or fourths with your bench scraper.) Put the dough in the pan, and *gently* push it out to the edges of the pan using your fingers. Place your toppings (onion, olive, tomato – anything thick and moist – the light herby-type stuff comes later). Drizzle with olive oil. Loosely top with waxed paper and a tea towel and let it rise for at least an hour.
Heat the oven to 500*. If you have a baking stone, get that mofo in there. While it is pre-heating, poke the risen dough with your finger to make those focaccia indentations. Drizzle with more olive oil, and sprinkle with the herbs of your choice. (I like fresh rosemary.) Let this sit for 15 minutes, then pop in the hot oven. Reduce the temp to 450* and bake about 25 minutes or so until golden. Interior temp s/b at least 200*. Remove from the oven and sprinkle with some flaked kosher salt and coarse black pepper.
Cool, and eat. This makes amazing sammiches with some pesto. If you don't eat it the same day, warm it a little in the oven to bring the crust back before serving.
(edited 26-04-2019 to add the quantity of salt)