Woke up craving those green chili corn pancakes today. Made up the batter (with jalpeno), added a little corn meal this time and then I found myself dreading standing in front of the stove cooking pancakes. I started to wonder if I could just bake the batter like a cake or something – I mean, hell, the ingredients are practically the same as for cornbread. And, well, the answer is yes you can. It was deeeelicious. And seriously the most moist and tender corn bread I've ever had.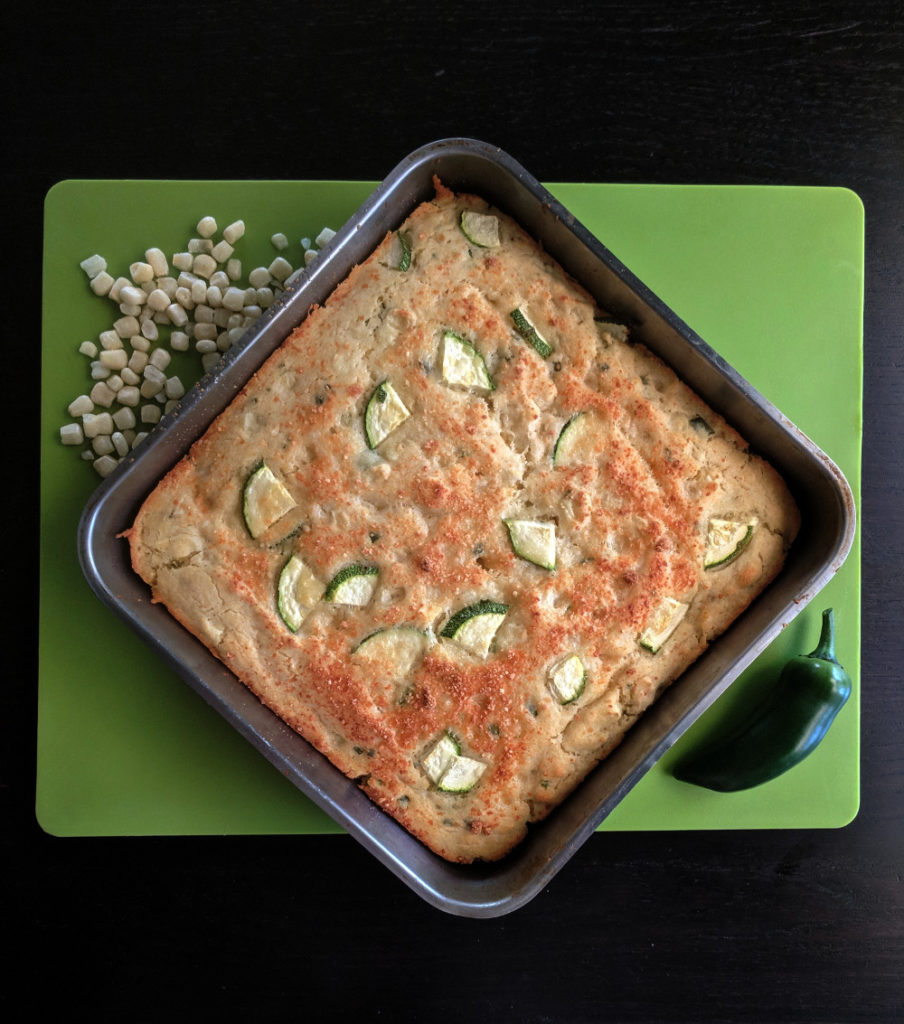 I wanted to call it jalapeno corn breakfast cake, and himself was all, "Pffft. Please. It's cornbread." Yeah, fine. FINE. But it is fucking delicious cornbread, dammit. The onion/jalapeno is subtle in this – feel free to double their amounts if you'd like them a little more flavor forward. Also, shredded pepper jack on top would be seriously nerms.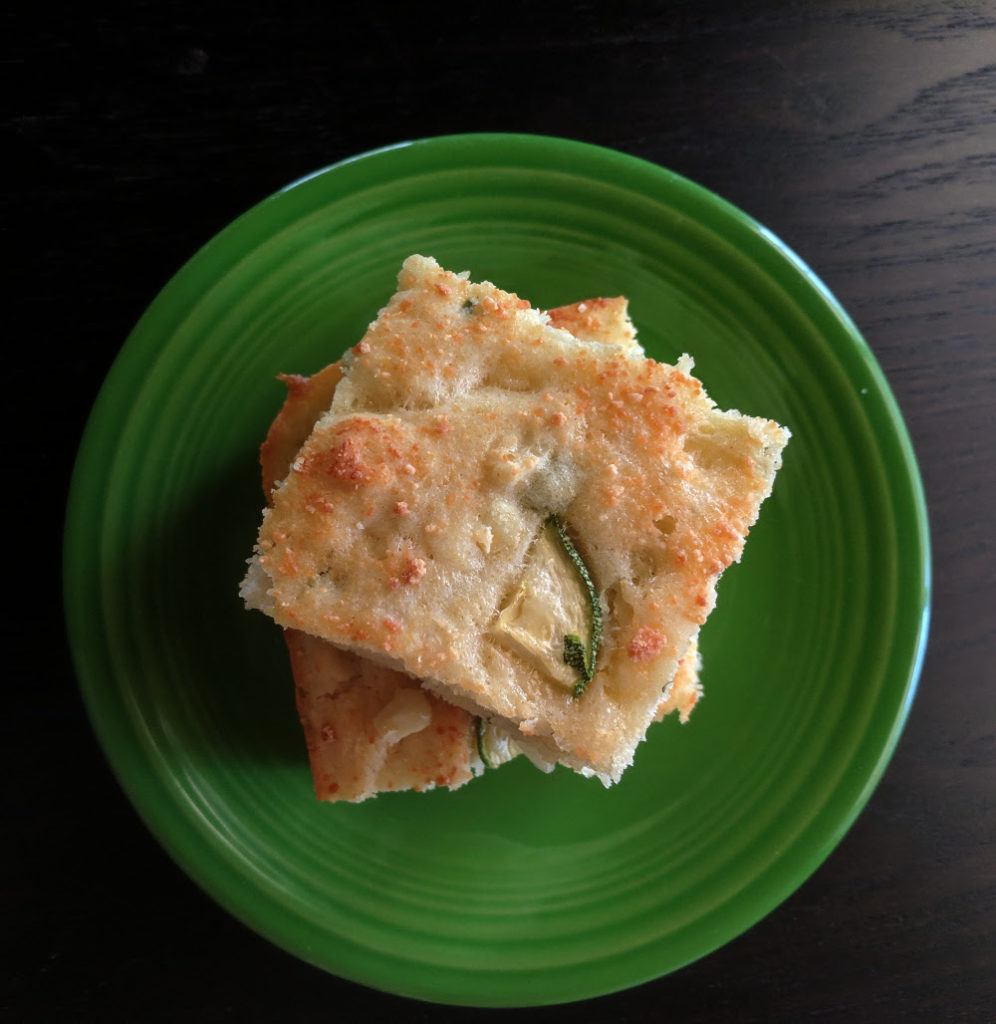 Freaking Amazing Cornbread
INGREDIENTS
THE DRY
1 c. masa harina
¼ c ap flour
¼ c corn meal
3 Tbsp corn starch
2 ½ tsp bkg pwdr
1 tsp salt
THE WET
1 ½ c. buttermilk
2 eggs
¼ c veg oil
½ sm. white onion, grated (about ¼ c.)
½ jalapeno, deveined/deseeded and minced (about 2 Tbsp.)
¾ c. corn kernals, fresh or frozen
½ Mexican grey squash/zucchini, sliced in ¼" discs then quartered (reserve a few slices for the top, if you feel like it.)
Sprinkle of parmesan or cotijo for the top
DIRECTIONS
Preheat the oven to 375*. Grease an 8" square or round pan.
Get two mid-sized bowls. In one, whisk together the dry ingredients. In the other, the wet.
Pour the wet in to the dry and gently mix together until you have a super-thick batter. Pour it into the pan, level it out. Give the pan a good whack (to pop any oversized bubbles), then top with the optional reserved squash and the cheese.
Bake 25 minutes -ish, until it is golden and a tester comes out clean.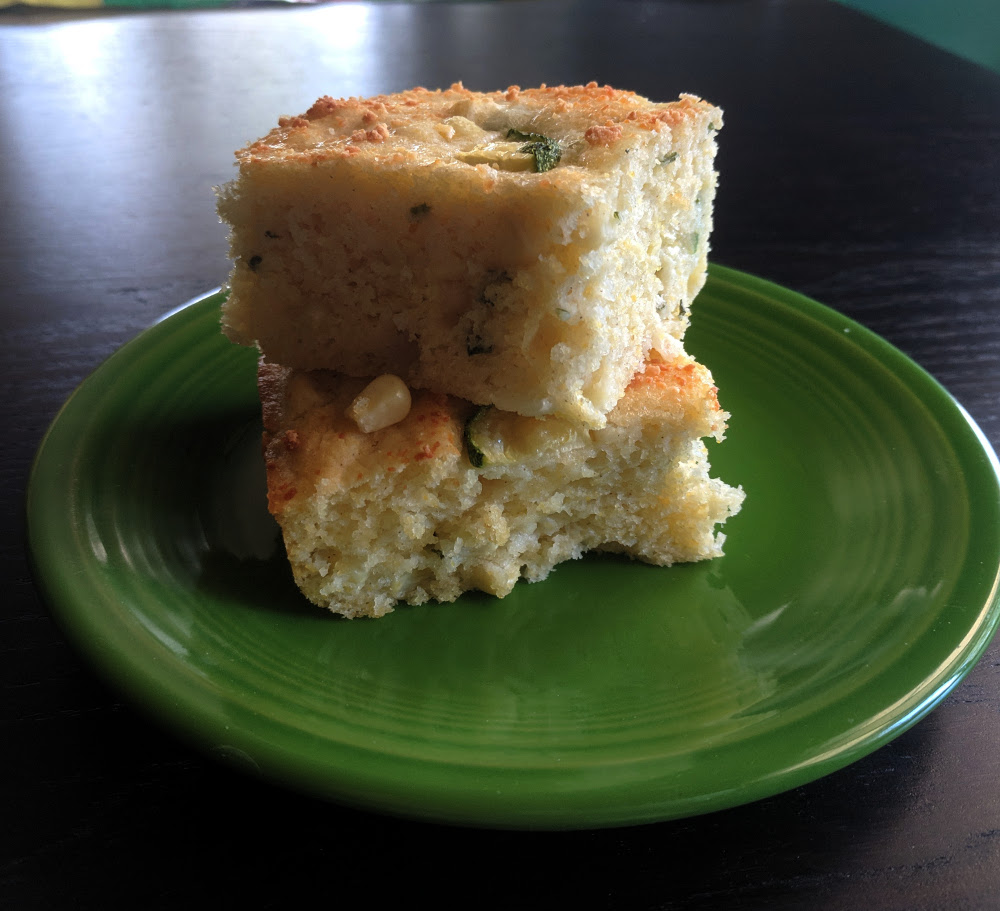 This is begging for a bowl of soup – so guess what's for lunch???
Try this – it is so tender, you are gonna wanna call it cake, too. Dammit.
Oh! The nutrition information! I almost forgot. If you slice this bad boy in to nine squares, each square has (according to the analyzer at verywellfit.com):
173 cal
8.1g fat
321mg sodium
21.9g carbs (2g fiber, 2.9g sugars)
4.8g protein
Plus, 10% each of your daily calcium and iron, and 17% of your vitamin D. See the site for how they arrived at those percentages.