Oh, food trends. You hipster fuck bastards. It's as though my world has been enveloped in Breakfast Pizza. It's in my Instagram feed, my Pinterest feed, peeps at the office are bringing it in from QT. Oy. Fine. FINE. We'll give this mofo a try.
Twenty googled recipes later, I found a good poolish pizza dough recipe and prepped that before I went to bed.
Then, this morning when I got up, I finished the dough and waited the requisite hour by making coffee, slicing some veg, and catching up on social media.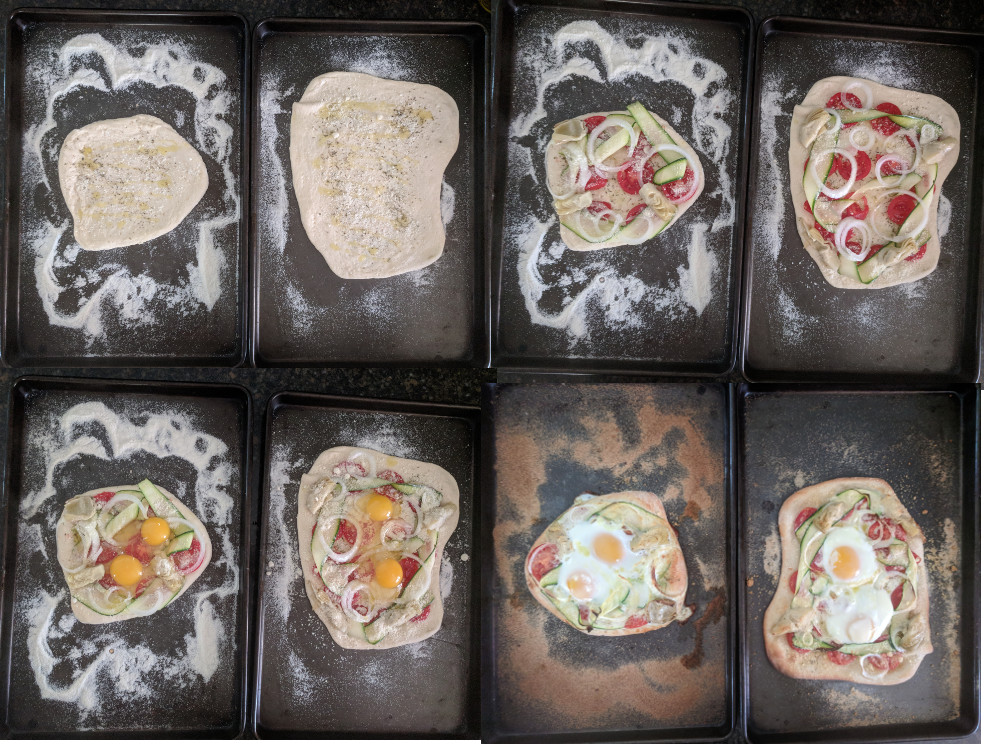 This was easy, and cooked relatively fast (well, in a 500* oven, anything would, right?). Himself liked it, although after his first bite the first words out of his mouth were, "don't make this often." This translates to way-too-yummy-bread-is-not-good-for-him, btw.
I topped mine with what was on hand – some olive oil, parmesan, onions, tomatoes and artichoke hearts plus the eggs, of course. Then a drizzle of pesto on the plate. I was confounded by the variety of cook times for the eggs in my googling. They varied from 8 minutes to 15. That's a bit much. So I started at 8 and went up from there. I made one thick crust and one thin. I preferred the thick crust, and Himself preferred the thin. Dat ist normal in our house.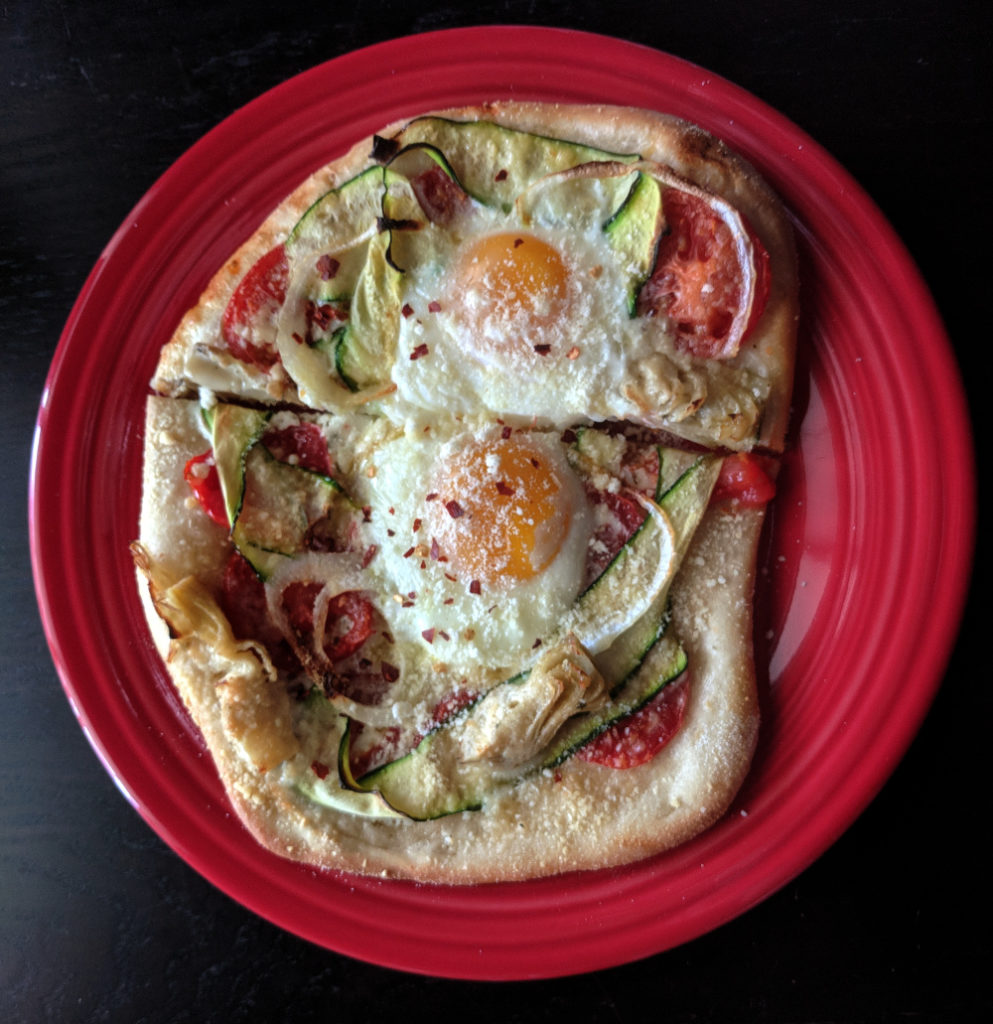 Observational notes – final cook time in a 500* convection oven was 12 minutes. The eggs were cold from the fridge. The ones on the thin crust were perfectly medium, the ones on the thick crust were just past sunny side up for the whites, and medium for the yolks. (What the hell, thermodynamics? I need to research THAT.) I would totally make this again – it was a fun treat. I bet it would be delicious on the grill for an al fresco brekkie, actually. Maybe next time – it would be perfect in the summer, when the mornings are still cool and you don't want a 500* oven on in the house. (And if you've never baked pizza on the grill, google that shit immediately.)
Alright – you ready?
The Crust
The night before, stir together in your Kitchenaid mixer bowl:
3.5 oz flour
3.5 oz water
¼ tsp. yeast
Cover with some wax paper or a tea towel and go to bed.
In the morning, add to the bowl:
9 oz flour
4 oz warm water
1 tsp. yeast
1 ¼ tsp. salt
Mix with the dough hook about five or so minutes. It will be sticky, but still pull away from the edges of the bowl.
Divide the dough in to four balls, rub them with some olive oil, cover them with some wax paper and leave in warm place for an hour. After half an hour, heat up your oven and choose your toppings.
The Toppings
4 Campari tomatoes in ¼" slices
8 quarter artichoke hearts
10 zucchini ribbons (run a veg peeler down the length of a washed zucchini)
Two to three 1/8″ slices sweet onion, separated in to rings
4 tsp. virgin olive oil
1 tsp. Italian herbs
¼ c. parmesan cheese
4 large eggs
Plus, get out your baking sheet and sprinkle it with enough corn meal to coat the bottom, about a ¼ cup. This is the non-stick surface for your 'za.
When the hour was up for the dough, I put two balls in the fridge to make pizzas for dinner. For the other two, I rolled them out – thick crust 7" circle (or, in my case, amorphous blob shape), thin 10".
Place the crust on the cornmeal surface. Drizzle with half the olive oil, the Italian herbs and half the parmesan. Arrange the veg – the only rule is to make sure they form a egg-proof perimeter around the edges. Crack on your eggs, sprinkle with the remaining cheese and drizzle with the remaining olive oil and carefully slide in to the oven. Halfway through (about 6 minutes), rotate your tray(s).
It's done when the egg is how you like it. For medium, it was 12 minutes in our oven with eggs cold from the fridge.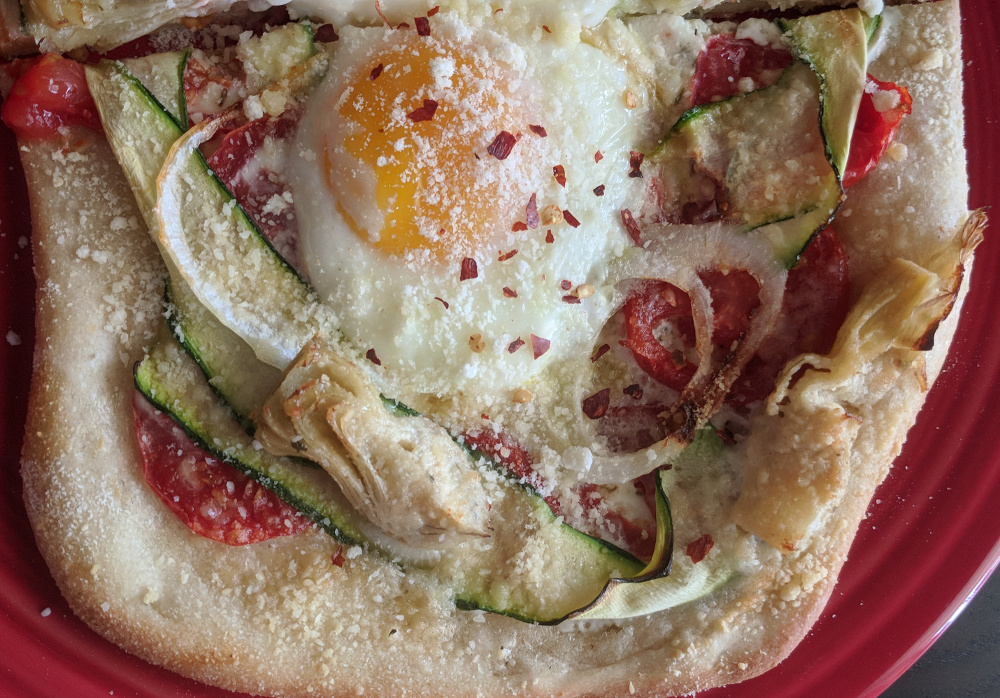 Bon apétit. Serve as is, or with a drizzle of pesto. Ha! Although I forgot to take a pic with the pesto, so it's imagine what it would look like time. Sigh. Anywho, make some and enjoy.