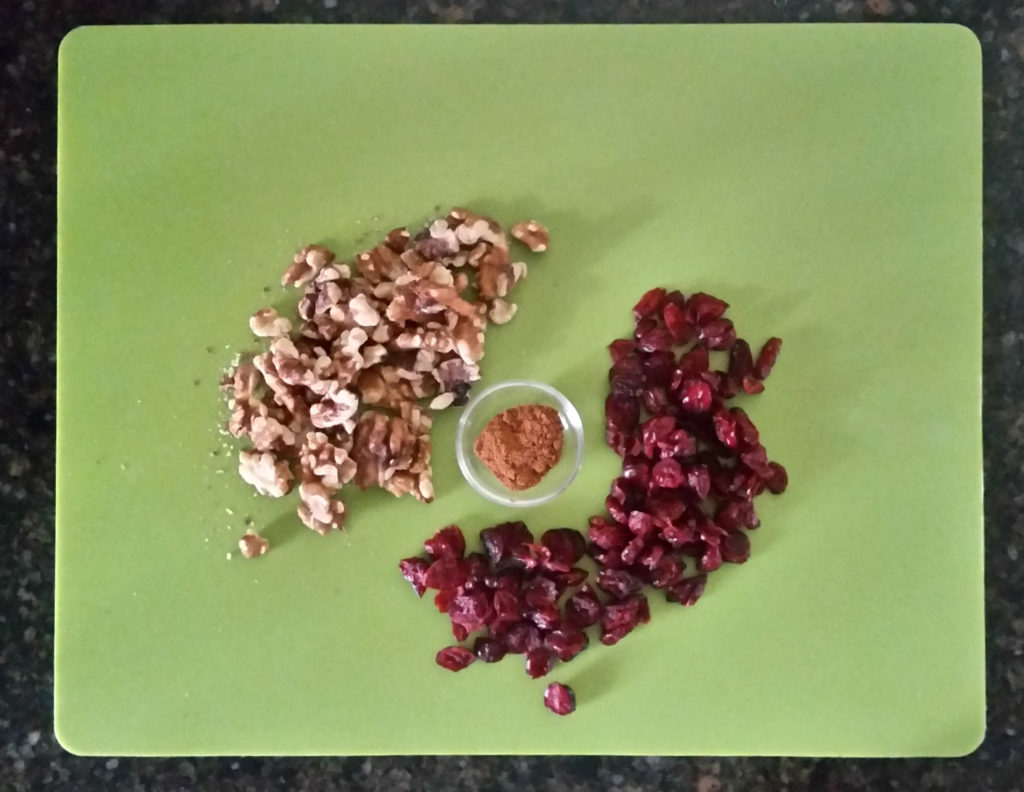 Oh, it's been a while my lovelies. I don't think I've made scones in a year.
Mainly it's Himself's sugar restrictions, that plus reining myself in. But Fall is coming. Pumpkin spice lattes are saturating the atmosphere. Made some pumpkin bread last week for our respective offices, but then my contrary nature just refused to make a pumpkin scone.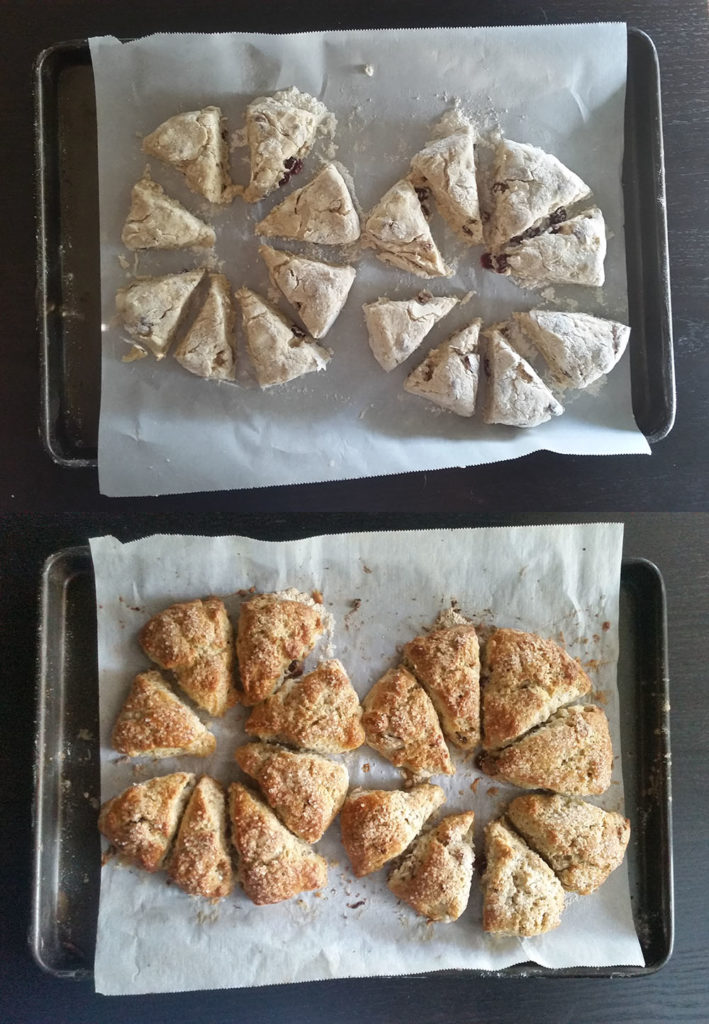 But, honestly, what is it about pumpkin pie, or pumpkin bread, or lattes – that orange bit itself is pretty tasteless. But the spice? Oh, yes. The spice. That's where the magic is.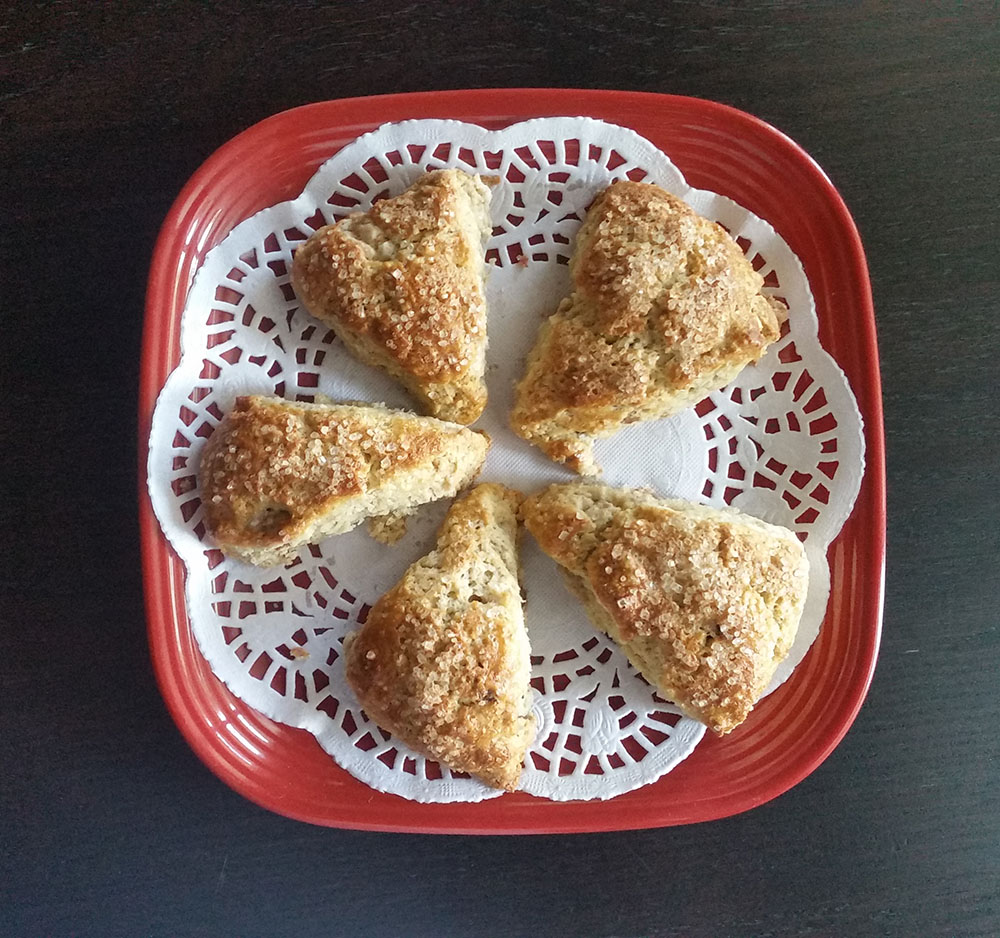 These scones are light and just barely sweet. Perfect for slathering in butter and honey or orange marmelade. Makes 16 minis or 8 standard.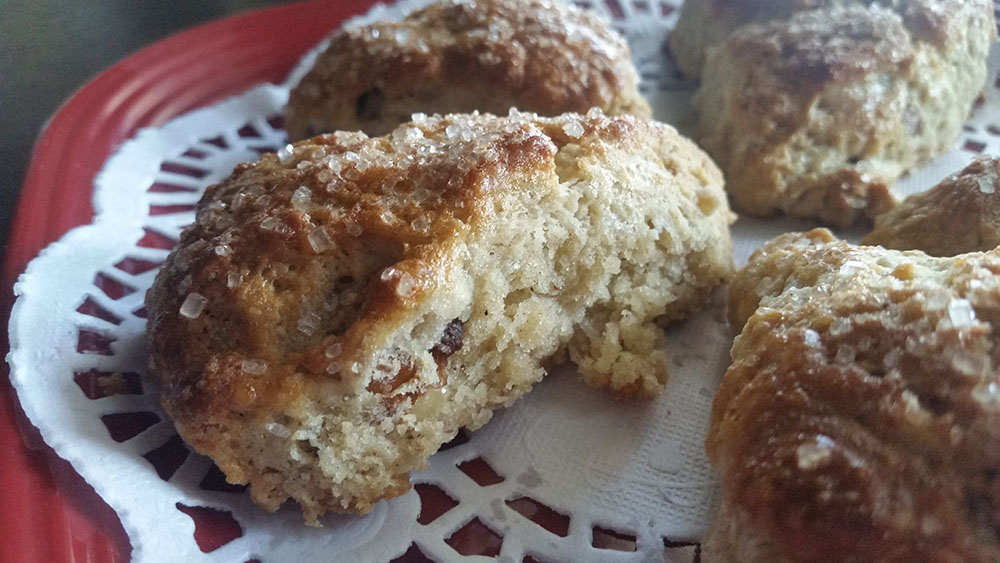 Ingredients
1 ¾ c. AP flour
¼ c. sugar
1 tsp. baking powder
½ tsp baking soda
¼ tsp salt
½ c. cold butter, cubed
¾ c. buttermilk
1 egg, separated –white lightly whisked.
½ tsp. vanilla extract
Sparkle sugar (or granulated sugar)
Preheat oven to 425*.
1. Line a standard size cookie sheet with parchment paper.
2. In a large bowl, mix the dry. Cube the cold butter and drop it in the dry mix. Cut it in until it is after pea-sized but not yet coarse crumb.
3. Stir in the nuts and cranberries.
4. Whisk together the egg yolk, vanilla and buttermilk.
5. Flour your counter, barely stir the liquid in to the dry, then put it on your floured counter to barely, gently work the dough to a cohesive ball. With plenty of flour on your hands, gently, gently flatten the ball in to a disc about 8″ across and 1″ high. (or, divide the ball in two and flatten both those in to discs about 1″ high). Heavily flouring your board knife or a large chef's knife, cut the circle in to 8 triangles. (Or you can make two 6" discs for 16 minis.)
**A Karen lazy step here is, I actually put my parchment on the counter and use it to help form the dough, then cut the scones directly on it, and slide it on to the cookie sheet.
6. Brush the tops and backs (not the sides) with the egg white, sprinkle with sparkle sugar.
7. Bake 425* 15-18 mins until golden brown.
8. Cool slightly, slather in butter and munch.