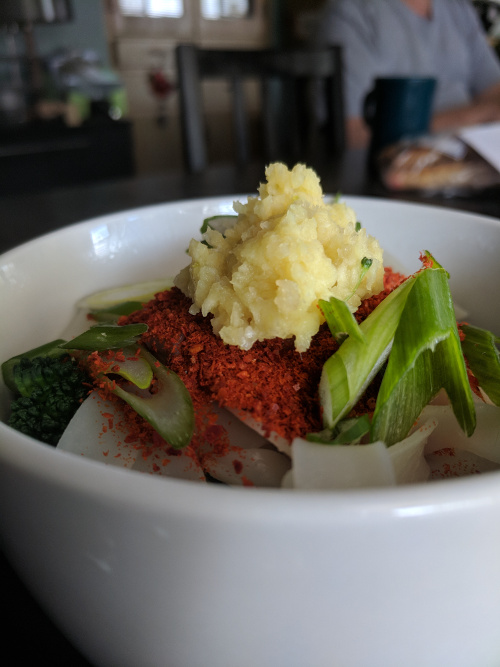 Yeah, so this all started because I stumbled across a recipe for Bang Bang noodles. (How do you NOT google something called Bang Bang after you see it? I mean, come on!)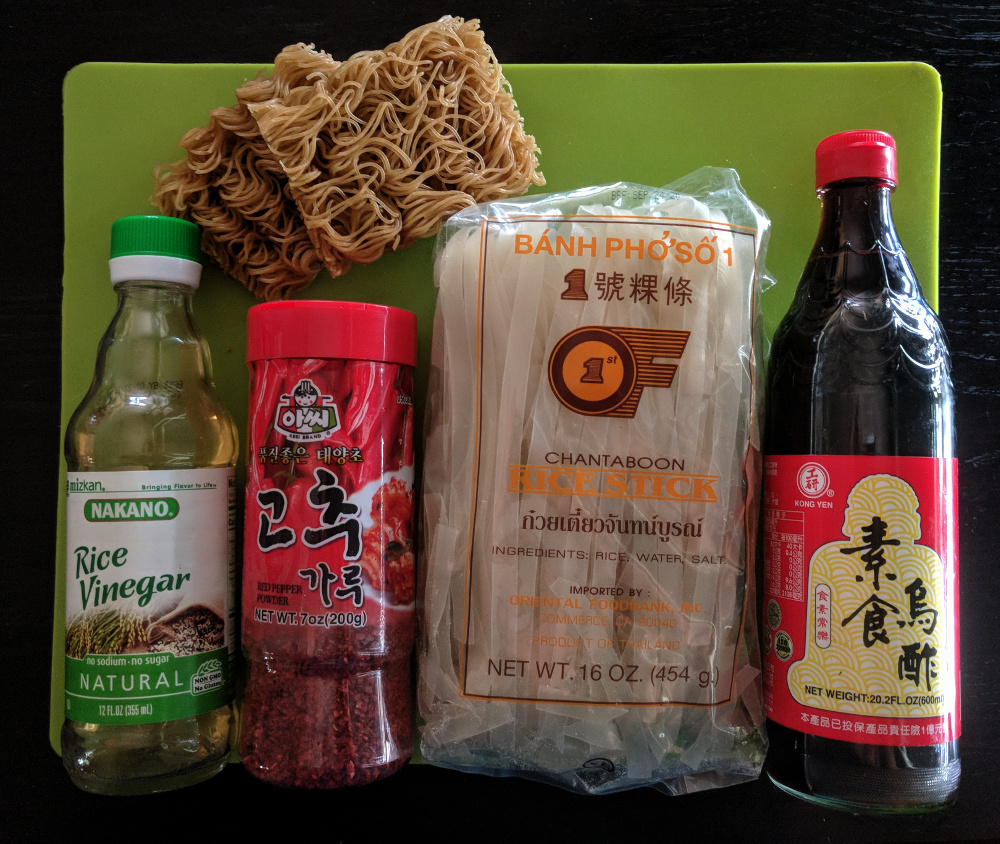 So, they are these amazing-sounding home made noodles. I found this Youtube video with this cute kid making them at home, and the part where he is sizzling the ginger and garlic on top of the noodles just put me in to the obsessive-I-must-have-these kinda frame of mind. But, I am trying to stay away from the wheat flour. But, these noodles sound so damn good. Then I remembered, hey! I've got that bag of rice noodle ramens from Costco in the pantry! w00t!! Hey! I also have a bag of ho fun noodles in there! Game on, betches!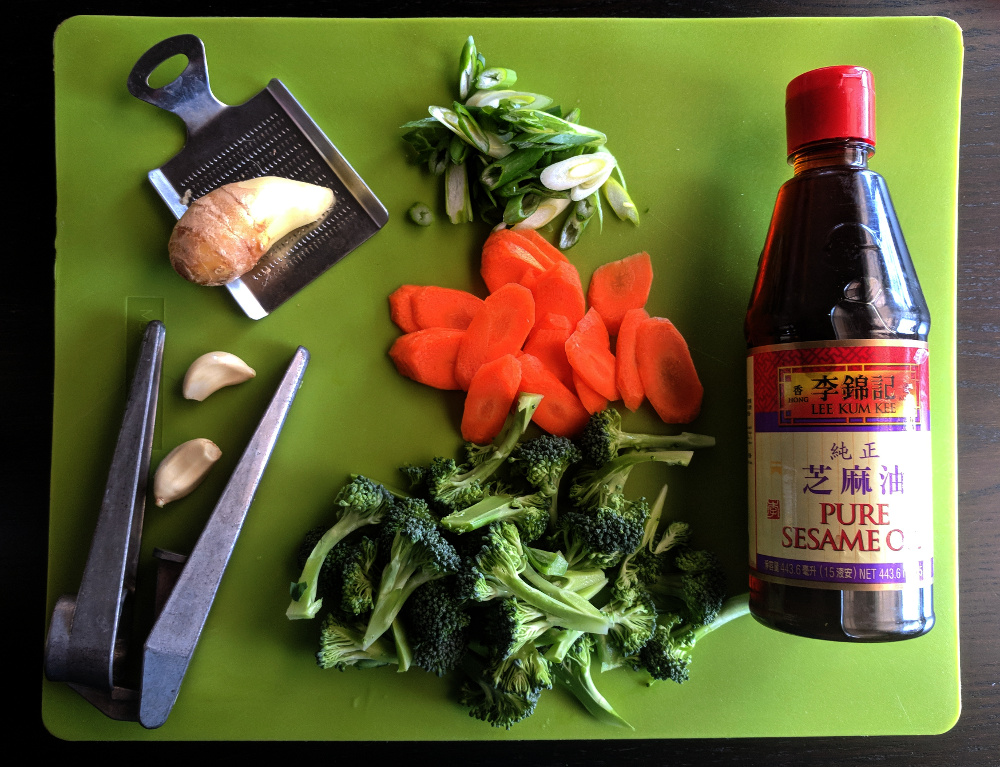 Are you ready for some amazing?
If you need supplies for this, btw, go to your local asian market – like Lee Lee. The prices on Amazon are nuckin' futz. And, if you don't want to grate your own ginger or press your garlic, the spendy tubes from the grocery store also work just great.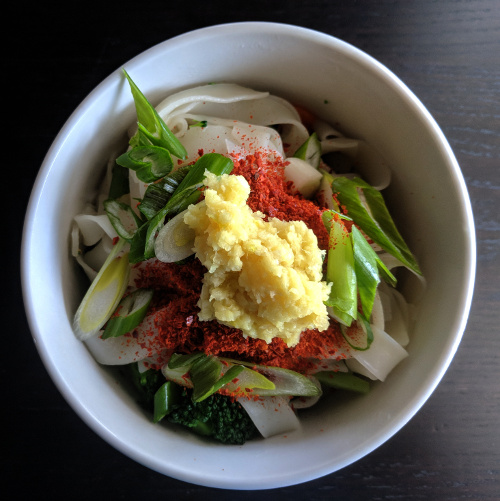 Sizzling Garlic Ginger Noodles for Two
The basic ingredients:
-Two blocks of ramen noodles, or half a 16oz package of ho fun (fat rice fettucine)
-2 Tbsp. grated fresh ginger
-2 tsp. minced or pressed garlic
-2-4 Tbsp. Korean red pepper flakes.
-¼ to ½ c. hot vegetable oil
-2 c. thinly sliced vegetables (broccoli, carrot, snap pea, celery, cabbage, whole bean sprouts, etc.), or four baby bok choy, quartered lengthwise
-Rice vinegar
-Soy sauce
Have everything chopped and ready before you start. Set out two big noodle bowls.
Boil the noodles according to the package directions. The last 30 seconds of cooking, toss in the veg and stir. If you're doing the bok choy, do it a minute ahead. Then drain.
While the noodles are cooking, heat the vegetable oil until it is really hot – just before the smoking point.
Divide the cooked noodles/veg between the bowls, trying to keep the veg on the bottom and the noodles up top. Sprinkle the noodles with the red pepper, then put the ginger and the garlic (& the green onion, if you have those). Carefully ladle about 2-3 Tbsp. of the super hot oil on top of the ginger/garlic paste. It will sizzle and pop. (Turn off the burner for the oil – that's done.)
Drizzle with some soy sauce and some vinegar, add any other condiments you like listed below. Stir and eat.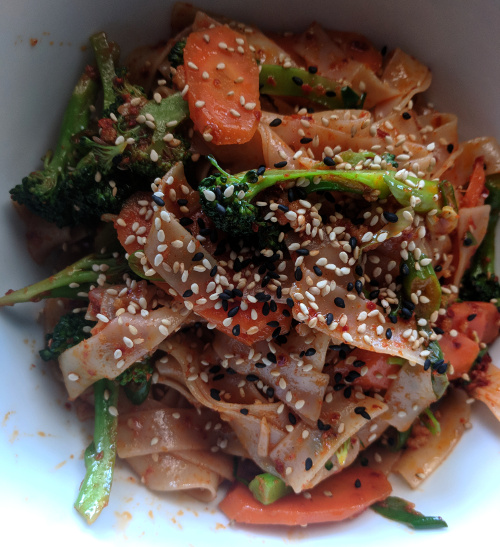 Suggested accoutrements:
-sesame seeds
-sliced green onion
-cilantro leaves
–Chinese black vinegar
-sesame oil
This is really filling. And cheap. If you wanted to boost the protein, add some shredded chicken, or a poached egg, cubed or fried tofu, yatta yatta.
Guten apetit and noodle happiness to you.