Finger food season is coming. Or, maybe I need to think that because I love the buttery flaky crunch of little tidbits wrapped in that miracle dough.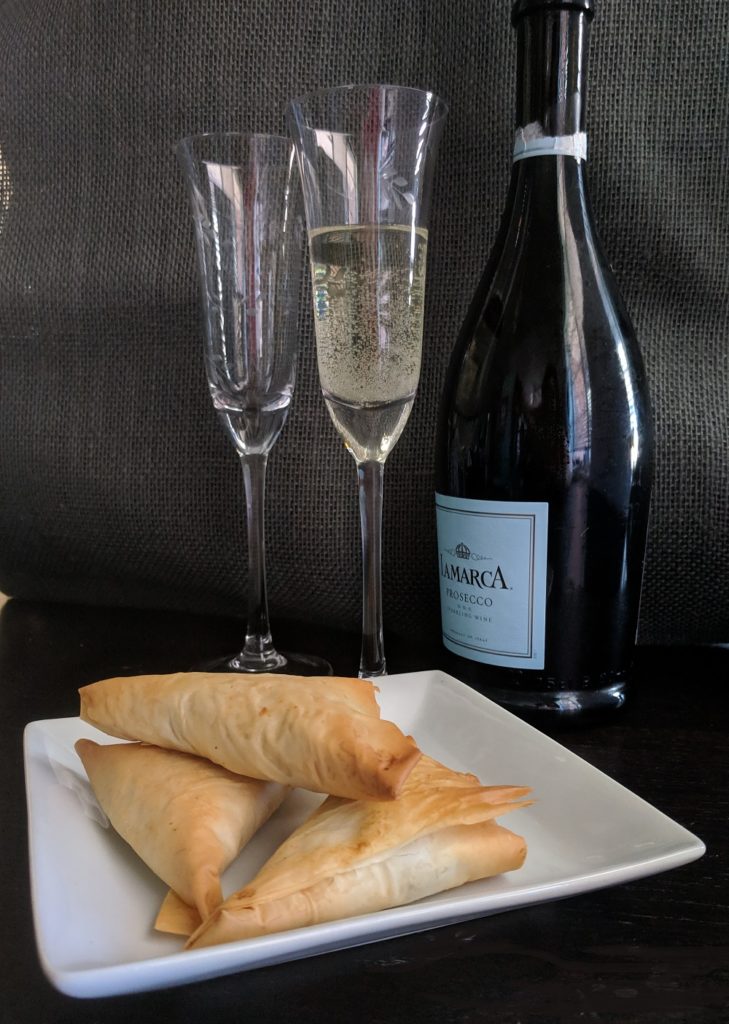 We were at Caravan two weeks ago, so of course I got a couple packages of phyllo for the freezer.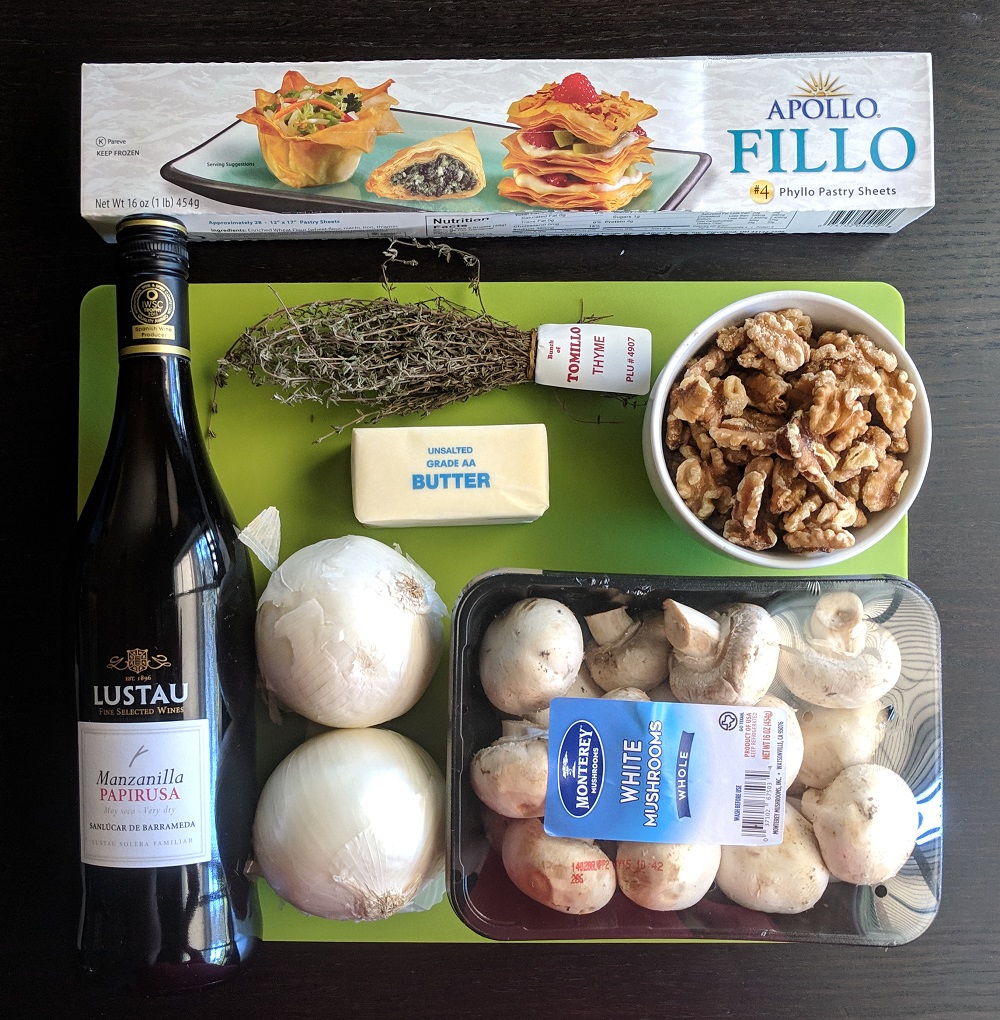 Only when we got home, I threw one in the fridge on a whim, intending to make some spanky. Well, that didn't happen. Then when I woke up this morning and opened the fridge, there was this package of mushrooms staring at me. Right next to some thyme, and the phyllo. Like they planned it or something.
This came together slowly, with me futzing on the internet and getting up to stir when the timer went off. It's not a fast recipe, but it doesn't require a lot of attention, either.
You could totally make the filling for this one day, and then assemble up to a couple days later. I just had a leisurely Saturday morning.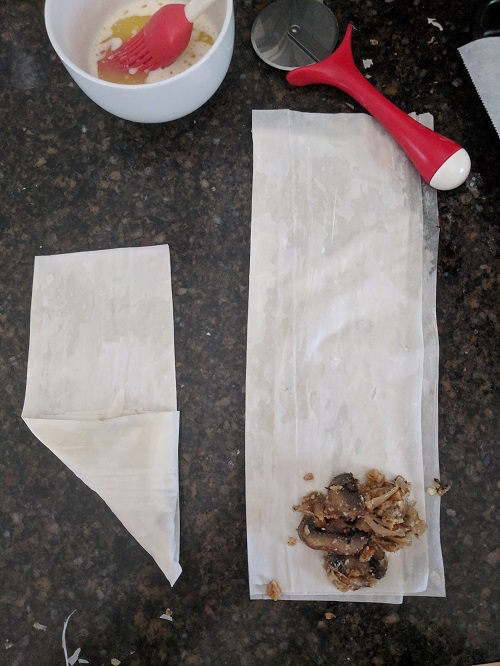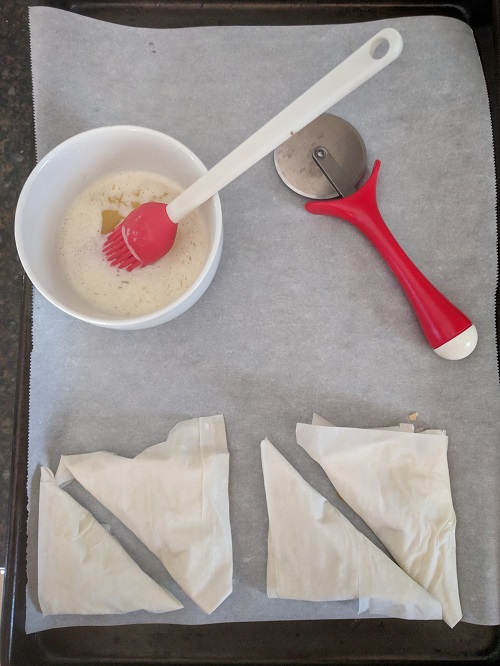 These are SO LOVELY. I am concluding that himself enjoyed them, as I gave him a sample to take a bite and when I turned around the whole thing was gone. I had them with some bubbly, but am thinking now I bet they would be great with some Amontillado. I'm also wondering how that phyllo would do brushed with layers of that fantastic thyme oil from IKEA instead of butter. That would seriously amp up the herbaceous flavor. Hmmm….. anywho. These are yum. Invite some friends over for a bite and a glass, and make these. You will be sooooo very happy you did.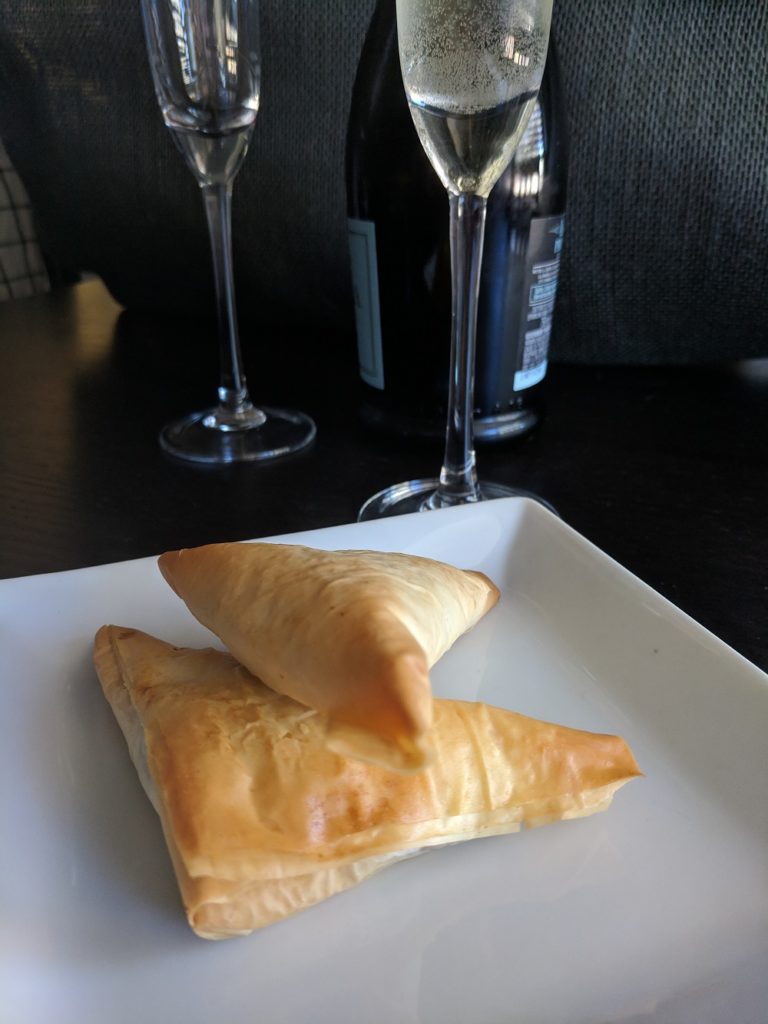 Herbed Mushroom Marsala Phyllo Triangles
2 medium white onions, sliced in ¼" crescents
2 Tbsp butter
Sprinkle salt
8 oz button mushrooms, washed and sliced into ¼" slices
2 tsp fresh thyme
¼ c. good dry sherry or marsala
½ c. chopped toasted walnuts
¼ c. grated parmesan or pecorino romano(even the green can stuff would be fine)
(4 oz. fresh goat cheese. optional)
½ pkg.-ish of #4 phyllo dough
6 Tbsp. melted butter
Caramelize the onions. Melt the 2 Tbsp butter in a saute pan on low, add the onions, sprinkle with salt and cover. Cook on low, stirring every 20 mins or so until they are reduced and golden. Push the onions to the side, add the mushrooms, thyme, and little more salt. Cook covered, on medium, until the mushrooms are cooked. Remove the lid, pour in the marsala and cook a few more minutes until practically all the fluid has evaporated. Remove from the heat. Stir in the nuts. Check for seasoning, add S&P to taste. Set aside to cool. Once it's coolish, stir in the cheese.
Preheat oven to 375*. Layer three sheets of phyllo, brushing butter between each. If you've never worked with phyllo, don't be escared. See how here!
Using a pizza cutter or knife, slice the prepared sheet of dough into four strips (with the phyllo in a landscape orientation in front of you. So, four short strips, not longways. In the bottom right corner of each one , place about 2 Tbsp. cooled filling, dot with a little noisette of the goat cheese if using, and triangle fold your way up the dough until you have a little triangle packet. See how here!
Roll 'em all up till you're out of patience or filling, whichever comes first. . Brush all the tops with the last of the butter. Bake 375* for 15-20 minutes, until golden brown and delicious. Serve warm or room temperature. These are lovely with a buttery icy cold white, or even better, a dry prosecco or sparkling rose like Gruet's Jacqueline Leonne pink label. Alas, I had a bottle of prosecco open at shooting so we'll have to wait for a rose pic down the road. But that Leonne is my current fave, and it is from FREAKING ABQ NEW MEXICO.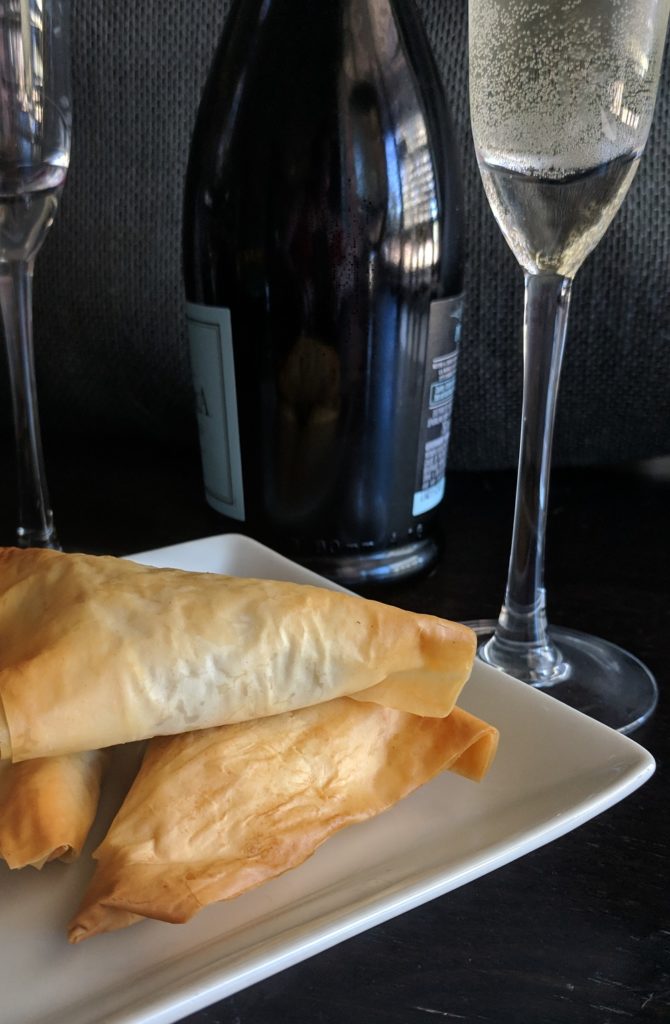 Enjoy. We sure did.