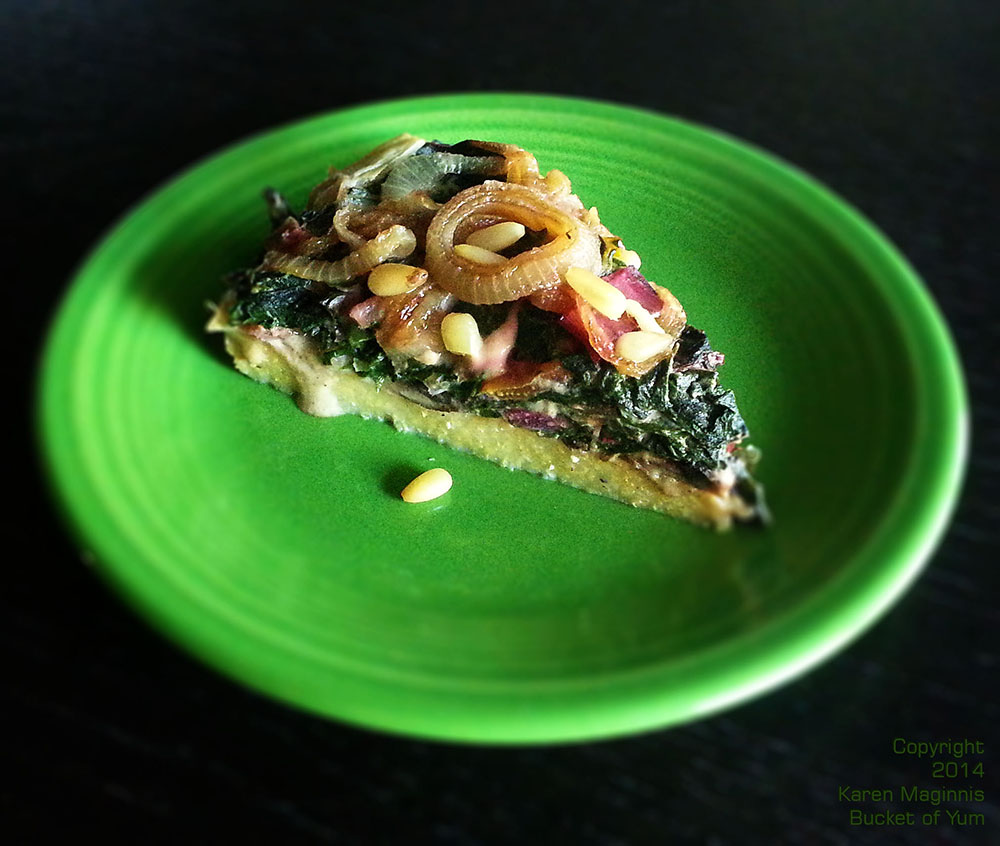 I am obsessed with cashew cream. Having been dairy-deprived for so long, the ability to have creamy sauces with that rich mouth feel makes me so fucking happy I could danse. So, I saw this lovely spinach polenta tart on Tastespotting or Foodgawker, and really wanted to try it. Then, when we went provisioning and Sprouts had this gorgeous rainbow chard, I knew it was a done deal.
This is recipe isn't hard, but it does have a couple steps. I made it on a Monday night, but it totally lends itself to doing part one night (the polenta and the onions for example), and then finishing it the next.
Bon appetit – and by the way, just the chard was fantastic on its own. I could have eaten the whole damn pan. By myself.

A couple stages, but sooooo tasty.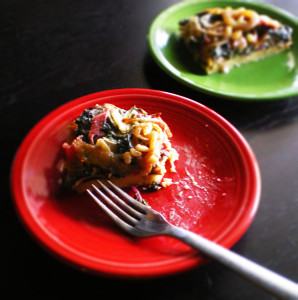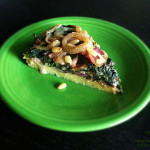 Swiss Chard Polenta Tourte
2014-04-15 21:02:19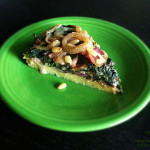 Serves 4
Sweet and creamy chard and buttery sherry onions atop seared mushrooms and a polenta base, with toasty pine nuts. This is heaven in a pie.
Nutrition Facts
Amount Per Serving
* Percent Daily Values are based on a 2,000 calorie diet. Your Daily Values may be higher or lower depending on your calorie needs.
For the base
½ c. polenta
2 c. stock
1 tsp. butter
½ tsp. TJ's 21 Seasoning Salute
For the cream sauce
1/3 c. cashews, soaked overnight or simmered for 15 minutes
1 c. stock
½ tsp. nutritional yeast
1 tsp. corn starch
For the topping
8 oz sliced white mushrooms
1 Tbsp olive oil
1 bunch swiss chard, cleaned and coarsely chopped
1 medium white onion, cut in to rings
1 Tbsp. unsalted butter
1/3 c. Amontillado dry sherry
1/3 c. raw pignon nuts.
Instructions
Cook polenta according to package directions.
Grease a 10" quiche pan or pie pan or springform pan and spread the cooked polenta evenly. (I did this the night before.)
Preheat your oven to 375*
In a medium nonstick skillet, sweat the onions, until they are translucent and just beginning to turn golden and caramelize.
Remove the lid and add the sherry and let the liquid cook off.
While they are cooking, get the olive oil very hot in a large sauté pan, and sear the mushrooms for a good brown sear.
Lower the heat to medium low and spread the mushrooms on top of the polenta base.
To the still-hot skillet, add the stems of the chard, a layer of salt and pepper, then the leafy bits with another layer of S&P. Cover tightly.
While the chard is cooking, make the cashew cream sauce.
In a good blender or food processor, add the drained soaked cashews, the stock, yeast, corn starch, and a couple of the rings of cooked onion.
Purify for (seriously) 1 ½ to 2 minutes, until the mixture is silky in texture and no longer grainy.
Check the chard – it should be tender and deep green. Raise the heat to medium, stir in the cashew cream and cook for a minute or two until the sauce is thickened. It should look like creamed spinach. Spread this on the mushrooms.
Turn off the onion pans, and spread the onions on top.
Sprinkle with the pignon nuts.
Bake for 30 minutes, until the chard is bubbly and the nuts are browned.
Let sit for 10 minutes before slicing. Or, make the night before and then slice while cold and reheat or serve at room temperature.
Notes
Serve with a nice big salad.
Serves 4 for dinner, or 6 as a starter course.
Bucket of Yum http://bucketofyum.com/