So a couple Saturdays back, I needed to do something with some leftover bacon in the fridge. (I know, right?! How the HELL did THAT happen? I do not know), and that made me think of my mom's potato soup when I was a kid. Only we don't do potatoes now, but we do cauliflower and….wait! That's it! And there you have it, another snap shot of the way my brain works.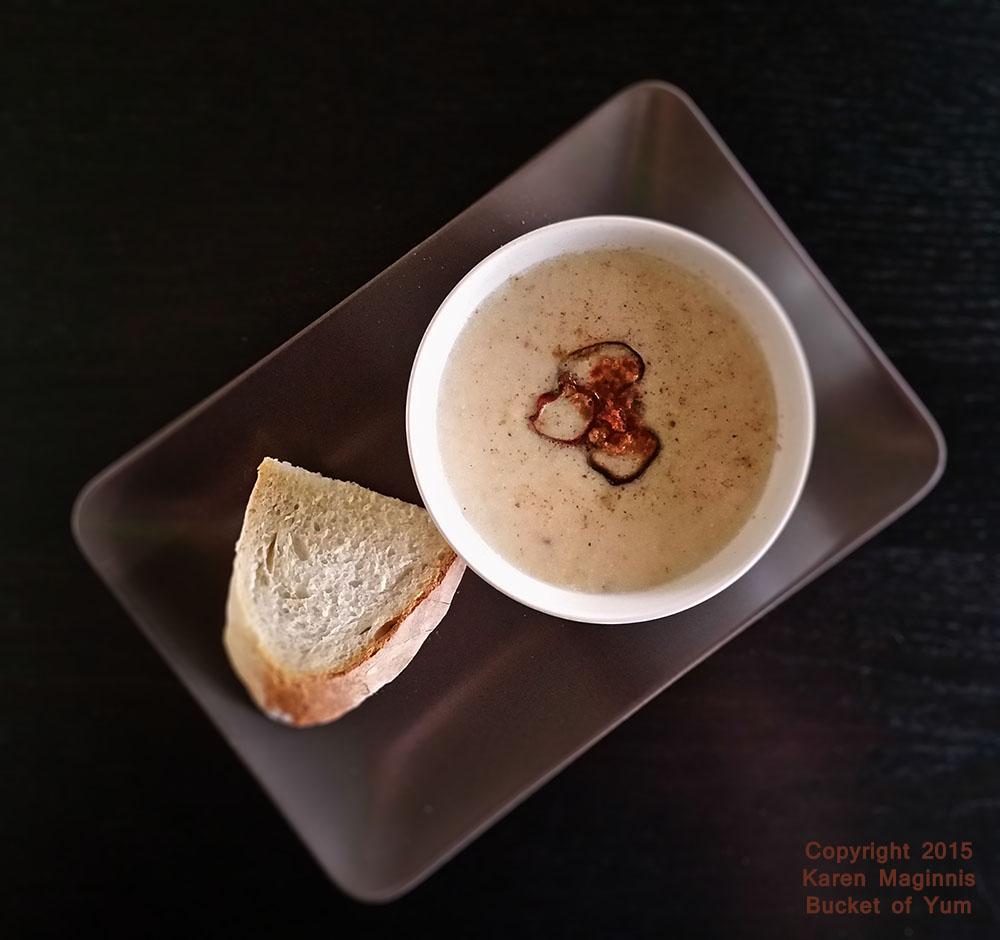 Regardless of brain workings, this soup is delicious. And easy. And filling. And fast. Plus, bacon.
When I made this again for the blog, I had to cook the bacon. This added some time – so plan ahead and make extra bacon at breakfast, then hide it.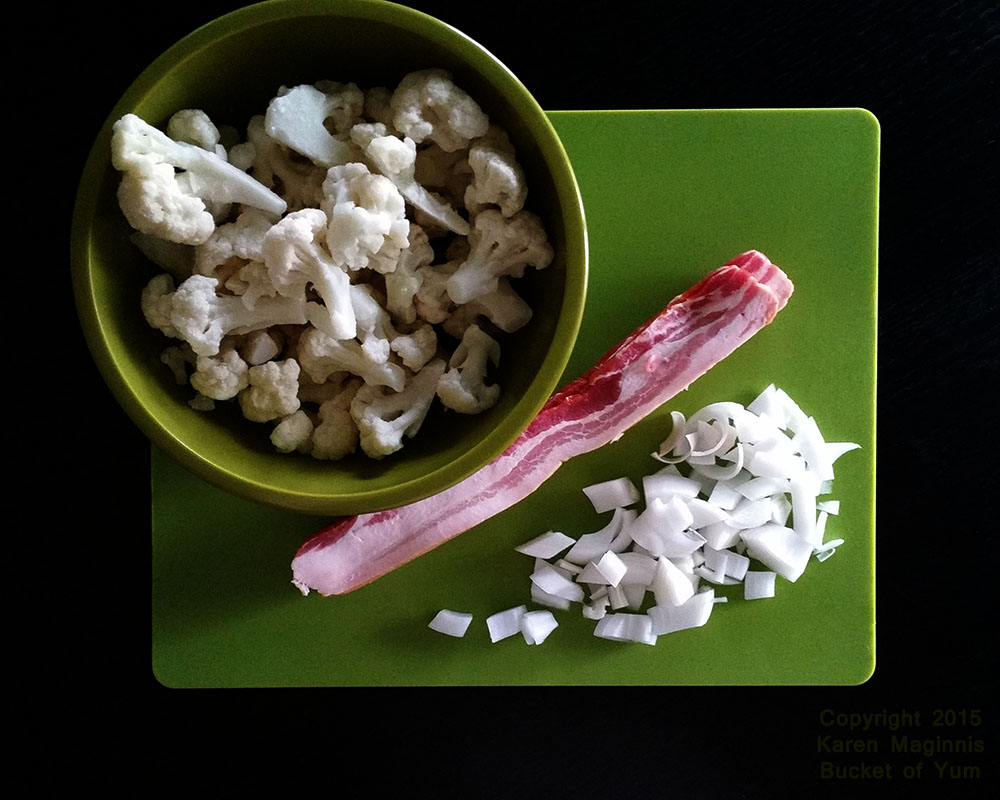 Ya'll know we can't do dairy so much, so I made this with cashew cream. And really, you should make it that way the first time because it is AMAZEBALLS. Or, wimp out and use heavy cream – because I am not your dairy police. That's between you and your intestines.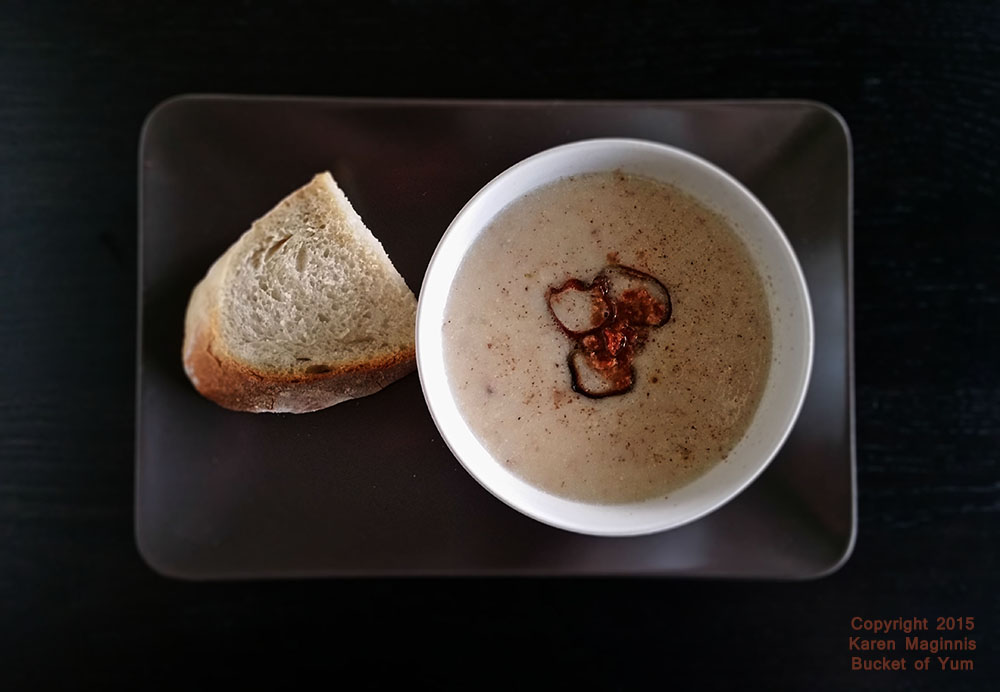 Hey, look! There's a slice of that homemade bread featured a few weeks ago!
Give this bad boy a whirl, and share your results!
For the cashew cream
½ c. raw cashew pieces
¾ c. warm water
½ tsp. corn starch
½ tsp. nutritional yeast
For the Soup
20 oz. pkg frozen cauliflower
6 slices thick-cut bacon (about 6 oz)
2 Tbsp. bacon fat
½ white onion, coarsely chopped
¼ tsp thyme
¼ tsp nutmeg, freshly grated
1.5 qt. chicken stock
S&P to taste
Instructions
If you are doing this with cashew cream: put cashews and water in your blender, set aside to soak the cashews.
For the soup
Cold pan fry up that bacon. Chop 5 of the slices and reserve the 6th to crumble as garnish. (Now, this is assuming you can control yourself around bacon. If you cannot, cook extra slices accordingly.)
Take 2 Tbsp of the bacon grease and use it to sweat the onions in a big soup pot.
Once they're clear, add the thyme, nutmeg, cauliflower, chopped bacon and chicken stock and bring to a simmer.
Simmer about 20 minutes, until the cauliflower is fall-apart soft.
At this point, if you are using the cashew cream, put the corn starch and the yeast in the blender and set it on high/liquefy for about two minutes. You may need to stop/scrape midway. You should end up with a super-smooth mixture that looks like cream. Rub a drop between your fingers – it should not feel grainy. If it does, give it another minute or so until it is super smooth.
Scoop the cooked cauliflower (and whatever onions and bacon make it along for the ride) in to the blender. Keep the lid open a crack (so you don't have a soup explosion) and puree until smooth. You may need to add a little broth to make it work. Pour all that back in to the soup pot with the broth and simmer about ten or fifteen more minutes. (If you eschew the cashew, put enough liquid in the blender with the cauliflower to puree it; then you can add 1 c. heavy cream and simmer for the same amount of time.)
Serve it up, garnished with some of that bacon and a sprinkle of more nutmeg.
Notes
This reheats great – I have not tried freezing it, but the next day for lunch? Super deelish.
And – this is soup consistency soup. If you want a super-thick, stand up your spoon kinda purée, cut the liquid in half. And use the food processor to purée instead of the blender.
Bon appétit!
Servings 8
Calories 197
Fat 12 gg
Sodium 430 mg
Carbs 14 g
Protein 10 g