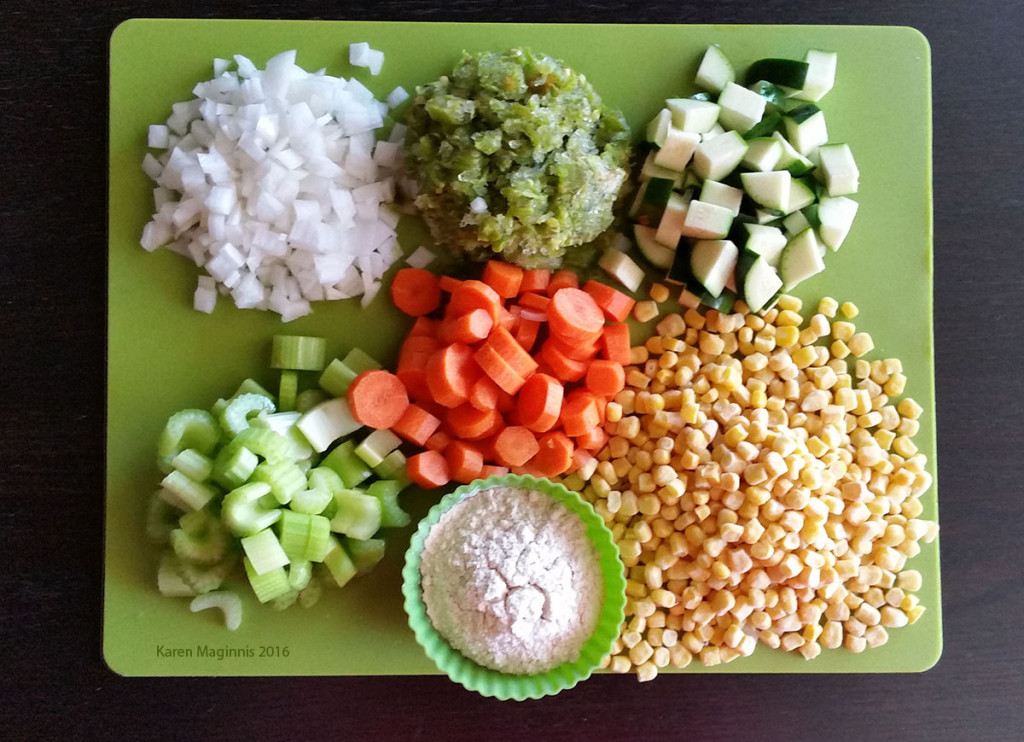 We took a staycation the last week of the year, and I got a wild hair to make our own corn tortillas. "How hard could it be," I thought. Turns out, fairly hard. As in, what are these? Frisbees? This left us with a five pound bag of masa in the pantry. What to do, what to do. Turns out it makes totally delicious corn bread, which is almost cakey in texture. It is also what is often used to thicken chicken tortilla soup – that ubiquitious, obstenisibly Mexican but really more of a gringo dish. Then I saw the bags of frozen roasted and peeled Hatch green chili in the freezer at Trader Joe's , and a diabolical plot was born.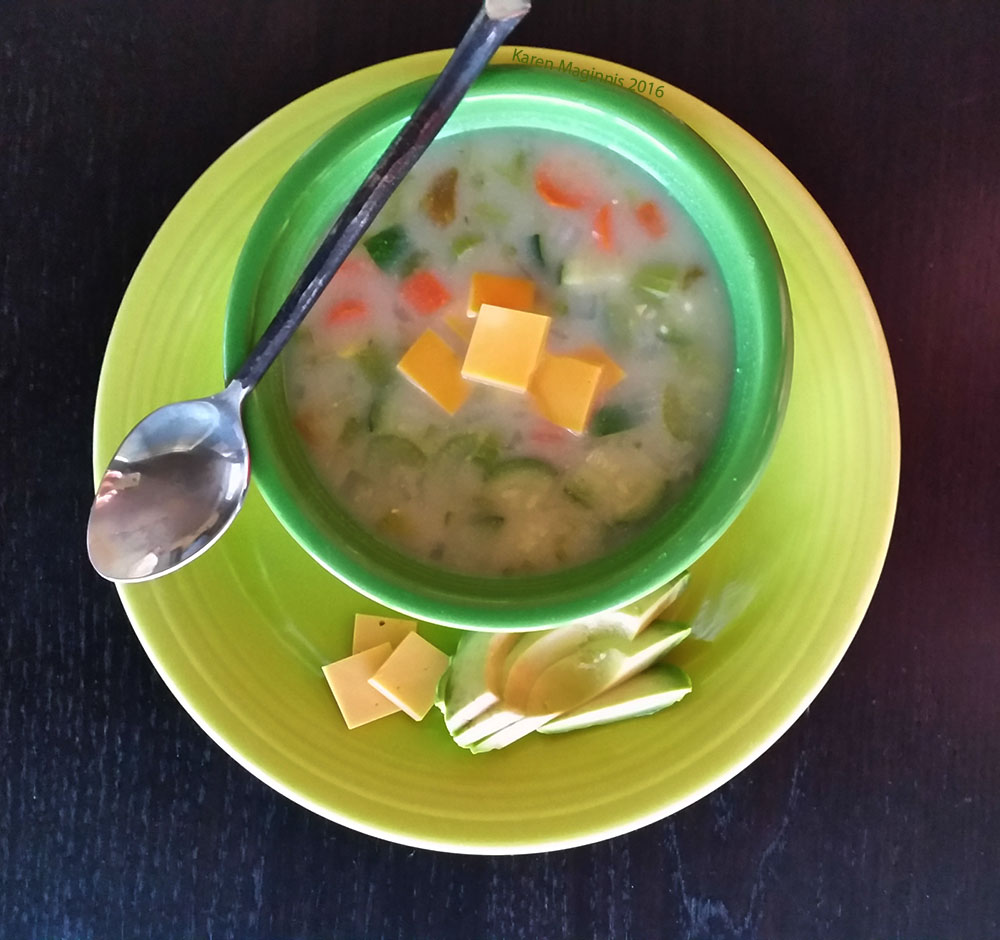 I made a pot of this, and took some to work. A co-worker took a taste and said, "Hey! That tastes like green corn tamales!" Yeah, my work here is done.
Put some cubes of colby or mild cheddar in the bottom of the bowl and ladle this on top, and you will be in heaven. Even better, serve it with a cheese crisp. Just remember to taste your chiles – hot chiles mean spicy soup. If you are lucky enough to live near a Mexican supermarket that roasts green chiles in the late summer, they would be even better. I'd avoid the canned variety for this – the central flavor of this soup is the chile, and the canned varieties are so mild they would render a pot of tastelessness.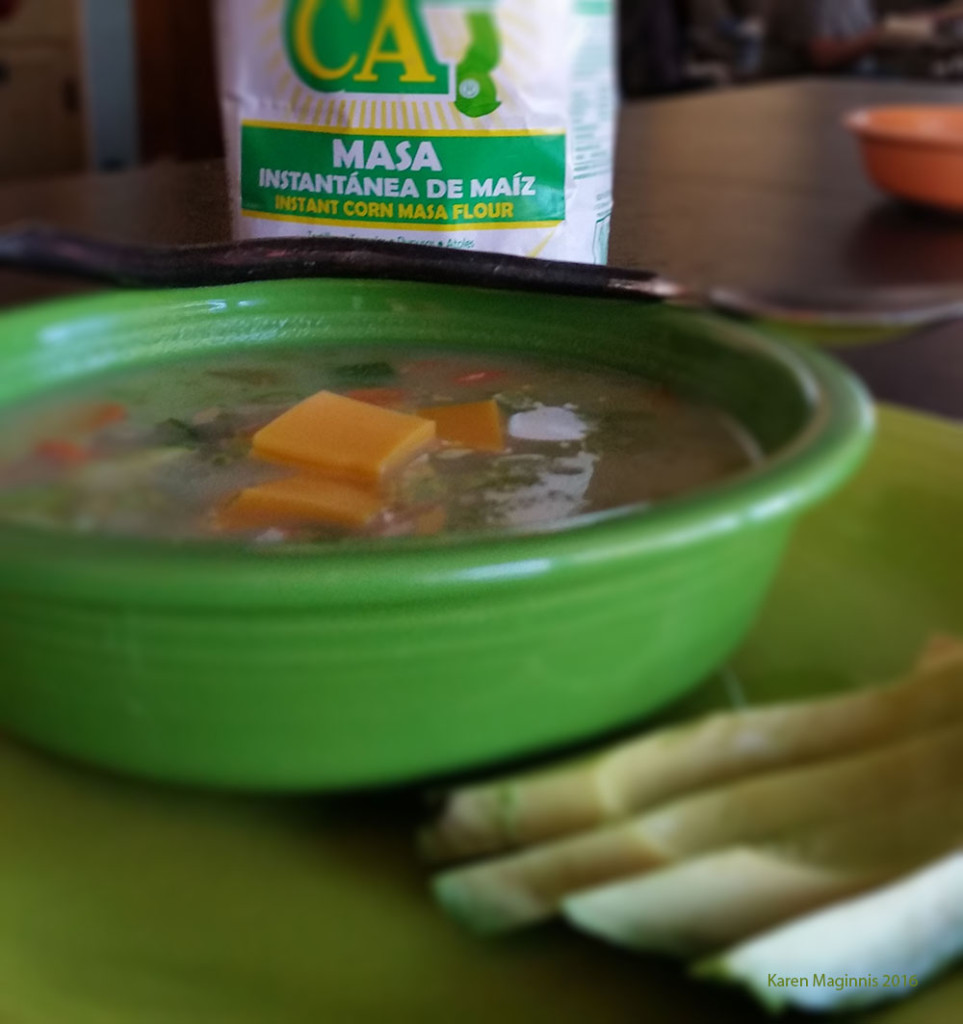 This is super fast – start to slurp in under 40 minutes. Give it a try, you 'll be glad you did.
Green Tamale Soup
Serves: 4
Ingredients:
2 quarts chicken (or vegetable) broth
¾ c. masa harina (instant corn masa)
3 celery stalks, chopped for soup
3 carrots, peeled & chopped for soup
1 fat zucchini, chopped for soup
½ medium white onion, diced
1 c. roasted and peeled Hatch green chili (fresh or frozen. NOT canned.)
1 c. frozen corn.
1 tsp. sugar (optional)
In a bowl, mix the masa with about a cup and half of the stock to make a paste (or a thick slurry.)
In a large soup pot, dump all the other ingredients. Turn the stove on high. When it reaches a boil, turn the heat to medium low and whisk in the masa slurry.
Simmer about 20-30 minutes, and you're ready to rock and roll. Don't put the heat too high or the masa will burn on the bottom of the pan. The longer cook time just means softer veg.
This is even better the next day. And, you could absolutely add some diced cooked chicken breast to this, if you wanted to boost the protein quotient.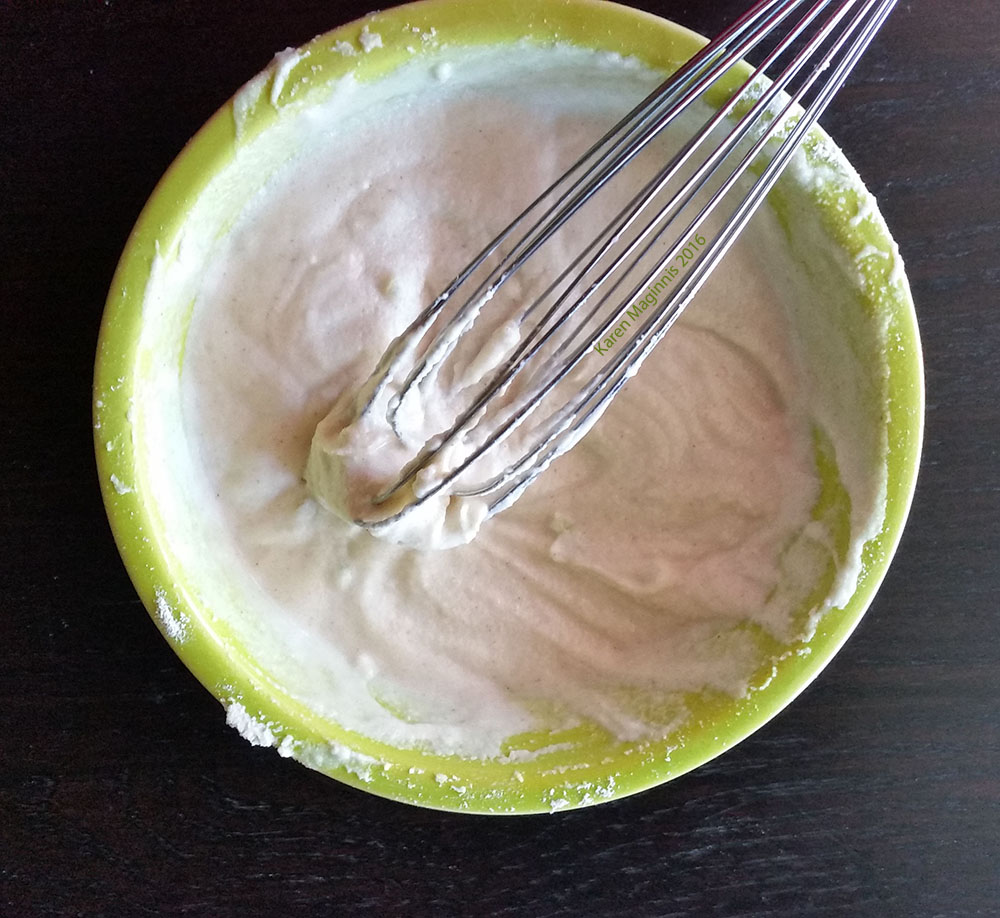 serves 4
calories 189
fat 1.1g
cholesterol 0mg
sodium 1214mg
carbs 34.9g
-fiber 4.6g
-sugars 7.3g
protein 11.5g