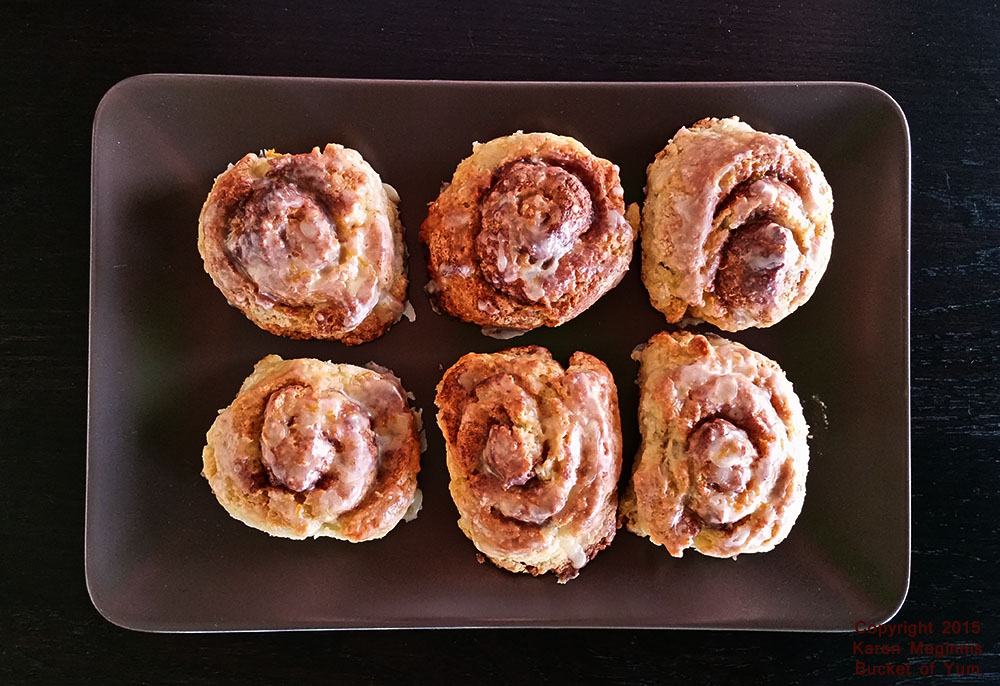 It is becoming apparent that I am mildly obsessed with scones. So much so, that I am contemplating giving them their own tab here on the Yum.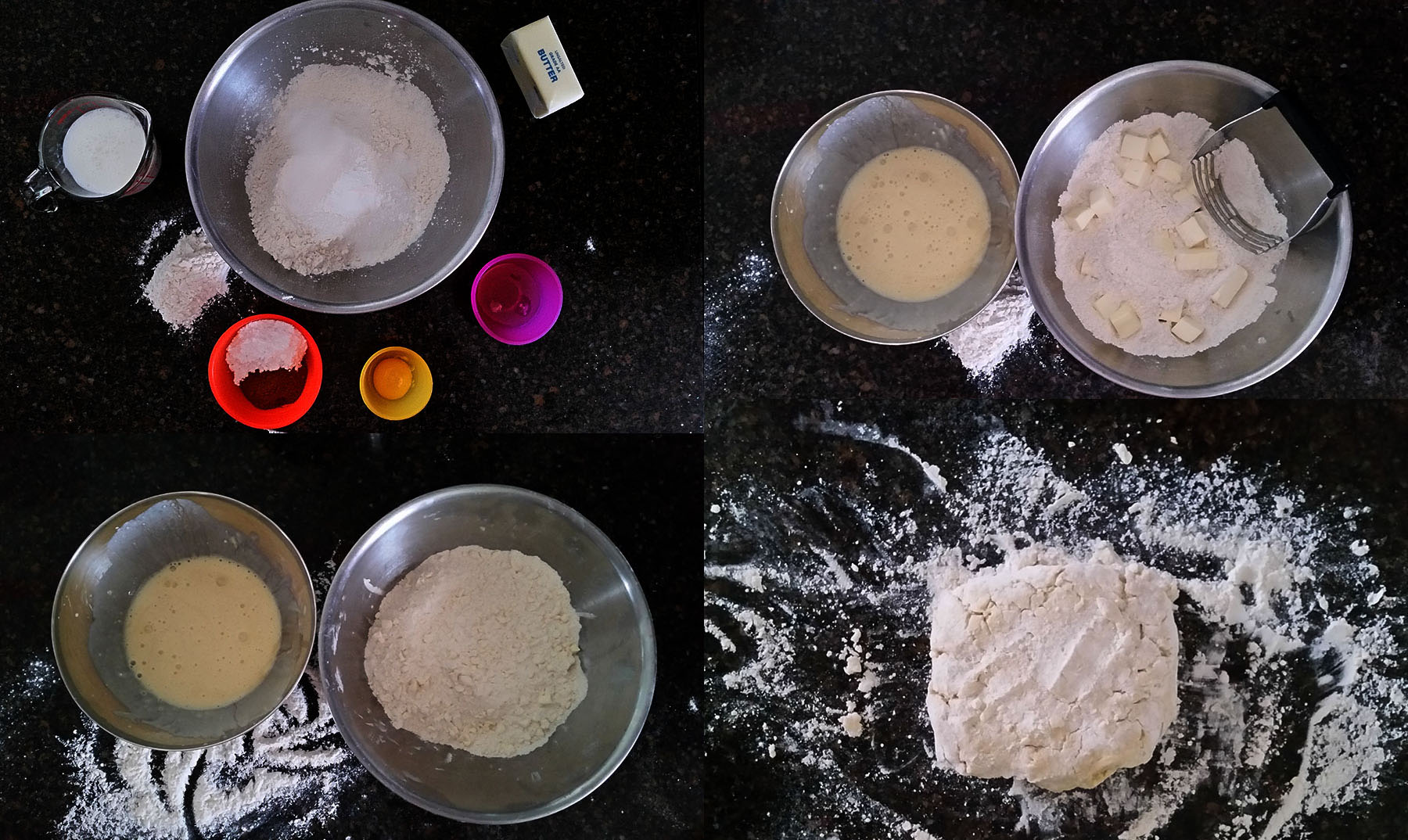 These are delicious. Himself said they reminded him of an apple fritter (although there is no apple in there, just tons of butter and cinnamon.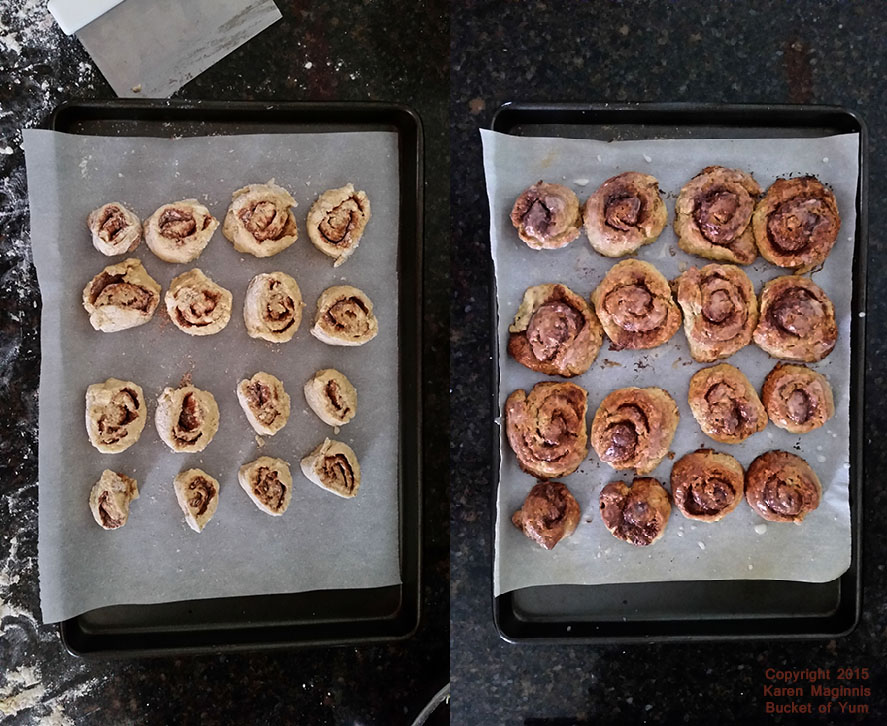 For this swirl, you make your scone dough as usual, then roll it out and treat it like a cinnamon roll. This quick dough is more delicate than a yeast dough, though, so I needed to use my board blade to help roll it up, then slice it.
For the dough
2 c. AP flour, with 2 Tbsp reserved
¼ c. sugar
1 tsp baking powder
½ tsp baking soda
¼ tsp. salt
8 Tbsp unsalted butter (This is one stick. 7T cold & cubed, 1 set aside and melted)
1 egg yolk
¾ c. buttermilk or a mixture of half plain yogurt/half milk
1 tsp. vanilla extract
For the filling
2 Tbsp. powdered sugar
1 Tbsp. cinnamon
For the glaze
1 c. powdered sugar
1 Tbsp fresh orange juice
Orange zest, if you like
Instructions
You'll need 2 bowls, and preheat the oven to 400*; line a baking sheet with parchment.
In one bowl, whisk together the egg yolk, vanilla and buttermilk.
In the second bowl, mix together the dry ingredients.
Cut in the 7 Tbsp butter with a pastry cutter until it's pea-sized.
Gently mix in your liquid – you'll have a lumpy, mostly mixed mess.
Dust your pastry board with the reserved 2 Tbsp flour and dump the dough mess on it.
Gently press the dough together to get a mostly homogenous lump. You may need to dust the board with a little more flour.
Gently roll the dough to about 12" x 24".
Spread with the melted butter, sprinkle with the cinnamon and the powdered sugar.
Gently roll the dough long ways like for cinnamon rolls.
Cut in to 1" pieces and arrange on your baking sheet at least ½" apart. (Flour your knife w/ each pass) You'll need to gently push them back into a circular shape before baking.
Bake for about 15 minutes until golden.
While they are baking, whisk together the glaze.
When you take the scones out of the oven, brush them with the glaze immediately while they are still hot.
Once they cool, you can drizzle them with some more icing if you like the whole drizzled look.
Servings 12
Calories 221
Fat 9 g
Sodium 121 mg
Carbs 33 g
Protein 3 g