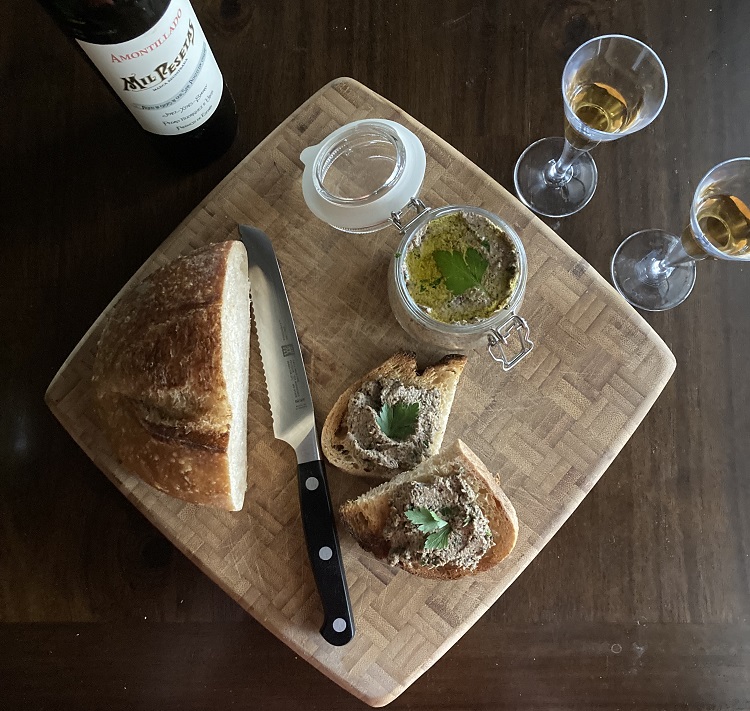 This is relatively quick, and has a lovely wow-factor on a nice board ("Wait – you MADE this?") with a crunchy slice of good bread and an icy glass of sparkling rosé or good dry sherry. The toasted nuts add a nice texture, and the porcini really bring forward the mushroom flavor. Fresh thyme and some Amontillado add some earthiness. This is a wonderful appetizer, and vegetarian! (Vegan, even, with a small modification.)
Alas, himself says the flavor is lovely, but is not a fan of pâté (it's a texture thing) – but he wants to try it as a ravioli filling.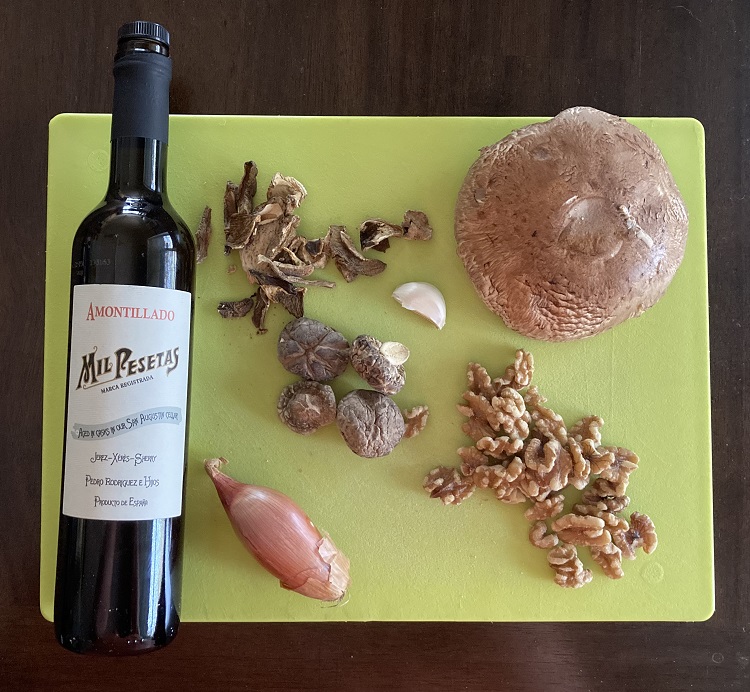 MUSHROOM PATE
This makes about one cup.

INGREDIENTS
1 large portobello cap, or 4 oz button mushrooms, sliced thin
4 dried shitake
2 Tbsp. dried porcini
1/2 c. walnut pieces
1/2 shallot, minced (about 2 Tbsp.)
Heavy pinch of Maldon smoked sea salt
1/2 tsp. Bragg's Aminos
1 garlic clove, minced
1 tsp. fresh thyme leaves
A good, dry Spanish sherry
3 Tbsp. soft unsalted butter (Substitute vegan butter if vegan is your goal)
2 Tbsp. chopped Italian parsley (optional)

DIRECTIONS
Preheat the oven to 375* – line a baking sheet with parchment and spread out the walnuts. Toast them in the oven for about five minutes – your nose will tell you when they are toasty. Watch 'em! They go from good to burned in an instant.
In a large nonstick sauté pan on medium low, put 1 Tbsp. of the butter, the sliced fresh mushrooms, shallot, salt, and garlic. Stir occasionally until the mushrooms cook down and have released most of their moisture.
Meanwhile, put the porcini and the shitake in a heatproof bowl. Splash with a little sherry, then cover with some boiling water to soften them. After about ten minutes (at which point the portobello slices should be about done), gently scoop the now-reconstituted mushrooms from the liquid. (Don't scrape up from the bottom of the bowl – sometimes those puppies have a little sand in them). Remove the stems from the shitake and coarsely chop them. Add those and the nuts, thyme, Braggs, and good splash of the sherry (about a shot) to the pan. Strain the mushroom liquid through a coffee filter and add about 1/4 c. of the liquid to the pan. Stir, and still on medium-low, cook it all together until most of the liquid is gone. Next, take it off the heat and cool it a bit in the pan. When it's about room temperature, scrape it into the food processor and process until it is a paste with the consistency you'd like (real smooth, slightly chunky, etc.). When it's almost where you'd like it, toss in the remaining 2 Tbsp. butter and the parsley and pulse it a couple times to get that butter mixed in. Put in a jar and you're good to go. I'd suggest a superthin layer of olive oil on top of the mix in the jar so the top doesn't discolor (you know, they way pesto does.).
Serve with good crunchy baguette slices, or garlic-rubbed grilled bread along with a nice icy cold adult beverage. This also makes an amazeballs ravioli filling – add some chèvre frais if you're not dairy-impaired. I'm even thinking it would make a yummy empanada……hmmm……. Ok, thanks for reading. Enjoy the new blog set-up!
Bon apétit!