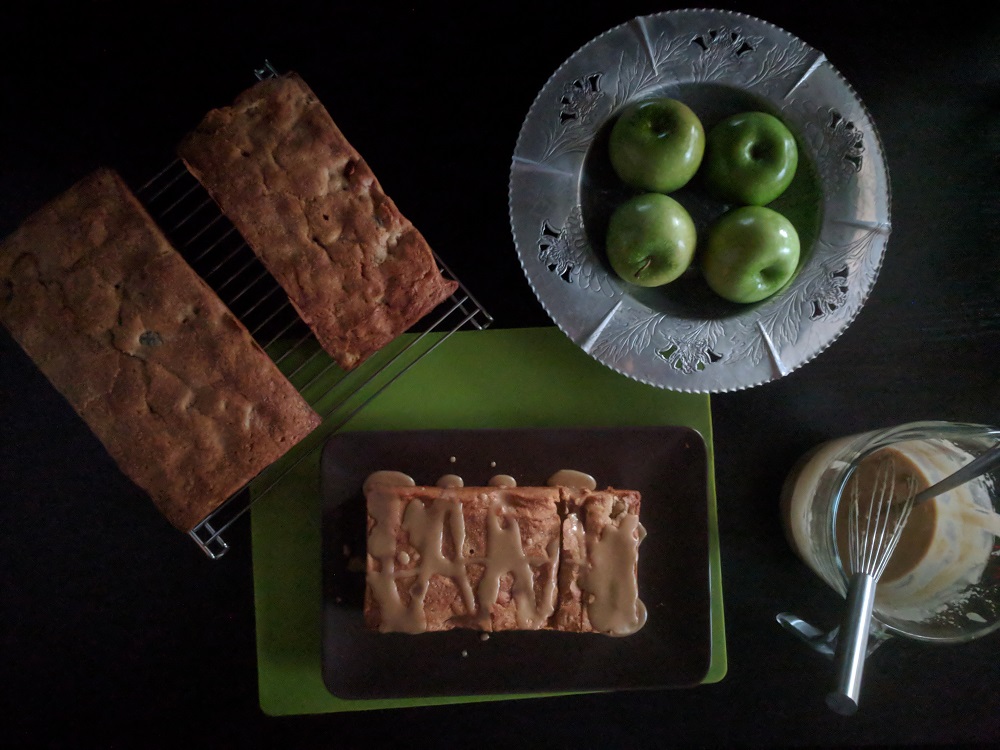 We're back, bitches. Where have I been? It's a long story – I'll post it after the goodies. In the mean time, it is Fall! Time for apple recipes. Himself loves candied ginger, and today I was thinking about making a chutney with apples and ginger, and then changed direction and decided on some breakfast cake. Because breakfast. And cake. And y'all already know how I feel about that.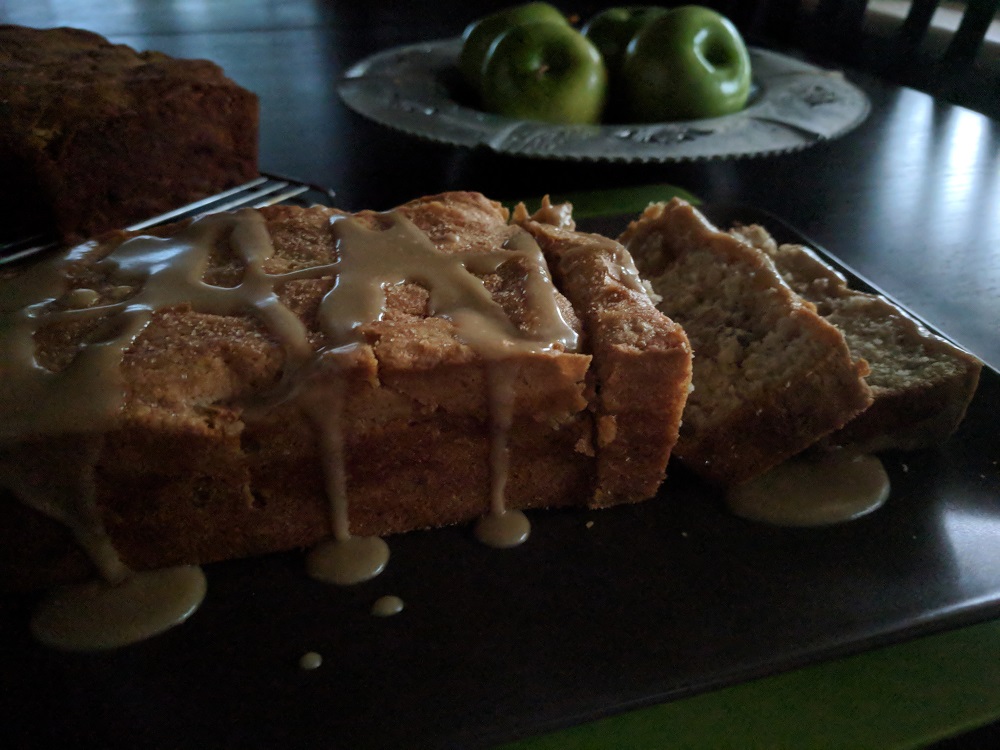 Spicy Apple Nut Bread
Makes two 9×5 or four 8×4 loaves
Cream method:
In your mixer bowl, add:
4 c. AP flour
1 c. sugar
1 c. unsalted butter
1 tsp salt
1 ½ tsp. Baking powder
¼ tsp. Baking soda
1 tsp. Pumpkin pie spice
½ tsp. cinnamon
Turn on low until mixture looks like fine crumbs.
Meanwhile, prepare the fruity nutty bits:
Peel and cube 3 medium tart apples (granny smith, pippin)
Toss with 1 Tbsp. sugar and about another ½ tsp. Cinnamon to keep them from browning.
Chop ½ c. candied ginger into pieces about the size of a chocolate chip
Chop ½ c. walnuts
Soak ½ c. raisins in 1 c. hot water and a couple drops of vanilla (or rum)
Grease and line with baking parchment your loaf pans. Preheat your oven to 350*.
Once the dry ingredients look like crumbs, turn off the mixer and add in:
1 c. buttermilk
4 eggs
2 tsp. Vanilla extract
Start low and go to high and let it go a couple minutes until the mixture is fluffy-looking and about a shade lighter in color. While that's going, drain the raisins. Once it's fluffy and lighter, add all the fruity nutty bits, and give it a couple whirs just to stir them in.
Divide between your pans and bake about 50-60 mins (larger loaf=longer time, obvs) until it passes the toothpick test.
When the loaves are mostly cool, remove from the pan to finish cooling on a rack. You can brush with melted butter and sprinkle of cinnamon sugar at this stage, if you're feelin' it. Or a simple water/powdered sugar glaze. Just something to hold in the moisture. Once it's cool, prepare the drizzle.
The Drizzle:
In a microwave-safe bowl (or 4 cup pyrex!), put:
2 Tbsp. dark brown sugar
1 Tbsp butter
1 Tbps. water
Microwave until it is bubbling. (Mine took about 30 seconds). Stir in:
¼ tsp. salt
½ tsp. vanilla
1 c. powdered sugar.
Stir. It should be the consistency of crepe batter. Put it in a pastry tube to drizzle over the cooled bread.
That drizzle is one of my favorites – it's the salty, almost caramel taste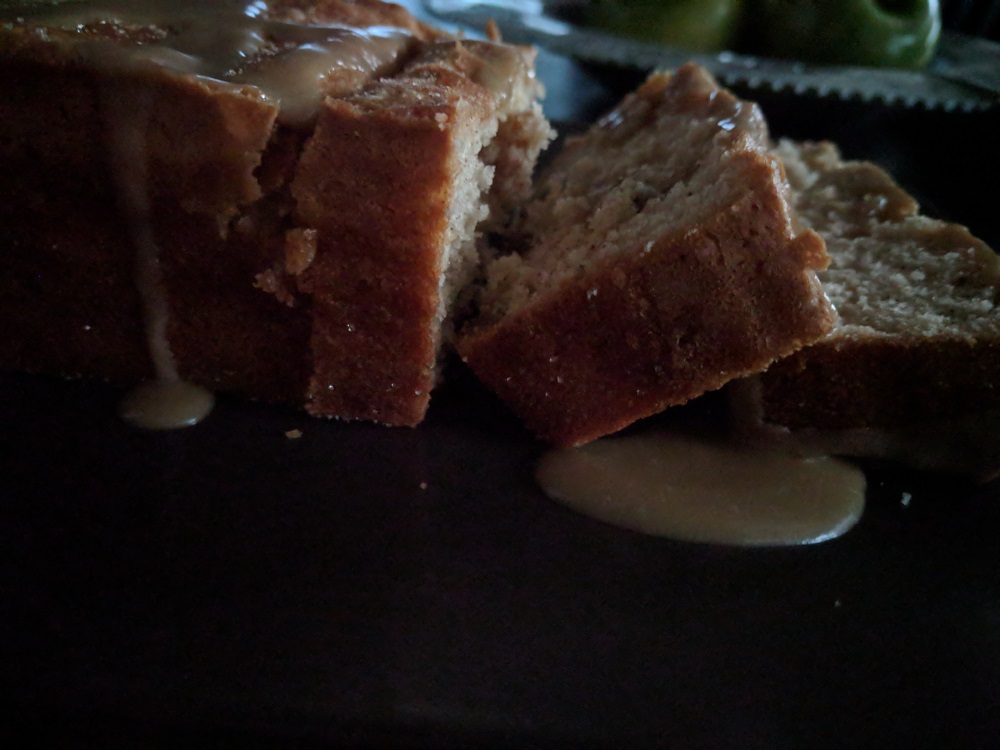 that I just love.
Ok – enjoy! And thanks for coming back after my unplanned three-month hiaitus. Our Cindy dog fell ill back in June, and passed in July. She was our good girl for thirteen years and I was devastated. Right now writing this two months after she passed and I've got tears blurring the screen. Then something went wrong with the air conditioner and water got underneath the oak floor and we've been dealing with contractors and insurance and…..sigh. It's sucked my will to create. I did not have enough joy for me, so I couldn't find any to share. But ya know, that damn sun just keeps coming up every morning. Take care, y'all. And if you have puppers, give them a big hug because our time together is finite.