My father's family is from a tiny, tiny town in Ohio. Often in the summer, we would go "back east" to visit. My paternal grandparents were wound pretty tight; I never felt comfortable when I was there. But my Grandmother Charlotte always made two things that stuck in my mind: cucumber salad, and huge soft lemon sugar cookies. Those are my favorite memories of those trips; well, those and fireflies. Being from the desert, fireflies have always fascinated me. As far as the victuals, to this day I've not found the equivalent for the cookies but I have for the cukes! Thank you, interwebs.


This is simple. And quick. And so very yummy and cool, and great with summery foods like picnics and barbecues. It pays to make a big batch; it will keep in the fridge for at least a week. Unless you live with me; then it's two days, tops.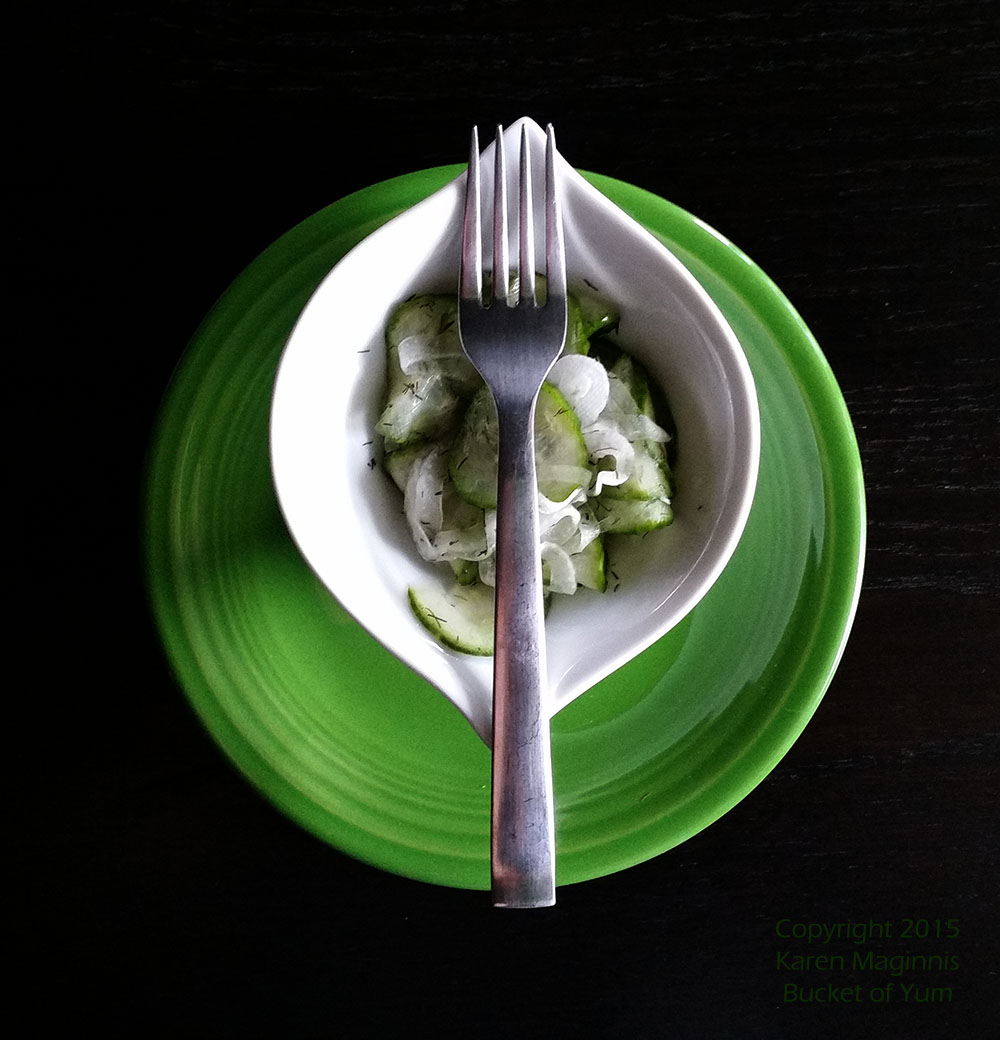 The only thing is, you really do need a mandoline for this. Unless you've been to chef school and have the mad knife skills to slice a cucumber in to wafer thin slices.
I really hope you try this one. It's tangy, sweet, savory and crunchy.
For the marinade
1/2 c. water
1/2 c. sugar
1/2 c. white vinegar
For the salad
1/2 English cucumber, washed and sliced wafer-thin on a mandoline
1/4 Sweet white onion like a Vidalia or a Maui Sweet, sliced wafer-thin on a mandoline
1 Tbsp. dried dill weed, or 2 Tbsp. minced fresh.
Instructions
Put the marinade ingredients in a sauce pan or in a microwave-safe bowl. Bring to an almost boil, until the sugar is dissolved and set aside to cool.
While the marinade is cooling, wash and slice the veg.
In a tall, wide-mouthed container, put a single layer of cukes, a single layer of onion and sprinkle of dill.
Continue until all the stuff is in the jar.
By this time, the marinade should be about room temp. Pour it over the ingredients in the jar.
Refrigerate.
If you can contain yourself, these are best eaten after a day.
Notes
You can also make this with crème fraîche instead of the marinade. Just mix it all together. Nerms.
Servings 4
Calories 114
Fat 0 g
Sodium 5 mg
Carbs 28 g
Protein 0 g