Here's some really good advice. Do not make a batch of your favorite cookie if you are home alone on a rainy day. Do. Not. Holy shit, y'all. Seriously. I've eaten three of these and had to force myself to stop. Three doesn't sound like much, does it? But these are buttery rich little tiles of heaven and one would be perfect for a normal person.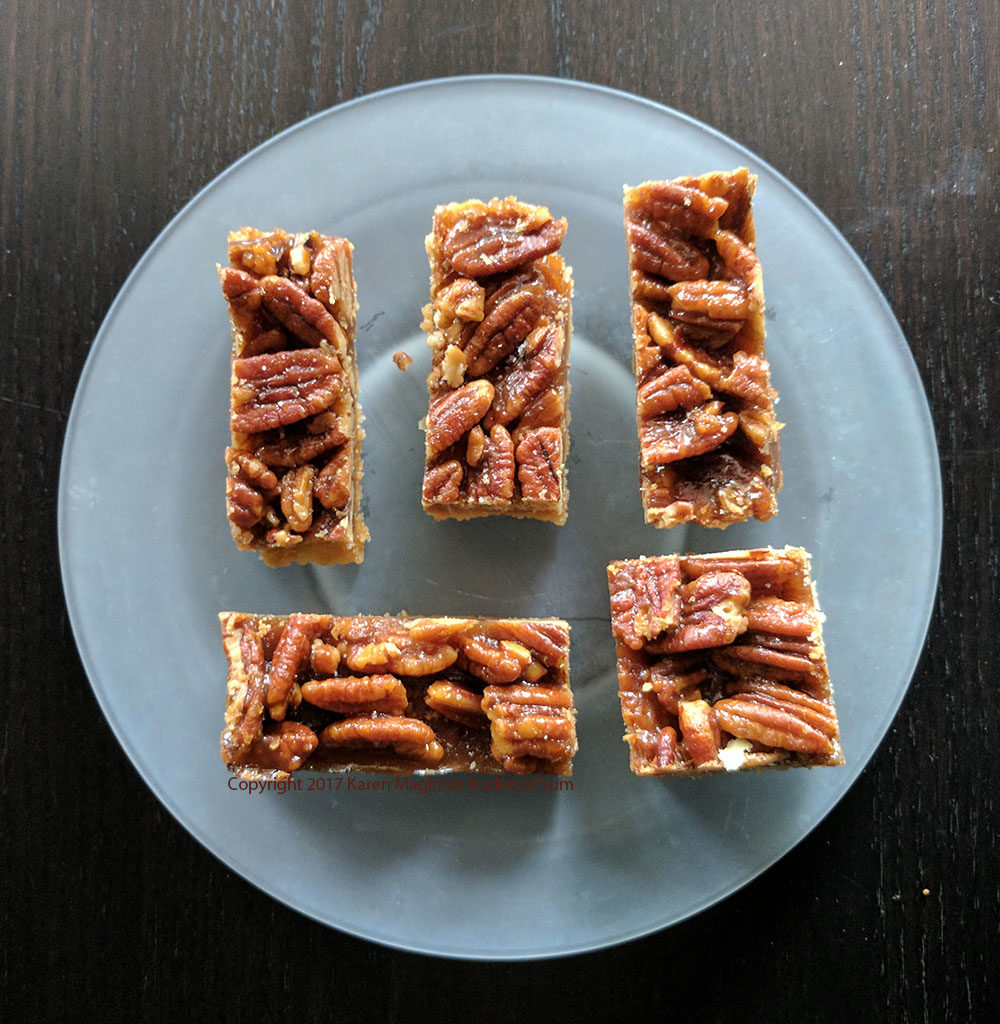 I've never made these before – so why now? We had a cookie potluck at work the week before Christmas; one of my co-workers brought in some of his girlfriend's pecan bars. Oh, lawdee lawd. They were so good. Crunchy base, caramely salty pecan topping. I have not been able to get them out of my mind for three weeks. That, plus the fact that my mom gave me three pounds of pecans, and you can see why I had to make these.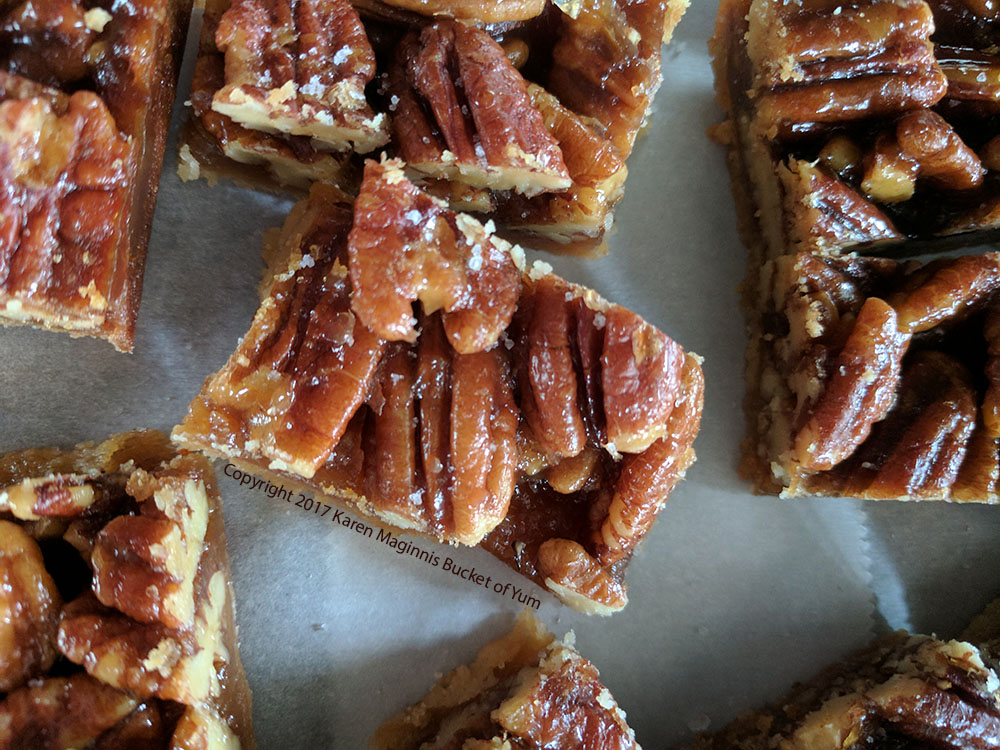 The interwebs garnered many a recipe, and pecan PIE bars appears to be the preferred nomenclature. But I don't want a gooey top, I don't want a pecan pie. I want that toasty nutty chewy sticky caramel taste. I found an awesome recipe at Shockingly Delicious – which of course I had to tweak.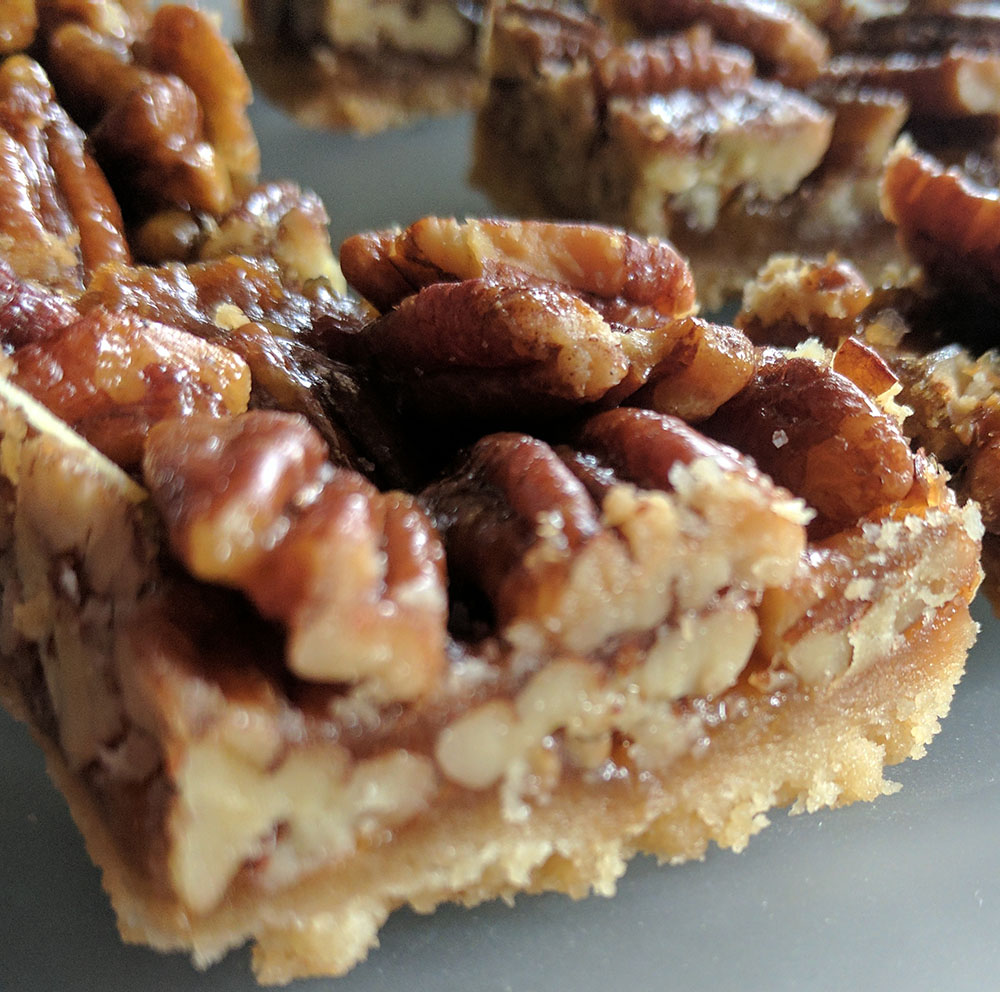 My one take away from this, though? Grease that pan. Then, when you think you are done, grease it some more. This is serious sugary sticky shit.
Pecan Bars
Preheat the oven to 350*. Heavily grease a rectangular cake pan – 9"x13"x2". Line it with parchment or foil, à la Alton Brown brownie hammock. You'll need those edges as handles to lift them out after baking.
In the mixer with the paddle attachment, mix:
2 c AP flour
2/3 c powdered sugar
1 ½ sticks butter
½ tsp salt
When it looks like crumbs, it's done. Dump the mix in the bottom of the pan. Smooth it out. Then, cover it with a sheet of plastic wrap or wax paper and use the bottom of a jar or glass to smoosh it down. Be sure to put a little lip up all the sides and especially the corners. Remove the wrap, and bake it about 20m until it's set, but not brown. (This would also be a fun kid part – smooshing it down with their hands.)
While it is baking, combine in a heavy 2 quart sauce pan on medium heat:
½ c. plus 2 Tbsp brown sugar
1/3 c. honey
¼ c. corn syrup
14 Tbsp butter (two sticks minus two Tbsp)
½ tsp salt.
3 Tbsp. heavy cream (I used coconut/almond coffee creamer)
Stirring frequently, bring the mix to a low boil – it will get all foamy and lighten a bit in color.
Remove from the heat til the crust is done.
When the crust comes out of the oven, spread out on top:
3 1/2 cups pecan halves or pieces
Even pour the caramel mixture over them. Make sure everything is well-distributed, then all back in the oven for another 25-ish minutes. It will be bubbly and a little darker when it's done.
Cool completely, lift it out of the pan and slice in small squares. Sprinkle with some good flaked salt, like a kosher salt or fleur de sel.
These will keep in an air-tight tin for quite a while. If they last that long.