Happy October, Betches! It's pumpkin baking time!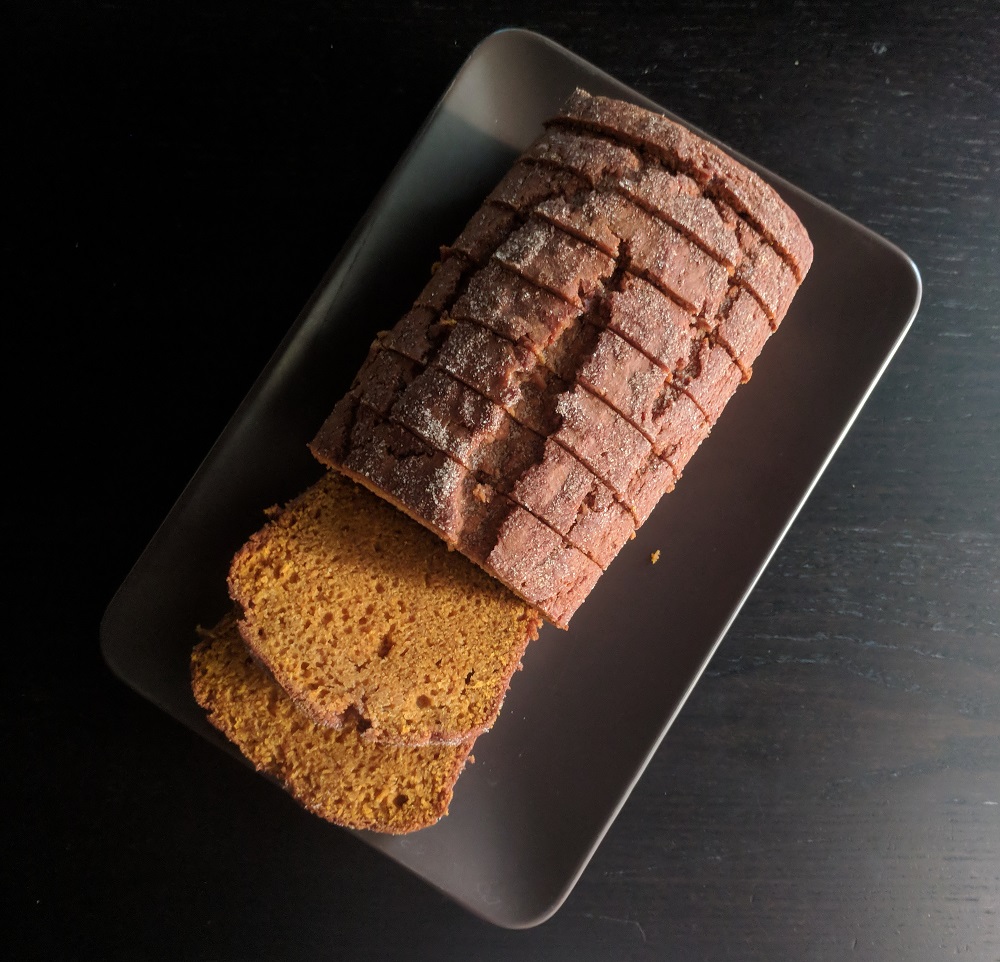 You know I love to roast and purée a big squash for the freezer. This is not any cheaper than buying canned pumpkin, but it makes me happy. So, this year I tried a completely different variety and I think it is THE ONE. I have no idea what this is called – it's the kind you get at the Mexican supermarket and poach like camotes in piloncillo syrup for the kids. But my Goddess, the color! I wish you could see this in real life – it is the most deep, gorgeous, vivid orange. Almost vermillion.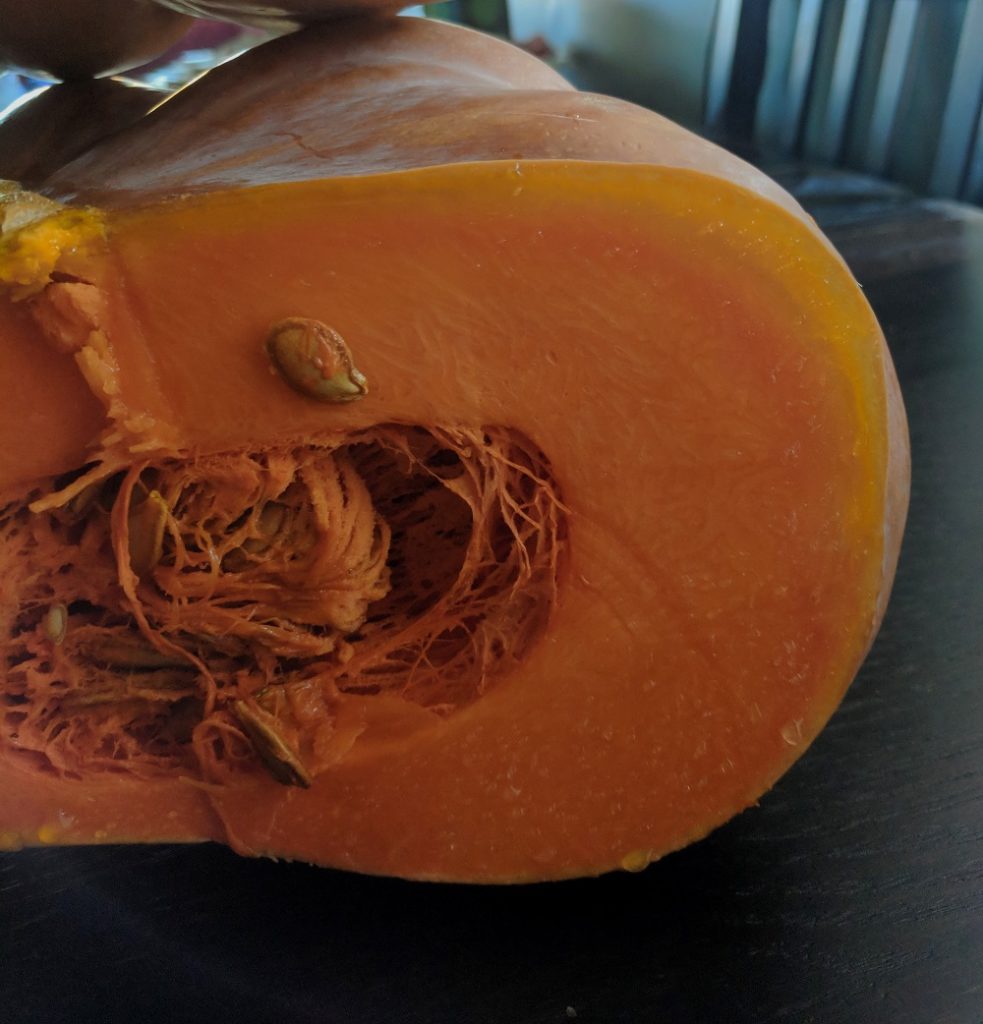 And once it's baked? Even deeper with just a tinge of brick red. It's fantastic – and made the bread this luscious pumpkin-y color. I'm so pleased with this I can't contain myself. I cannot wait to try making a pumpkin pie. The only down side was the yield – this was a six pound pumpkin. I cooked half and got 4.5 cups of strained purée, but almost six in water. Lawdee lawd but that puppy was loaded with water. But I digress.
Pumpkin bread. For the past few years, every time I make it the color is so pale you can't even tell there's any pumpkin in it. Not this year – it's totes gorgeous.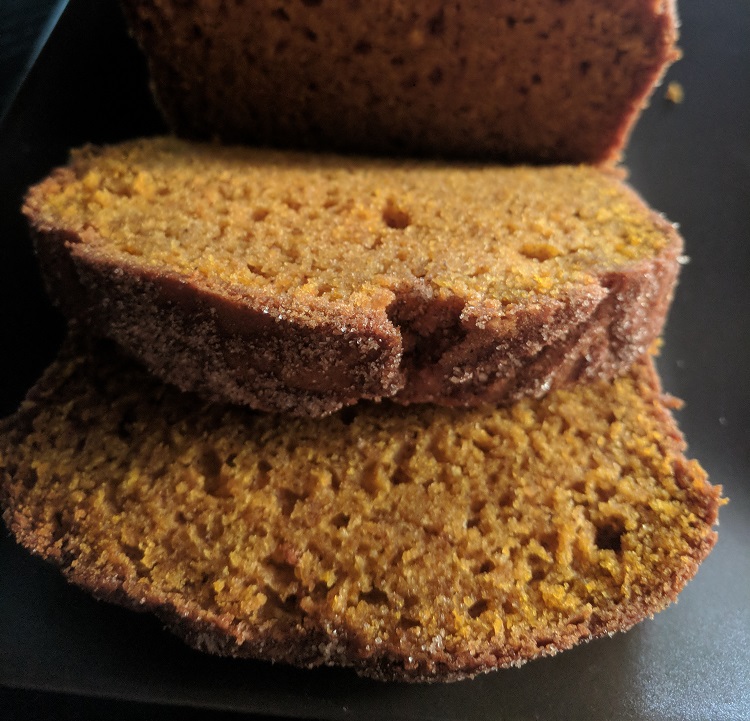 I found a new recipe to tweak, too. I was intrigued because it uses water and not milk. I used the strained pumpkin water since I had it. And added some whole wheat flour. But this was truly one of the best pumpkin breads I've ever made. Himself, the gals at the office, and the folks at Himself's office all loved it. So, go make this right now. Use canned pumpkin – it will still be freaking delicious.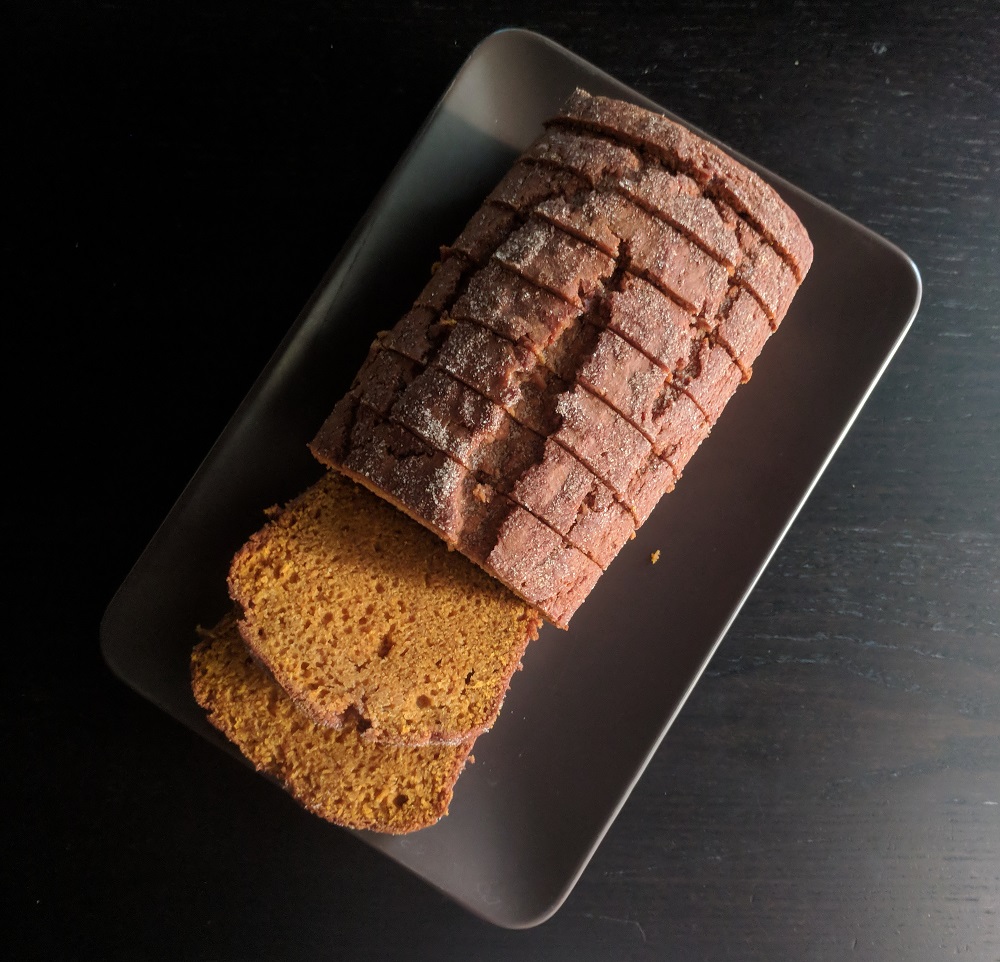 Ingredients
The Dry
2.5 c. sugar
2.5 c. AP flour
1 c. Whole Wheat flour
2 tsp. baking soda (yes, really)
1.5 tsp. salt
1 Tbsp. pumpkin pie spice
The Wet
2 c. pumpkin purée (or, one 14.5oz can – which is about 2.25 c.)
4 eggs
1 cup vegetable oil
2/3 cup water
The Topping
Melted unsalted butter
Cinnamon sugar
Directions
Preheat oven to 350 degrees F (175 degrees C). Grease and flour two 8″ x 4″ loaf pans (or line two twelve-unit muffin tins).
In a large bowl, whisk together the dry ingredients.
In a second bowl, whisk together the wet. Then, with a large spoon or spatula fold the wet in to the dry. You want a barely homogenous batter, not activated gluten. Divide into the pans.
Bake for about 55-70 minutes in the preheated oven, until they pass the toothpick test.(I'd start testing the muffins a the half hour mark.)
Once they've cooled on the rack about ten minutes, brush them with the melted butter and generously sprinkle them with the cinnamon sugar. After about an hour – they should be blood warm – run the dull side of a butterknife along the edges of the pan and then give it a few whacks to make sure the loaf is loose enough to come out. You can let them cool in the pan overnight if you're making this in the evening, or on the counter until they are wrappable cool. Don't wrap before they are completely and totally cool, or the top will become a sticky mess.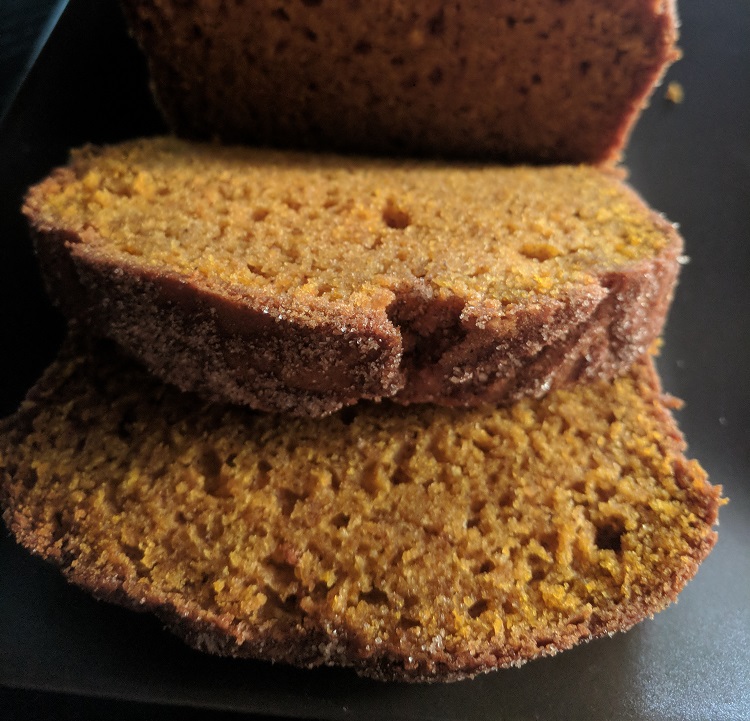 I wish we could do dairy, because a schmear of plain cream cheese on these thick luscious slices would have been absolute heaven.
Ok – go make this right now. You'll be sooo happy.