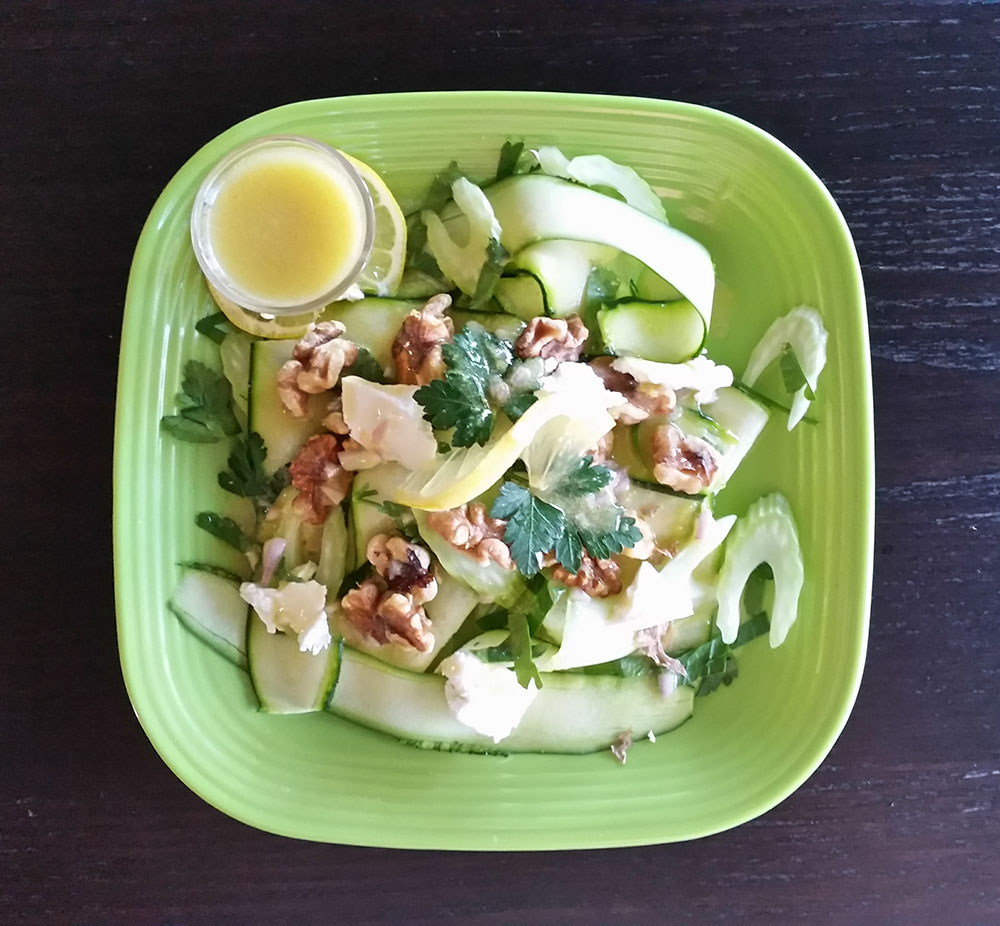 I'm ready for something light. The comfort foods of cooler weather just seem heavy and unappetizing now that the days are longer and the sun is shining. Well, that plus the candy fest that seems to run from St. Valentine's day through Easter. Ugh. No more sugar. Please.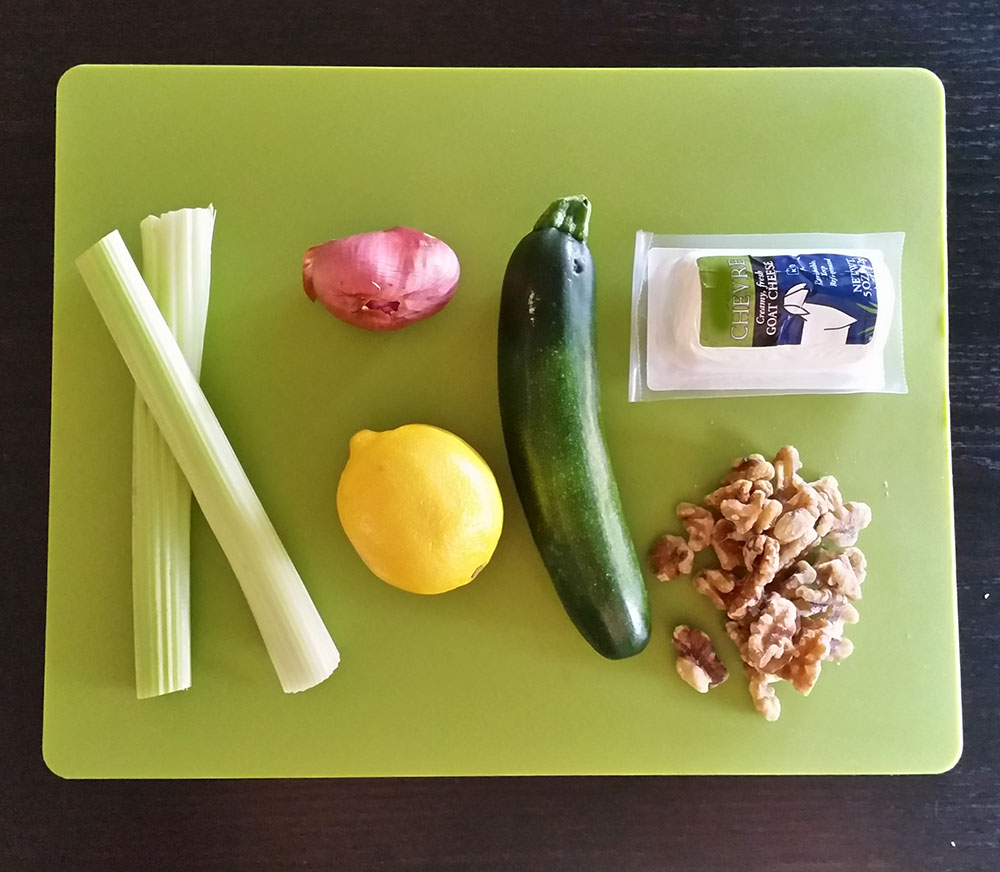 Shaved squash is all the foodie rage of late, and at first I thought, "uh – no." But then I tried it. I must confess, it's tasty. It is actually tender-crisp, mild, and ever so slightly sweet. And with some lemon? YUM! So today's salad is a super light, marvelously crunchy concoction – it would be great as a big lunch salad, or as a side to some grilled chicken, fish, or tofu.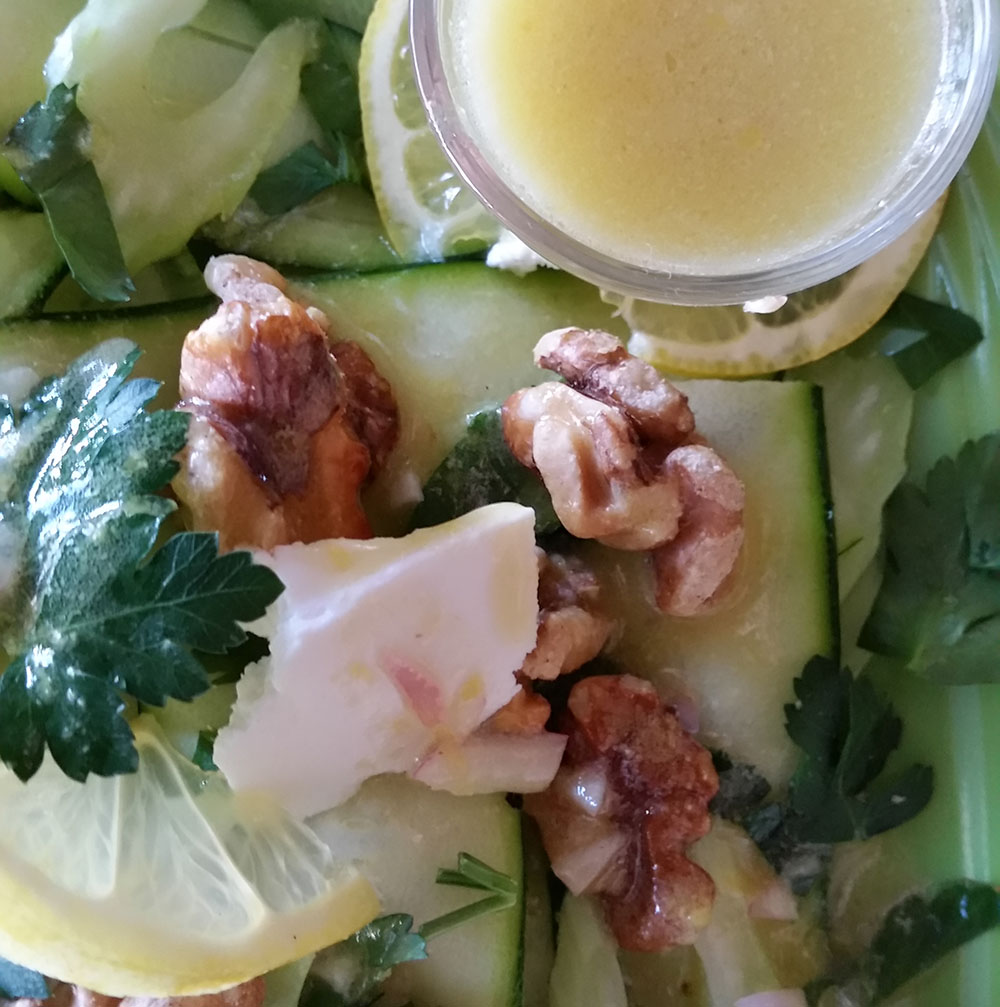 There is so much crunchiness going on – the tender crisp of the squash, the moist snap of the celery, the toasted earthy crunch of the toasted walnuts. Combined with the freshness of parsley and lemon, and the tangy creaminess of some fresh goat cheese and you are going to be so happy you made this!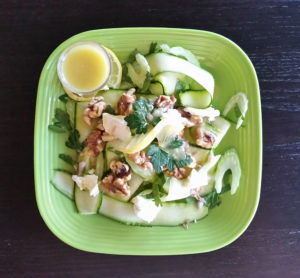 Shaved Squash Salad with Lemon Shallot Vinagrette
Serves 2 as a side, or one for lunch
Ingredients:
1 c. walnuts, toasted
1 thin zucchini, shaved in to strips.
2 stalks celery, sliced thin at an angle
½ shallot, minced
2 oz. chèvre
¼ c parsley, minced
Zest & juice of half lemon (about 2 Tbsp. juice)
¼ c. (or so) good olive oil
salt & pepper
For the walnuts:
These must be toasted. Heat the oven to 400*. Put the walnut halves on a baking sheet. Put it in the hot oven, and turn the heat off. Remove from the oven after 5 minutes (you should smell toasty nuts.) If they don't smell toasty, leave them a few minutes more. Let them cool.
For the dressing:
Combine lemon juice, zest, mustard and shallot in a bowl. Whisk these with some salt & pepper until homogenous. Then, whisk in the olive oil just until it emulsifies.
For the salad:
Plate this just before eating it. Arrange the celery, then the squash, parsley,nuts and use a spoon to make little dollops of goat cheese. This might look pretty done Cobb-style with each ingredient in its own row, but I haven't tried that. Drizzle with the dressing and enjoy!