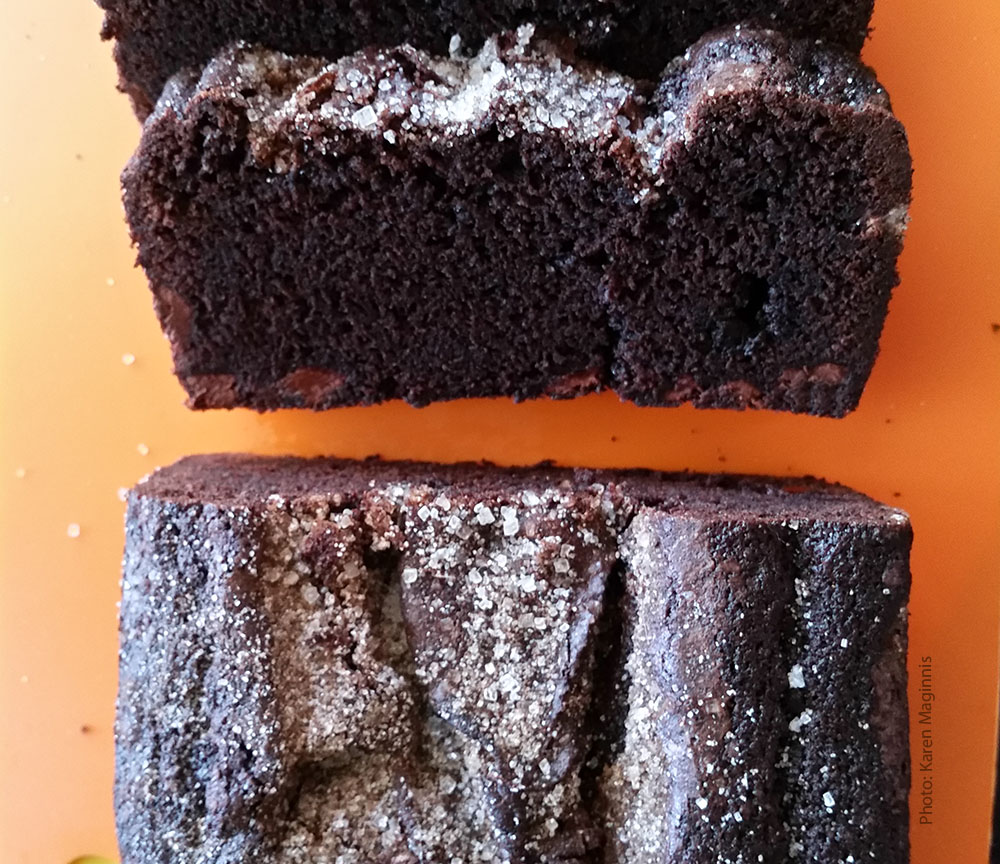 I came across a really intriguing recipe on Pinterest a few months back, it said for a Starbuck's Chocolate Cinnamon Bread. Thing is, I have never seen this chez Star Chuck's. Maybe it was a regional release, maybe it was a long time ago, I don't know. But, I made it and we loved it. It was delicious, but I decided if I made it again I wanted more spice. And more chocolate.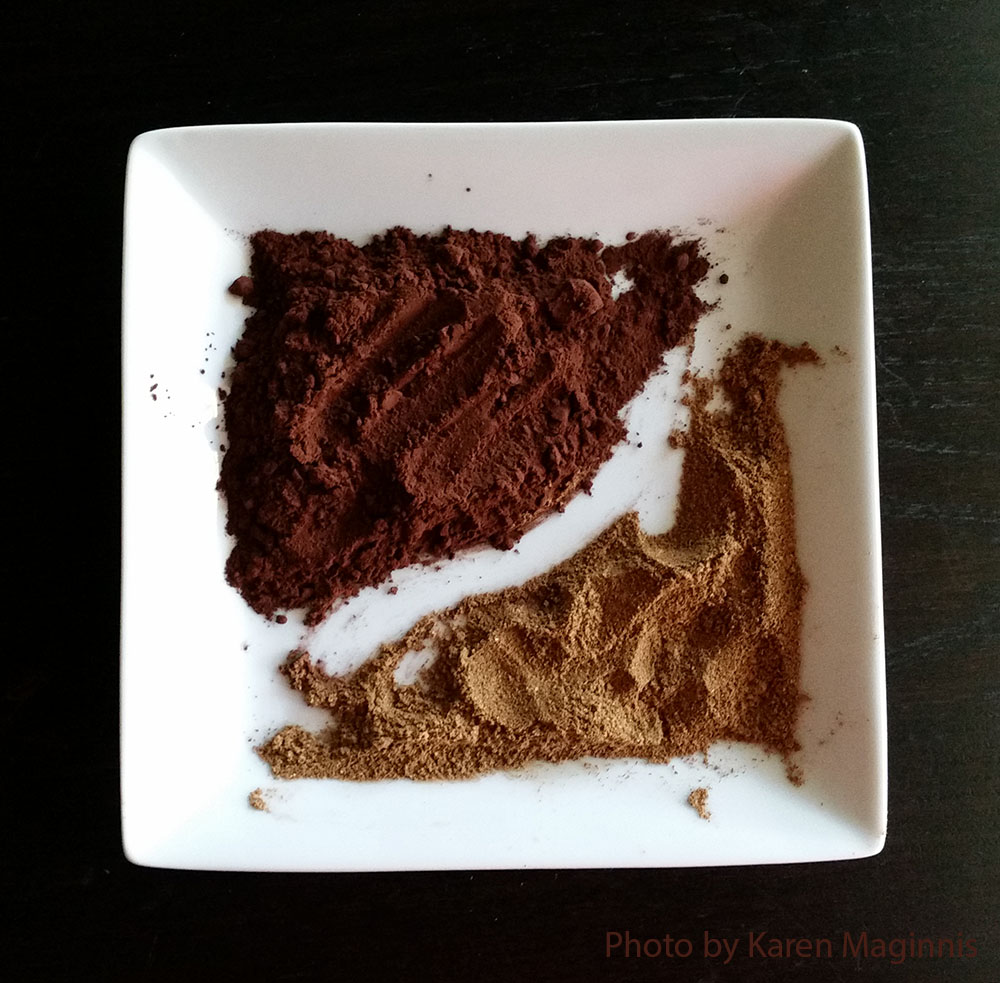 Then I forgot about it. Until last week. I was out of cocoa powder. (What?!? I know, right?) After some browsing on the interwebs, I decided to take a chance on Valrhona alkali processed cocoa powder. I'd always been a loyal Droste girl. Ever baked with Dutch processed cocoa instead of regular cocoa? It's a huge difference – you know how some cakes and brownies have that deep, dark, almost black color and rich chocolate taste? That's from the alkalized cocoa; that cocoa is essential for this cake. Go nuts and use Valrhona or just buy some Hershey's Special dark cocoa powder at the grocery.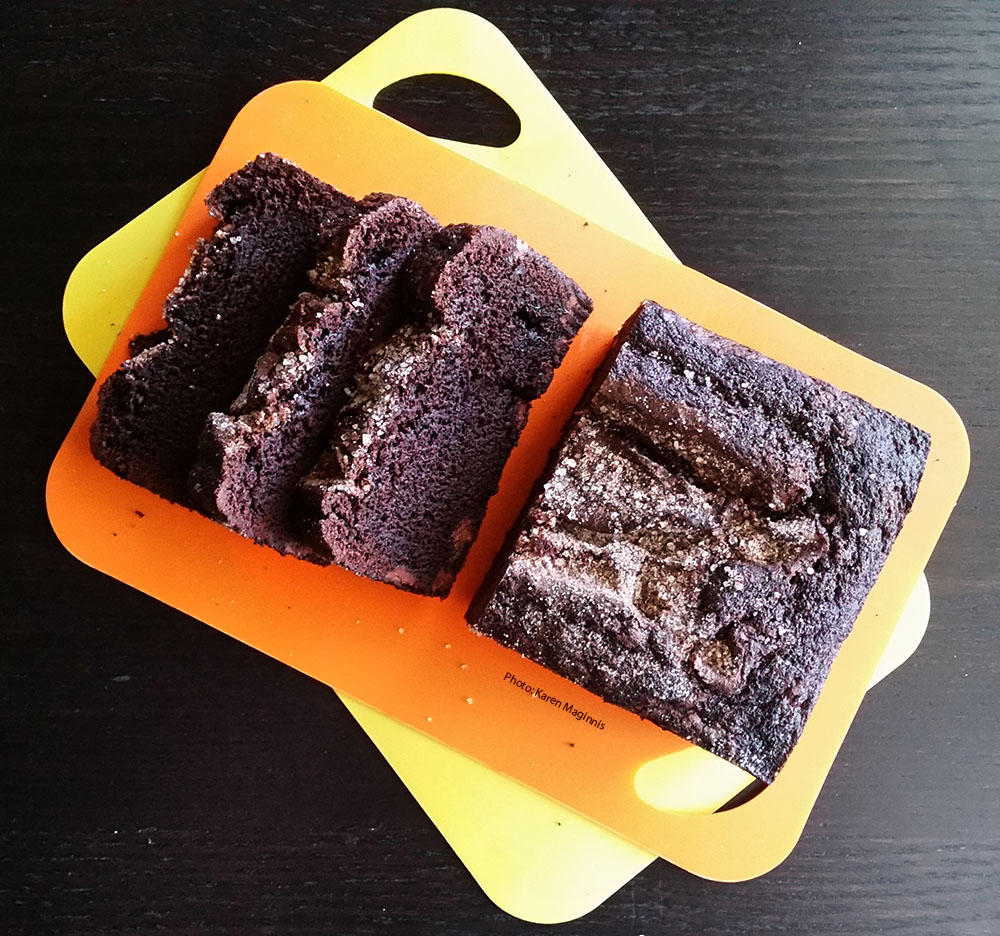 This is a lovely, densely chocolate indulgence. The spice adds a lovely warmth without outshining the chocolate or being obvious. The chocolate chips make it decadent. The sugar spice on top lends a wonderful, crunchy top layer that is a fantastic contrast to the rich chocolate interior. Have a slice with afternoon coffee. If you want to go over the top, warm it up ever so slightly so the chocolate chips are a bit melty. Or, you can make it dinner party dessert-worthy and dress it up with some spiced whipped cream* and a salted caramel sauce.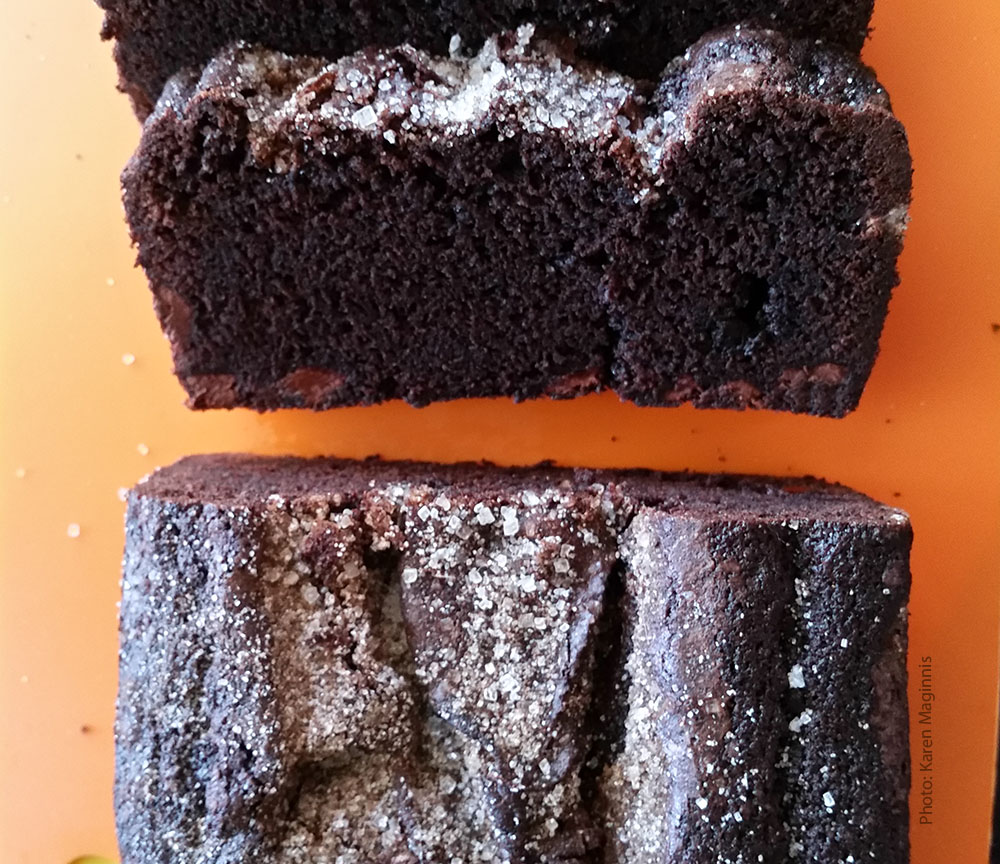 Ok. Chocolate cake. Let's do this:
Double Chocolate Spice Cake
Makes two 9" loaves
Based on this recipe I found through Pinterest – http://www.tablefortwoblog.com/starbucks-chocolate-cinnamon-bread/
for the cake:
1.5 c. butter
3 c. sugar
2 c. flour
½ tsp. baking powder
½ tsp. baking soda
1 Tbsp. pumpkin pie spice
1 tsp salt
1 c. dutch process cocoa powder
¼ c. warm water
1 c. buttermilk
5 eggs
1 tsp. vanilla
1/2 c. chocolate chips (your favorite kind – semi-sweet, 72 percent – wha'evs)
for the topping:
¼ c sugar
½ tsp pumpkin pie spice
½ tsp cinnamon
2 Tbsp turbinado or sparkle sugar, if you have it.
Grease and flour the pans then line each loaf pan with parchment. Preheat oven to 350*. Mix together the topping.
In the mixer bowl with the paddle, mix the flour, sugar, spices salt, leavening and butter. Mix on low until it resembles moist, clumpy crumbs. While that is mixing, in a medium sized bowl, whisk together first the chocolate and water, then the eggs, vanilla and buttemilk. Add the wet to the dry and mix on high for about 30 seconds. Add in the chocolate chips and give it a quick whirl.
Divide the batter between the pans, smooth the top. Sprinkle evenly and generously with all the spiced sugar topping.
Bake 50-60m. until a tester comes out clean. Cool to just warm, then remove from the pans to finish cooling.
Cool complete before slicing. Seriously. Or it will look like raccoons tried to eat your baking. Unless you live by yourself, in which case have at 'cuz this is luscious warm.
**Now, to make that whipped cream… You can even do this a day or two ahead and keep it in the fridge. Just don't eat all of it, because it's amazing. You need heavy whipping cream for this. Commit to the indulgence – nothing else will do. For each 8oz of heavy whipping cream, in a glass measuring cup or small saucepan mix 1 tsp of unflavored gelatin with 4 tsp of water. When the gelatin is thickened, heat the mixture on low while stirring until it is clear (or 20 seconds at a time in the nuker), and cool it to room temp. You want it pourable, not set up. In a chilled mixing bowl, whip the 8oz of heavy cream with about 1/4c powdered sugar and the spice (1/2 tsp. of cinnamon, or pumpkin pie spice, or Chinese five-spice powder). When it starts to thicken a little, slowly drizzle in the liquid gelatin while mixing. Keep whipping it on high until it becomes dull instead of shiny, and looks like, well, thick whipped cream. If you take this too far, you will wind up with butter so don't go nuts. This stuff is so stable you can frost cakes with it, and it will keep for DAYS in the fridge. Just one caution – cover it tightly, you don't want it to absorb the flavor of whatever's next to it on the shelf. And! do not.stir it when you take it out of the fridge. Just scoop and go. Stirring will pop all those tiny bubbles you worked so hard to incorporate to make it fluffly. Whenever I make the pumpkin pie spice one. people seriously just start shamelessly eating it out of the bowl with a spoon. It's that yummy.
Originally published June 2016. Edited to correct omission of chocolate chips in ingredients list May 2019.