Ready for the oven….
Potato-y goodness ready for the oven.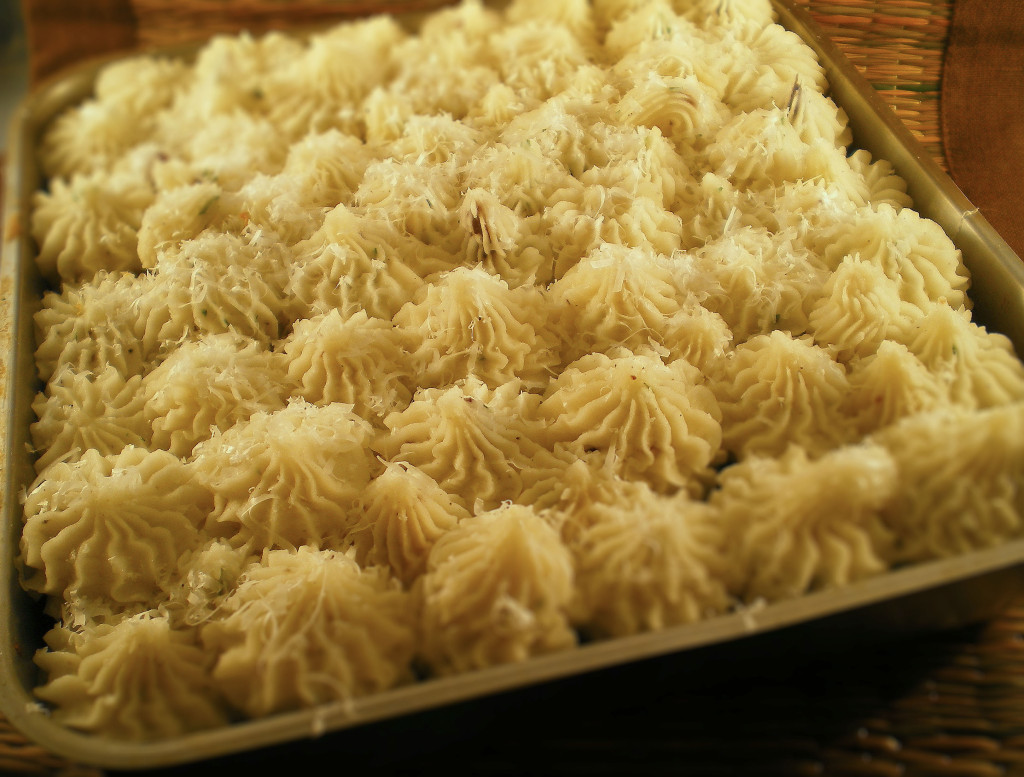 So, planning the menu this week I intended to make Budget Bytes' super amazing lentil and sausage stew. Only it was a hellacious day. And when I got home, these bewitching comfort-in-starchy-skins were staring at me from their basket above the counter. I answered their Siren's song, dammit. The base of this perverted autumn classic is the sausage and mire poix with a veg stock/maizena sauce, a layer of frozen chopped spinach, and then the topping with those luscious spud sirens smooshed to submission with butter, olive oil, parsley, garlic salt and chopped kalamata olives. Screw you, Tuesday. This is delicious.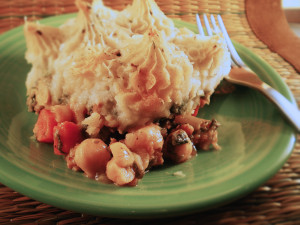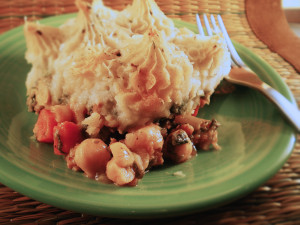 Torta di Pastore (Shepherd's Pie)
2013-11-05 20:45:28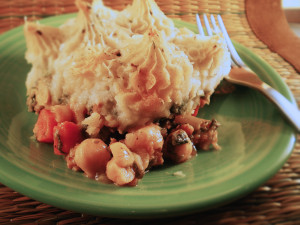 An italian sausage and chickpea base, layer of chopped spinich and luscious kalamata parsley mashed potatoes.
Nutrition Facts
Amount Per Serving
* Percent Daily Values are based on a 2,000 calorie diet. Your Daily Values may be higher or lower depending on your calorie needs.
Ingredients
1 Tbsp olive oil
12 oz ital. sausage
1 c chopped celery
¾ c chopped carrot
¾ c chopped onion
2 tsp minced garlic
2 Tbsp tomato paste
14 oz can garbanzos, drained
2 tsp Penzey's Tuscan sunset (or just Italian Seasoning)
1 tsp fennel seed
1 tsp veg stock base
1 tsp corn starch
1 c water
1/2 c. chopped parsley
¾ c chopped frozen spinach
5 potatoes, mashed with
4 Tbsp butter
4 Tbsp olive oil
1/3 - 1/2 c. (almond) milk
garlic salt & pepper
¼ c chopped kalamata olives
¼ c minced parsley
Instructions
Make your mashed potatoes, stirring in the olives and parsley last.
Preheat oven to 375*. Heat olive oil in a large non-stick skillet on medium high. Add the italian sausage, and cook until no pink remains. (Drain oil here if necessary). Add the chopped vegetables, tomato paste and garlic. Reduce heat to medium and cook stirring occasionally for five minutes. Add the garbanzos, herbs and fennel. Mix the water, corn starch and veg stock base and stir in to the pan, reduce heat to medium low and simmer until sauce is thickened. Stir in the chopped parsley and remove the pan from the heat.
Transfer filling to a 9'x9" square pan. Sprinkle with the frozen chopped spinach. Then layer on the mashed potatoes. (Or pipe them on with an 8B French star tip if you are a total spaz like me.) Sprinkle with some grated pecorino romano or the like. Slide in the oven, bake 50 - 60 minutes, until the potatoes are beautifully browned.
Notes
Serve with a salad, and dinner here we come!
Bucket of Yum http://bucketofyum.com/