Salt and pepper.
Bread and butter.
Summer and tomatoes……..
A few months back I had a serious cook-on for this tajine at World Market. After dithering over several visits, I finally said "the hell with it!" and just bought the damn thing. It has looked very lovely collecting dust on my sideboard since. Until this morning, when I discovered my buttermilk had decided to grow hair and the scheduled asiago thyme scones were off the board. I was bemoaning my fate, looking at these gorgeous tomatoes on the counter when that beautiful cerulean babe called to me from her place of disuse. And I answered, dammit.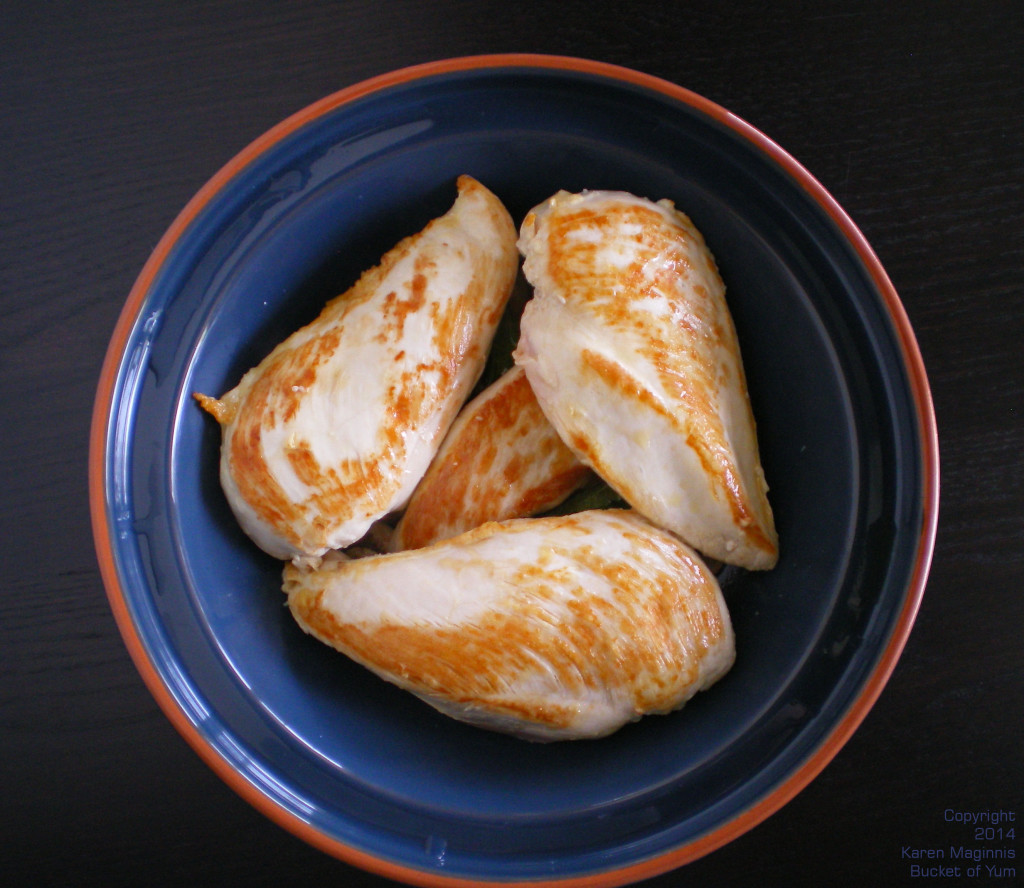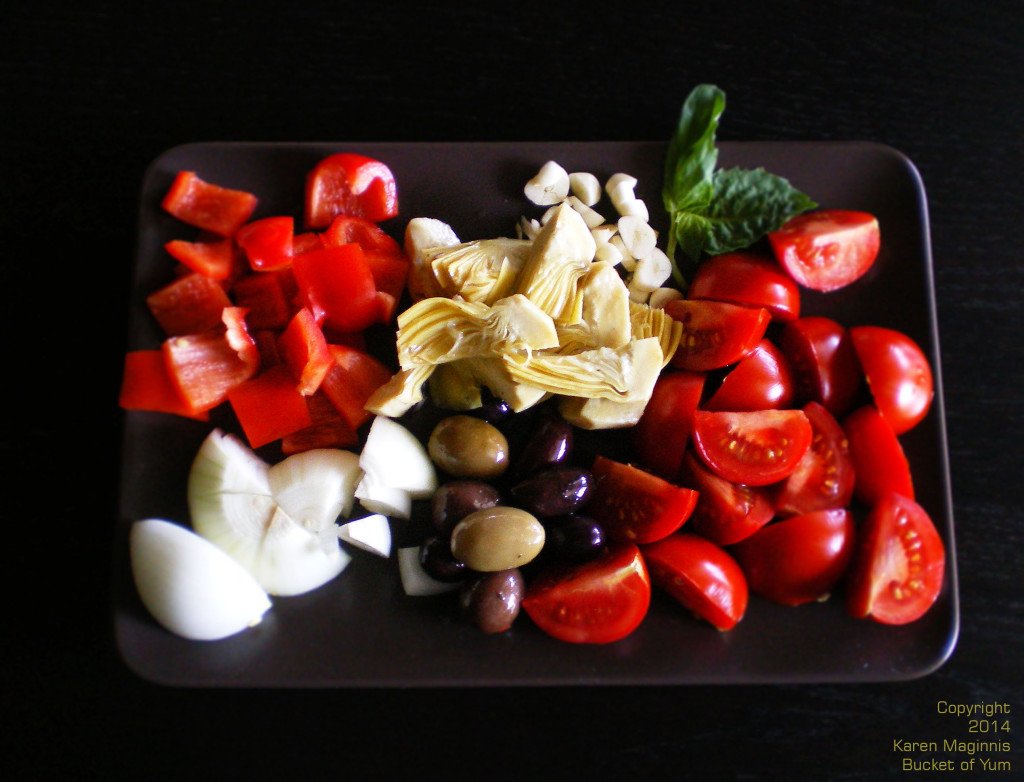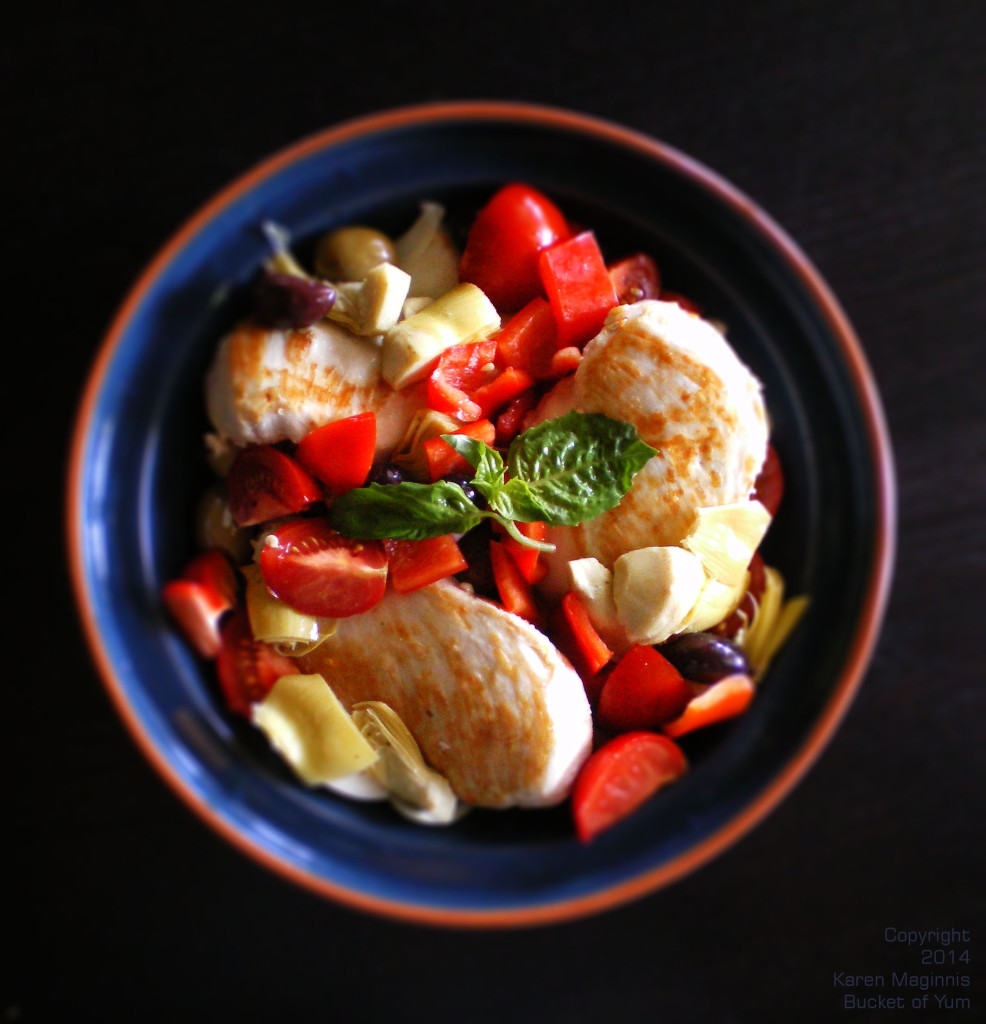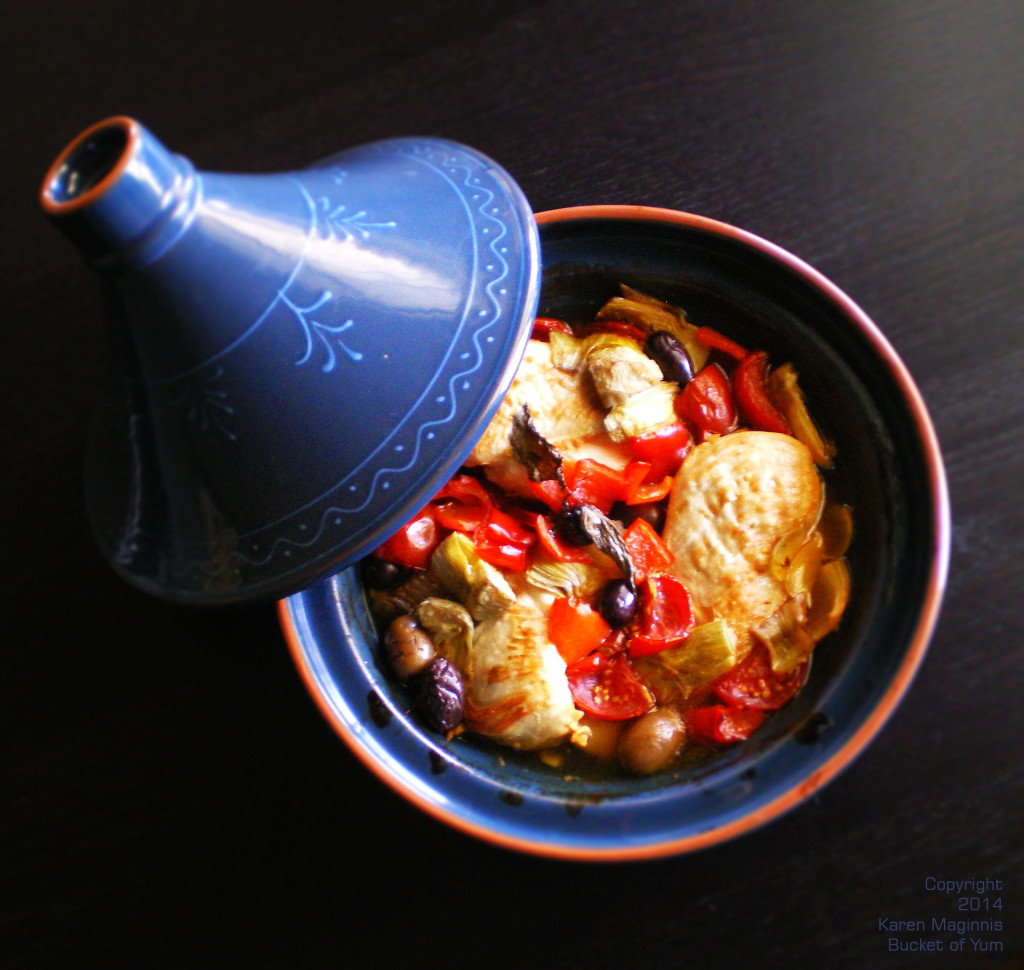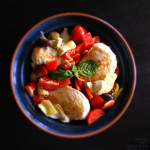 Mediterranean Chicken Tajine
2014-08-03 12:07:21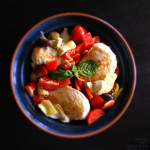 Serves 4
Tomatoes, olives, artichoke hearts and tender chicken.
Nutrition Facts
Amount Per Serving
* Percent Daily Values are based on a 2,000 calorie diet. Your Daily Values may be higher or lower depending on your calorie needs.
Ingredients
2 Tbsp olive oil
4 boneless skinless chicken breast (about 1#/500g.)
1/4 c. dry white wine
1/2 white onion, cut in to 6 wedges
4 cloves garlic, peeled and sliced thin
1 c. red bell pepper, large dice
1/2 c. kalamata (or other flavorful) olives
1 c. marinated artichoke hearts
2 c. cherry tomatoes cut in half, or small tomatoes sliced in quarters.
Fresh basil
Fresh parsley
S&P
Instructions
Wash and pat dry the chicken. Heat the olive oil in a large non-stick skillet at medium-high. Sear the chicken on both sides, about two minutes each side. Get out a 2 quart baking dish (or a tajine, if you also just happen to have one lying about.)
While the chicken is searing, chop your veg. Turn the oven to 350*.
When the chicken is brown on both sides, turn off the heat and pour in the wine. Push the chicken around in the pan to get all those tasty deglazed bits.
Put half the veg in the pan, along with a couple of basil leaves. Layer the chicken next, pouring on the jus from the pan. Put in the rest of the veg. Cover and bake for one hour.
Sometime during the next hour, mince about 1/4 c. of the parsley and chiffonade a couple leaves of the basil (so you have about a tablespoon of basil).
When the dish is done, remove it from the oven and stir in the freshly chopped herbes.
Notes
If you want to go totally nuts, you could plate the meat and veg and monter au beurre the sauce.
Chicken legs or thighs (well-trimmed of fat) would be excellent in this recipe, even a whole cut up would be good (although you'd want a three quart pan for that)! Just be sure to skin the chicken - this slow moist roasting isn't conducive to tasty crisp chicken skin.
Serve this with a gorgeous salad and some crusty bread, or with rice or coucous, or even sautéed zucchini if you are watching your starch intake.
Bucket of Yum http://bucketofyum.com/