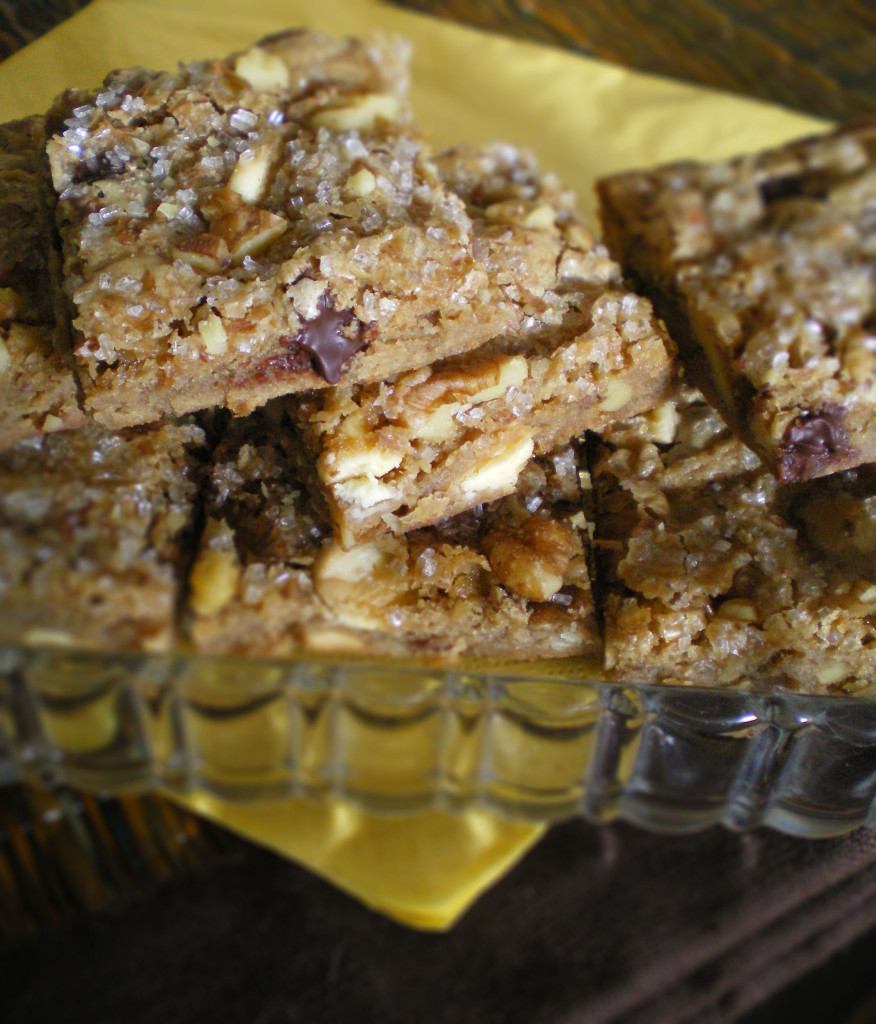 Blondies. Bill has this memory of earth-shatteringly good blondies from the Just Desserts bakery in San Francisco from [cough cough] years ago.
I can't tell you how many recipes I've tried over the years, hoping to give him that little slice of bakery happiness…. but have yet to find THE ONE.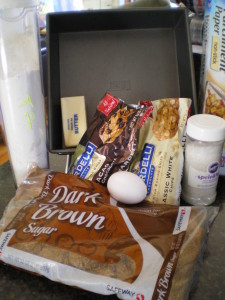 These are not them, but they are damn tasty. They're from Smitten Kitchen, with walnuts and (in honor of The City) Ghiradelli white and dark chocolate chips, some walnuts, and crystal sugar on top.
Alright – now that the photo's up, it's time to go make a pot of coffee to do these bad boys justice.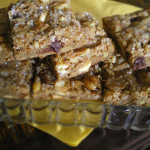 Blondies - a one-bowl wonder of chewy goodness
2013-11-03 10:56:19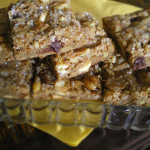 Brown sugar bar with dark and white chocolate chips, walnuts, and a sprinkle of sparkle sugar.
Nutrition Facts
Amount Per Serving
* Percent Daily Values are based on a 2,000 calorie diet. Your Daily Values may be higher or lower depending on your calorie needs.
Ingredients
1/2 c. unsalted butter
1 c. dark brown sugar
1 egg
1 tsp. vanilla
1 c. AP flour
Dash salt
1/4 c. white chocolate chips
1/4 c. dark chocolate chips
1/2 c. chopped toasted walnuts
1 Tbsp. sparkle sugar or raw sugar
Instructions
Preheat the oven to 350*. Line an 8" square pan with parchment, spritz with non-stick spray.
In a microwave-safe bowl, just barely melt the butter. Stir in the brown sugar, vanilla and salt. Stir in the egg, then the flour, then the chips and 1/2 the nuts.
Smooth the batter in to the pan. Sprinkle with the rest of the nuts, and a sprinkling of big-grain sugar (sparkle sugar, raw sugar, etc.)
Bake 20-25 mins. Test will come out clean, blondies will pull in slightly from the edge. Do.Not.Overbake.
Slice and devour - warm or cold.
Adapted from Smitten Kitchen
Bucket of Yum http://bucketofyum.com/