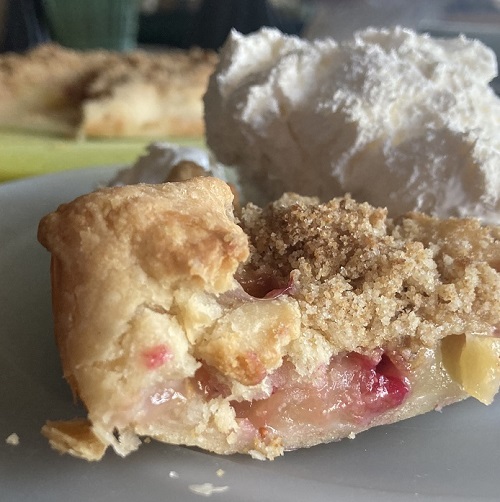 I had half a batch of Martha's pâte brisée in the fridge and needed to use it up.
Deciding what kind of a pie to make, I remember my work friend, A., and how he waxes poetic about a local diner's apple-cranberry. He loves it – but "only the crumb top one." And ya know what? There are apples in the fridge and cranberries in the freezer. Let's give this a whirl!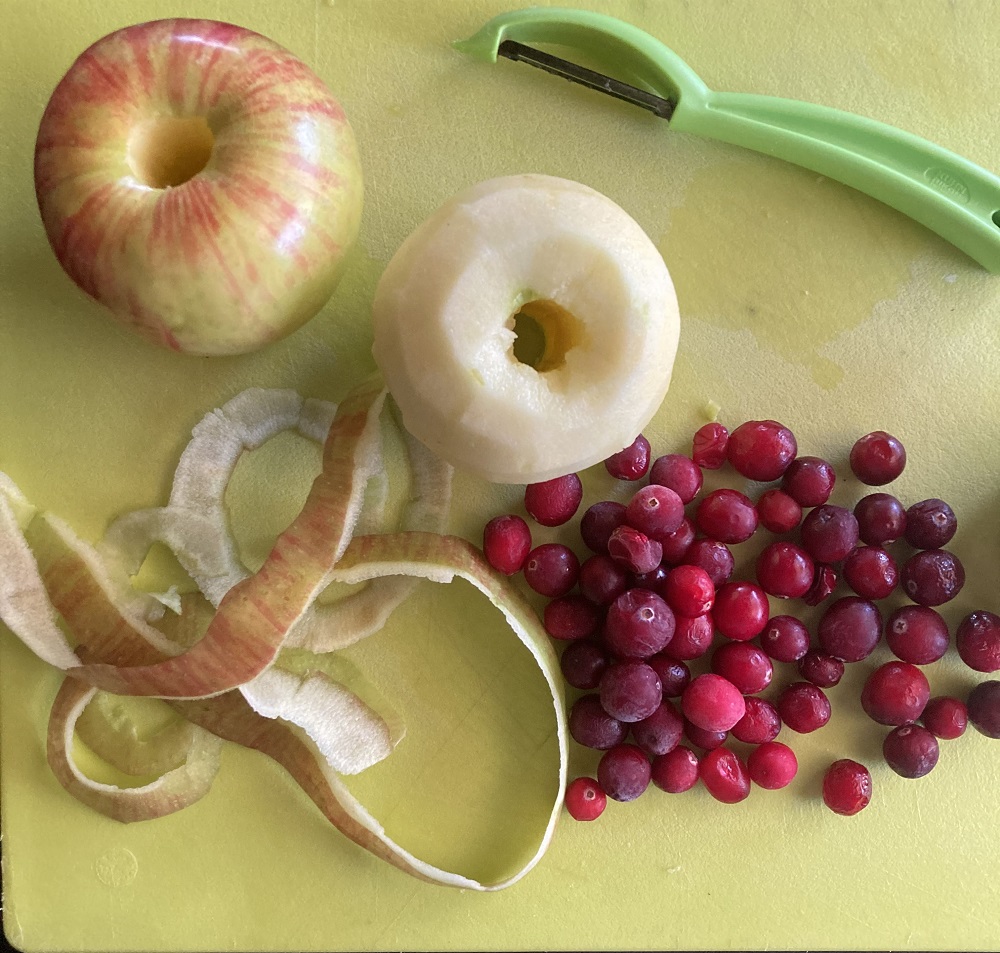 I've always thought it would be my kind of pie – tart and just a little sweet – like a strawberry-rhurbarb. Plus, in our post-election decompression time, Apple Pie seems incredibly appropriate.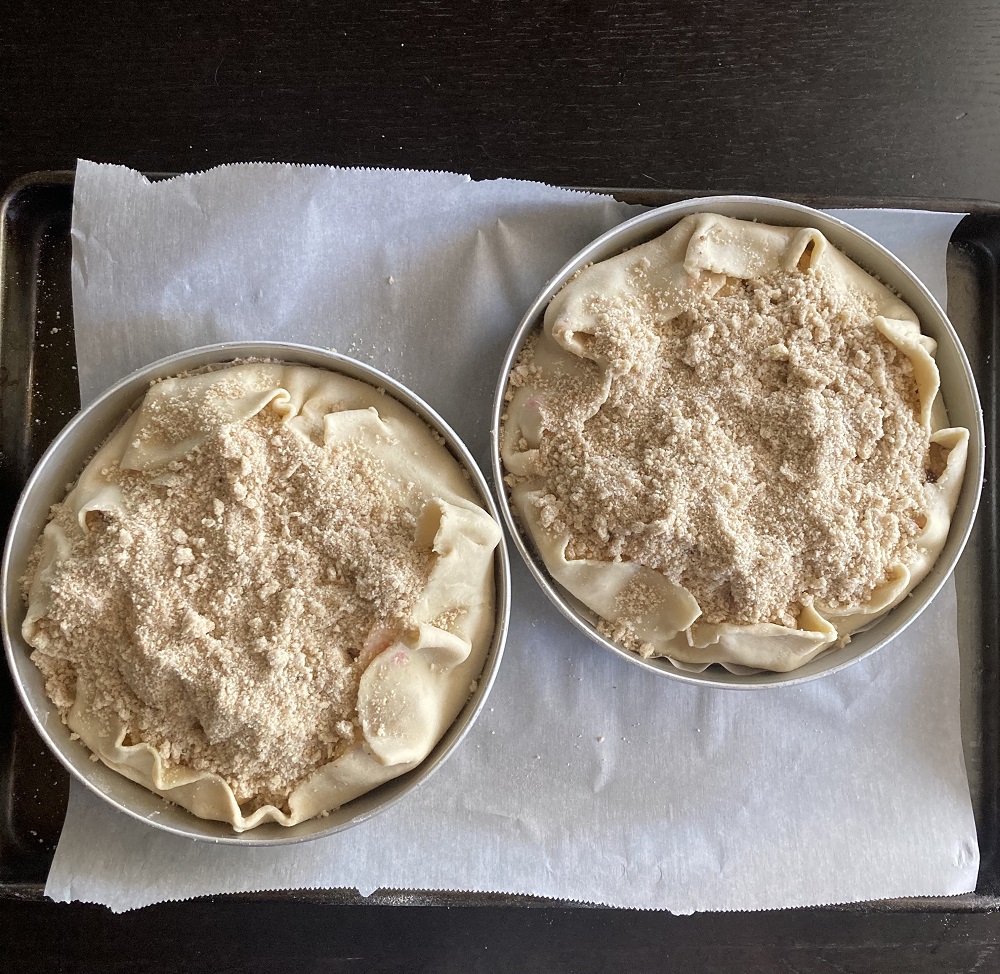 Sweet, tart, soft, crunchy, and full of buttery goodness. You taste what it is – cranberry and apple, with a touch of love. This mofo is definitely a winner and I will make it again many times.
Apple Cranberry Crumb Galette
Ingredients:
1/2 batch pâte brisée, or hell a deep dish pie crust from the grocer's. (I'll try not to judge)
Filling:
4 crisp apples, peeled, cored, sliced in 1/4″ slices, then cut those in half.
3/4 c. fresh cranberries, coarsely chopped
1/2 tsp. Grains of Paradise (opt)
1/2 tsp. salt
1/4 c. AP flour
1/4 c. sugar
juice of half a lemon

Topping:
1/2 c. AP flour
4 Tbsp. corn starch
1/4 c. sugar
1/4 c. brown sugar
1/4 tsp. salt (or omit if using salted butter)
1/4 c. unsalted butter
1/4 tsp. Grains of Paradise (opt.)
What on earth is Grains of Paradise, you ask? It's a spice that tastes kind of citrusy/peppery. Alton Brown had it in a pie recipe ages ago and so I ordered some.
Preheat your oven to 375*.
Roll your dough, put it in your pie pan (either one 9″ deep or two 6″ shallow) and pop that in the fridge. You can do a fancy crimp or a galette-type edge if you're lazy like me.
After you peel and chop the apples, put them in a bowl. Sprinkle on the salt, sugar, and lemon juice. Give it a stir. Then sprinkle on the flour, add the rest of the ingredients, and give that a stir. Set aside.
In your food processor, put in all the dry ingredients for the topping. Give a couple quick whirls to combine. Then, chop the butter and toss it in. Pulse until you have very fine crumbs that stick together if you smoosh some between your fingers.
Assembly time! Take the crust(s) out of the fridge. Spread in the filling. Sprinkle the crumb topping evenly on the top, paying special attention to the edges. Leave no space for things to bubble up and out to make it a pain to clean. (Now you know what motivates me.)
Bake until the crust is golden brown and the filling is bubbly. About 35-40 mins for the 6″, about 45-55 m for the 9″.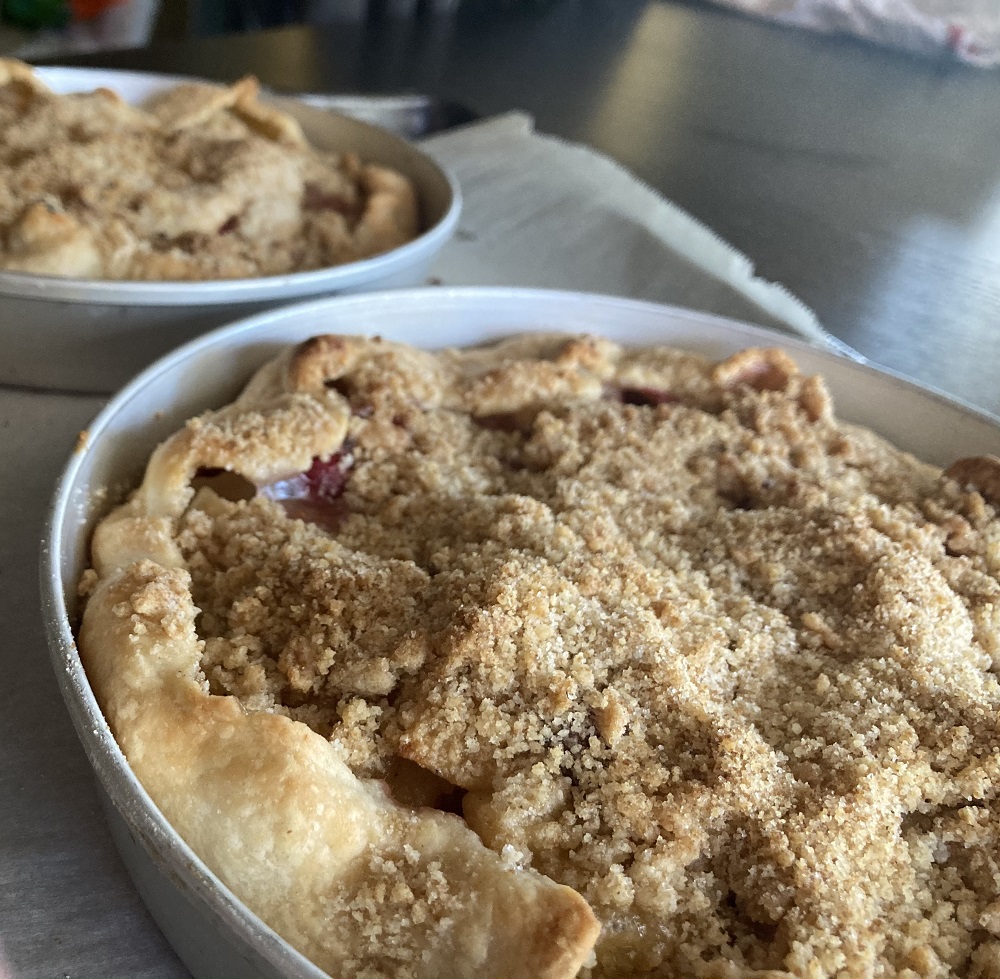 Bon apetit!
This was positively DELICOUS, and I think it is my new favorite. Give it a try. The 6″ size would be perfect for a quarantine-stay-home-just-the-two-of-us meal, with second one to leave with the neighbors or a friend.