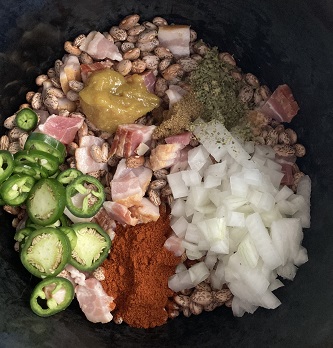 I love pinto beans. No, I mean I really love them. Nothing beats a nice bowl of frijoles straight out of the pot, with lots of broth with some minced onion and cilantro and a big squeeze of lime. It is comfort food at its finest.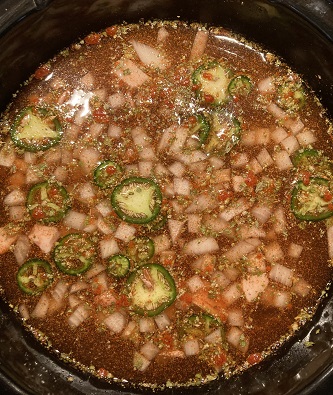 For years I made shite beans. Then I went to my friend D's for a dinner party, and his beans were awesome – so of course I had to ask how he did it. He looked at me like I was a simpleton (hey, he's from New Mexico and I'm from Arizona – knowing how to make a pot of beans is a basic life skill.) Then he said dry beans, bay leaf, ham hock, beef broth. That's it. Kaplowie – mind blown. And I've never looked back – or stopped thanking him. No soaking, no weird mumbo jumbo with baking soda and what not. Just toss it in the pot and snap, Bob's your uncle.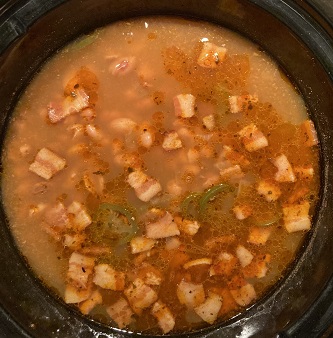 Himself is highly partial to charro-style beans – you know, the kind with lots of broth and bits of bacon and jalapeno. Here's our version. We think it's damn good – and hope you do, too.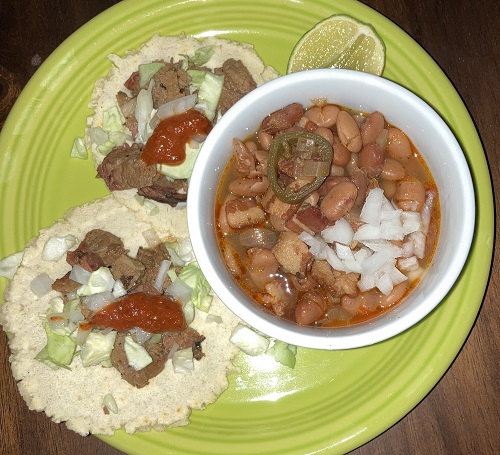 Damn Fine Cowboy Beans

1# dry pinto beans, picked and rinsed
3-4 slices thick-cut bacon, diced
½ white onion, diced (½ c.)
½ – 1 jalapeno, in ⅛" discs
2 Tbsp chili powder (I use New Mexico, medium)
2 Tbsp. Mexican oregano, crushed
½ tsp. Ground cumin
1 bouillon cube or 1 Tbsp better than bouillon (beef, chicken, pork – doesn't matter.)
2 ½ qts water.

You do NOT need to soak the beans. Throw everything in the crock pot on low and in about six or seven hours you've got some damn fine cowboy beans. (In other words, before you go to bed or before you leave for work in the morning.) They are good as-is, refried, or made in to some pozole de frijol by adding some hominy. I love a big bowl of these with some fresh lime juice, chopped cilantro and white onion. SO tasty!
I usually make a crock pot of these about every third Sunday, and freeze them in ½ quart deli containers – they're easy to thaw in the microwave and are a perfect size for the two of us for dinner during the week.

This cooks in about four hours stovetop.
This recipe yields about two quarts of beans, with some broth left over.
Buen provencho, my friends.