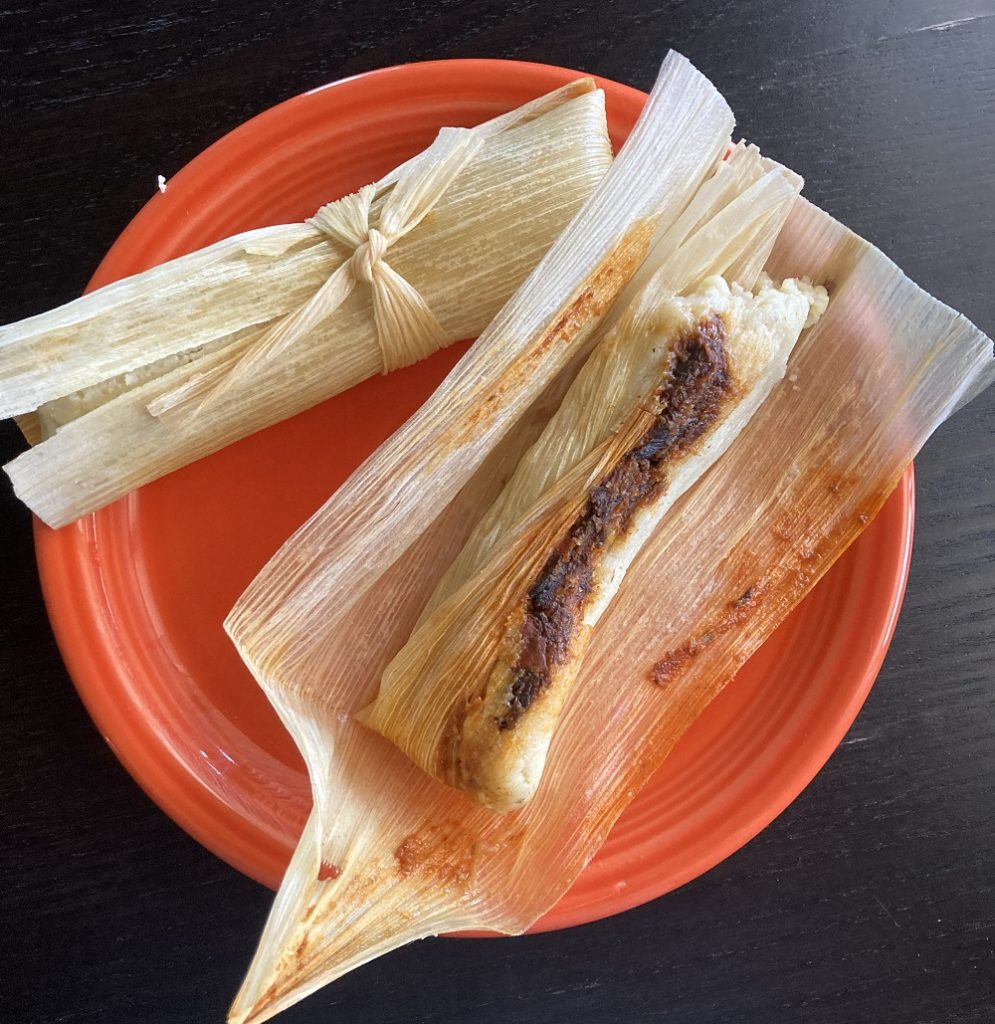 I've attempted making red chile with jamaica once before, and it was an EPIC disaster. Oh, lawdee lawd – so gross.
Then a few weeks back, there was an article in the NY Times about a vegan chef in LA, and how she makes carnitas and al pastor tacos using jackfruit and jamaica. I ordered her cookbook then and there. (Check it out – she is forking brilliant!!)
I wanted a red chile style filling for tamales, and alas that recipe is not included – but her techniques are, so I cobbled together a few things and this turned out pretty tasty. This is one of those recipe in many steps – I did it over a couple days. And, I gotta confess, I just bought the damn masa preparada – my local meximart makes a vegan one, and it is pretty good. So, I boiled the jamaica one day (and used that for aqua fresca) and then stuck the cooked flowers in the fridge, and then got them out today to finish.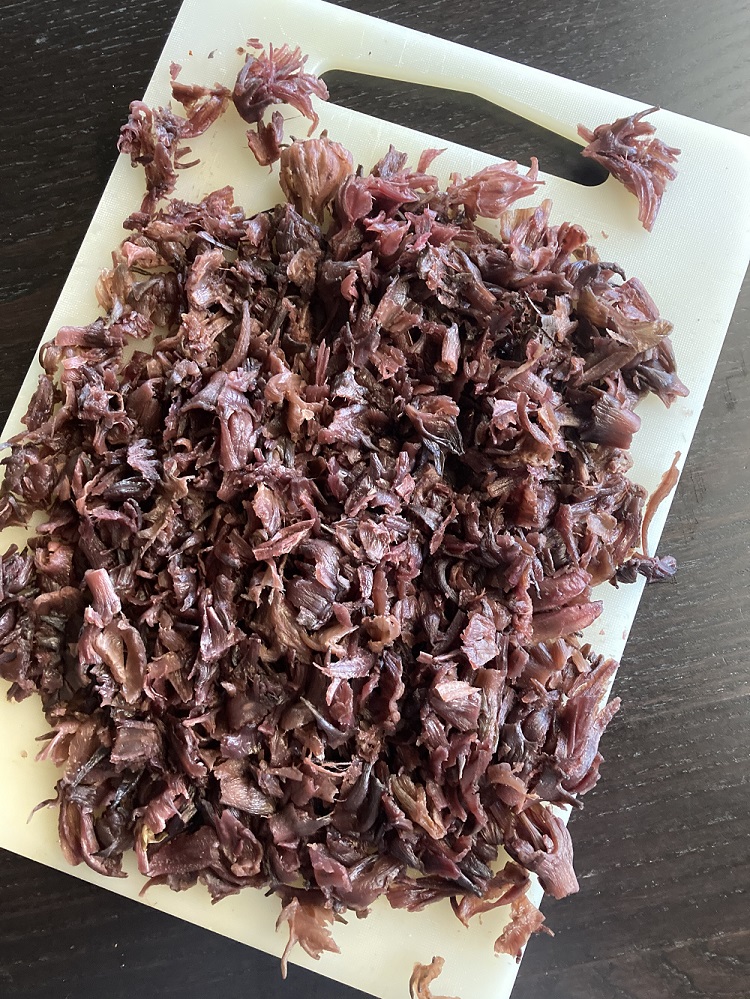 And – heads up! I'm not going to go in to tamale fabrication steps here – the interwebs is chock full. This is more about how to make that vegan filling. Just know that in all seriousness, if you were to cook these in the Instant pot, you could have home made fresh tamales ready in an hour. No shit, bro. For reals.
Ingredients:

The Tamales
Corn husks, soaked in hot water and drained
Green olives – about 16
4# masa preparada para tamales

The Filling:
1 c. dried jamaica/hibiscus flowers that have been boiled and drained twice, then chopped. This will yield about 3 c. final product.
3 large cloves of garlic, peeled and coarsely chopped
½ a 14.5oz can diced tomatoes, or one big red tomato, diced
2 Tbsp. olive oil
¼ c. chipotles en adobo
½ c. prepared red chili paste (see the barbacoa post for the recipe – I make it in batches and freeze ½ c. portions in otter pop zippies in the freezer)
½ c. water
1 Tbsp. dried Mexican oregano leaves
¼ tsp. ground cumin
½ tsp. smoked paprika
Ok, in a saute pan cook the olive oil, garlic and tomato on medium-low for about ten minutes – until most of the liquid has evaporated and the garlic is cooked. Puree that mix along with the chipotles en adobo. Return that mix to the pan, and add the rest of the ingredients except the jamaica. Simmer on medium about five minutes to let everything cook together. While that's going, coarsely chop the jamaica. When the time's up, stir the jamaica in to the red chile sauce and remove from the heat. That's it. You're ready to assemble.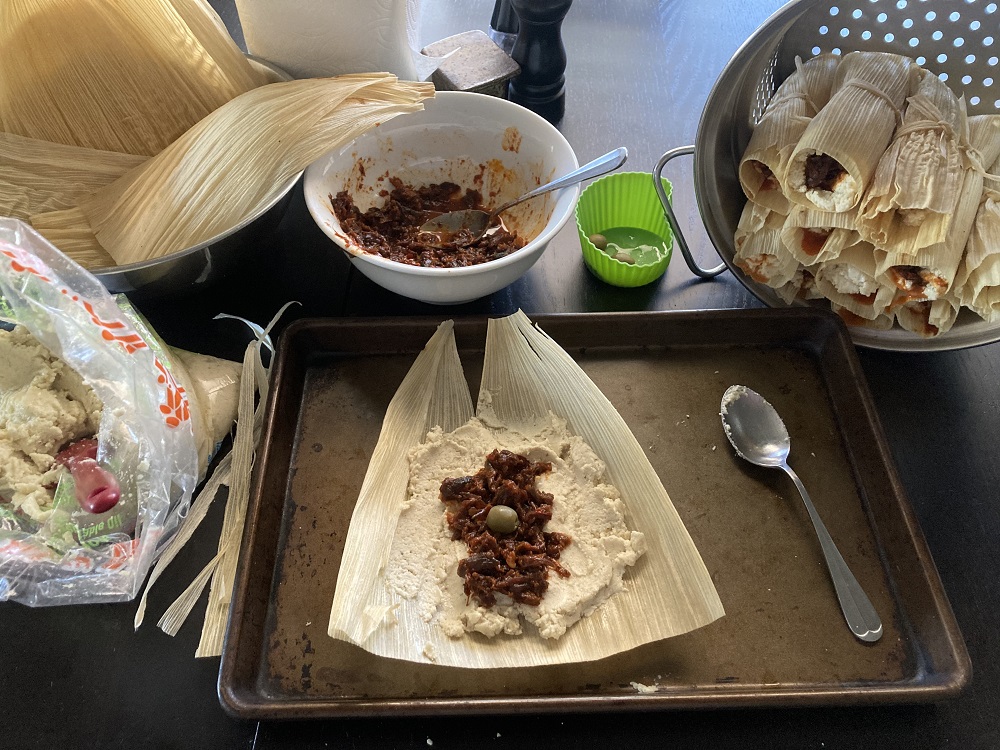 Assemble and steam for about 45m. stove top (or follow the directions for your instant pot). And enjoy!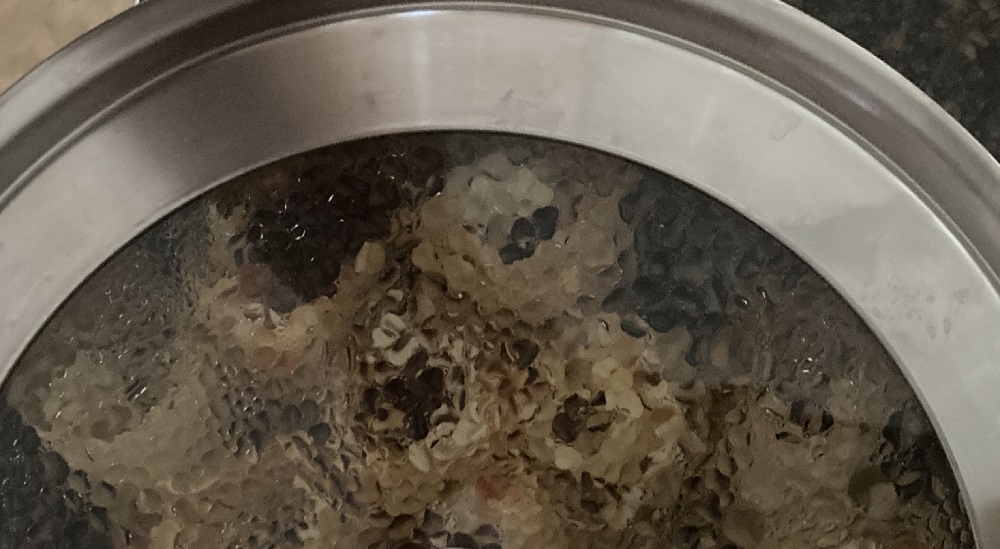 I got sixteen tamales out of this batch. But honestly, they started to get a little fat at the end there – so if I'd been more consistent I would have had 18 or 20. Try to make them all the same size, btw, so they cook evenly and are all done at the same time. My heavy-handedness cost me additional cooking time.
Either way, though, your reward is this: