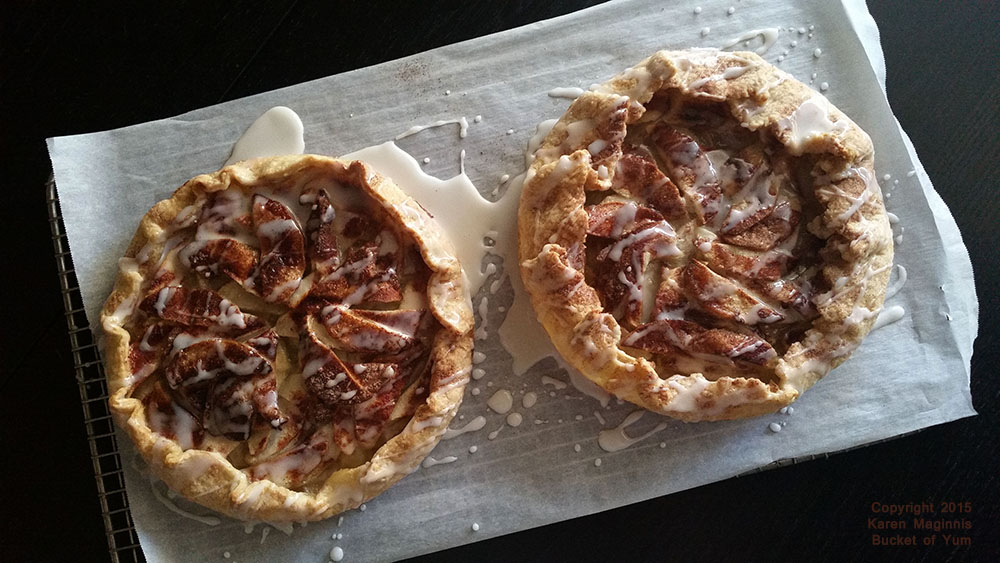 A funny thing happened on the way to pie.
I've been obsessing on Swedish apple pie lately. When I get that bug, I Google and Pinterest for recipes and mentally compare them to find or blend what I'd like to make. At the same time, I'd come across this awesome quickie puff pastry recipe , and thought – oh, a galette!
Oh, wait, maybe with the Swedish style apple filling!
Ding! It was a date.
Then life happened.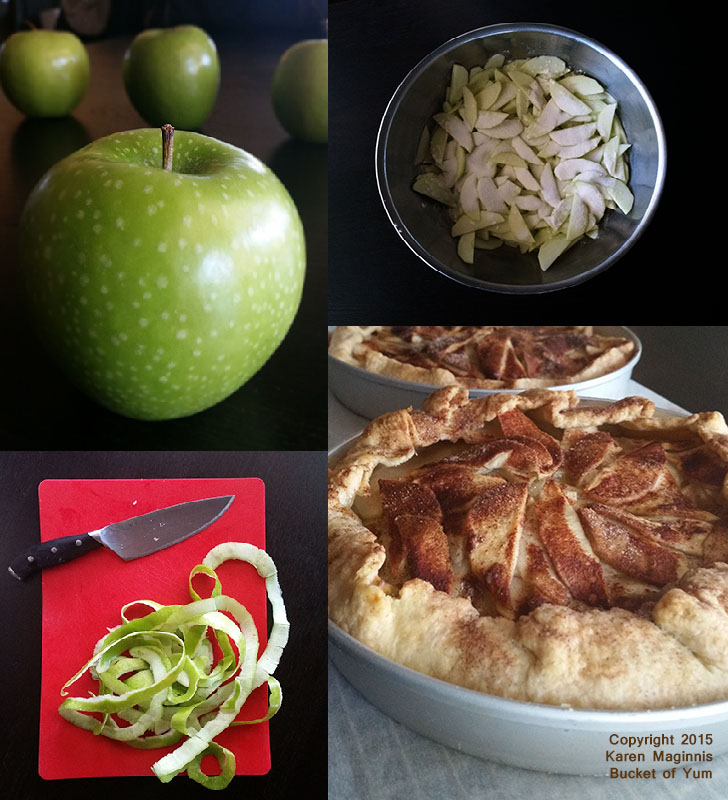 I decided to try a deep pan. Found a great recipe, only it used buttered graham cracker for the crust. Sounds too greasy! I'll just use a pâte sucrée; I think the puff pastry is better suited to a galette. Make the dough. Roll it out. Only thing is, with a straight tall edge, the pie crust just slides down the pan. Shit. Fine, it won't be deep dish. I'll just use my 6" round tarte pans. Great! On to the filling!
I found the most awesome recipe (look at this!!! Look at that top crust!! Omg! ) Get all the ingredients out of the fridge. I don't have sour cream, but I do have half a container left of this gorgeous full-fat Greek style goatsmilk yogurt from the Farmer's Market and that'll do great. I got it before Christmas, but it should be fine! Peel and slice the apples, mix them with their flour and sugar. Go to open the yogurt to make the mixture to pour on top, and…..it is green and hairy. Because, you know, real food. Not stuff from the grocery designed to stay fresh through the apocolypse. Shit again! Sigh. Fine. American style apple pie it is. Only with the fruit sliced like Swedish style. So, Swedish American apple pie. SWAP. At least I tried for something a little different, right?…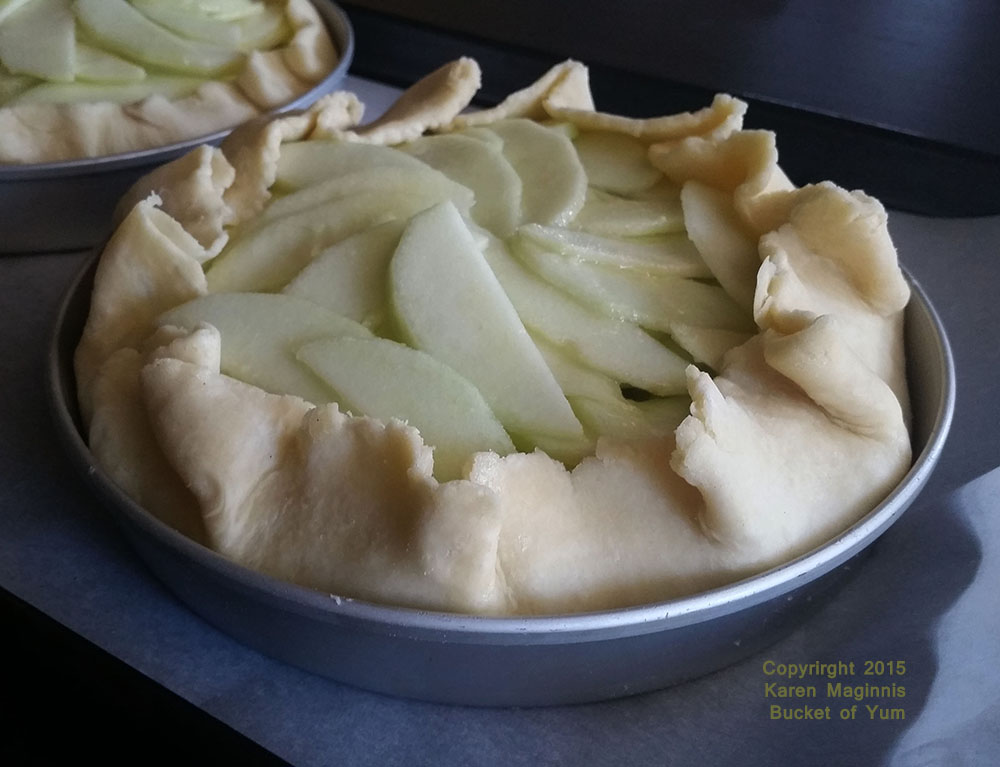 Welcome to the insanity that is my foodie fixation. I'm exhausted. Glad I had some pie to boost my blood sugar.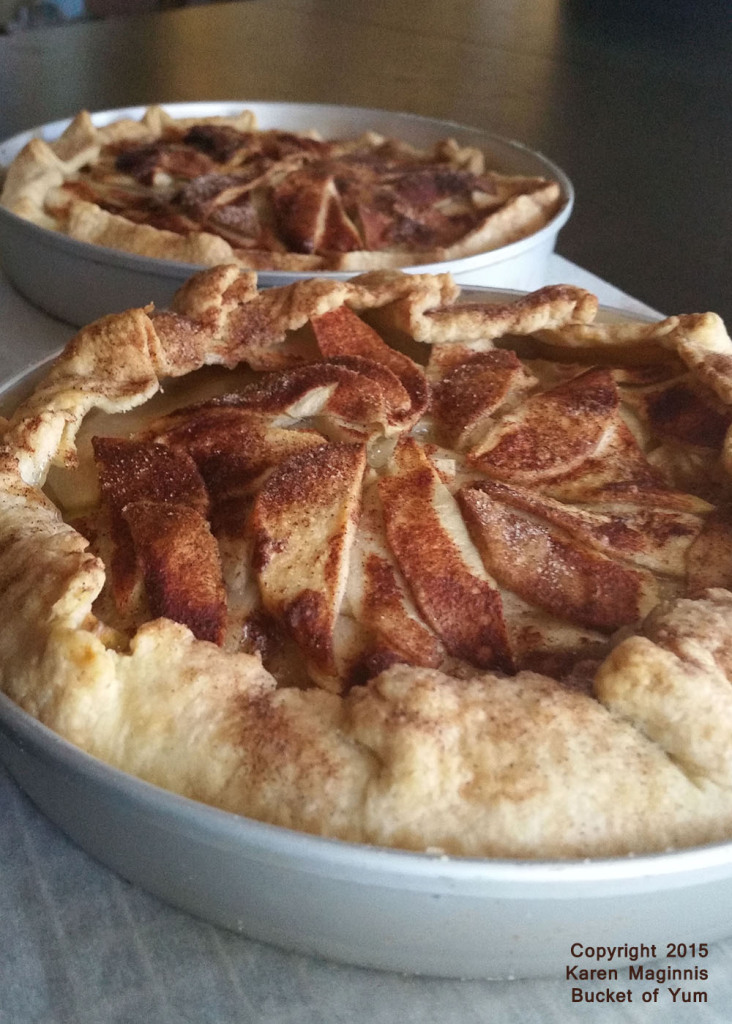 With some vanilla icing, of course. To pay homage to the Swedish vanilla sauce…..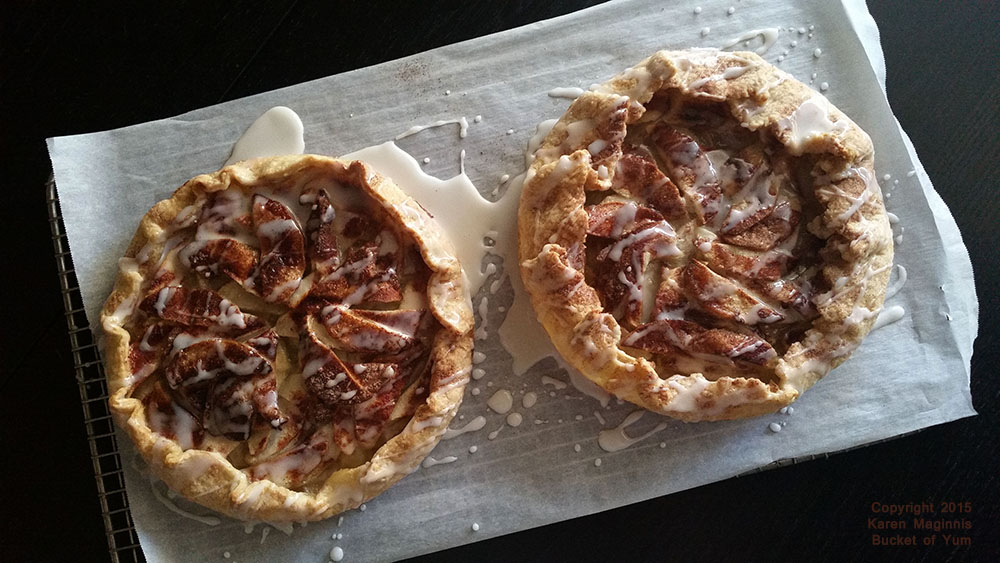 For the crust
1 recipe pâte brisée (use Martha's – http://www.marthastewart.com/317858/pate-brisee-pie-dough) But here are the ingredients, so the nutritional calculator app will work)
2.5 c. AP flour
1 c. butter
1 tsp. sugar
1 tsp. salt
1/3 c. ice water
For the filling
5 tart apples, peeled and sliced 1/4″
1/2 c. sugar
1/3 c. AP flour
Dash salt
2 Tbsp unsalted butter
Topping
Cinnamon sugar
Vanilla glaze (powdered sugar, vanilla and water)
Instructions
Prepare, chill, and roll out the crust recipe and lay it in the pan. (Two 6″? One 10″? You choose.)
Preheat oven to 350*
Mix all the filling ingredients (except the butter) in a large bowl.
Dump the filling in the crust. Dot with the butter.
Fold the crust edges over, galette style, or crimp it, or go all fancy with a braided edge.
Bake about 40 mins, until the filling is bubbling and the crust is golden.
Cool to warm-ish, drizzle with the icing and EAT IT ALL.
Notes
I made two 6-inch pies, but this could do one 10-inch.
Servings 12
Calories 335
Fat 18 g
Sodium 213 mg
Carbs 42 g
Protein 3 g