Refreshingly crisp carrot mixed with raisin and pistachio in a wonderfully tangy and slightly sweet dressing with just a hint of celery seed. This is deeeeeelicious. Picnic season is upon us – make this!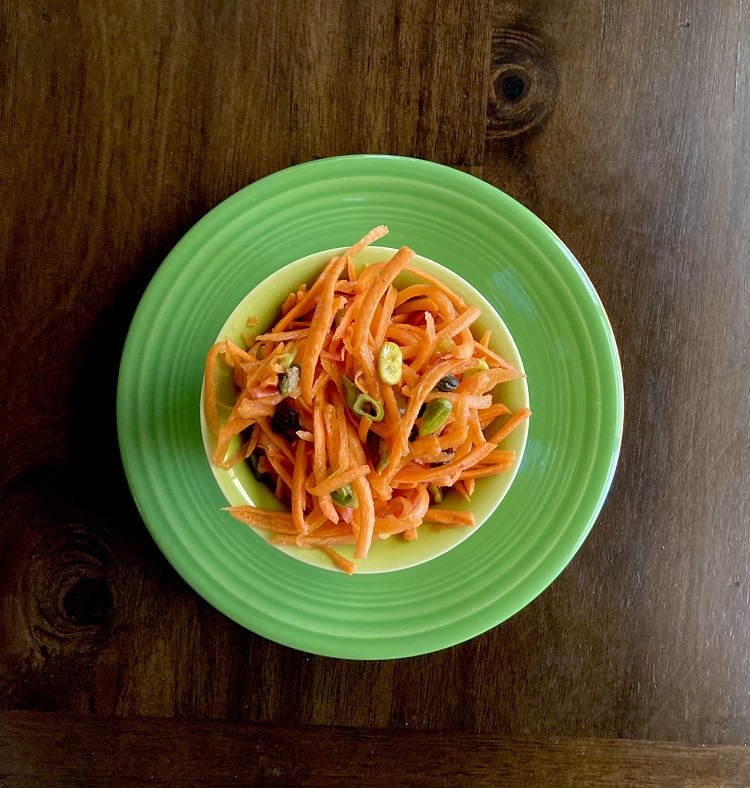 It's getting warm (finally!), so I'm thinking about salads. We had a smoked brisket potluck at the office a while back, and our Google Overlords helped me find an awesome (and I mean AWESOME) coleslaw recipe over at The Spruce Eats.. It's a vinegar slaw, but the dressing is cooked first. This was so alien to me, I had to try it to see if it worked. I've made it twice so far for the office and several times at home, and it gets inhaled every time.
I started to wonder if I could tweak the sauce to work with a carrot salad, and the answer is yes. We had this last weekend with some fried chicken (so yummy!), and plan to have it with sammiches for lunch this week. It's light and crunchy and lets the sweetness of the carrots shine. Himself loves it, and I hope you do, too.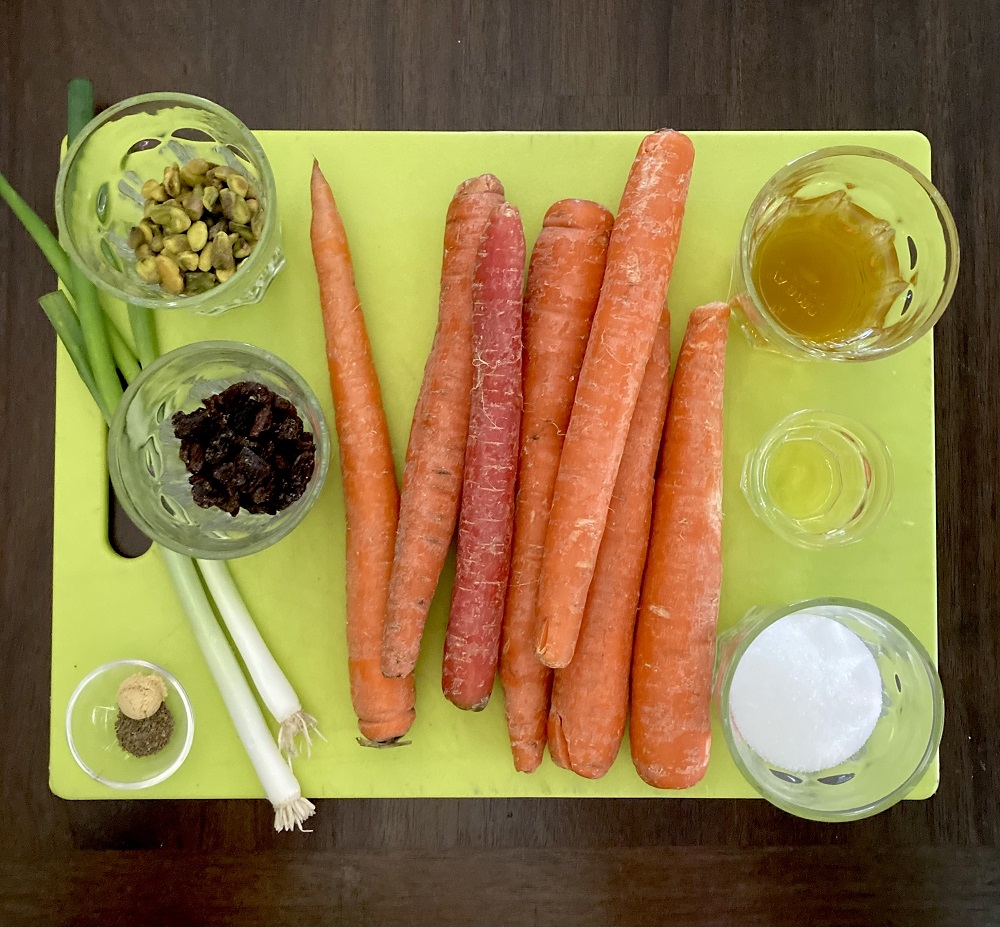 Carrot Salad with Pistachio
1/3 cup white sugar
1/3 cup cider vinegar or rice vinegar
3 Tbsp. mild vegetable oil
1/4 tsp mustard powder
1/4 teaspoon celery seed
1.5 to 2 pounds carrots, shredded
1/3 cup pistachio meats
1/4 cup raisins
Two green onions sliced, greens and whites separated
In a small saucepan, put the sugar vinegar, oil, and celery seed. Sift in the mustard powder (so you don't get mustard lumps – you could also smoosh it in with the sugar and slowly stir in the vinegar to make a smooth paste before stirring in the rest.) Anywho, whisk it all together, put over medium high until it comes to a boil, whisk again and remove from the heat. Stir in the white parts of the onion, and set aside.
Peel and shred your carrots. I like to cut mine in 2-3" chunks and then lay them flat to shred them in the Cuisinart – I like the longer shred – but however you like. Toss the shredded carrots, raisins, pistachios, and green parts of the onion to combine. Once the dressing has cooled to room temp/just tepid, toss it with the carrot mixture. This makes one generous quart. And it's delicious.
Bon appetit!