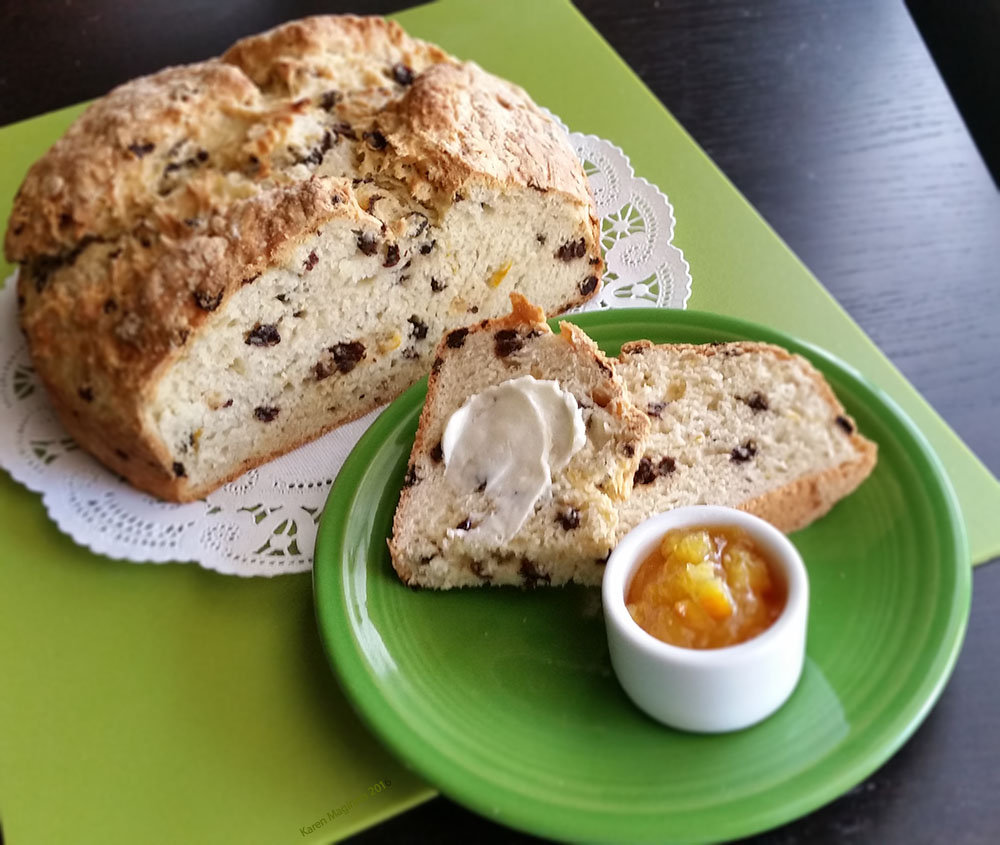 I tried a new ciambella recipe a while back, and found myself thinking, "hey, ciambella is like Italian Irish soda bread!" Which of course planted that seed and here we are. I'd never actually eaten or made Irish soda bread until a couple of years ago. I don't know what I was expecting, but the actual loaf was nothing like I'd envisioned. Imagine a giant, moist scone. With currants and orange zest. (Unless of course you are a soda bread purist, in which case you will insist that including fruits actually make it a tea cake. ) Regardless of nomenclature, let's settle on delicious. This freezes great. It's easy to make, and even more fun to give to the neighbors. No one cooks anymore, so home made things always elicit the most enthusiastic responses in my experience. And this is easy-peasy!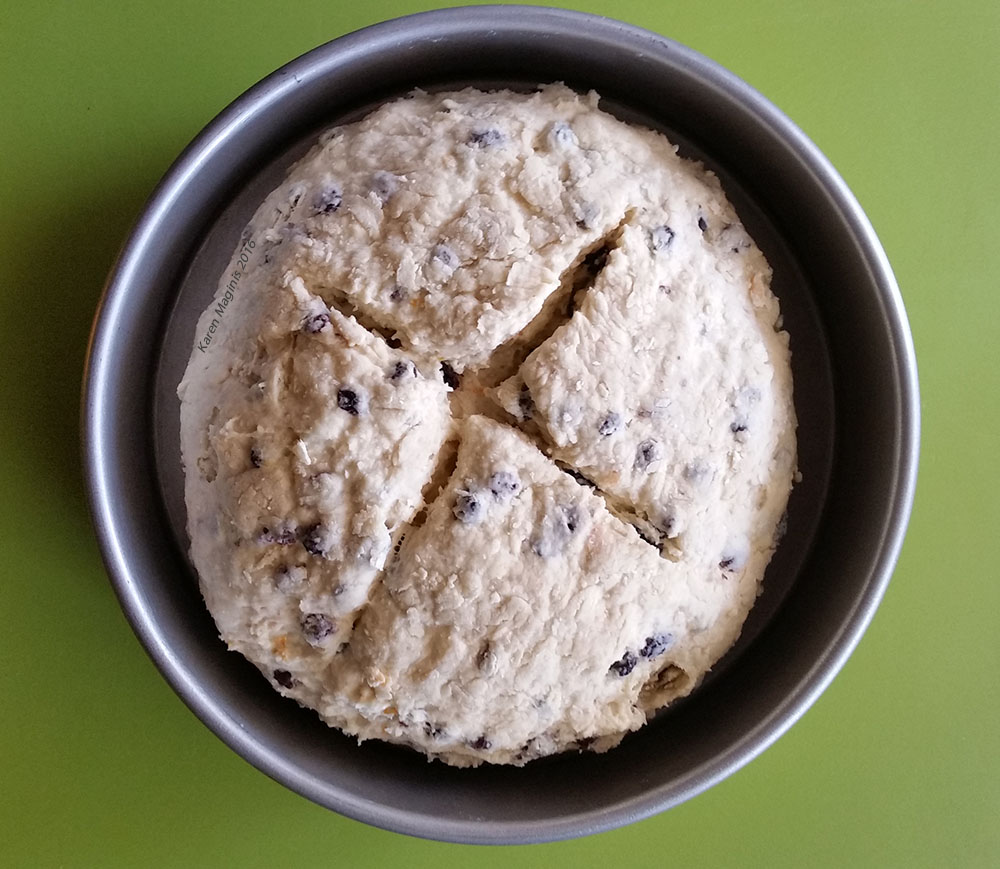 I like to use currants instead of raisins simply because they're smaller, so you get lots of little raisin bites instead of big blobs of raisin. I also like to soak my currants in hot water with a little vanilla before I start to bake with them. It adds a nice dimension and texture to the flavor profile. So, you'll need some almost speciality ingredients for this – currants, buttermilk, real sweet cream butter. Because those ARE the flavor of the bread, using the real deal will make a significant difference. I will even go so far as to say if you don't plan to use real butter, you shouldn't plan on making this. It is that important.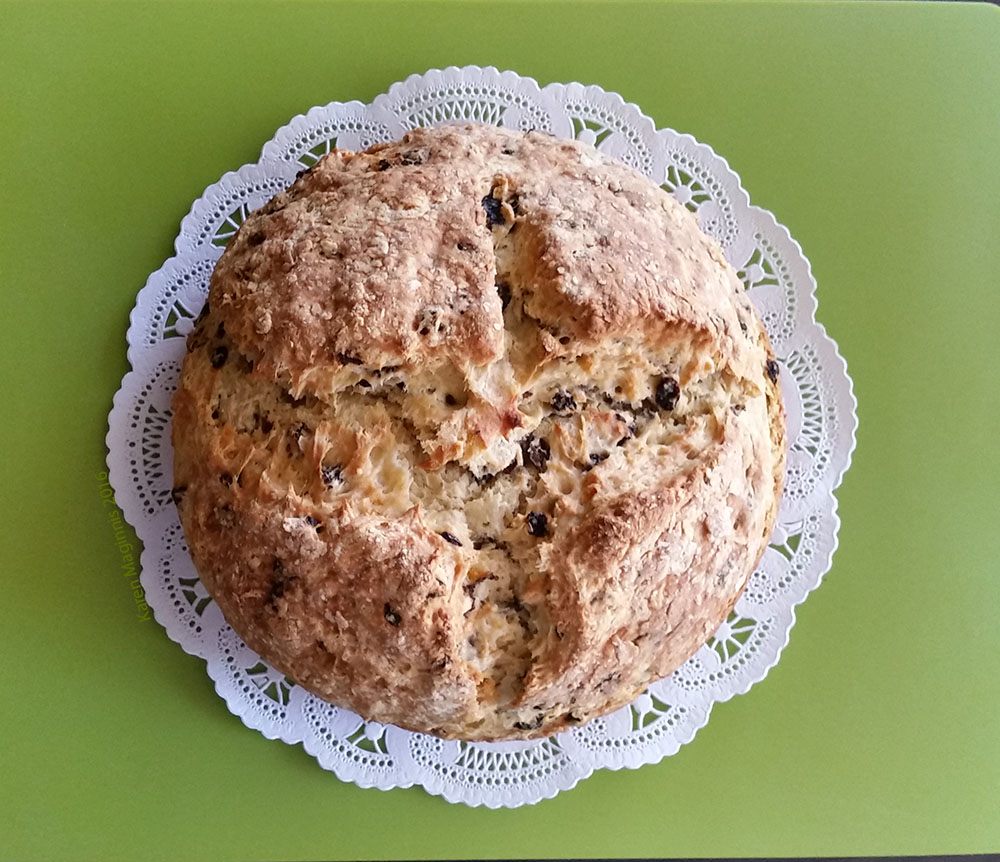 This is roughly fifteen minutes to get in the oven, then you just have to wait. Oh, and have a house that smells awesome. Once it's cool, slice yourself a big chunk and enjoy it with even more butter slathered on it, along with some orange marmelade or honey and lovely strong cup of Irish breakfast tea with milk and sugar. MMMMM. Heaven!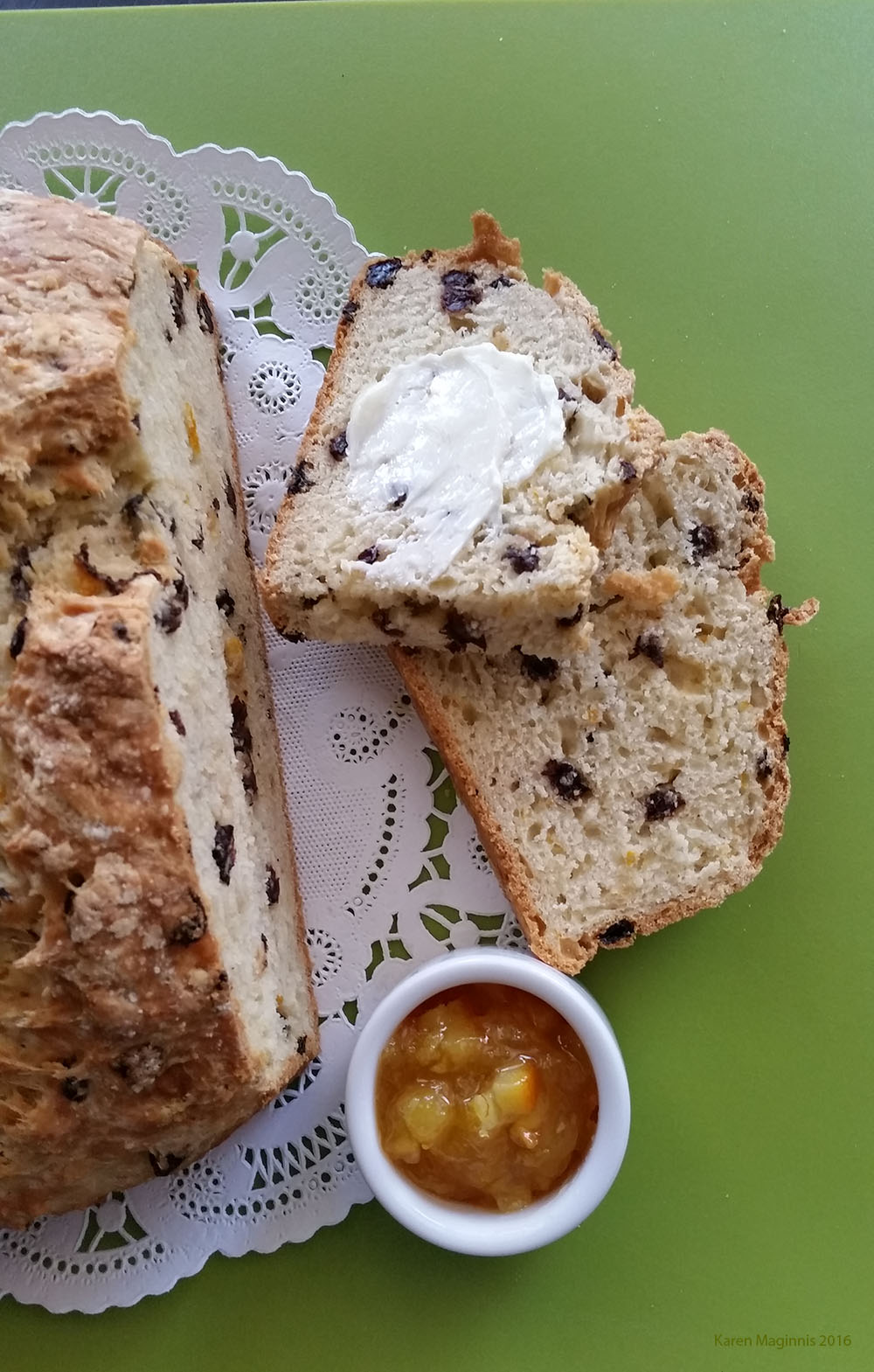 Irish Soda Bread
In a heat-safe bowl, stir together and set aside:
1 c. currants
½ tsp. vanilla extract
1 c. boiling water
Preheat the oven to 375*. Line the base of an 8" round cake pan with parchment.
In your stand mixer with the paddle attachment, mix to combine:
4 c. AP flour
1/3 c. sugar
1 tsp. baking soda
¾ tsp. table salt
Slice ½ a stick of butter in to its 4 tablespoons, and toss it in the dry. (Yes, cold.) mix on medium until it looks like bread crumbs.
In a another bowl or 2-4 c. pyrex measuring cup (because spouts! yeah!) , whisk together:
1 large egg
1 ¾ c. buttermilk
Zest of one orange (about 2 Tbsp.)
Drain the currants. Toss them and the liquid in to the flour and just barely mix it together.
Flour your board (counter) and dump the dough mixture out. Just barely work it until you have a nice ball.
Set the ball in the lined pan. With a sharp knife, mark a deep (like a ½" deep cut) cross or X on the top of the ball.
Bake around 50 minutes. It should be a deep dark brown and sound hollow when you thunk it.
Definitely let this cool all the way before slicing it, or you will have a big pile of chunky crumbs. And, when you do slice it, make them thick ¾" – 1" slices; slices too thin will just fall apart. Or, you could just make wedge slices.
This is truly a delight – not too sweet, full of buttery orangey goodness with lots of little currants. YUM!