Happy Mardi Gras, Ya'll!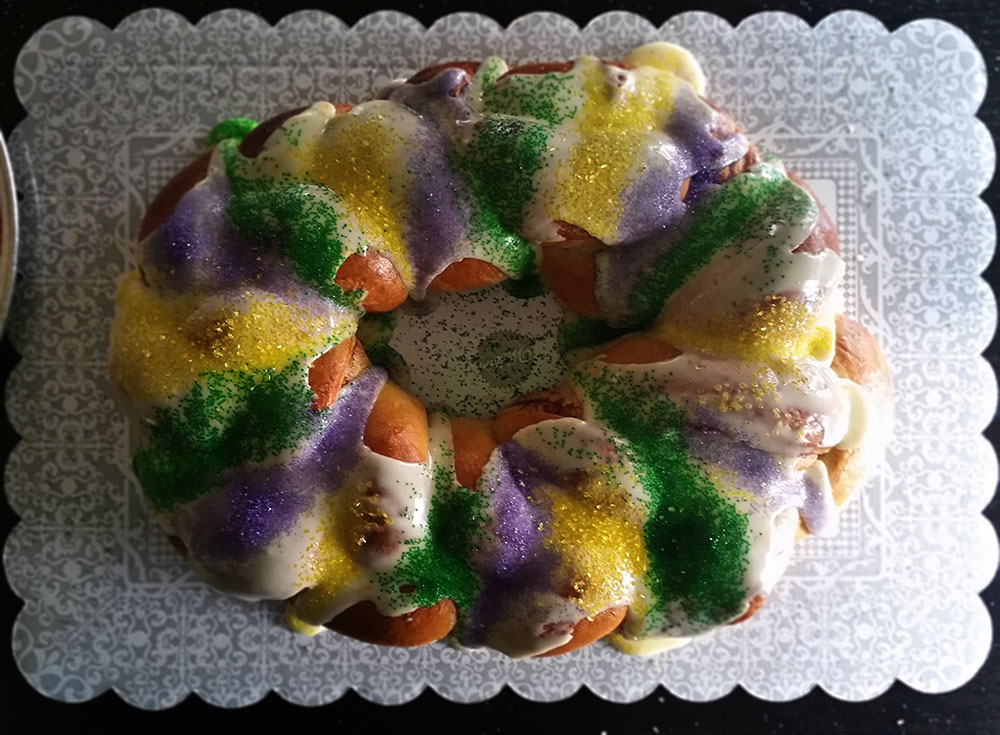 Next to summer vacation, this is when I miss the classroom the most. Krewes. Shoebox floats. Parades. Float races. Crap shoot gumbo. And King Cake.
For years I used Emeril's recipe. And it was a pain in the ass; especially because I made at least six cakes every year (one for each class, and of course one for Himself to take to work.)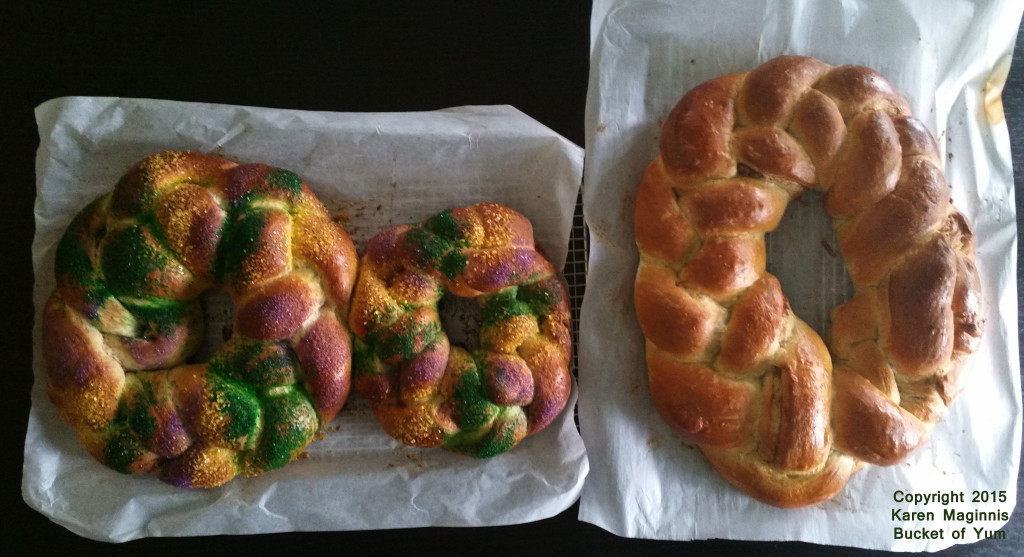 This year, I saw a new recipe. She just throws everything together in the bowl. The filling is cinnamon and powdered sugar! Tried it – and it's awesome. Truly streamlined and incredibly delicious. New tradition, here we come.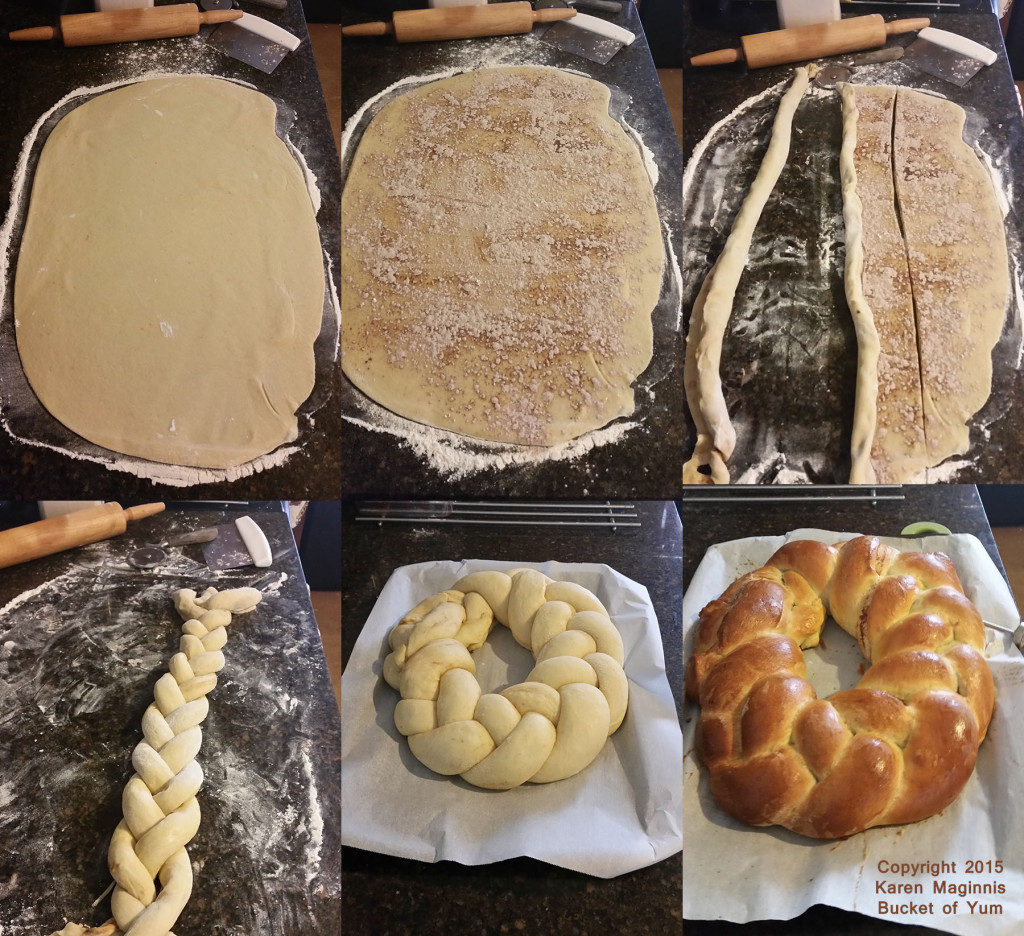 For the cake
4 – 5 c. AP flour
1/2 c. sugar
1.5 tsp salt
4.5 tsp yeast (or two pkgs.)
3/4 c. whole milk or 1/2 & 1/2
1/2 c. warm tap water
2 eggs @ room temp
1/2 c. unsalted butter, at room temp
zest of half an orange or tangelo
1/4 tsp. freshly ground nutmeg
For the filling
2 Tbsp. melted butter
4 Tbsp. powdered sugar, mixed with
3 Tbsp. ground cinnamon
For the egg wash
1 egg mixed with 2 Tbsp milk.
For the glaze
2 c. powdered sugar
1 tsp. vanilla sugar, or a few drops of vanilla extract
zest from the other half of the orange
enough juice from the orange to make the glaze
For the decorations
Yellow, green, purple sprinkle sugars
plastic baby
Instructions
In your large mixing bowl (or your mixer bowl), put all the dry ingredients (start w/ 4 c. flour) and give them a quick whirl.
Spray another large mixing bowl with cooking spray.
Microwave your milk for 30 seconds, then use a candy thermometer to make sure it is not over 115*.
Pour the milk, room temp eggs and butter, and water in to the dry ingredients.
Stir to combine, then knead by hand (10 min) or with your dough hook (5 mins).
You should have a very elastic, sticky dough. (You may need to a *little* more flour. Avoid the temptation to over flour, though. It's brioche. It's sticky, but should still pull away from the counter or the bowl's sides.)
Ball up the dough, and put it in the greased bowl.
Cover the bowl with waxed paper and then a cloth and let proof until double. (This took an hour in my oven on proof; on the counter it might be about and hour and a half)
At the end of the time, flour your board and dump the dough on it.
Roll it in to a rectangle about 18″ x 24″, testing to make sure it isn't sticking to your board.
Spread the melted butter evenly over the whole thing, then sprinkle with the powdered sugar/cinnamon.mixture.
Take a pizza roller, and slice the dough longways in to three long strips.
Roll each strip longways in to a tube, as if you were making cinnamon rolls.
Braid the three strips.
Place your braid on a parchment-lined baking sheet, connecting the ends and making a circle or oval shape.
Cover back with that wax paper and towel, and proof until double again (about 45 mins.)
Once double, preheat your oven to 350*.
Bake the cake for about 30 minutes, until golden brown and interior temp is 200*.
Cool. Flip it over, slide the baby in the bottom at one of the braid seams. Flip it back.
Ice.
Eat.
Notes
Happy Mardi Gras
Servings 20
Calories 608
Fat 8 g
Sodium 196 mg
Carbs 118 g
Protein 15 g