"Hmmm….how do I photograph lentils to make them look appetizing?" Another item to file in the "shit I never thought I'd hear myself say" folder. But, seriously. How?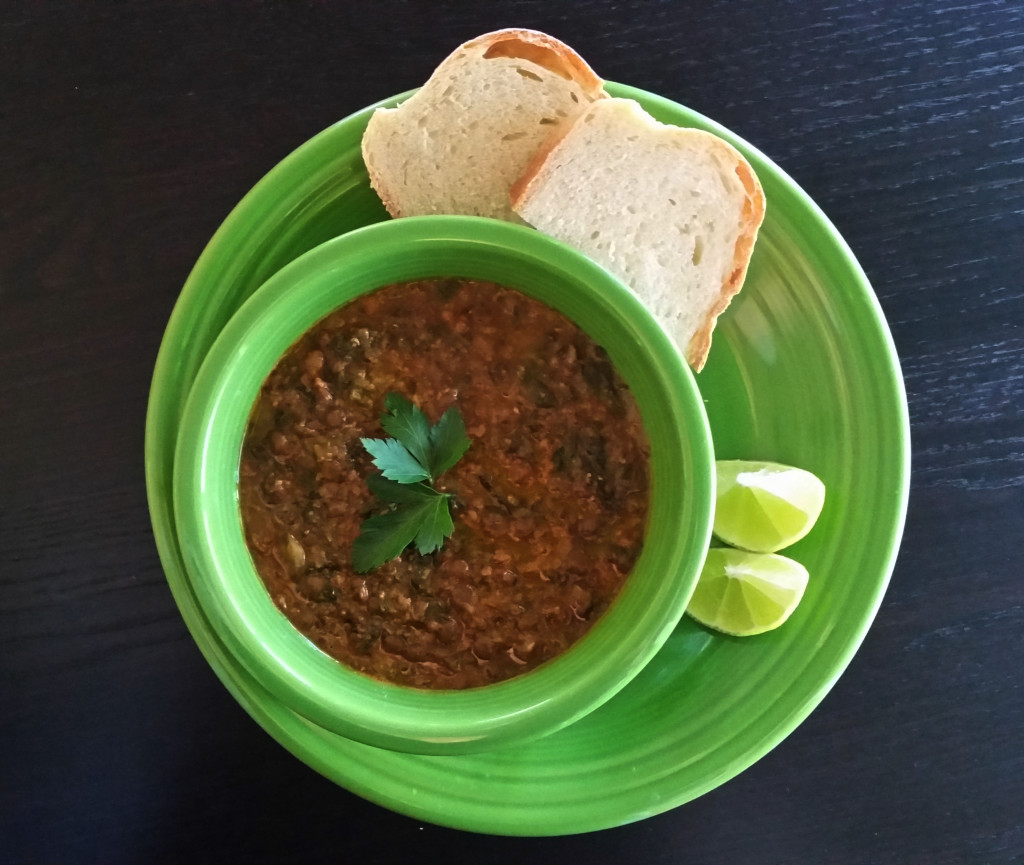 I guess you are going to have to take my word for it. In the winter I am often obsessed with an italian sausage and lentil soup created by that genius Beth at Budget Bytes. It was cold. Any rainy. And a hearty bowl sounded just perfect! Plus, I've been trying to find that "just right" bread recipe……it was destiny. (More on the bread next week…)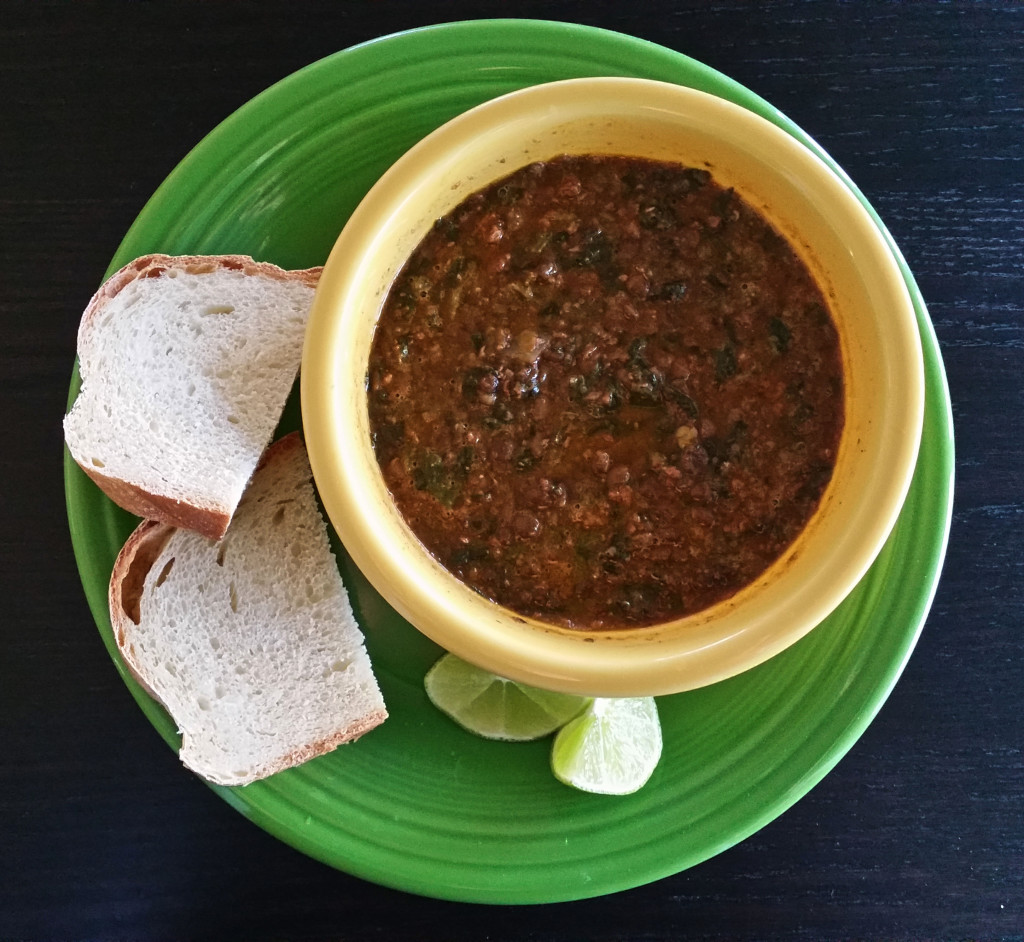 Billy bought some chorizo for our breakfast mini omelettes, and I started to think how good that would taste with lentils. (The chorizo, you guys, not the omelettes.) So, poof! Soup! Make some. It's fairly quick and easy. Himself can't have carrots anymore, so the base is stock, onion and celery only. Feel free to add two peeled carrots sliced for soup. And, this does work with Soyrizo – you just have to add it at the end with the spinach.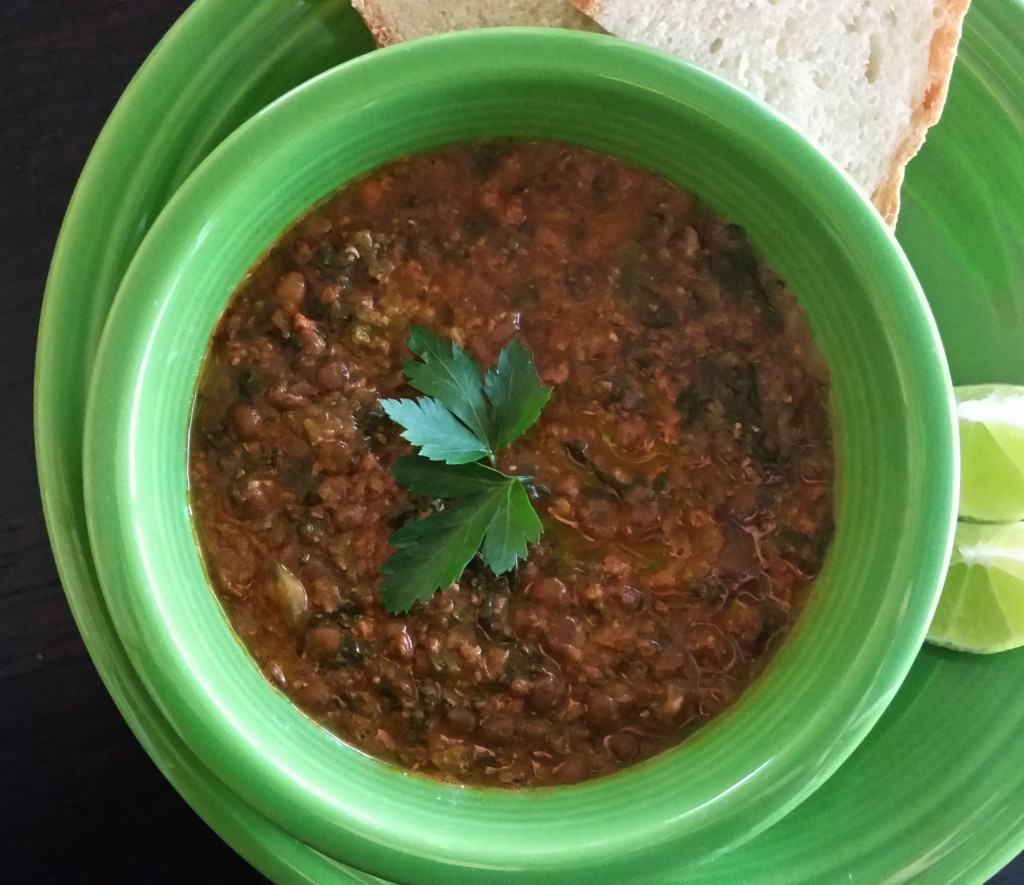 This is made with Mexican style chorizo, by the way, not the Spanish kind. Although that would also be very tasty. And, for chrissakes, get the pork. Unless you go the soyrizo route – but we've already talked about that. As a reformed vegetarian, I can't bitch now.
This soup is awesome. And easily serves four very hungry people, add some good bread and salad and it's show time.
Ingredients
½ # pork chorizo, cooked. Use the good kind that's lean. It makes a difference. (or, use Soyrizo)
½ # lentils. I used green, but yellow or orange would be tasty if creamier.
½ white onion, in ½" dice
3 stalks of celery, sliced in soup chunk size
2 quarts chicken or pork stock
½ package frozen chopped spinach
S&P to taste
Instructions
Wash and pick through the lentils. Rocks and bad bits are rare these days, but not impossible.
In a large stock pot, brown the meat. If you didn't listen and got greasy chorizo, drain it. Toss in the veg and sauté with the meat for a couple minutes. Pour in the lentils and the stock. Simmer about an hour. (Or on low in the crock pot while you're at work. If you use a crock pot, only use 1.5 qts stock). Ten minutes before serving, take the stick blender to half the pot. This breaks ups some of the lentils and thickens the soup. Then, add the spinach give it a stir and set the dinner table. (If you're going the Soyrizo route, add it now.)
Notes
Serve with lime and hot sauce. Or a sprinkle of smoked paprika and sliced bitter olives. Or with a drizzle of olive oil and balsamic vinegar. You get the idea. You are going to LOVE this.
Servings 4
Calories 228
Fat 9 g
Sodium 830 mg
Carbs 21 g
Protein 16 g