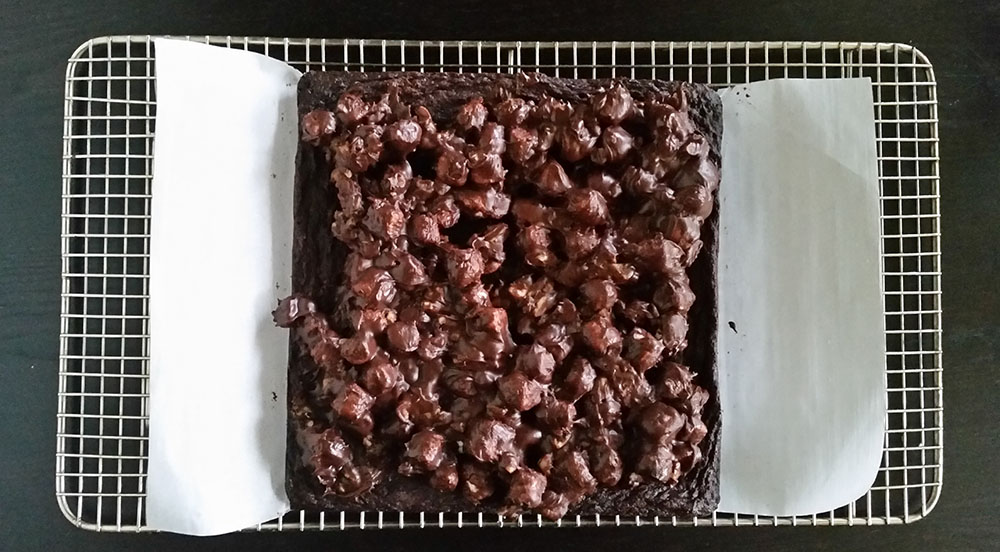 A pair of one-bowl wonders these are. I was out of cocoa. (Le gasp, right? I couldn't believe it either.) And it was like 10pm, so World Market was closed (which is about the only place in Tucson you can find Droste cocoa.) So I inquired chez my Amazon overlords. Whilst browsing through a surprisingly large selection of alkali-processed cocoa, I came across some Valrhona. A two pound bag. Yes, to some this would be an unnatural quantity but not to me. I clicked it and two days later was opening the box. Of course brownies would be the obvious test, followed by Ina's chocolate cake. But this weekend, brownies. I just bought a bag of minimarshmallows last week. (What? Stop looking at me like that. Hot chocolate season is upon us, people!)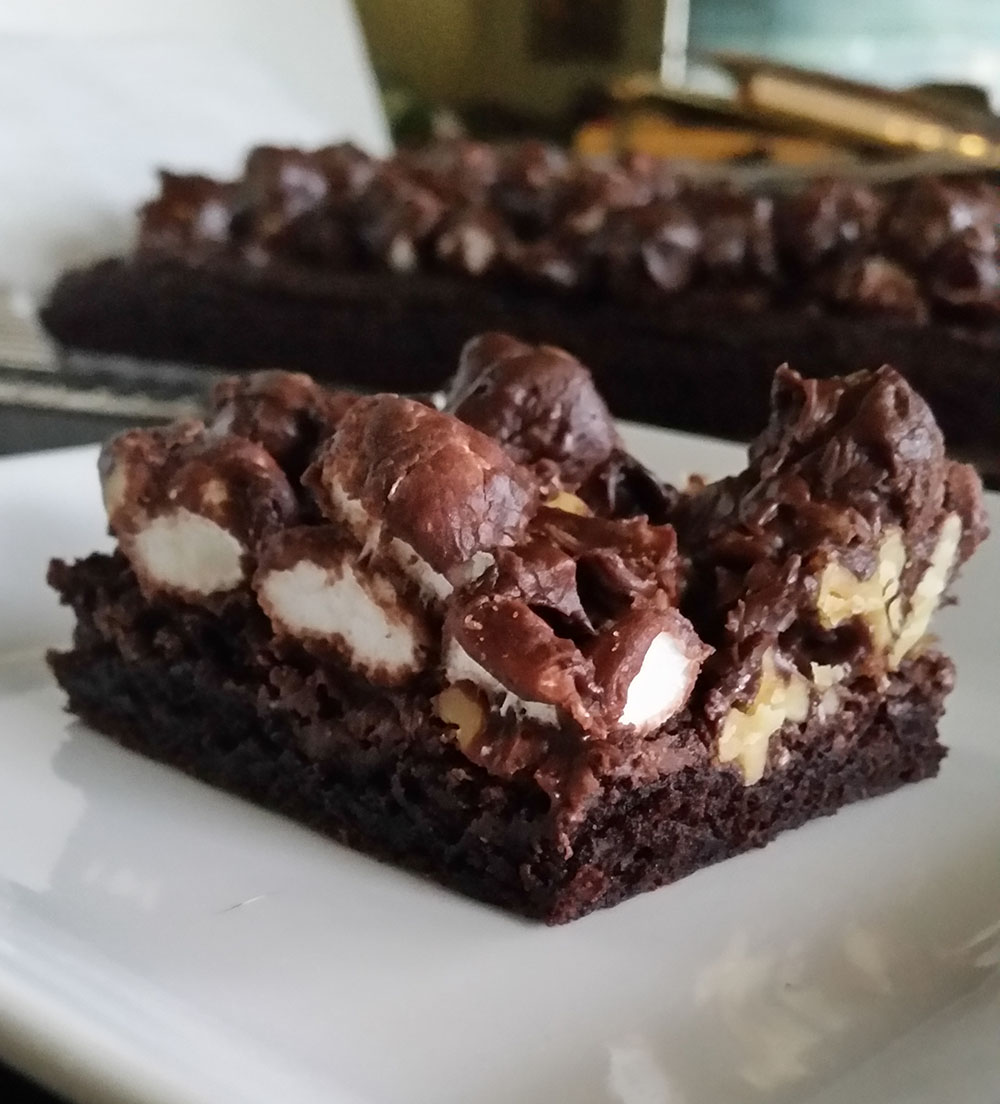 Marshmallows….mmmmm……chocolate…mmmm…..nuts in the cupboard, too. Wouldn't Rocky Road be fun! I've seen it tons in the foodie verse but of course when I actually went and looked I wasn't thrilled by the recipes I found. Eventually I settled on a not-too-complicated one; I just needed a little fudginess to hold everything together. I really wanted to find that brownie glaze from my childhood that everyone's mom used to make – you the the shiny one, that formed a crust on the top? Encountered an epic fail in THAT Googlequest. If you know one, please share!
Well, these were QUITE the hit. Co-workers loved them. Himself's co-workers loved them. Facebook frieds asked for the recipe. It's been a very exciting time!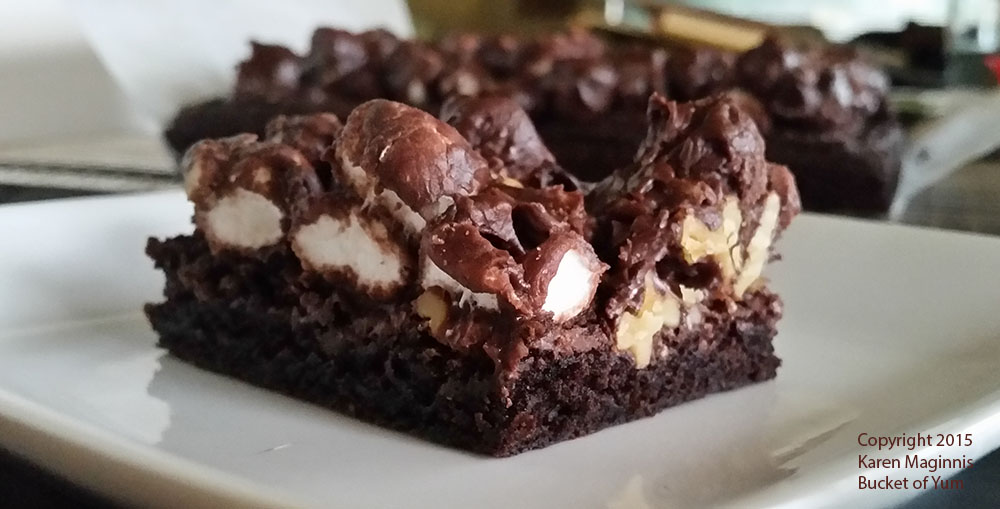 These were not hard. And you can make each in just one microwavable bowl. Make these immediately – you will so be the belle of the ball. Trust me.
Ingredients
For The Batter
1 c. sugar
1/2 c. unsalted butter
1 tsp. vanilla extract
2 eggs
2/3 c. AP flour
1/2 c. dutch-process cocoa
1/2 tsp baking powder
1/4 tsp. salt
For the Frosting
3 tablespoons butter
2 tablespoons water
2 tablespoons cocoa
Mixed it til homogenous, then
Mix in
1 teaspoon vanilla
1 1⁄2cups powdered sugar
3/4 c. mini marshmallows
3/4 c chopped toasted walnuts**
For the brownies
Preheat oven to 350*. Coat inside of 9x9x2 square pan with cooking spray. Take a sheet of parchment paper 9″ wide, and make an Alton Brown-style brownie sling.
Put the butter in a microwave safe bowl for about a minute until it is almost liquid.
Add the sugar and vanilla, and mix on high for about 30 secs.
Add the eggs, mix on high about 30 secs.
Sift in the rest of the dry, stir just til combined and spread in the pan.
Bake 20-25 minutes, until tester comes out clean. You will see the brownies pulling a little from the edge. DO NOT OVER BAKE.
Cool 10 minutes, loosen the non-parchment side and *gently* lift the brownies from the pan for slicing.
For the Frosting
Boil together (I just did this in the microwave, two one-minute bursts did it.) the butter, water & cocoa.
Use a hand mixer, mix it til homogenous, then mix in vanilla & powdered sugar
This will be about the consistency of thick pancake batter. That is perfect, you don't want it stiff like a frosting.
Stir in the nuts & mini marshmallows
Spread very quickly over brownies. It dries/cools fast and won't spread. Although honestly you could put the whole brownie pan back in the still-warm oven for a couple minutes, then take it out and spread it if it cooled and set before you could spread it out.
Notes
**spread the chopped nuts on the cookie tray, and pop them in the oven after/during the brownies. Bake about five minutes, give them a stir and then five more minutes. They should smell toasty. Watch them so they don't burn.
And, hey! These are seriously rich. I sliced the 9″ square three-by-three, then sliced each brownie square diagonally into two triangles. That was just the right size, so that's where the yield of 18 comes from. Eat a whole one at your own diabetic coma risk.
serves 18
calories 179
fat 11
cholesterol 39mg
sodium 44mg
carbs 20g
-fiber 1g
-sugars 11g
protein 3g