Coconut Almond Tart
GF and deelish, betches.
I was scrolling through some of my old Pinterest boards, and saw this French Coconut Pie recipe I'd saved a long time ago. My my, but it just looked so damn delish – crunchy sugary top with a buttery chewy coconut filling. It had a LOT of sugar, though, so I cut it by a third in this version. I've been wanting to try a tart with a gluten-free crust, too, since one of my favorite ladies at the office can't have wheat (like, seriously, an illness not a fad diet thing), and I want her to be included in the goodies. I had some almond flour in the pantry, and found a decent recipe to riff over at Craftsy.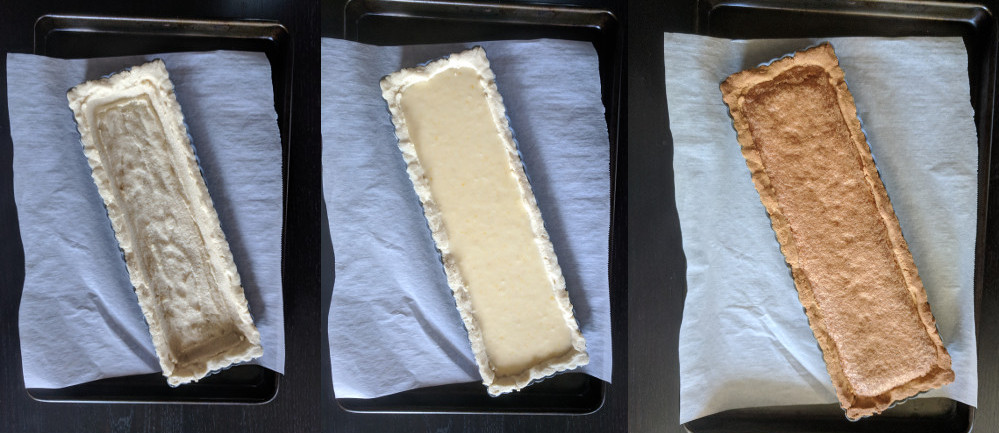 Ok, so this is insanely rich. When I made it I decided to use a 4"x13" tart pan instead of the 9" round, so I had about ¾ c. filling left over. Which of course I baked in silicone cupcake cups because *hello*, pie filling, and that meant we could taste it and still get pictures of a whole tart. Win/win! I gave himself a taste of the filling and he says, "Oh. Ok. Don't make this again." Now, in husband-speak that means if you make this I will want to eat the whole damn pie so please save me from myself. (Oh, I *do* love this man, is he not the best??) The thing that surprised me the most was how yellow the filling is; but, with three eggs and half a cup of butter it makes sense.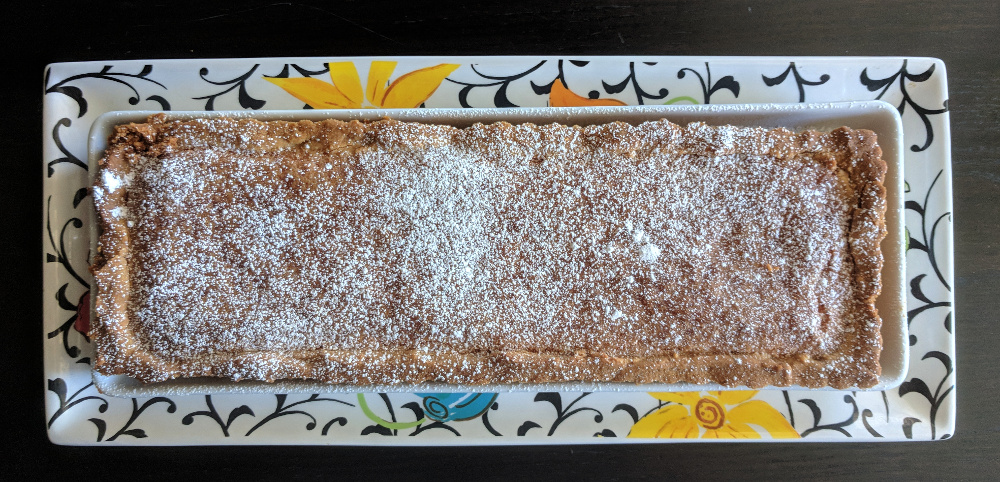 The crust if very fragile once baked (look at one corner that crumbled as I removed the tart from the pan.) I'll be looking for a different one to try. But it's tasty.
Crust:
2 c. almond flour
½ c. GF AP flour
¼ tsp. salt
½ c. butter
Filling:
3 eggs
1 c. sugar
¼ tsp. salt
1 tsp. vanilla
1 c. shredded coconut
1 Tbsp. white vinegar
½ c. butter
Preheat oven to 350*.
In the food processor, whir briefly to combine:
2 c. almond flour
½ c. GF AP flour
¼ tsp. salt
Add:
8 Tbsp. butter (a stick, cut up),
and pulse until it looks like soft cookie dough.
Smoosh this out and up the sides your tart pan until it is an even width and looks like a pie crust. It helps to oil your hands before you start; this stuff is sticky. (And – this could be a good job for house munchkins.)
Parbake it for 10 mins.
Meanwhile, make the filling.
Melt ½ c. unsalted butter, set aside.
In your mixer bowl (whisk attachment), beat on med-high until lemon-colored and fluffy (about a minute):
3 eggs
1 c. sugar
¼ tsp. salt
1 tsp. vanilla
Add to the mixer:
1 c. shredded coconut
1 Tbsp. white vinegar
and the melted butter.
Whip on med-high for another minute.
Take the par-baked shell out of the oven, pour in the filling and put it back in for about 50-60 minutes. When is it done? It will be puffy and golden and not jiggle when you jostle the pan. (Mine was done in 40 because it was smaller and narrower than the 9" round.)
This begs for a pineapple compote or a Kahlua ganache with some whipped cream and a macamademia praline sprinkle. But, ya know, I'm trying to simplify and whatnot.
Enjoy. I'm not going to calculate the nutritional value on this one – come one, you can tell it's a fat-laden sugar bomb of indulgence. Just have a small piece and then walk an extra mile tomorrow.
Share if you try it!!!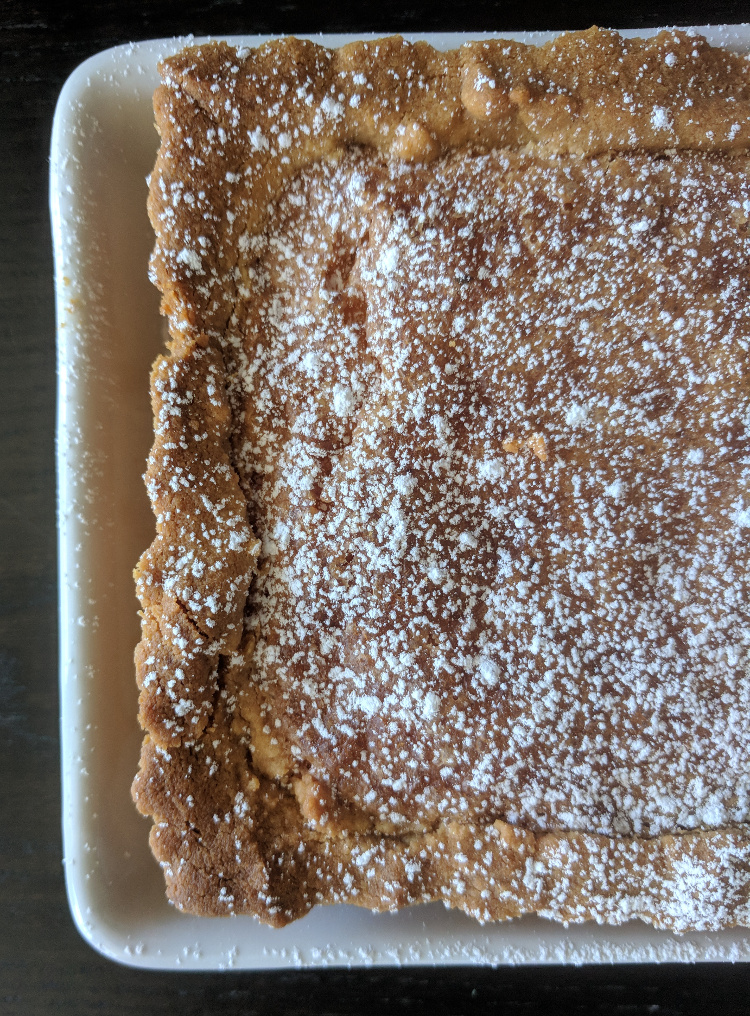 Post Script on the crust – it firmed up a tidge over night. My favorite office lady told me to go 50/50 with the almond flour and GF flour, and add a tiny bit of binder – I have guar gum. So, I'll try that next time. The office folks all enjoyed the tart, or at least said they did. Yeah!