Bill tells me I need start a fail tag. Made me laugh. My friend T always raves about the white gazpacho at one of our favorite wino bars. I was wracking my brain for a post idea, and a friend suggested salsa. Which made me think of gazpacho. Which made me think of T and her white gazpacho.
Google recipe search garnered pretty much the same recipe over and over – water, almonds, bread, garlic, sherry vinegar, olive oil. Garnished with grapes. And if you drill down, they almost all go back to José Andrés.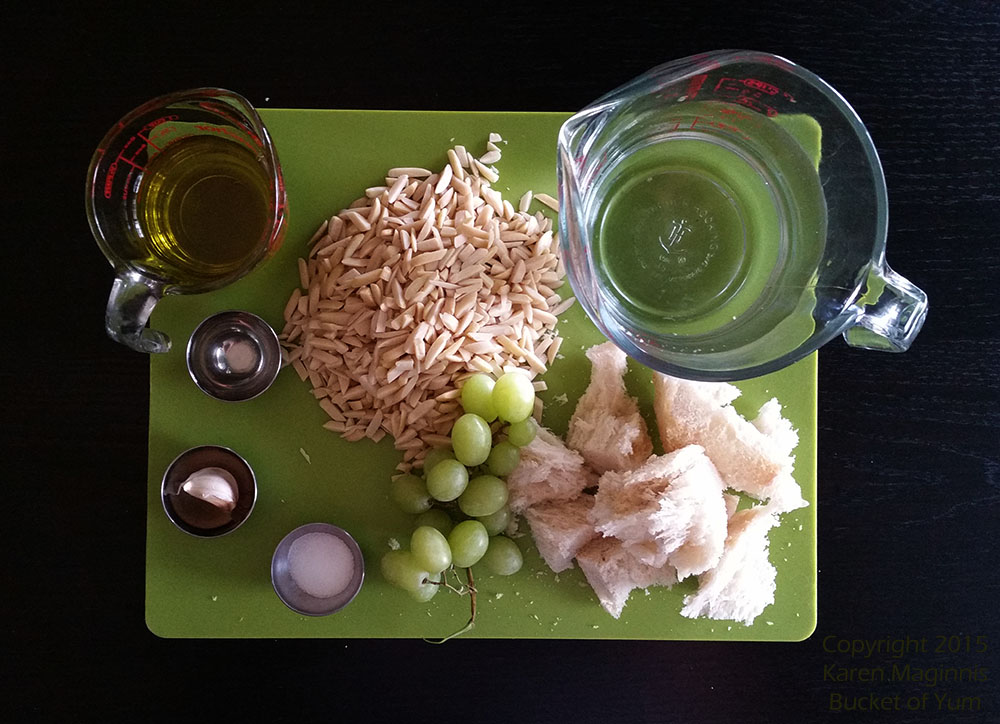 Serve chilled. Sounds simple. Easy.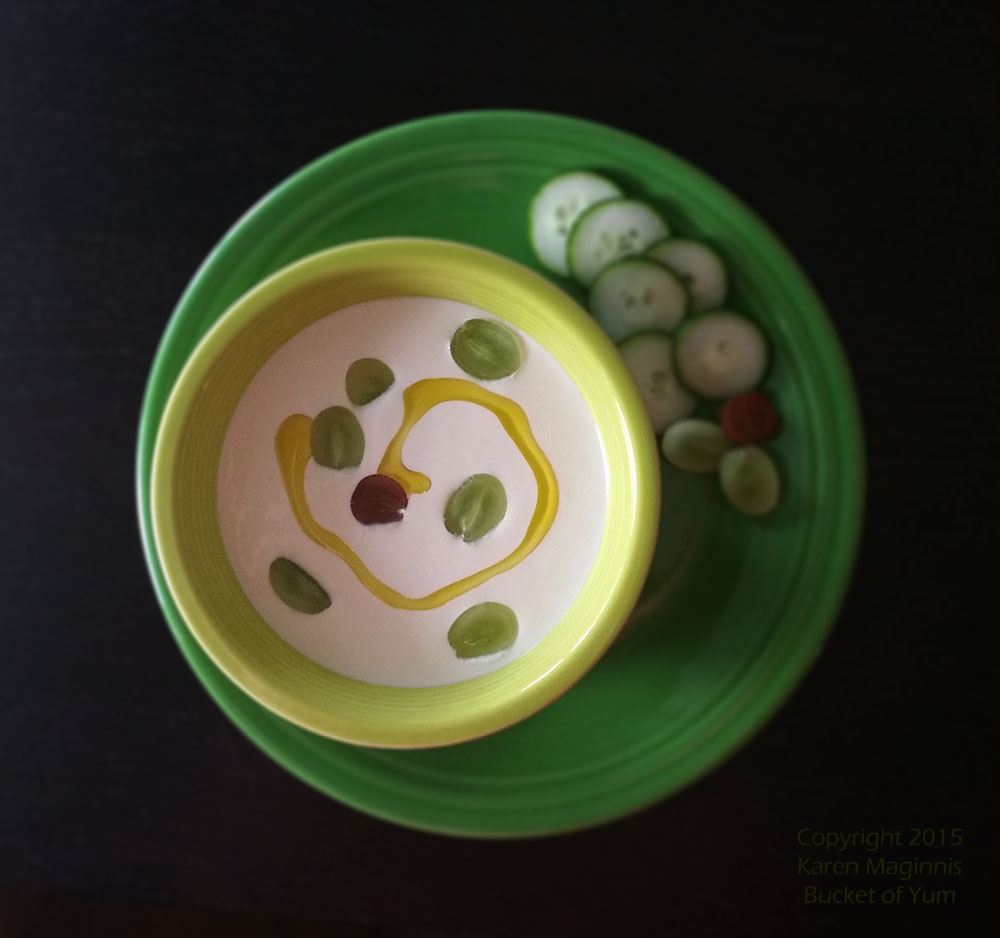 Gotta tell you, though. We just weren't big fans. Grapes are not himself's favorite fruit, which maybe didn't help. We tried this the day we made it after it chilled, and again the next day. We tasted it over and over, and are just on the fence. It's cool, and creamy, and subtle; but the bread flavor is just too strong. Maybe it's the homemade (poolish) bread I used; maybe its flavor is too strong and I needed a more neutral one.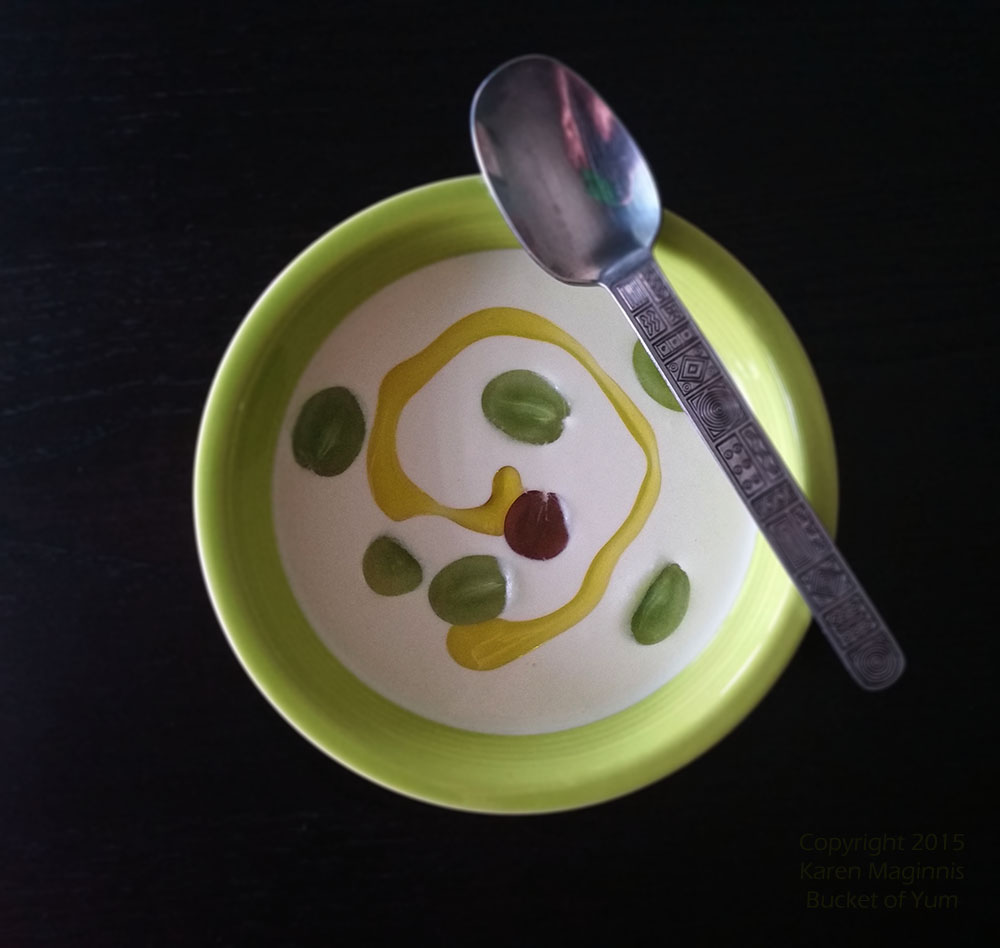 Well, we have tried this recipe for white gazpacho. And with $5 worth of almonds as the main ingredient, I am not so sure we'll pursue this to see if tweeks would change our minds. But, it sure is purdee. So, enjoy the pictures if not the soup.
Soup
4 cups water
7 ounces blanched almonds
2 clove garlic
3 ounces day old white bread
½ cup extra-virgin olive oil
¼ cup white balsamic vinegar
3/4 teaspoon salt
Garnish
Drizzle of the olive oil
Handful of green grapes, halved
Sliced cucumber
Instructions
Put the almonds and the garlic in a sauce pan with one of the cups of water.
Bring to boil, then drain.
Add another cup of water.
Bring to boil, then drain.
Cool to room temp.
Put all the (remaining) soup ingredients in the blender, and puree until super smooth.
Strain through mesh and chill, prefereably overnight.
Serve with a drizzle of olive oil on top, dotted with the grapes
Servings 4
Calories 617
Fat 54 g
Sodium 571 mg
Carbs 26 g
Protein 13 g