Soup. Dammit but I love soup. You get so much for so very little…..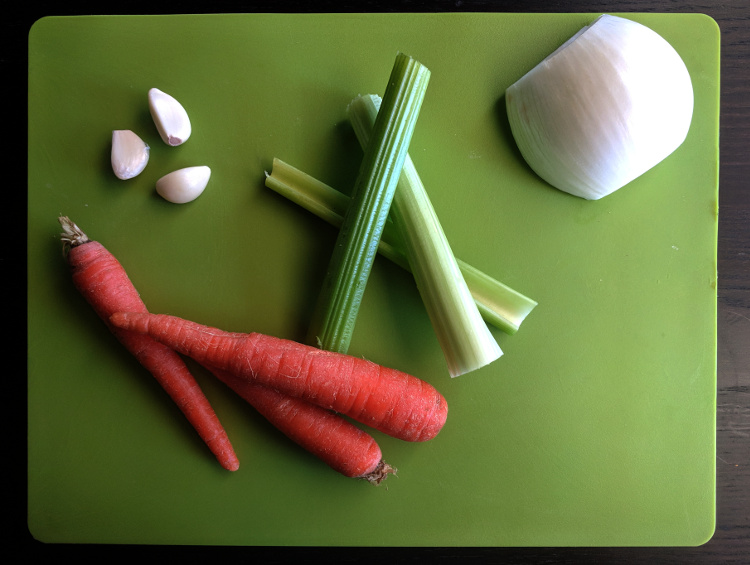 I organized a Stone Soup at the office back in early December, and my department-mates loved it so much, we've got an informal 'Soup Wednesday' going. One of the gals left her crockpot in the kitchen, and each week someone says, "hey, let's do such and such this week" – and away we go! Wednesdays are an insane day in my profession, and typically we can't even get a lunch hour – so this has become quite the awesome tradition. But I digress…..
I was a-Googlin' for something different and interesting to make next week, and stumbled across the idea of a chickpea soup with Moroccan spices. So, I cobbled together what I liked about all the recipes and what I knew I had on-hand, and gave this a shot for a Friday dinner. Oh, is this good. So, so good. It was maybe 10 minutes of actual work, and about 40 to simmer. The house smelled incredible. And on a chilly night, the warmth of the soup with that gorgeous combination of smoked paprika, cumin and cinnamon? Pure heaven. Make this right now – you prolly have the ingredients in the pantry. I even used my cheap-o Trader Joe's smoked paprika, not the good Spanish stuff. If you don't have that, just use regular (sweet) paprika.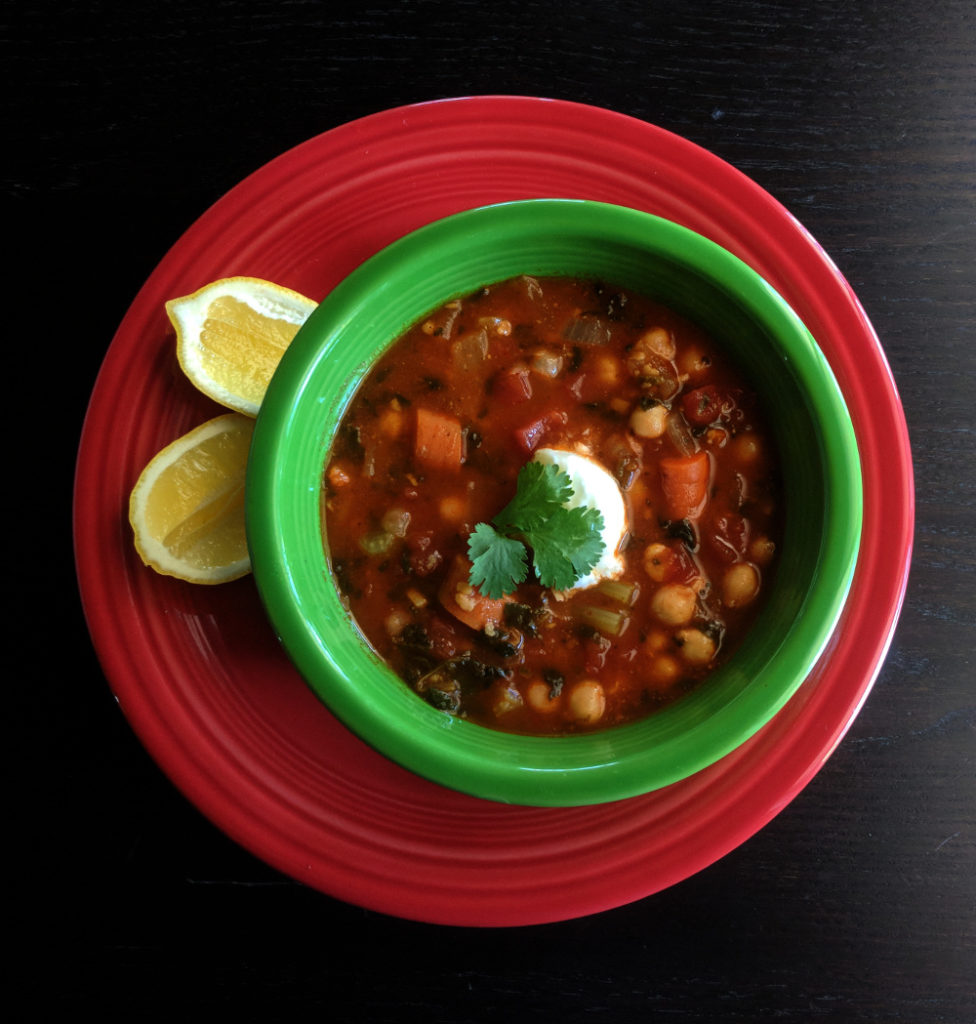 I drizzled mine with extra-virgin olive oil, Himself did a dollop of plain Greek yogurt and some cilantro. Some grilled Greek-style pita or a sliced baguette would go superbly with this.
Enjoy! I'm serious – go make this right now. I'm going to try it in the crockpot next Wednesday at the office – wish me luck!
Moroccan Chickpea Stew
Serves 2 seriously hungry people, or not-so-hungry plus leftovers
In your soup pot, saute:
2 Tbsp. olive oil
¼ white onion, diced
3-4 celery ribs, in soup-sized chunks
3-4 carrots, in soup-sized chunks
After a couple minutes, add in:
3 cloves garlic, chopped
2 Tbsp. pimenton ahumado
1 tsp. Cumin
1 tsp. cinnamon
¼ c. tomato paste
After a couple minutes, add in:
1 (14.5oz) can diced tomatoes
1 (14.5oz) can chickpeas, drained
2 quarts chicken (or vegetable) broth
Simmer for 30 minutes, then use a potato masher and smoosh one side of the pot and add:
1 c. frozen chopped spinach (no need to thaw before)
Simmer 10 more and soup is on, betches!
Serve with: Greek yogurt & Fresh coriander (cilantro), or XVOO, or a squeeze of fresh lemon.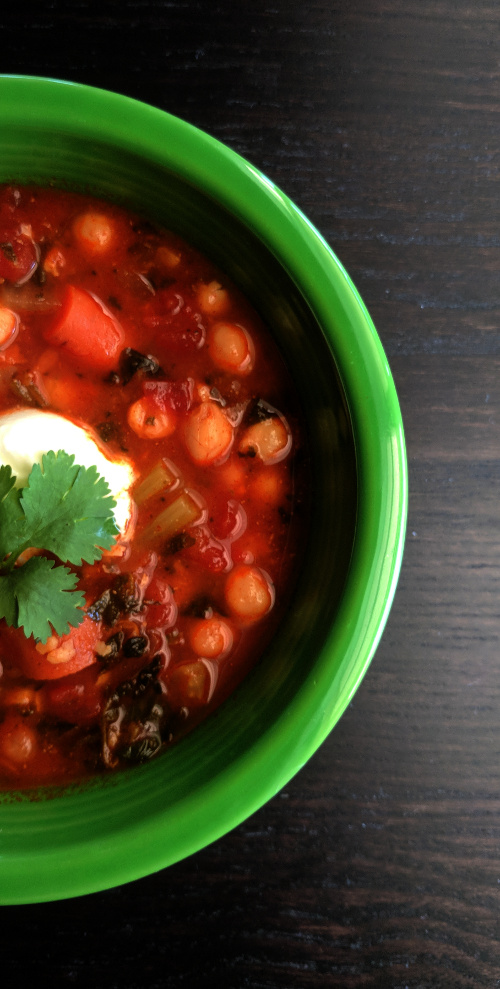 Revision 1/28 – Oops! Forgot the nutritional info! According to the VeryWell.com calorie calculator, if you get 3 servings out of this, each serving has:
323 calories
12.7 g fat
693mg sodium
42.1g carbs (12.5g fiber!)
12.2g protein
and 30% of your iron and 23% potassium for the day