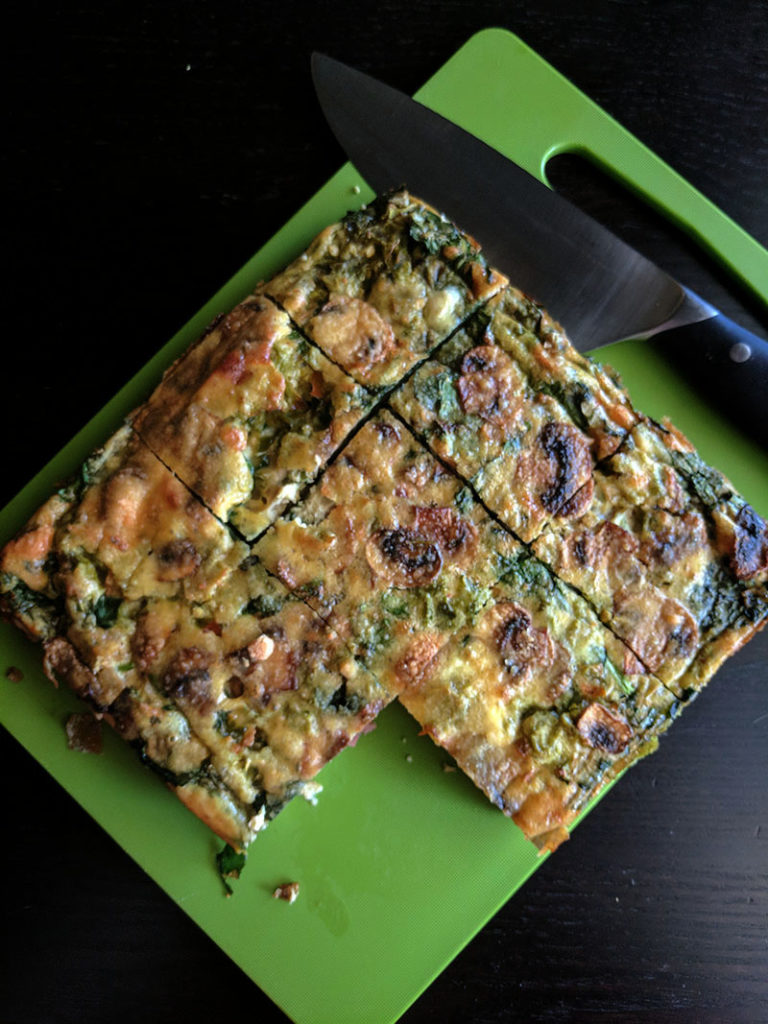 We've been getting a little nuts on the sugar thing (snort. we. you guys totally know who is to blame for this.), so we're hopping on the no sugar bandwagon for a little bit to get that back in line. That means a fast and already prepared hearty breakfast (mainly so I don't get a green chile bacon burrito in the Blake's drive-thru every single day), and we love our little oven omelettes over here.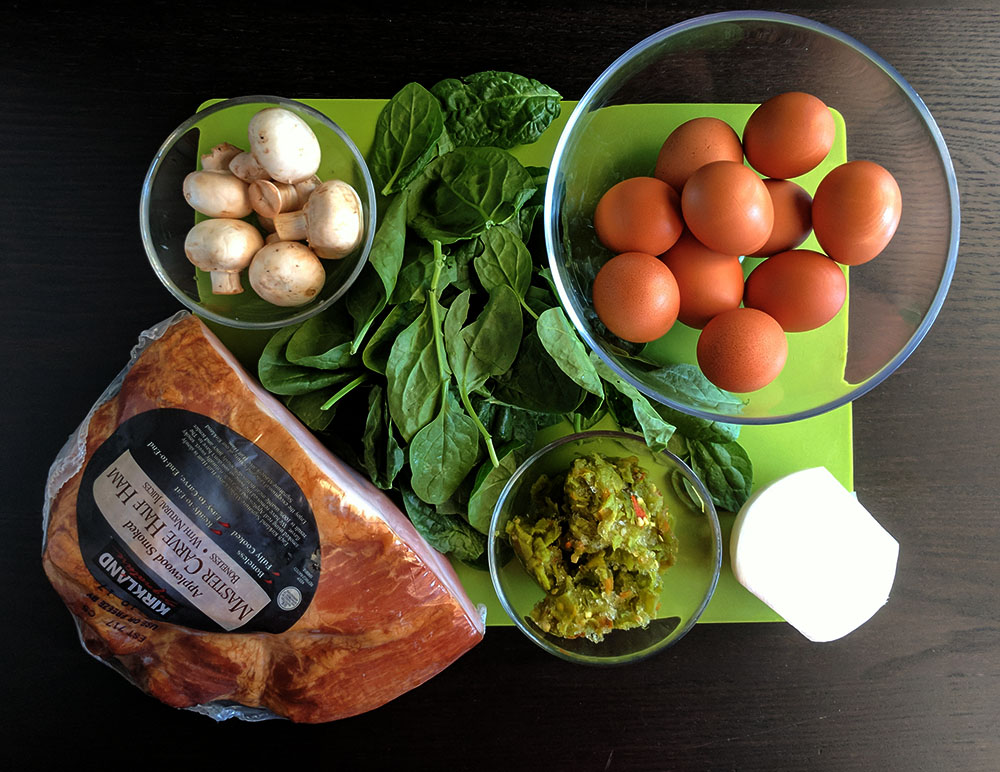 My obsession with Hatch green chile continues, so they're the flavor in this iteration. Instead of the little silicone baking cups, I went with a square pan to slice in to servings. Honestly, those little cups are a pain in the ass to clean – and I can't put them in the dishwasher because it's like the soap never really comes off them or something. Ok, I digress. Breakfast, bitches!! And a serving comes in at 141 calories and 11 grams of protein. That is what my blood sugar calls a WIN.


Ham Green Chile Breakfast Bake
1.5c. diced ½" thick ham slab
10 eggs
1 c. mushrooms, sliced
1 c. hatch green chili
1 Tbsp. olive oil
½ medium white onion, diced
4 c. fresh baby spinach (or 1 c. frozen chopped, thawed and drained)
S&P
Dash pecorino cheese
Preheat your oven to 325*, and grease an 8" square cake pan. Spread out the diced ham in the bottom of the pan.
In a medium skillet over medium heat, add half the olive oil and mushrooms with a little S&P and saute the mushrooms until they are slightly golden and have shrunk by about a quarter. Spread them over the ham in the pan. Next spread the green chili over the ham and shrooms.
Put the other half of the olive oil in the skillet and add the onion, season with S&P. Saute until they are mostly translucent and maybe a little brown on the edged. Toss the chopped fresh spinach on top, season w/ S&P, put on the lid and remove from the heat. This will wilt the spinach.
While that's doing it's thang, crack the ten eggs in to a medium bowl and whisk them with a little salt and pepper. Stir the spinach and onion to combine, and spread over the mixture in the square pan. Gently pour the eggs over everything, and smoosh down any floaty bits that pop up. Dash the top with a little cheese. Bake about 35-40-ish minutes until golden and puffy. It should not jiggle when you shake it, and a tester will come out clean. Cool. Slice. Serve at room temp or put into individual servings to eat during the week. My plan is to serve this with those little turkey sausage patties. If that works, we'll have that recipe in a couple weeks!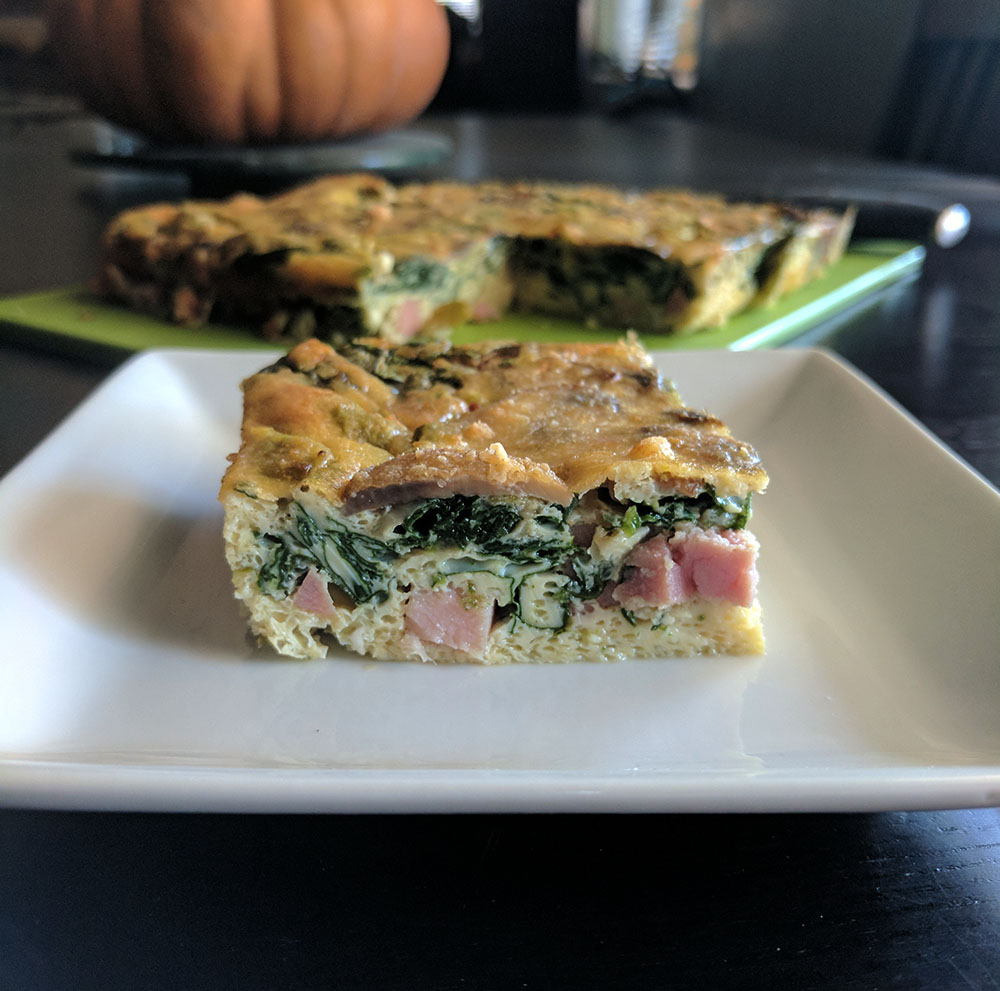 Servings: 9
According to the verywell.com recipe nutrition analyzer, each serving has:
Cal 141
Fat 8.8g
Sodium 494 mg
Carbs 4.4g (sugars 1.7g)
Protein 11.1g
AND!
226% of your vitamin D, or
Vit D 45mcg
Calcium 60mg
Iron 2mg
Potassium 238mg